The first snow in Utah is certainly not the last. Statistics suggest that Utah experiences a foot of fresh snow roughly every five days during the wintertime. But when does the snow typically start falling in Utah and what can you expect out of the average temperatures in this winter wonderland of a state? 
In this article, we will address a number of different snowfall statistics from the state of Utah, including some of the most active snow seasons in history. We'll also go over what the temperatures are like depending on the region of Utah that you are in. Let's get started and talk all about one of the snowiest places in the United States now! 
Understanding First Snow in Utah
| | Utah Snow Facts |
| --- | --- |
| Earliest First Snowfall | September 18 (1978) |
| Latest First Snowfall | December 9 (2021) |
| Average Temperature | 10-40 degrees Fahrenheit |
| Largest Average Snowfall | 626 inches (2018-2019) |
| Smallest Average Snowfall | 30 inches (2014-2015) |
| Places to Enjoy the Snow | Park City, Ogden, Heber Valley |
One of the first things to note about snow in Utah is the fact that it happens frequently and statewide. There are little to no locations in Utah that experience zero snowfall, though some locations experience far less precipitation than others. However, northern Utah in particular holds records for its snowfall. This region is renowned for its ski resorts and fresh powder.
When it comes to the first snowfall dates in Utah, the average start of its winter weather occurs sometime toward the end of October. However, there are many records that have first snowfall dates in September, and even still later snowfall dates in December. Let's take a look at some of the earliest and latest first snowfalls in the state of Utah. 
Earliest and Latest Snowfalls in Utah
Given the fact that Utah is no stranger to snow, it is a rare occurrence to have the snow take its time. In fact, the year 1978 holds the record for the earliest first snowfall in the entire state, beginning as early as September 18th and continuing to fall throughout the wintertime. Given the fact that people living in Utah might normally have an extra month without snow, it's no doubt that 1978 was a busy year for ski resorts! 
However, Utah also has a history of late snowfall, though this is far rarer compared to snow falling in the month of September. In 2021, the first marked snowfall that fell across the entire state occurred as late as December 9th. There were likely earlier dates of snowfall that occurred in more isolated areas of the state of Utah, but December 9th was the latest first snowfall date for the majority of the state. 
Largest and Smallest Snowfalls in Utah
It's difficult to determine the largest and smallest average snowfall amounts in Utah, given the fact that some locations experience as little as five inches annually while other locations experience over 500 inches annually. However, the following figures are still anomalies in terms of the average amount of snowfall found in Utah. 
The winter season of 2018 to 2019 was one for the record books, particularly amongst ski resorts in northern Utah. Some northern peaks received over 600 inches of snowfall, closer to 650 inches during this winter season. In direct contrast, 2014 to 2015 only saw 30 inches in some Utah cities, though the ski resorts remained open and thriving during this time of year!
Winter Temperatures in Utah
Given that snowfall averages are different throughout the state of Utah, what are the winter temperatures like? Let's discuss a few different locations in Utah and what their average winter might be like. 
Northern Utah
With Salt Lake City and the majority of Utah's iconic ski resorts located in the North, there is no doubt that this region experiences the most extreme parts of winter. However, the average temperature in Northern Utah ranges from 20 to 35 degrees Fahrenheit, and snowfall levels are fairly normal until you climb any of the nearby mountains. Northern Utah towns might see as much as 30 inches of snow during the winter, with more found the higher up you go! 
Central Utah
Similarly to northern Utah, central Utah experiences an average winter temperature of 20 to 35 degrees Fahrenheit. However, central Utah experiences far last snowfall compared to northern Utah given its lower elevation and fewer nearby mountains. In fact, central Utah only averages 5 to 10 inches of snow annually. 
Southern Utah
Depending on whether you live closer to Nevada or Colorado, southern Utah has warmer temperatures and far less snow compared to the rest of the state. In fact, some locations in southern Utah average anywhere from 30 to 45 degrees Fahrenheit during the wintertime and experience 2 inches of snow or less! 
Winter Wildlife in Utah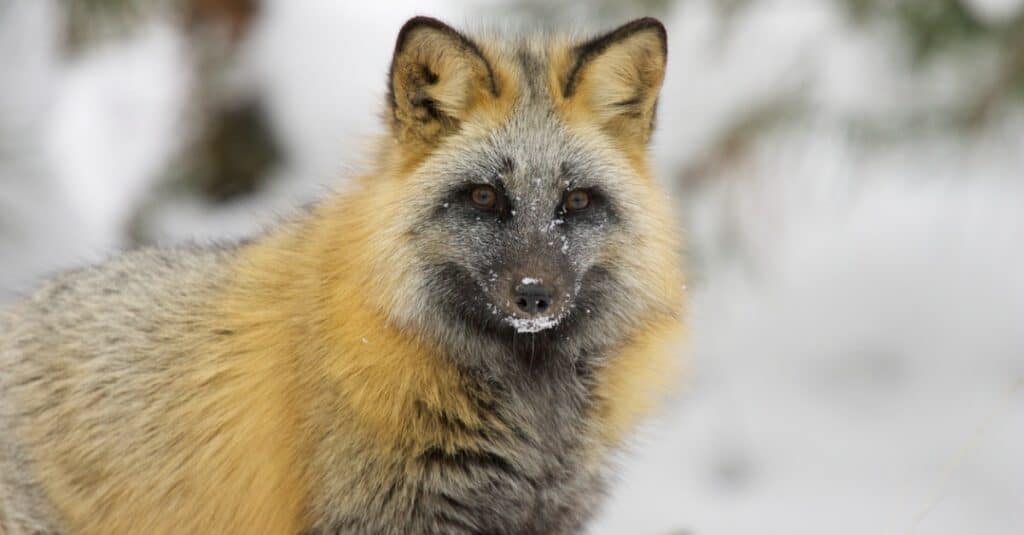 Given the fact that Utah has a number of gorgeous national parks, the wildlife population of the state is just as active in winter as in other parts of the year. If you're interested in viewing wildlife in Utah during the wintertime, here are some of the animals that you might be able to see: 
Up Next
More from A-Z Animals
---
The Featured Image
---
Sources

Secrets of the "greatest snow on earth", Available here: https://journals.ametsoc.org/view/journals/bams/89/9/2008bams2576_1.xml