According to some estimates, there are over one million mountains around the globe. Utah is renowned for having numerous magnificent mountain ranges. Utah is mountain territory, with each of the state's 29 counties having multiple mountains. Utah's three main geographical regions are the Rocky Mountains, the Basin and Ridge Region, and the Colorado Plateau.
Mountains dominate the skyline of the state's capital city, and these ranges serve as the inhabitants' playgrounds and havens. Many of these mountains are covered in winter snow, providing excellent backcountry skiing and snowboarding. Are you ready to discover some of the mountains in Utah? This article discusses several mountains in Utah and other interesting facts.
Mount Timpanogos
Nearly 45 miles south of Salt Lake City, Mount Timpanogos, the second highest and most imposing mountain in the Wasatch Range, keeps watch over the communities of Provo, Orem, and Pleasant Grove. Mount Timp, as locals call it, is quite well-liked among hikers. Despite the mountain's steep slopes, you can access its trails all year long. However, snow can block access to the peak throughout the winter. Mount Timp is the only place where a glacier exists in Utah, and it's still amazing to witness, despite its diminutive size.
King's Peak
King's Peak, the highest peak in Utah, proudly towers over Duchesne County in the High Uintas wilderness area at a whopping 13,527 feet above sea level. Additionally, it's one of the most well-liked hiking locations in the state. King's Peak is situated in the Ashley National Forest, not far from Utah's capital Salt Lake City. Several flat, easy trails surrounding the mountain are excellent for families hiking with kids. You may witness a wide range of birds and other species as you hike.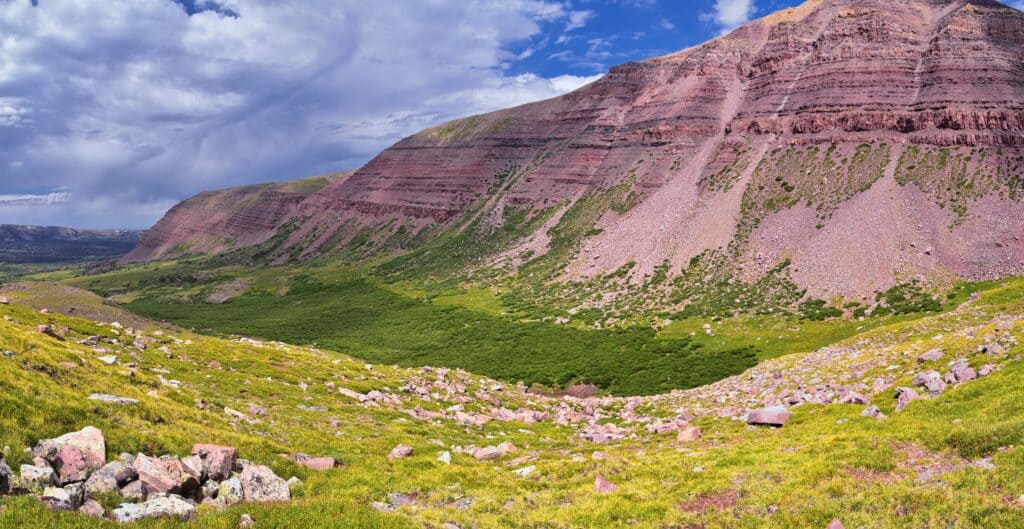 Bountiful Peak
Bountiful Peak, one of the highest mountains of the impressive Northern Wasatch Range, is at an elevation of 9,000 feet. It is a distinctive peak with a rounded, crescent-shaped summit. Hiking this mountain is best for those with experience because it is largely surrounded by craggy cliffs and gorges. However, Bountiful Peak is also a terrific treat for non-hikers, since you can virtually drive to the top.
Canaan Mountain
Canaan Mountain, located south of Zion National Park, is a craggy escarpment flanked by high cliffs on all sides. There aren't as many hikers in this gorgeous location. Although the distance is relatively short, the path along Canaan Mountain is arduous and requires good route-finding skills.
Deseret Peak
One of the tallest mountains in Utah is Deseret Peak. With an elevation of 11,031 feet, this stunning mountain in the Deseret Peak Wilderness is the highest summit in the Stansbury Mountain Range. Although it's a popular trekking location with serious hikers, you won't see many tourists there. You should ascend Deseret Peak if you enjoy climbing the "ultra" mountains in the contiguous United States. There are many pathways to explore on the mountain, which draw a lot of hikers each year. However, the hike is not without difficulty due to the rough, almost desert-like terrain.
Mount Magog
Mount Magog is visually captivating, and one of the tallest peaks in the Bear Mountain Range in northeastern Utah. It draws adventurers seeking a less-traveled route. Although frequently photographed, it is not widely known. From the summit, hikers can view major peaks in the region, such as the northern peaks of Idaho.
Mount Nebo
Mount Nebo, the centerpiece of the Mount Nebo Wilderness, located inside the Uinta National Forest, is the southernmost and tallest mountain in Utah's Wasatch Range. Drive on the Mount Nebo Scenic Byway, a federally recognized roadway, if you want to take in the scenery without a demanding walk. While driving along, you may take in the breathtaking panoramic views of Utah Valley, Utah Lake, Mount Nebo, and its surroundings.
Mount Ellen
The Henry Mountains, a difficult-to-access region in south-central Utah, boasts Mount Ellen as its highest peak. Since Mount Ellen is a different prominent peak with a topographic prominence of more than 4,921 feet, it stands out significantly from the surrounding mountains.
Thayne Peak
Thayne Peak and Thayne Canyon, in the middle of the Wasatch Mountains above Salt Lake City, provide locals and visitors with a scenic view and forest backdrop for walking, hiking, and trail running. Despite its altitude, Thayne Peak doesn't receive a lot of snow, making it accessible to skiers and snowshoers in the winter and to hikers at lower altitudes. The paths atop Thayne Peak are usually very busy in the spring, summer, and fall.
Navajo Mountain
In the Navajo Indian Reservation in southeast Utah, Navajo Mountain rises majestically over Lake Powell to a respectable 10,388 feet above sea level. One of Utah's most stunning mountains, Navajo Mountain is situated in the Navajo Nation, and thus there is no access to hiking. However, the trip to this holy mountain is absolutely worthwhile.
Doubletop Mountain
Doubletop Mountain offers excellent hiking and is less crowded than Naomi Mountain nearby, which is good news for individuals who value their privacy. It is the second-highest peak in the Bear River Range. Many people trek to the top of Naomi Peak each year, but fewer people visit Doubletop Mountain. After taking in the panoramic views from the summit, you have the choice of going back the way you came or taking the beautiful Crescent Lake Canyon descent.
Mahogany Mountain
Mahogany Mountain, which rises to 9,000 feet in elevation, is sometimes overshadowed by nearby Mount Timpanogos. It boasts an abundance of mountain mahogany brush on its slopes, hence the name. Reaching the peak of Mahogany Mountain will reward you with some of the best views in the state. The mountain also offers enjoyable hiking along several trails all year long.
Ibapah Peak
Ibapah Peak, the highest point of the Deep Creek Range, is a 12,087-foot mountain in Juab County, Utah. It is located about 10 miles northwest of Trout Creek and less than five miles east of the Utah-Nevada border. It is Utah's eighth-highest summit, with a topographic prominence of 5,247 feet. Even most Utah residents are unaware of this unusual region; the majority have never even heard of it. Yet, if you're seeking a reckless, adventurous hike, this mountain is definitely for you!
Granite Peak
This mountainous and stunning peak is about 20 miles west of Beaver, Utah. It is a spectacular combination of granite structures that took thousands of years to evolve. The portion of the Mineral Range where Granite Peak resides is made up of boulders, pinnacles, and stunning granite spires that make for an unrivaled playground for anyone enthusiastic about hiking, rock climbing, bouldering, or exploring. You can scale this mountain on your own, or you can go with a guide who can teach you superior rock-climbing techniques.
Mount Peale
The La Sal Mountains in San Juan County, in the southeast of Utah, have Mount Peale as their highest point. It is Utah's highest peak outside of the Uinta Mountains. There are plenty of opportunities for birdwatching, camping, and trekking along this trail, and you probably won't run into many other people. The route is lovely to explore in any season and is open all year.
Up Next:
The photo featured at the top of this post is © iStock.com/Salil Bhatt
---
Sources

Vacation Ideas, Available here: https://vacationidea.com/utah/most-beautiful-mountains-in-utah.html
Wikipedia, Available here: https://en.wikipedia.org/wiki/Mount_Timpanogos
Wikipedia, Available here: https://en.wikipedia.org/wiki/Kings_Peak_(Utah)