Gerbils and mice are some of the most common pets that people keep, but they also have populations in the wild! Although they are quite similar, there are some distinct differences between these two rodents. Today, we are going to explore the difference between a Gerbil vs Mouse and learn about what makes them unique. Let's discover some more about these interesting rodents!
Comparing a Gerbil and a Mouse
Gerbil
Mouse
Appearance
Light brown or tan. A thicker tail that is occasionally covered in fur.
Dark brown. Thin, hairless tail. Larger, rounded ears.
Distribution
Native to Mongolia, China, and Russia.
Invasive species that live on every continent.
Habitat
Shrubland, desert, grasslands, steppes.
Near humans with ample food sources.
Burrows
Digs deep, extensive burrows.
Nests, but doesn't usually burrow.
Colors and breeding
Wild: Golden agouti
Pet stores: white, blue, lilac, and gray
Wild: Brown or dark brown.
Pet stores (fancy mice): black, chocolate, blue, white, cream, lilac, red, fawn, champagne, cinnamon, golden agouti, silver agouti, silver, and dove.
Usage in research
Historically used, although it is now much rarer.
Most standard animals for testing (lab mice).
The 6 Main Differences between a Gerbil and a Mouse
The main differences between a gerbil and a mouse are that gerbils have hair on their tails, are native to Mongolia and China, and dig deep burrows in the desert. Mice have hairless tails, are an invasive species worldwide, and generally require a human presence to survive.
Gerbils and mice are both rodent family members and have a few features that may appear similar, but that's where the resemblance ends! Both rodents are from different places in the world, have different native habitats, and are used differently in scientific research.
When talking about gerbils and mice, it's also important to note what species each one refers to. There are dozens of gerbil species, and hundreds of rodents are referred to as mice. Today, we will be comparing the two most common examples of the species that a human would encounter: the Mongolian gerbil and the house mouse.
Mongolian gerbils and house mice both have wild populations and domesticated populations that are kept as pets. House mice are generally regarded as an invasive species, however, and need to live near human establishments as they are quite dependent on human presence. Other species of mice (like field mice and deer mice) are not dependent on humans and have exclusively wild populations.
Let's look at gerbils and mice in some more detail to see what makes them different!
Gerbil vs Mouse: Appearance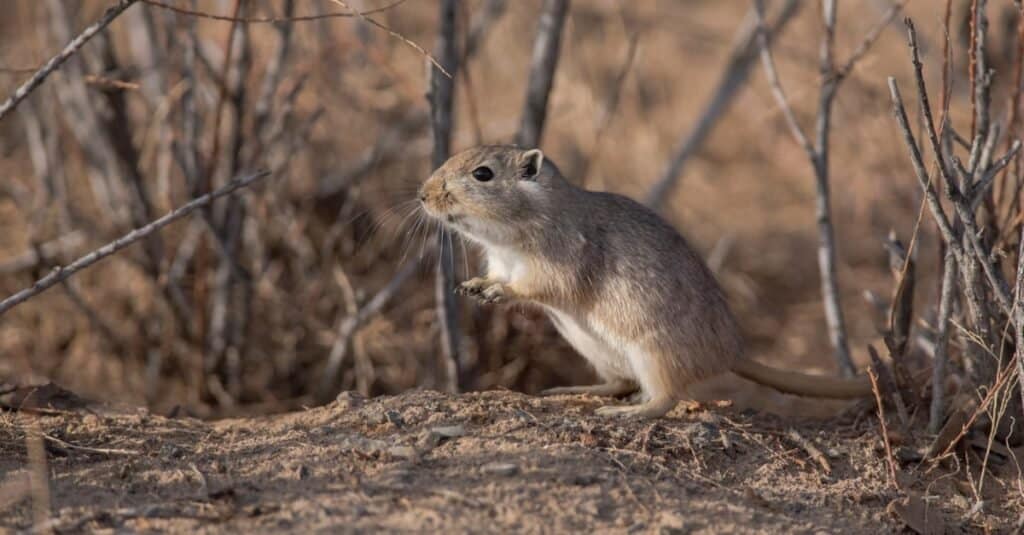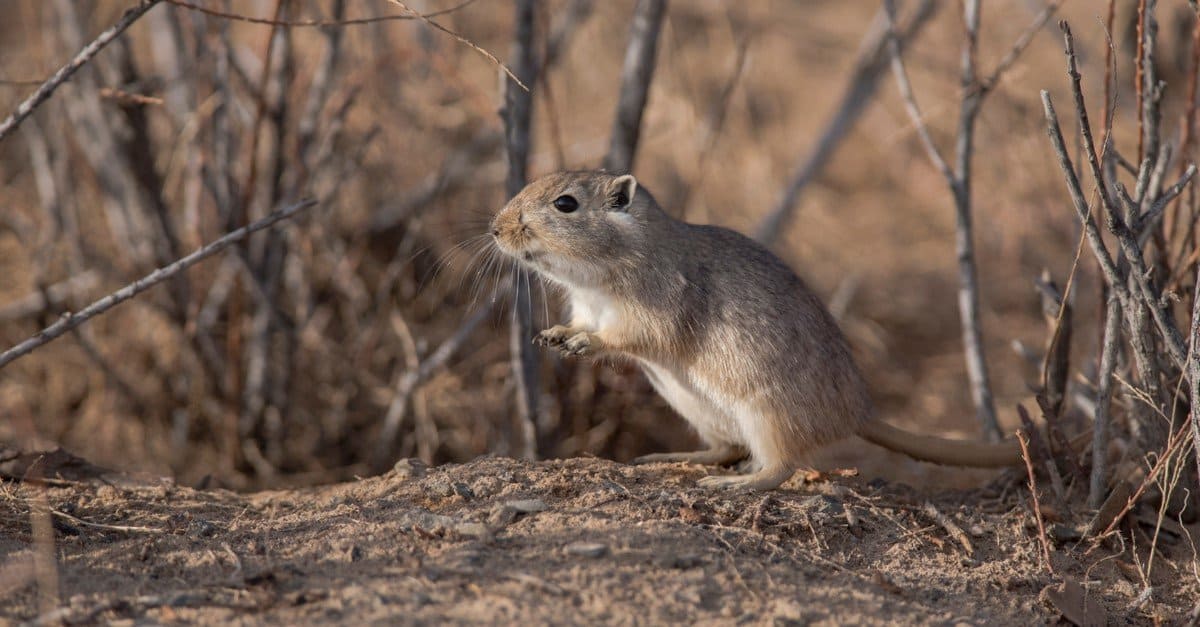 Gerbils are small rodents that can easily be mistaken for a mouse at first. They are usually golden brown or tan and have a long tail with hair on it. Their back legs usually appear longer in relation to their front legs, and they will often stand in a pose that looks like a kangaroo.
Mice are small rodents that most people can recognize on sight. When compared to gerbils, mice (wild ones) are darker in color, usually coming in dark brown. Additionally, their tails are hairless and wormlike. The ears of a mouse are larger and rounder than that of the gerbil, giving them a distinctly different facial appearance.
Gerbil vs Mouse: Distribution
Mice are incredibly widespread and live on every continent in the world. The origins of mice mostly depend on the subspecies. The western European house mouse that most people are familiar with is from Europe, but there are a total of three subspecies that span from Europe to Asia in origin. House mice are invasive species that thrive around humans and have since spread to nearly every location where humans have an established presence.
Mongolian gerbils are native to the steppes of Mongolia, China, and Russia. Today, they can be found worldwide but don't have wild populations like mice do. Gerbils were originally brought back to the USSR in the 19th century to be kept as pets and for scientific research and were soon popularized.
Gerbil vs Mouse: Habitat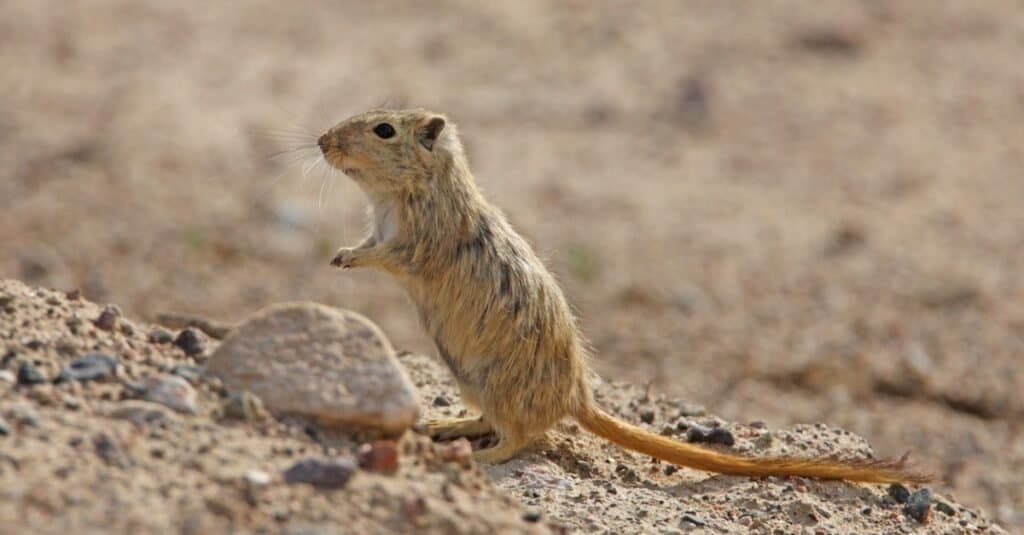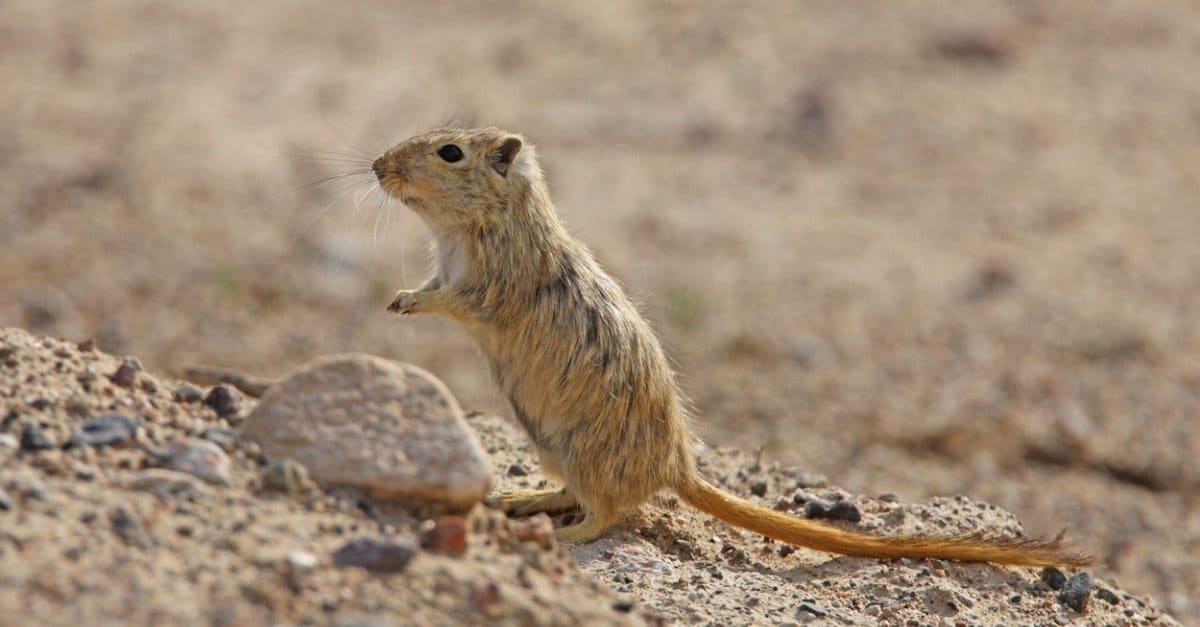 Gerbils are also referred to as "desert mice," giving us a clue as to their habitat. These hardy rodents are found in deserts, grasslands, shrublands, arid regions, and dry highland steppes. Wild gerbils are adapted to extremely dry environments and are able to live with little water.
Mice are much less hardy than gerbils in the wild. Although house mice can live in fields and forests, they much prefer to live alongside humans. House mice rely on humans for places of shelter and for food, often without humans even being aware of it. When house mice contend with other rodents in the wild (a wood mouse, for example), they generally lose as they aren't as well adapted.
Gerbil vs Mouse: Burrows
Gerbils dig extensive burrows and can even link them up with other gerbil colonies. A single burrow usually has 10-20 exits, with a single-family having a range of 400-1,900 square yards.
Mice don't burrow as much as they nest. Most nests are close to, or within, human establishments where the mice can get shelter and food from their unsuspecting hosts.
Gerbil vs Mouse: Colors and breeding
Wild gerbils are usually tan, a color known as golden agouti. Pet gerbils have been bred to produce an array of colors, including white, blue, lilac, and gray. Often, stores carry these colorful gerbils as they are more appealing to the pet market.
House mice are usually dark brown, but selective breeding and domestication have resulted in an array of colors and patterns that are sold. These colorful and domesticated house mice are referred to as "fancy" mice. Fancy mice can come in many colors, including black, chocolate, blue, white, cream, lilac, red, fawn, champagne, cinnamon, golden agouti, silver agouti, silver, and dove. They also come in a variety of patterns.
Gerbil vs Mouse: Usage in research
Gerbils used to be widely used in scientific research but have fallen in popularity in recent years. Most gerbils used in research are from Tumblebrook Farm, a breeding strain of gerbils originally bred from 20 wild Mongolian gerbils.
Lab mice are extremely common in the scientific world as they have high homology with humans. They are easy to breed, have a high production rate, and can have certain biological variables restricted for testing.
---
The Featured Image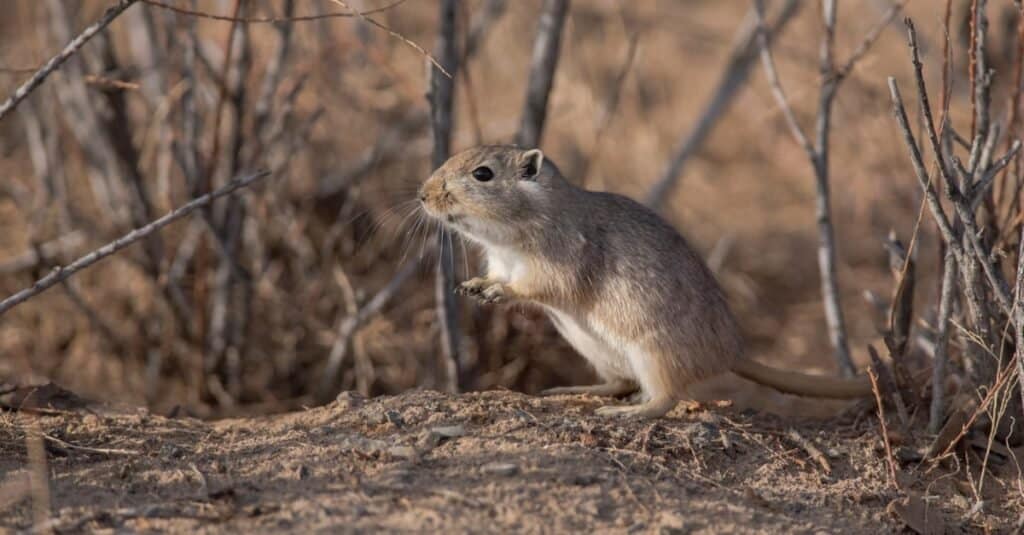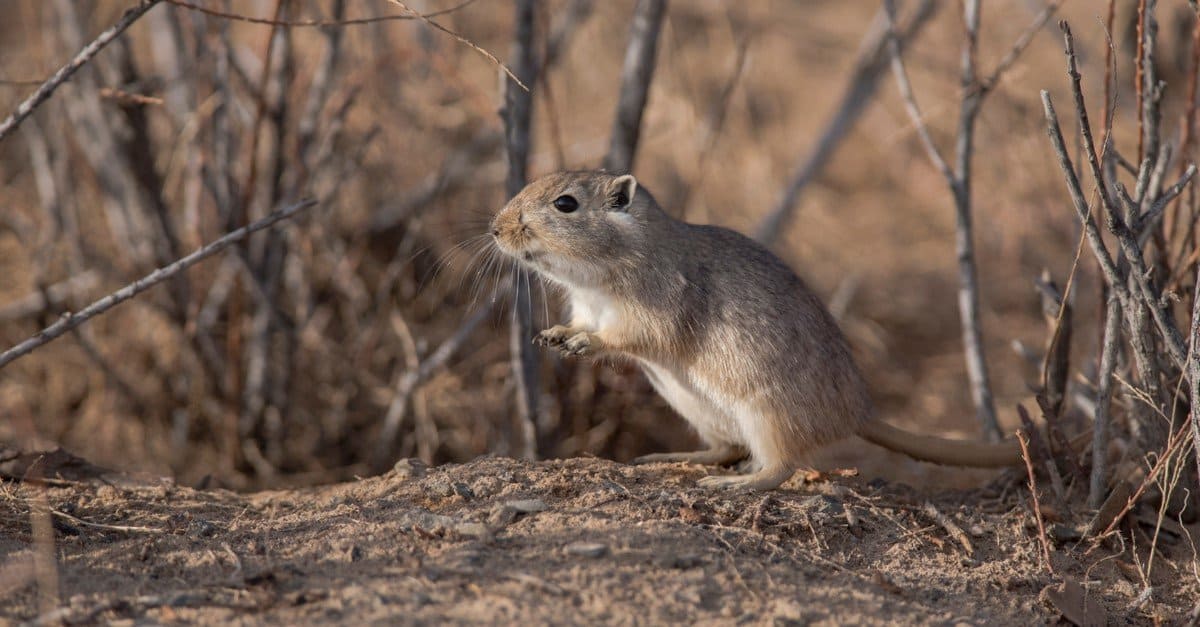 ---