Manatees are lovable creatures that have captured the hearts of many with their docile natures, chubby figures, and graceful movements. Florida is the perfect home for these gentle giants, due to its warm waters and abundant seagrass beds. Many visitors want to get a closer look at manatees, but just where can you see them in the sunshine state? Let's dive in and explore where you can see manatees in Florida (both in the wild and in captivity) and when to plan your visit!
When is the Best Time to See Manatees in Florida?
Although some manatees live throughout Florida all year round, the best time to see them is in the winter, particularly from November through April. Manatees are adorable creatures, but they are more than just cute — they're also very smart. Being migratory animals, they know exactly where to go when the chill of winter sets in. When the water temperatures in the Gulf of Mexico drop below 68° F, it is too cold for manatees, so they head up to enjoy Florida. The state's warm water springs and power plant discharge channels provide manatees with a cozy place to stay warm during the cold winter months, as well as plenty of aquatic vegetation to eat.
Manatees are a vulnerable species, protected by both The Endangered Species Act and the Marine Mammal Protection Act. Both Florida state laws as well as federal laws protect these animals. It is illegal to harass or disturb them in any way, shape, or form. So, before you head out on your manatee-viewing excursion, here are a few important things to remember: 
Do not touch manatees (do not poke, stab, prod, kick, etc.)
Never feed a manatee.
Never chase or pursue a manatee.
Make sure that you always give manatees plenty of space and room to move.
Stay away from mother manatees and their calves, and never separate the two.
Do not separate a manatee from their group.
If there's a manatee near you, avoid splashing and making lots of noise — this can startle them and put them in harm's way. 
Alright, now that you're ready for your adventure, let's take a look at where you can see manatees in Florida!
Crystal River National Wildlife Refuge
The Crystal River National Wildlife Refuge was created to protect the habitats of the Florida manatee (a subspecies of the West Indian manatee). Manatees come to this 80-acre sanctuary to take advantage of its warm, spring-fed waters. There are several trails, boardwalks, and viewing areas available for visitors to watch manatees swimming about in the water. And, if you're feeling extra adventurous, you can even swim or paddle in some of the areas to get an up-close view of these amazing gentle giants! But of course, make sure to respect these incredible creatures and review the U.S. Fish and Wildlife's video, Manatee Manners. 
Crystal River National Wildlife Refuge is located in western Florida, just about an hour north of Tampa. Manatees can be seen at the refuge all throughout the year. However, the best time to see them is between November to April. Between December to February tends to have the most manatees at the refuge. Some of the best places in the park to see manatees are in Homosassa Spring and the Three Sisters Springs. Other major springs include Idiots Delight, King Spring, Hunter Spring, Tarpon Spring, House Spring, and Jurassic Spring. 
Important Notice: There is a restoration project going on at the Three Sisters Springs. This section will be closed until November 15, 2023.
Blue Springs State Park
Located in Orange City, Florida, Blue Springs State Park is one of the largest winter gathering sites for manatees in Florida. Hundreds of these gentle giants bask in spring water with its nice warm 72° F temperature, particularly in the winter months. You can watch the manatees at Blue Springs State Park Swim from the boardwalk. Since the water here is crystal clear, it provides an excellent view. You can watch the manatees in their natural habitat as they socialize and care for their young. 
Wakulla Springs
Wakulla Springs is about 20 minutes to the south of Tallahassee, in northern Florida. This breathtaking freshwater wonderland is home to one of the largest and deepest springs in the world. However, is not just the stunning scenery and sapphire-colored water that draws visitors to Wakulla Springs — it's the incredible wildlife. Among the tranquil currents, you'll find all kinds of amazing animals, from playful manatees to formidable alligators. 
Manatees flock to Wakula Springs, especially in the wintertime. From the cozy comfort of a riverboat or a glass bottom boat, you can observe these gentle giants in their natural habitat, along with a host of other incredible species that also live here. The best time to see manatees at Wakulla Springs is typically from October through January.
Merritt Island National Wildlife Refuge
Established in 1963, the 140,000 acres of the Meritt Island National Wildlife Refuge span a diverse range of habitats. There are pine flatwoods, scrub, saltwater marshes, hardwood hammocks, coastal dunes, and managed impoundments. However, despite being initially designed as a sanctuary for migratory birds, manatees also come to visit the refuge throughout the year.
There's an observation deck at the refuge that provides visitors with a prime vantage point for watching manatees and over 300 different species of birds. The Merritt Island National Wildlife Refuge is located in Titusville, Florida.
Manatee Springs State Park
Manatee Springs State Park is teeming with various species of mammals, fish, birds, reptiles, and invertebrates. This spring is classified as a first-magnitude spring, providing a constant and reliable flow of freshwater that supports a diverse range of aquatic life. From November through April, manatees flock to Manatee Springs to take refuge in its warm waters. There is an 800-foot boardwalk that runs through a cypress forest here. There are also several miles of trails where you can go hiking or explore the beautiful scenery on a bike.
Manatee Observation and Education Center
Situated along Florida's picturesque east coast in the Fort Pierce, is the Manatee Observation Education Center. This waterfront environmental education and wildlife viewing center offers visitors an opportunity to learn about the area's abundant natural resources while also observing some of its most fascinating inhabitants up close. Manatees are attracted to the site because, for a long time, the Henry B. Power Plant generated warm waters here. Although the plant no longer operates today, the manatees still frequent this area.
Inside the Manatee Observation and Education Center you can learn about all the fascinating ecosystems and Florida's diverse habitats, with interactive exhibits and displays. Then you can step out onto the covered observation walkway or the second-story observation tower to see manatees swimming in their natural habitat. In addition to the manatees, you may also see animals like turns, brown pelicans, bottlenosed dolphins, and mullets.
The Manatee Observation Center is open year-round, and manatees can often be seen here at any time. However, the best time to see them is in the winter season, from November through April. 
Tampa Electric's Manatee Viewing Center
Manatees love nothing more than basking in warm waters. Fortunately, Tampa Electric was able to provide just that at the Big Bend Power Station. Found in the Apollo Beach area, not only does this station cool water from Tampa Bay but it also pumps it back into the bay, cleaned and warmed. As winter approaches, manatees make their way to this inviting oasis. 
The unexpected migration of manatees led Tampa Electric to construct the Manatee Viewing Center here, to allow people of all ages to witness the magic of manatees gathering in one place. The discharge channel of the center is a state and federal-protected manatee sanctuary, providing a much-needed haven for these unique and gentle sea creatures. 
The Manatee Viewing Center's 900-foot tidal walk is a prime viewing spot for manatees as well as birds. The center also has a Rays Touch Tank where you can watch mesmerizing cownose rays swimming just inches away and grazing your fingertips.
Manatee Lagoon – An FPL Eco-Discovery Center
For decades, manatees have been drawn to the warm water discharges of the Florida Power & Light Company's (FPL) Riviera Beach Next Generation Clean Energy Center. Shortly after modernizing this natural gas plant, the company built the Manatee Lagoon here. Today, visitors can come and enjoy a range of fun and educational exhibits — and of course, view the visiting manatees! Located in Florida's Palm Beach County, the Manatee Lagoon was constructed by FLP. It is part of its larger mission to promote environmental awareness and education. 
The best time to view manatees at the Manatee Lagoon is between November 15 and March 31. In addition to seeing manatees, there are many other fun activities available at Manatee Lagoon. There are daily educational presentations, children's programs, and even yoga on the waterfront observation deck.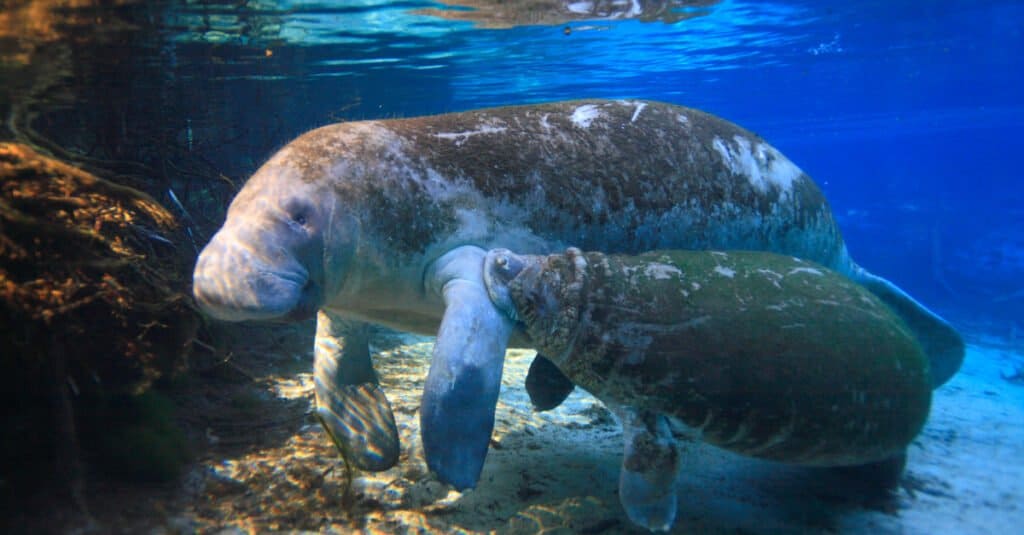 Spring Bayou
Located in Tarpon Springs, Florida, Spring Bayou is a 12-acre lake near Craig Park. The striking color of its brackish waters has led to the nickname "The Golden Crescent". Spring Bayou is a haven for manatees, osprey, and tarpon. During the winter months, manatees flock to this warm oasis as it maintains a constant temperature of 72° F. Spring Bayou is in a historic district, so parking is limited. Manatees can be seen in Spring Bayou from November through May.
And if you're looking for some extra animal fun while you're in Tarpon Springs, you can also head over to the Tarpon Springs Aquarium and Animal Sanctuary. The aquarium is home to touch tanks, shark feeding, a snake and reptile house, and even live gator shows. It also has a new petting zoo with rescued bunnies, goats, a free-roaming tortoise, and a miniature horse.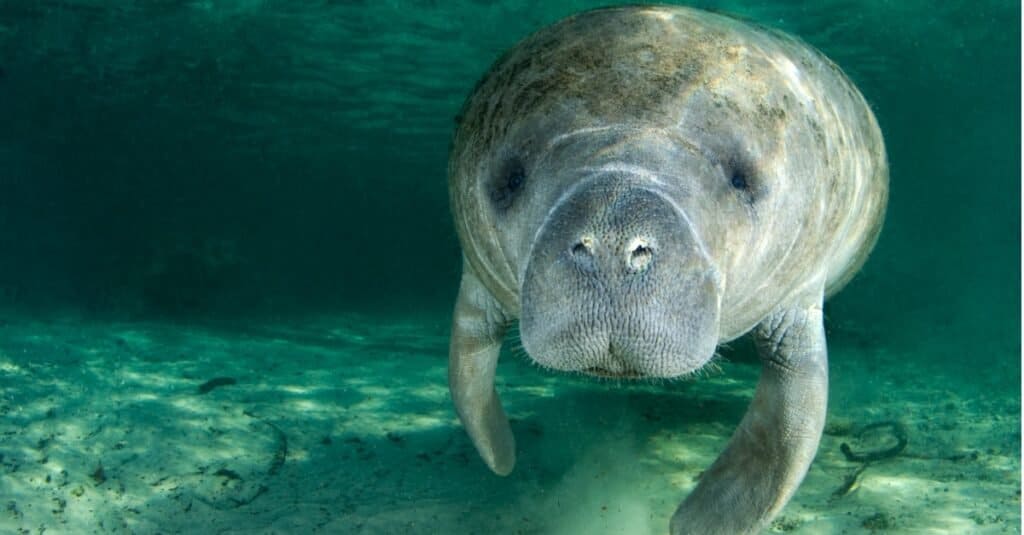 Lee County Manatee Park
Located in Fort Myers, Lee County Manatee Park is another great place to see manatees in Florida. Thanks to the nearby Florida Power and Light Power Station, the Orange River provides a consistently warm flow of water via a canal that feeds into the Caloosahatchee River. From November through March, manatees migrate from their coastal habits to the warm springs of Lee County Manatee Park.
The park is open all year round, and while there aren't large numbers of manatees here during the warmer months, there are still many other natural wonders to explore in the park. There are tons of native plants and trails to explore, as well as a wild butterfly garden. There's also a picnic area and playground, with fun activities for kids like a nature treasure hunt and bingo. 
Ellie Schiller Homosassa Springs Wildlife State Park
This state park also serves as a rehabilitation center for West Indian manatees who have been injured or orphaned. Manatees recover in a freshwater spring before being released back into the wild. The Ellie Schiller Homosassa Springs Wildlife State Park has an underwater observatory where you can walk beneath the spring and watch the manatees swimming above you. 
The park is also home to other animals like black bears, alligators, red wolves, flamingos, key deer, and whooping cranes. In addition, Lu — the oldest hippopotamus in captivity, who turned 63 in 2023 — also calls the park home. Animals that cannot return to the wild continue to live at the Ellie Schiller Homosassa Springs Wildlife State Park as ambassadors for their species and help to educate the public.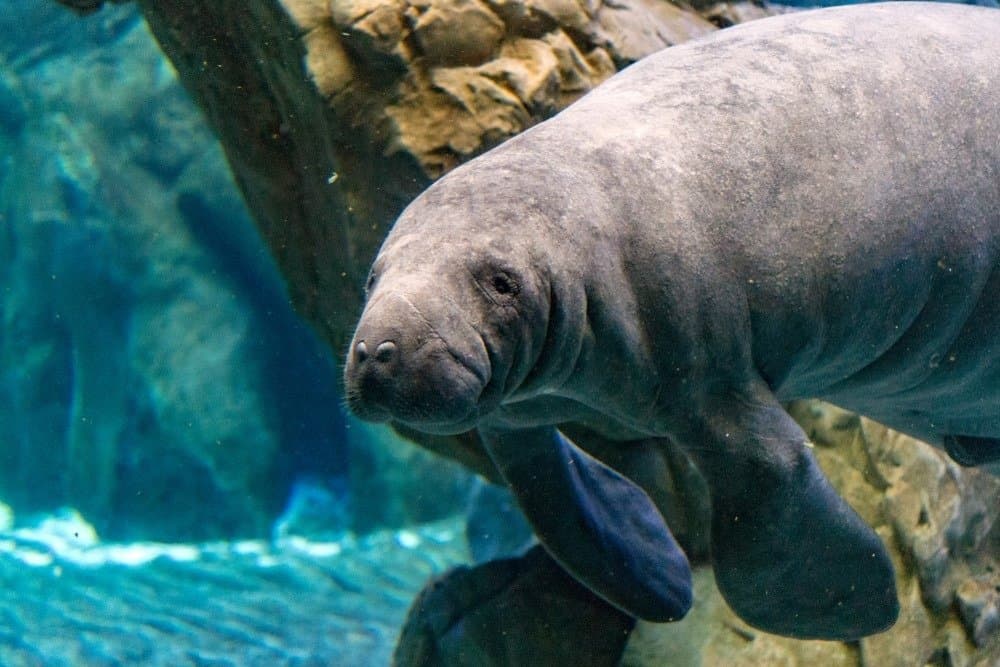 Walt Disney World's EPCOT Center
If you're visiting Walt Disney World and EPCOT on your next vacation, be sure to check out the West Indian manatees at The Seas with Nemo & Friends. This sanctuary is a refuge for injured manatees after near-fatal boat strikes, as well as for manatees seeking respite from the harsh effects of cold stress. Most of the manatees at The Seas Pavilion are only temporary residents. They are given the utmost care and attention by experts so that they can recover and return to the wild.
ZooTampa's Manatee Critical Care Center at Lowry Park
The Manatee Critical Care Center at ZooTampa is one of only four contracted federally permitted manatee rehabilitation centers in Florida. Orphaned or injured manatees from the wild are brought to the Manatee Critical Care Center where they are given life-saving care. 
You can visit ZooTampa and see the manatees in Manatee Mangrove before they are released back out into the wild. Manatees who are unable to return to the wild are given permanent homes where they can live long and healthy lives and act as ambassador animals for their species.
Miami Seaquarium
Even before the Miami Seaquarium officially opened its doors, its team was already taking in rescued manatees. Their first patient arrived months before the aquarium opened when a three-week-old manatee named Mamie was rescued from the wild and brought to the center for treatment. 
This distinguished facility has earned a reputation of being one of five authorized Manatee Critical Care Facilities in Florida, as designated by the U.S. Fish and Wildlife Service. The dedicated rescue team provides compassionate care until manatees are nursed back to full health, ensuring that they are given every opportunity to thrive in their natural habitats when they return to the wild again. Visitors can see rescued manatees in both underwater and outside viewing areas.
Marine Laboratory & Aquarium (MOTE)
The Marine Laboratory & Aquarium (MOTE) has a year-round manatee research program (MRP). The aquarium also has a manatee exhibit, featuring manatees that are unable to live in the wild. For example, manatee brothers Hugh and Buffett came to the aquarium in 1996 and have served as animal ambassadors for several decades. Sadly, Hugh passed away in 2023, but Buffett continues to carry the torch, educating visitors about this incredible species. 
SeaWorld Orlando
The Manatee Rehabilitation Area at SeaWorld Orlando is a behind-the-scenes 5-acre section of the park where rescued marine animals who are orphaned, injured, or ill are treated by the animal rescue team. A section of the rehabilitation area is open to park guests so that visitors can see manatees as they recover and learn about the problems that they face today. 
Parker Manatee Rehabilitation Habitat
The Parker Manatee Rehabilitation Habitat at The Bishop Museum of Science and Nature is another facility that houses rescued manatees from the wild. The habitat holds 60,000 gallons of water and provides underwater viewing as well as above-water viewing for visitors to observe the recovering manatees.  The Parker Manatee Rehabilitation habitat looks like a cypress spring, with lots of different textures, rough surfaces, and levels to provide a stimulating and natural environment as manatees recover. Snooty, the oldest known manatee in the world, lived at this facility until he passed away in 2017 at 69 years old. 
---
The Featured Image
---