When you close your eyes and think of California, chances are you'll see a tall, slender palm tree behind your eyes. Many palm trees grow in California, but there is only one native palm tree in the Golden State. The Washingtonia filifera, the California Fan palm, is from the Colorado and Mojave Deserts. The climate in these deserts is much harsher than in most parts of California. That is why you will barely see the Washingtonia filifera walking down the street. Instead, you'll see a plethora of non-native species. 
There are over 2,600 varieties of palm tree species all over the world. Palm trees are part of the Arecaceae family of plants. The Arecaceae is a family of perennial flowering plants in the monocot order Arecales. They can grow into climbers, shrubs, or tree-like forms. Palms categorized as having a tree-like arrangement are called palm trees. They are commonly found in the tropical region of a country. Palm trees are some of the world's tallest trees and hold the record for the world's most giant tree seeds. 
Although the Washingtonia filifera is the only species of palm tree native to the state. You will find ten different types of Palm trees all over California. These palms are:
California Fan Palm 
Cuban Royal Palm 
Mexican Fan Palm 
Queen Palm 
Washinton Fan Palm 
Beach Palm 
Canary Island Date Palm 
Mediterranean Fan Palm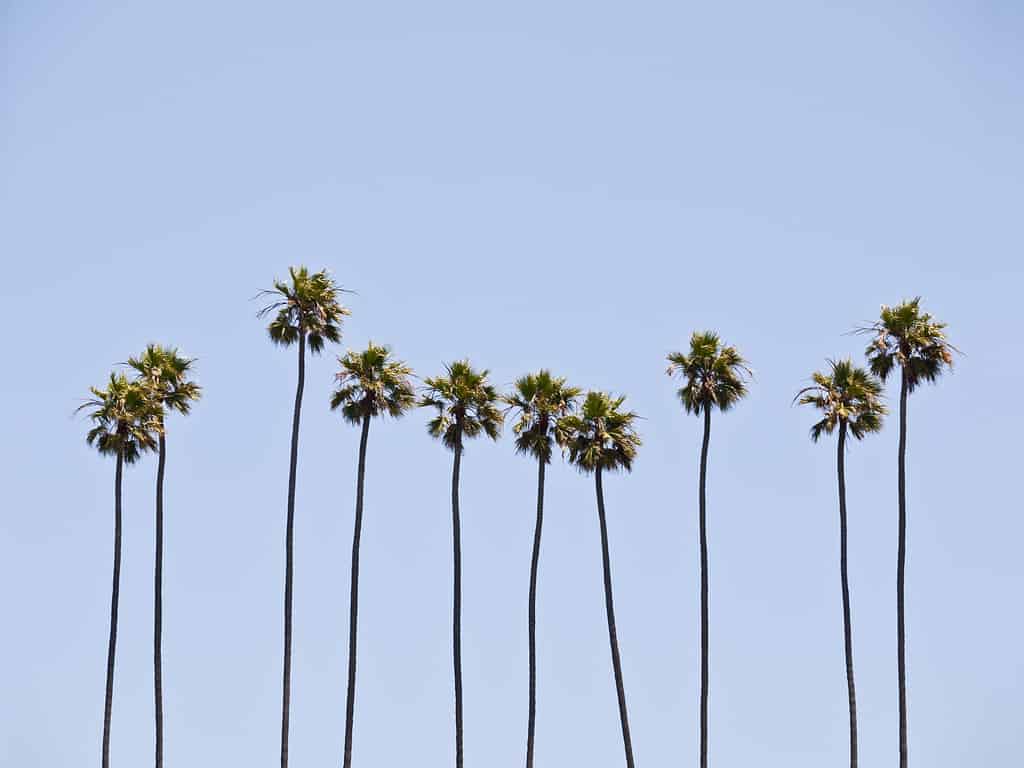 Palm Trees in Northern California
Northern California's climate is much colder than other areas of the temperate state. Even though palm trees usually do better in tropical regions, most palms are adaptable to all types of weather. In Northern California, you will find European fan palms, Windmill palms, Coconut, and Pindo palm trees. 
Palm Trees in Central California 
In Central California, you will find the California fan palm, King palm, Kentia palm, and Date palm. The climate in central California fluctuates between regions, and the palm trees you will find in Central California usually survive in scorching weather. Central California doesn't receive much rain and is generally extremely hot for the most part, except along the coast. 
Palm Trees in Southern California
You will see the one native palm tree to California all over the state's southern end. The Washintonia filifera is native to Southern California, and you will see it all over the region along with numerous other palm tree species. 
Palm Trees in Los Angeles 
Palm trees symbolize the California dream in Los Angeles and line streets from the coast into the Valley. The palm tree is part of L.A.'s identity and is everywhere, from movies and music videos to souvenir shirts and In-N-Out cups. The palm trees represent Southern California's easy-going lifestyle. Despite the diversity and the ubiquity of palms in the Los Angeles area, only one tree is native to this iconic city, the Washingtonia filifera. All other palm trees you see dotting street corners and lining boulevards are imported. From the tall and slender Mexican fan palm to the feathery Canary Island, all of these palms are imported into the city. The real question is: How did they get here?
History of Palm Trees in California
Before the Twentieth Century
L.A.'s palm trees owe their iconic reputation to Southern California's turn-of-the-century cultural aspirations rather than the region's natural ecology. In 1876, the Transcontinental Railroad reached Southern California and stopped in present-day Los Angeles. What once was a cow town was now marketed as a "semi-tropical" destination to get people to visit Los Angeles. The native palms of Southern California grow far away from Los Angeles in the spring-fed Colorado desert oases tucked deep inside mountain canyons. Centuries before California Palms were used for their ornamental value, the Cahuilla Indians used the Washingtonia filifera as a natural resource. They used this palm for everything, from eating the fruit to weaving it into baskets and making it into roofing. 
The first people to plant palms were eighteen-century Franciscan missionaries for Palm Sunday. Still, it wasn't until the turn of the twentieth century that California started planting palm trees like crazy. The palm tree provided no shade or fruit and was purely for cosmetic reasons. The palm trees' exotic look and tropical associations helped build the façade of California as a vacation destination. The tree's exotic associations help reinforce Southern California's turn-of-the-century conviction that it was an American Mediterranean paradise. 
After the Twentieth Century
Palm trees soon started appearing all over Los Angeles. From the front yards of the mansions in Beverly Hills to public spaces like Paradise Park along the Santa Monica shore, palm trees were everywhere you looked. The most extensive effort to plant palm trees was in 1930 by the Los Angeles forestry division. The division planted 25,000 palm trees all over Los Angeles. Most of them are still up and swaying above the city's boulevards.
Glenn Hall, the city's forestry chief, spearheaded the palm tree beautification project for the 1932 Olympic games. Hall wanted to impress the athletes, but it actually served more as a purpose to getting L.A.'s unemployed back to work. This $100,000 program planted over 40,000 palm trees and was part of a larger unemployment relief program funded by a 5 million bond. Beginning in March 1931, Los Angeles hired 400 unemployed men to work planting trees over 150 miles of boulevards. Mexican fan palms in 1931 cost less than four dollars, and each tree was planted 40 to 50 miles apart. 
Palm trees live between 70 to 100 years. Most of these trees are nearing the end of their natural life cycle unless the red palm weevil (an insect that kills palm trees) gets to the palm first. Unfortunately, The Department of Water and Power announced the palm trees will not be replaced as the trees die. Instead, palm trees will be replaced with trees more adaptable to California's semi-arid climate. These trees require less water and offer more shade to pedestrians. 
L.A.'s Iconic Palm Trees
Even though the palm trees planted in 1930 will eventually be replaced, they aren't going anywhere just yet. Here are the most common Palm Trees around the city of Los Angeles.
Mexican Fan Palm
Washingtonia robusta 
This palm tree is the most recognizable palm in all of Los Angeles. Also called the "sky-dusters," these trees are the most iconic and visually striking. These palms grow up to 70 to 100 feet. Although invasive in some parts of Southern California, they are almost extinct in their natural home of Baja California. Mexican Fan Palms prefer sandy, loamy, and well-drained soil. Like most desert plants, they grow best in full sun. These palms must receive between 6 to 8 hours of sun daily. These palms are disease and pest-resistant, but spider mites may be a problem.
California Fan Palms 
Washingtonia filifera 
These palms look similar to the former Mexican Fan Palm but are shorter and broader. While these trees are not native to L.A., they are the only native species in Southern California. These palm trees naturally grow in palm oases in the Sonoran and Mojave desert. These palm oases were once the village sites of the native Kamia and Cahuilla tribes, who used palm trees for fruits, fibers, clothing, baskets, and roofs. These palms need full sun and fast drainage. They prefer well-drained soils because they are susceptible to root rot.
Canary Island Date Palms
Phoenix canariensis 
Nicknamed the "pineapple palm," these trees were planted in wealthy neighborhoods like Beverly Hills and Hancock Park in the 1920s and 1930s. This Canary Island native can be characterized by its featherlike fronds and bright orange flowers. Unfortunately, this decorative tree is one of the most expensive palms. This palm is also most susceptible to pests like the South American palm weevil. 
---