One of the most difficult pairs of birds to tell apart has to be the raven and the crow. Telling the difference between raven vs crow size can be extremely difficult if you are unfamiliar with both of these birds, and you may still struggle unless you see the pair side by side. However, there are some key distinguishing features between these birds, their size being one of them.
In this article, we will address all of these differences as well as some things that you can do to identify these birds in their natural habitats. By the time you finish reading, you should have a good grasp about how to tell ravens and crows apart based on their size alone. Let's get started! 
Comparing Raven vs Crow Size
| | Raven Size | Crow Size |
| --- | --- | --- |
| Wingspan | 3-4 feet long | 1-2 feet long |
| Beak Size | Large, wide, and hooked | Short, narrow, straight  |
| Body Size | 20-30 inches long | 10-20 inches long |
| Tail | Long feathers in a wedge or triangle shape | Short tail feathers in a straight line or fan shape |
| Call | Deep throated; croaking or honking | Classic "caw caw" sound |
The Main Differences Between Raven vs Crow Size
There are many immediate differences between raven vs crow size. For example, ravens are notoriously larger than crows by a few feet or inches, both in their wingspan and body size. A crow has a much smaller beak when compared to the large and curved beak of the raven. Finally, both the tail shape and calls of raven vs crow are different as well. 
Let's take a look at these differences in more detail now. 
Raven vs Crow Size: Wingspan
One obvious difference between raven vs crow size lies in their wingspan. A raven has a much larger wingspan compared to a crow. Crows have an average wingspan of 1-2 feet total, while ravens have a wingspan of 3-4 feet. This is a significant difference between these two birds.
While it can be difficult to tell this difference unless you see both birds flying side by side, you will likely still notice how large the wingspan of a raven is. Ravens also have a longer neck when flying, which could be another way of telling these two birds apart mid-flight.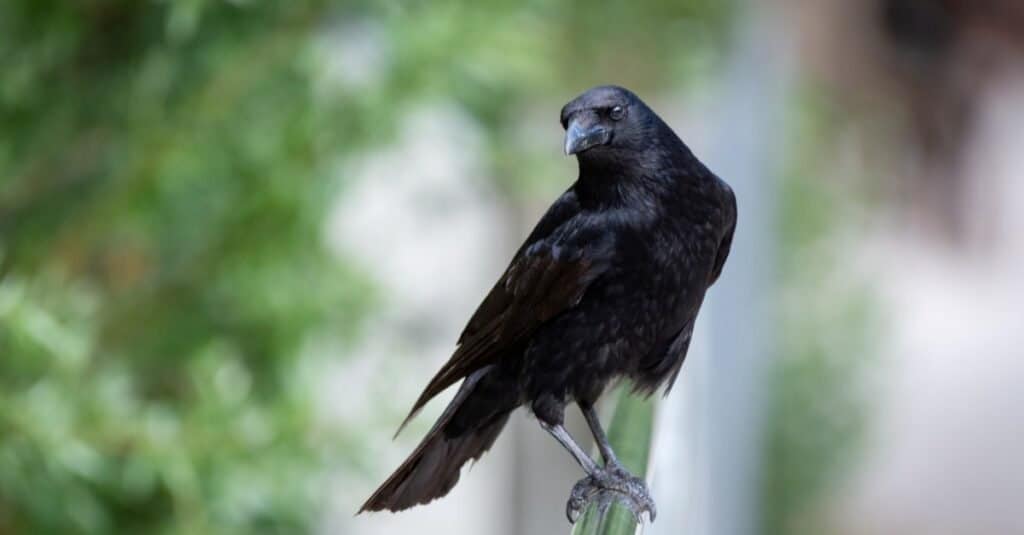 Raven vs Crow Size: Beak Size
Another key difference between raven vs crow size is the size of their beaks. Ravens have a much larger beak than crows do, often by an inch or so. The shape differs from the crow's beak as well. Let's talk about this in more detail.
The beak of a raven is hooked or curved downward, and the overall size of it is thicker and longer. A crow's beak is shorter and more pointed, and isn't as wide as a raven's beak. Ravens also tend to have more tufted feathers surrounding the base of their beak when compared to crows.
Raven vs Crow Size: Body Size
The overall body size is another difference between raven vs crow size. For example, even the largest crow will not match the size of a raven. Ravens are usually double the size of a crow, both in length and weight. This is an important distinction to make between these two birds.
Crows measure an average of 10-20 inches in length, while ravens measure anywhere from 30-40 inches in length. Plus, crows tend to weigh anywhere from 10-20 ounces while ravens can reach over 40 ounces in weight!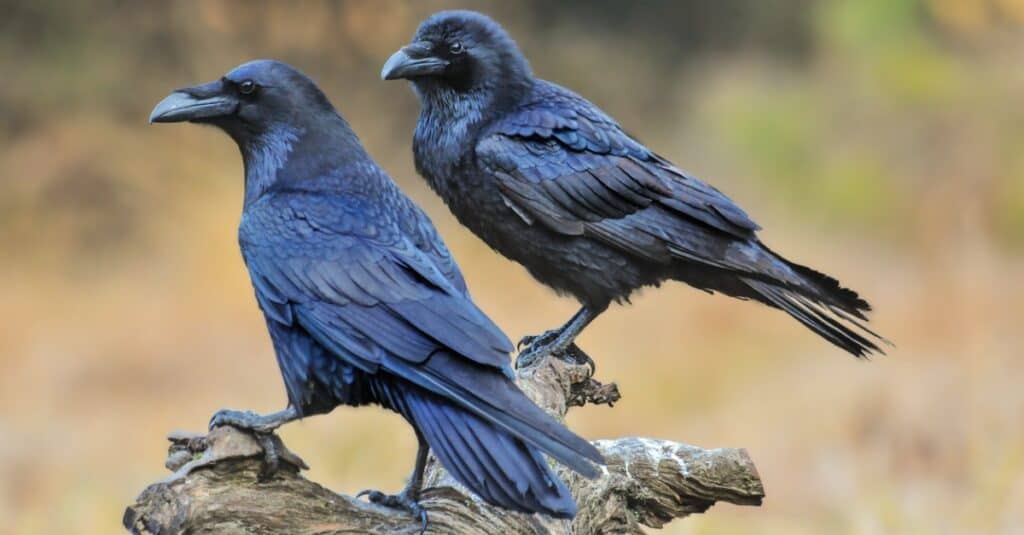 Raven vs Crow Size: Tail Shape and Size
The shape and size of a raven's tail differs from the shape and size of a crow's tail. For example, ravens have tails made of much longer feathers while crows maintain shorter tails overall. The inherent shape of their tails differs as well. Let's take a closer look at this.
A raven flies with a tail that is uniquely shaped, while a crow flies with uniformly shaped tail feathers. Raven tail feathers are arranged in a triangle or wedge shape, while crow tail feathers form a single fan shaped line.
Raven vs Crow Size: Call Relative to Size
A final key difference between raven vs crow size is the way their calls sound. Given the larger size of ravens, their calls are much deeper and reverberate more than the call of a crow. While it may take some time to tell the difference between them, there are many ways to tell apart these two birds based on their call alone.
For example, crows maintain a classic "caw caw" sound when they call, while ravens have more of a croak or a honking call. This is likely due to the larger chest that ravens have compared to crow size, as the sounds reverberate more within the body of a raven.
Up Next:
More from A-Z Animals
---
The Featured Image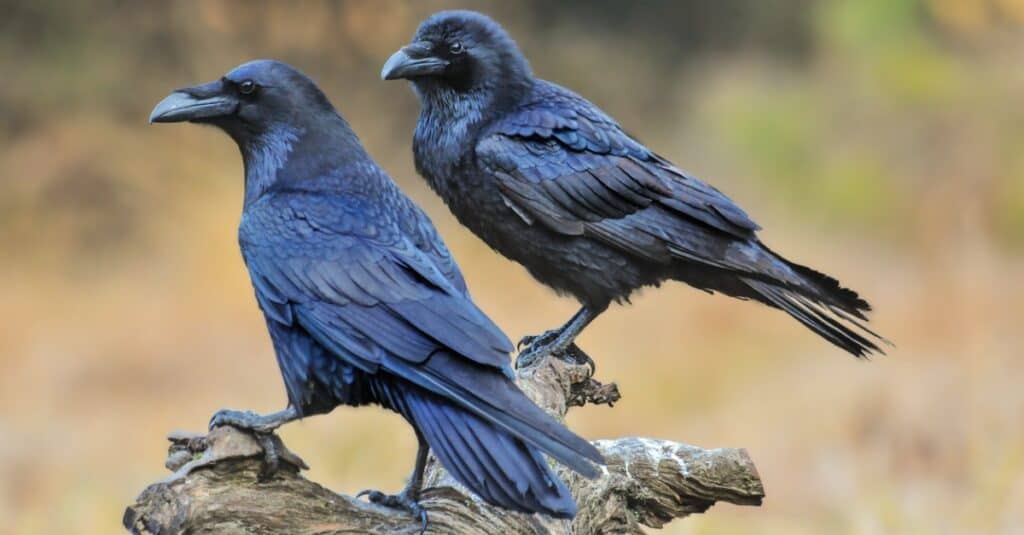 ---