Nebraska may be famous for its cornfields, but did you know it's also an ideal place to go deer hunting? The Cornhusker State offers several benefits to those who want to try their hand at bagging a deer, no matter their age or experience level. Read on for a list of eight reasons why you should go deer hunting in Nebraska!
1. Deer Population Density
Nebraska is a great spot for deer hunting in the United States partly due to its generous deer population. The state boasts two kinds of deer: white-tailed deer and mule deer. It contains approximately 300,000 white-tailed deer and 130,000 mule deer for a total of about 430,000 deer.
Nebraska's deer population is scattered across the state. However, hunters may have better luck finding white-tailed deer in the east and riparian corridors. Mule deer are more populous in the western two-thirds of the state and dominant in 20 counties.
2. Deer Quality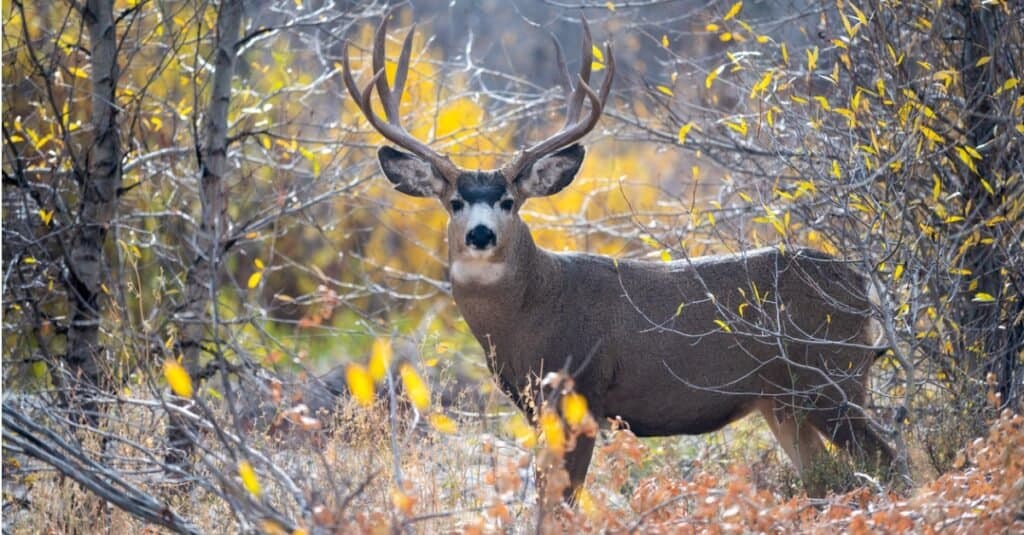 In addition to its deer population density, Nebraska has turned out some impressive deer hunting records. In terms of weight, some of the heaviest bucks have been known to weigh over 250 pounds (live weight). Here are the four highest-scoring deer in Nebraska's history according to each species and type:
Typical white-tailed deer: 199 2/8 points. Vernon Virka, firearm, Saunders County, 1983.
Non-typical white-tailed deer: 284 points. Wesley A. O'Brien, firearm, Richardson County, 2009.
Typical mule deer: 200 3/8 points. Miles Lemley, muzzleloader, Scottsbluff County, 2007.
Non-typical mule deer: 265 2/8 points. Leo Dwyer, firearm, Wheeler County, 1959.
3. Access to Public Hunting Lands
Deer hunting in Nebraska is made easier by access to public hunting lands. The state contains over 1.2 million acres of public land available to hunters with a permit. This includes state, federal, and conservation partner lands. It also includes privately owned lands participating in the Open Fields and Waters (OFW) program.
The Nebraska Game and Parks Commission operates the OFW program to increase the number of acres available to hunters. These lands are typically open during legal seasons, though some may operate under restrictions. For more information, including maps of public hunting grounds, check out Nebraska's official Where to Hunt webpage.
The government also permits antlerless hunting in certain state parks for those with a special access permit. Participating state parks include Eugene T. Mahoney State Park, Platte River State Park, and Schramm Park State Recreation Area. Certain dates in December and January are open for archery and muzzleloader seasons.
4. Season Dates and Length
A long season greatly enhances the quality of deer hunting in Nebraska. Below are the season dates for deer hunting in 2023. Consult the Nebraska Game and Parks Commission website for current dates and season lengths.
Archery: September 1 – December 31, 2023
Special Landowner: November 4 – November 6, 2023
November Firearm: November 11 – November 19, 2023
Muzzleloader: December 1 – December 31, 2023
October River Antlerless Firearm: October 1 – October 15, 2023
River Antlerless Late Firearm: January 1 – January 31, 2024
Antlerless Only Season Choice: September 1, 2023 – January 15, 2024
Limited Landowner: September 1, 2023 – January 15, 2024
Late Antlerless Only Firearm: January 1 – January 15, 2024
5. Weather Conditions
Another reason to go deer hunting in Nebraska is the weather. Overall, Nebraska has slightly less yearly precipitation than the US average, meaning hunting conditions tend to be drier (but be aware that this can vary greatly from year to year and region to region). There's no consensus on whether or not rain is good for hunting, but it does make things damp and chilly for hunters. For those who hate the rain, Nebraska may be a good choice.
Besides rain, winters in Nebraska tend to be cold and snowy. While this can make hunting uncomfortable, it also makes tracking easier. Deer leave footprints and other markers in the snow that not only lay down a clear trail but can provide information on how long ago the deer passed by.
While hunting, be conscious of high winds. Because they make it more difficult for deer to see, hear, and smell potential threats, they become more anxious and skittish. Hunters will need to adjust their strategy to seek out places where deer might take shelter from gales.
6. Hunting Regulations
For those who enjoy hunting as a family, Nebraska issues deer permits to resident youth aged 10 and up, provided that a licensed hunter at least 19 years of age accompanies them. Nonresident youth operate under the same guidelines except that they must also carry a habitat stamp. This means deer hunting in Nebraska is open to families from out of state as well as to residents. As a bonus, permits for hunters 16 and under are only $8. Resident and nonresident adults require both a deer permit and a habitat stamp, though the government has waived the habitat stamp requirement for residents with a 64-and-older veteran or 69-and-older senior permit.
7. Local Culture
Deer hunting in Nebraska has a long and proud history. The culture surrounding it is alive and well, supported by the Nebraska Game and Parks Commission as well as numerous hunting clubs and groups. For hunters looking to share their experiences with others, there are plenty of opportunities to get involved. For those who want to learn to hunt but don't know where to start or need additional mentoring, check out Nebraska's Learn to Hunt resource.
8. Natural Beauty
Nebraska is a gorgeous state with its plenitude of prairies, woodlands, rivers, lakes, state parks, and abundant sunshine. Even if you don't manage to bag a deer, the effort is worth it just to spend time soaking in Nebraska's natural beauty!
Summary Table: 8 Reasons to Go Deer Hunting in Nebraska
| Number | Reason |
| --- | --- |
| 1 | Deer population density |
| 2 | Deer quality |
| 3 | Access to public hunting lands |
| 4 | Season dates and length |
| 5 | Weather conditions |
| 6 | Hunting regulations |
| 7 | Local culture |
| 8 | Natural beauty |
Summary of 8 reasons to go deer hunting in Nebraska.
The photo featured at the top of this post is © Jeramey Lende/Shutterstock.com
---