Some of the biggest fish caught in Vermont are well over what is considered to be "trophy-sized" fish. Vermont keeps records on 36 different species of fish including some of the more popular like catfish, bass, and trout. Lake Champlain on the NW border of the state is one of the most frequented fishing spots as well as the Connecticut River. With around 800 lakes and ponds to fish from and thousands of miles of rivers and streams. You will need to find your own lucky fishing hole! Here are the 5 biggest trophy fish ever caught in Vermont.
5) Carp: 35 pounds 1.6 ounces
The biggest carp ever caught in Vermont weighed in at 35 pounds 1.6 ounces. Many of the fish on the Vermont State Record Fish list were caught on Lake Champlain. That is where this trophy-sized Carp was reeled in. Kyle Charron caught this one on May 19, 2019. Carp are heavy-bodied freshwater fish that have barbels on the side of their head. They tend to hang out at the weedy bottom of lakes and ponds.
Although this was probably an epic catch for Charron, it may have disappointed the previous record holder, Chase Stokes who was 11 when he caught a 33.25-pound Carp on Otter Creek in April of 2017. An average 11-year-old weighs around 78 pounds so this fish was almost half his size, yet he proudly held the fish in his arms for the press! Still pretty exciting to catch a record-breaking trophy fish at such an early age. Now he will have to keep fishing to break Charron's record.
4) Lake Trout: 35 pounds 3.2 ounces
Another 35-pound fish was caught by Shawn Dutil, this time a Lake Trout on Lake Willoughby. This is a smaller lake in northern Vermont in the Willoughby State Forest. You can also find good-sized rainbow trout, yellow perch, and salmon on Lake Willoughby. On July 20, 2003, it was the trophy-sized lake trout that Dutil pulled in with a final weight of 35 pounds and 3.2 ounces. Lake trout can start out at about 5 pounds in the spring and grow quite a bit by the time summer rolls around. Fish in the 20-40 pounds are common by the end of summer!
Other kinds of trout that you can find in Vermont waters include rainbow trout, brown trout, and brook trout. A good-sized brown trout holds the record in Vermont at 22 pounds 2.5 ounces caught on the Sherman Reservoir. The biggest rainbow trout on record weighed 13 pounds 12 ounces from Lake Dunmore in West Central Vermont. The smaller brook trout usually only get to be 6-12 inches long and weigh 2-4 pounds, but the largest caught in Vermont was 5 pounds 12 ounces caught in the Paran Creek.
The three most common kinds of catfish in the US are channel cats, flatheads, and blue catfish. Blue cats are the largest with flatheads behind that and channel cats are a little smaller. But at 35 pounds we are still talking about monster-sized fish! Vermont keeps track of Channel Catfish with the largest one on record in the state weighing 35 pounds 14.7 ounces (almost 36 pounds!). Robert Scott this one back on June 28, 2012, on Lake St. Katherine, near the border of New York to the west of Green Mountain National Forest.
The world record biggest channel catfish weighed 58 pounds! It is a long-standing record dating back to July 7, 1964, caught in the Santee-Cooper Reservoir, South Carolina. W. Whaley is the angler that holds this long-time trophy-sized channel cat. The world record flathead catfish was 123 pounds, caught in Kansas in 1998, and the world record blue catfish was 143 pounds, caught in Virginia in 2011. That makes for a lot of grilled catfish fillets!
Muskellunge, commonly called Muskie, are large torpedo-shaped freshwater fish that are popular sportfish. Better be wearing gloves when you reel one of these in because they have long pointy teeth. The largest Muskie on record in Vermont was caught on the Missisquoi River in Swanton by Chris Beebe. His record has been held since September 9, 2005. Muskie are aggressive fish that can be tricky to land and get back into the boat.
Make a note that Muskie in Vermont are now restricted to catch-and-release only as the state Fish and Wildlife Management are trying to restore the Muskie population after years of decline. One Muskie can lay 150,000 eggs in one spring, so protecting the fish until they are able to create their own self-sustaining population is an important step. Muskie can reach sizes of 60 inches or more making for an impressive sport fish, but for now, the populations in Vermont need protection so they can be revived.  
1) Carp (Bow): 44 pounds 11 ounces
The biggest trophy fish ever caught in Vermont was a carp, but instead of hooking the "big one" and reeling it in, this one was caught by bow and arrow. Bow fishing is becoming more popular in the US as it combines the skill of hunting with the excitement of finding the perfect catch. Similarly to the biggest carp caught by rod-and-reel, this one was caught on Lake Champlain. Bradley Disorda shot this trophy fish recently on May 14, 2021. His trophy fish weighed 44 pounds 11 ounces and was 42.50 inches long (that is 3 ½ feet long, a little longer than a yardstick!). As was mentioned before Carp are heavy-bodied fish, so unlike the torpedo-shaped Muskie or northern pike they are hefty and this one had a girth of 29.50 inches around. That is definitely one…big…fish!
Up Next
Sources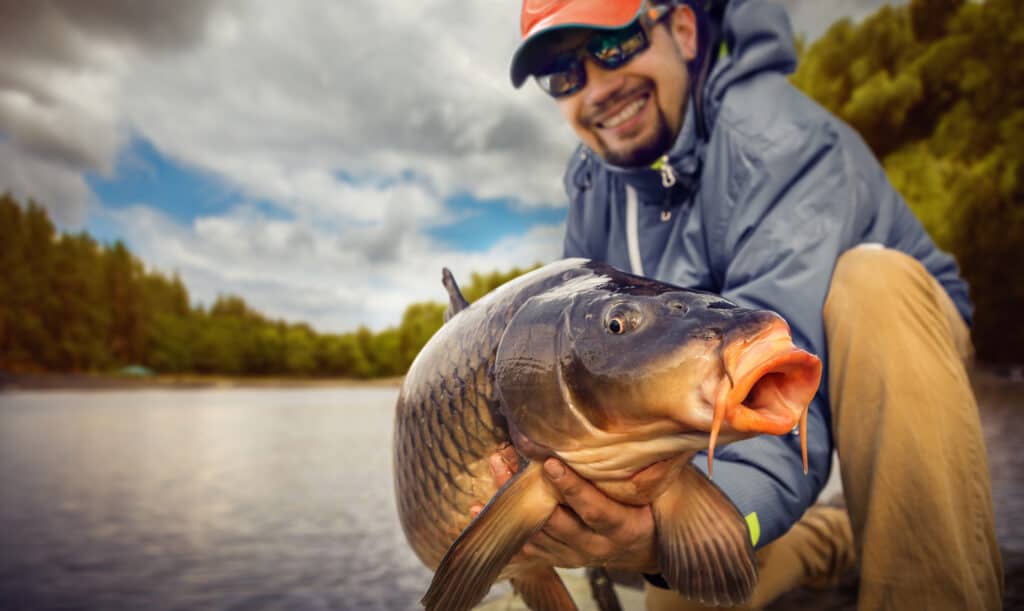 Sources

, Available here: https://vtfishandwildlife.com/fish/fishing-opportunities
, Available here: https://anrweb.vt.gov/FWD/FW/VermontFishRecords.aspx#allTimeRecords
, Available here: https://anrweb.vt.gov/FWD/FW/VermontFishRecords.aspx