The weather along the East Coast is cold for much of the year due to its northern status, which is why you may want to visit some aquariums in Massachusetts. This doesn't affect the massive systems of waterways and ecosystems that continue to thrive within the state. There are quite a few aquariums to explore if you want to know about the diversity of Massachusetts.
From Cape Cod to the Nashua River, there is much above and below the water to experience and discover. There is more to Massachusetts than its luxurious foliage, Harvard, or the indescribable Bostonian accent. 
A few of the aquariums you can find include:
Berkshire Museum
Cape Cod Museum of Natural History
Maria Mitchell Aquarium
New England Aquarium
Woods Hole Science Aquarium
Now that we know what we are looking at, let's take a closer look at some of the best aquariums in Massachusetts!
Berkshire Museum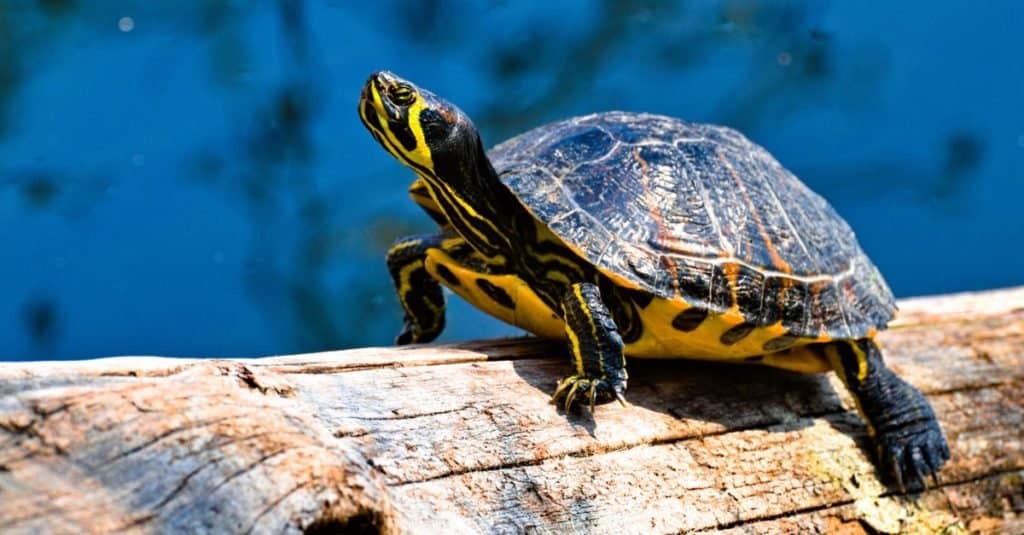 | | |
| --- | --- |
| Berkshire Museum | |
| Address  | 39 South St, Pittsfield, MA 01201 |
| Animal to See | Red-Bellied Cooters |
| Known For | Controversy over Norman Rockwell Paintings |
Located beneath the initial lobby of the Berkshire Museum, there is an aquarium. There are thirty-five tanks that make up this surprising facet of the museum, with so much to explore. The museum has been open since 1903 , but the aquarium is relatively newer, with different animals and habitats.
A few things you can spot in the aquarium are:
There are also red-bellied cooters, which are housed there, which are an endangered species of turtle. They are raised from a young age until they can sustain themselves on their own, then are released to the wild. Fish, amphibians, reptiles, and more are also available to be educated on within these aquarium walls.
Cape Cod Museum of Natural History
| | |
| --- | --- |
| Cape Cod Museum of Natural History | |
| Address  | 869 Main Street/Route 6A, Brewster, MA 02631 |
| Animal to See | Myrtle the Turtle |
| Known For | Educational Exhibits |
When it comes to the Cape Cod Museum of Natural History,  they have a very clear mission statement. It's to "inspire appreciation, understanding and stewardship of the natural environment and wildlife." This is done through discovery and learning.
It was originally built to provide educational exhibits for schools and the other people in the area. It focuses on the local flora and fauna of Massachusetts. The Marshview room provides special insight with cameras located at an osprey nest along with binoculars for bird watching and more.
The aquarium itself houses freshwater and saltwater exhibits just like the natural Cape Cod. There is detail within ponds, lakes, streams, tidepools, and more. Much is to be learned about what nature is offering.
Maria Mitchell Aquarium
| | |
| --- | --- |
| Maria Mitchell Aquarium | |
| Address  | 28 Washington St, Nantucket, MA 02554 |
| Animal to See | Touch Tanks |
| Known For | Only aquarium in Nantucket |
Nantucket Island has one local aquarium, and that is the Maria Mitchell Aquarium. The first female astronomer Maria Mitchell, is actually who the aquarium is named after as she was from Nantucket.
The Maria Mitchell Aquarium opened in 1997 and is home to more than 20 various saltwater exhibits. There are three buildings and two touch tanks contained within, and most animals are on a catch and release system. This means they change out the animals so that none are in captivity for too long.
There is a rare blue lobster available to be seen as well at this aquarium, which is a coloration of lobster that has a one in a million chance of being caught. Often there are sharks, sea bass, and scub to be viewed within the tanks here at this aquarium in Massachusetts. Keeping the exhibits as animals local to the island is a great choice for education purposes.
Much of what is available here, other than the aquariums, is astronomy-related. There are two viewing options, the Loines Observatory and Vestal Street Observatory. They pay homage to Maria Mitchell, the astronomer, and have plenty of local programs to help educate the community.
New England Aquarium
| | |
| --- | --- |
| New England Aquarium | |
| Address  | 1 Central Wharf, Boston, MA 02110 |
| Animal to See | Harbor Seals |
| Known For | Giant Ocean Tank |
The New England Aquarium was a massive undertaking when it began and opened in 1969. They have had multiple renovations over the decades. The Giant Ocean Tank is the centerpiece of the aquarium, taking up a whopping 760,000 gallons of water and holding a Carribean reef along with a plethora of fish and other creatures.
This large tank is surrounded by a spiral staircase with fifty-two windows to peruse through the walk. Below this tank is the housing for African Penguins, which in itself is another extensive exhibit. The galleries included at this museum are:
The Thinking Gallery
The Freshwater Gallery
The Edge of the Sea
The Northern Waters of the World Gallery
The Tropical Gallery
The Blue Planet Action Center
The Yawkey Coral Reef Center
Located in downtown Boston, this aquarium is a place you just have to see for yourself. From harbor seals to turtles, there is so much to see you'll have to return to again and again.
Woods Hole Science Aquarium
| | |
| --- | --- |
| Woods Hole Science Aquarium | |
| Address  | 166 Water St, Woods Hole, MA 02543 |
| Animal to See | Sea Turtles |
| Known For | Oldest Aquarium in the U.S. |
The Woods Hole Science Aquarium's claim to fame is that it is the oldest aquarium in Massachusetts, as well as in the United States. It opened in 1873 and has continued to educate the visitors of Wood's Hole ever since.
This aquarium is in part run by the government and also assists with sea turtle conservation. The animals it contains are fish and invertebrates from the Mid-Atlantic ocean and helps rehabilitate injured animals like seals.
140 species are available year-round, though sea turtles are taken in when injured and confused. They are then eventually released back into the wild to survive on their own.