Islamorada, FL, is one of the best summer destinations to catch Tarpon. They migrate up the coast of the Keys, hiding in deep and shallow waters. It's a thrill reeling in one of these big fish. Nicknamed the Silver King, Tarpon can grow to be over 200 pounds!
What other fishing spots should you check out? Read on to discover the best fishing spots in Florida this summer.
1. Alligator Lake
There's a reason alligators love hanging out in Alligator Lake; it's full of tasty fish! Largemouth bass, bluegill, red-ear sunfish, and black crappies are some of the most popular fish species here. The beautiful lake is about 800 acres in size, and about two-thirds of the surface of the lake is within the city's limits. 
Since Alligator Lake is a Florida Fish Management Area, you'll need a license to fish the North and South Lake basins and marshes. You can access the North Marsh on Mondays and Thursdays from sunrise until noon. The South Marsh is restricted Monday, Tuesday, and Thursday until noon.
2. Lake Parker
Are you on the hunt for largemouth bass? Then check out Lake Parker in Polk County, Florida. You'll also be able to catch bluegill, catfish, and the occasional black crappies. The maximum depth is 10 ft.
There are three boat ramps on Lake Parker and multiple bank fishing areas available. When the waters are low, the canal can be difficult to navigate in a boat. Cattail and bulrush are the predominant vegetation, and they can get dense. 
3. Orange Lake
Do you want to fish in deep waters? Then checking out Orange Lake is a wise choice. The shallow marsh areas are full of dense vegetation, making fishing impossible. But the deeper grasses and hydrilla are full of bluegill, redear sunfish, and largemouth bass. You'll also enjoy the advantage of a fish attractor near the pier. Remember to cast towards the attractor without hitting any brush.
4. Lake Victor
Lake Victor opened to the public as a fishing spot in 1968, and it's been growing in popularity. The space features 130 acres of artificial impoundment. There's an average depth of 8 ft and a maximum depth of 23 ft. The deepest areas of Lake Victor are right along the dam and the old stream bed. Since there's a lot of timber, the fish have plenty of great spots to hide. The lake supports a healthy population of largemouth bass, bluegill, channel catfish, and redear sunfish.
5. Lake Walk-In-Water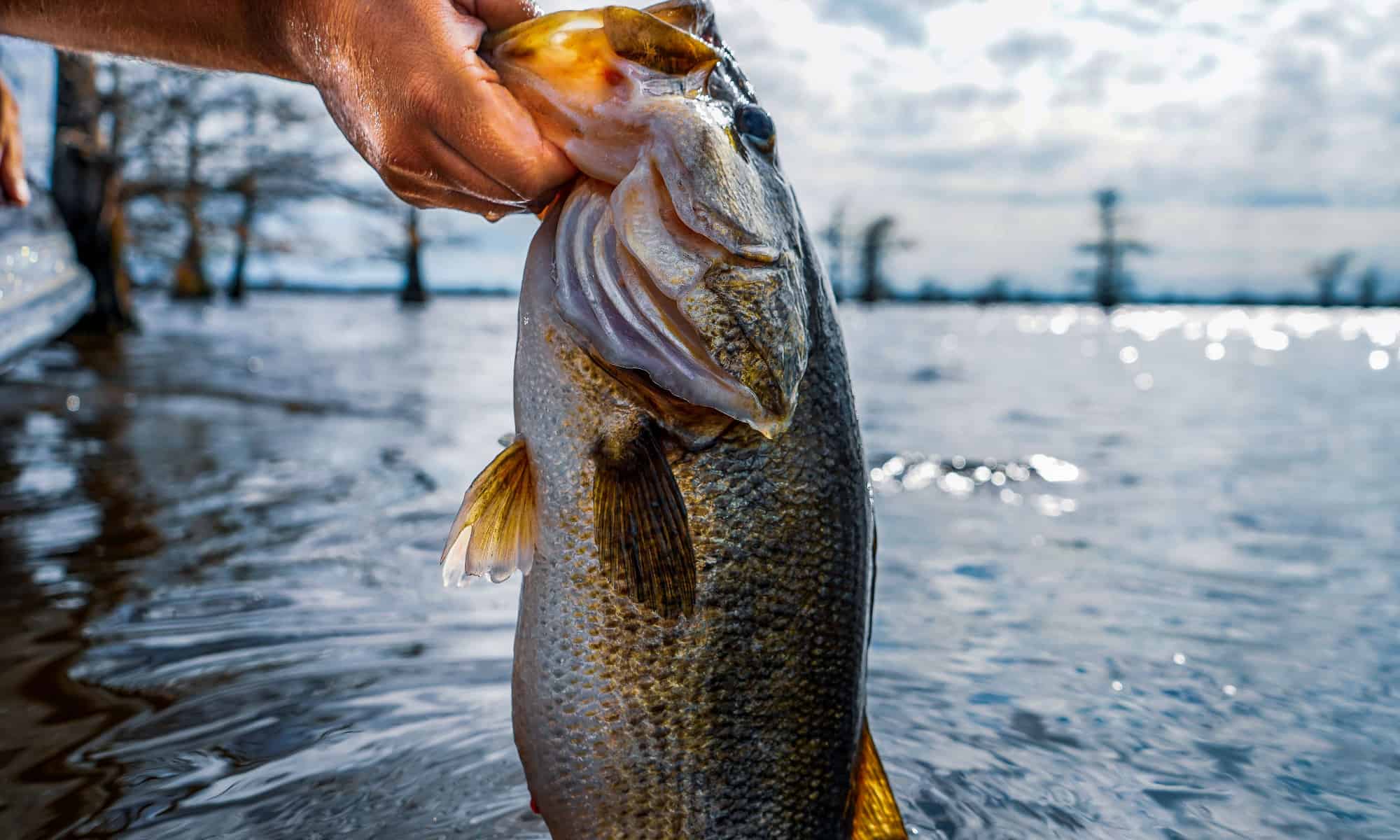 Visit a fishing spot with a national reputation for largemouth bass fishing. Lake Weohyakapka aka Lake Walk-In-Water is 7,528 acres in size. The lake holds some of the highest numbers for trophy-sized catches. 
One of the most successful techniques anglers use involves drifting live shiners by offshore hydrilla. However, there are a lot of basses caught on artificials too. Top water lures seem to work particularly well at Lake-Walk-In-Water, and the fish are eager to bite. The fish activity is thanks to the perfect environment. There are plenty of mossbacks and artificial trees serving as fish attractors. The offshore structures are also the perfect place for fish to congregate and for anglers to make their move.
6. Clearwater Beach
Cast your line into the Gulf of Mexico off Clearwater Beach. Some of the best shore fishing areas are along the beach's Northside. You'll find it quiet during the day, but especially quiet during the morning hours. 
If you don't have a fishing license, you can fish freely from Pier 60 or use a chartered fishing boat. Fishing on Pier 60 is available 7 days a week from 6:00 a.m. to 10:00 p.m. Some fish you can catch at Clearwater Beach include kingfish, tuna, mahi-mahi, and grouper.
7. Halifax River
Halifax River is another great saltwater fishing opportunity in Florida. Just north of Daytona Beach and entering Ormond Beach, you'll find the Halifax River. There's a lighted dock where you can pull in plenty of fish all day long. It's also a local hotspot, so everything you need will be easy. 
If you're looking for a spot that's more kid-friendly, check out Ames Park off the river. There you'll find a 75 ft fishing pier where you can try your luck at catching flounder, black drum, trout, and more. The park is open from sunrise to sunset. Watching the sunset over the ocean after a long day of fishing is one of the most rewarding experiences around.
8. Mosquito Lagoon
Mosquito Lagoon is the redfish capital of the world. It's abundant in redfish, as well as trout, tarpons, snook, and more! You can catch redfish and trout in Mosquito Lagoon all year long. Mangrove shorelines, deep basins, grassy flats, and scattered islands provide all sorts of hangout spots for fish. 
During the summer months, sight fishing is limited because of the foggy water. However, it's still possible to sight fish on the edges near the slightly deeper water. When visiting Mosquito Lagoon, you'll have the best results fishing in the very early morning or late afternoon. Bring bug spray, too; this location is true to its name!
9. Destin
Late May to early November is the perfect time to fish in Destin, FL. You'll be able to experience some of the best fishing opportunities in the world. Nicknamed the world's luckiest fishing village, Destin sits right by the Gulf of Mexico. You'll be able to take advantage of inshore and offshore fishing. Get ready to catch fish within yards of the gulf beaches. The waters are teeming with Spanish mackerel, giant tarpons, cobia, and other predatory species.
10. Suwannee River
Way down in the Suwannee River, there are over 60 species of fish. The way the Suwannee River discharges water makes it a great spot for sea trout. You'll also find chain pickerel, Florida gar, mudfish, catfish, bullheads, and more. You'll also be able to catch largemouth bass and Suwannee bass. 
Did you want a trophy-sized fish? Suwannee River has sturgeons that reach 200 lb! However, you can't keep them. If you're on the hunt for tarpons, sea trout, or redfish, you'll want to go to the southernmost part of the Suwannee River. The estuary is also a great spot for regular catches.
| Number | Fishing Spot |
| --- | --- |
| 1. | Alligator Lake |
| 2. | Lake Parker |
| 3. | Orange Lake |
| 4. | Lake Victor |
| 5. | Lake Walk-In-Water |
| 6. | Clearwater Beach |
| 7. | Halifax River |
| 8. | Mosquito Lagoon |
| 9. | Destin |
| 10. | Suwannee River |
---