Picture yourself standing on the luxurious shore of a stunning seaside beach. Your toes are sinking into fluffy, powdery sand, and you gaze at the seemingly infinite vista of a glittering ocean. Imagine the sheer joy and tranquility as you plunge into the cool waters at one of Delaware's tranquil lakes on a scorching summer afternoon.
Whether you choose the captivating beaches' allure or the secluded lakes' enchantment, Delaware's swimming spots promise an escape into a realm of pure bliss. Join us as we explore the hidden gems in the First State as you prepare to connect with nature and create unforgettable memories with family and friends. From secluded lakes to meandering rivers and pristine beaches, let's explore the best swimming spots in Delaware, shall we?
The 15 Best Swimming Spots in Delaware
1. Rehoboth Beach
Right at the mouth of Delaware Bay, along the Atlantic shoreline, sits the popular Rehoboth Beach. The beach is a popular vacation spot due to its stunning shoreline and vibrant entertainment spots. Families interested in dipping into the Atlantic will find the expansive stretch of shoreline inviting, with ample space for everyone to find their perfect location.
Whether you prefer to float lazily over the gentle waves or wade through the clear waters, Rehoboth Beach accommodates all beachgoers.
Additionally, safety is a top priority at this exciting beach, with vigilant lifeguards stationed across the sandy shores. Families can relax and enjoy their time in the water, knowing trained professionals are keeping a close watch.
Besides swimming, Rehoboth Beach offers numerous other fun activities to enhance your beach experience. You can take an evening stroll across its mile-long bustling boardwalk lined with family amusements, beach stores, and great eateries.
2. Bethany Beach
South of Delaware Seashore State Park, Bethany Beach, is another popular vacation spot in Delaware. The beach's warm and welcoming ambiance epitomizes the ideal family-friendly swimming destination. One of the most attractive features of Bethany Beach is its gentle waves that create a serene swimming experience.
Bethany Beach is also more serene and less crowded than other nearby popular beaches. The presence of lifeguards along the shores can provide families with an extra layer of safety, allowing them to frolic in the waters without much worry.
Swimmers can also walk along the half-mile boardwalk or rent out a jet ski to enhance their beach experience. The beach provides well-maintained restrooms, picnic areas, and convenient beach access enabling a full day of enjoyment.
3. Cape Henlopen Beach
Cape Henlopen Beach is part of the Cape Henlopen State Park. As one of the first public-use parcels of land in the thirteen colonies, Cape Henlopen beaches attract thousands of visitors annually, who enjoy everything, from ocean swimming and kayaking to fishing and boating.
Cape Henlopen State Park has over six miles of coastline with two public swimming beaches. One of the swimming spots is accessible from the Lewes entrance to the park. The beaches have lifeguard patrols from Memorial Day to Labor Day, with the schedule varying depending on staff availability.
The mobi-mat equipment at Cape Henlopen Beach makes it wheelchair accessible from the boardwalk. The northern designated swimming beach also has clean bathrooms and changing areas for families that prefer the extra convenience.
Families can engage in other activities besides swimming, including hiking, biking, kayaking, camping, paddle boarding, and windsurfing. You can also visit Fort Miles Museum, the Seaside Nature Center, and the Beach Plum Island Nature Preserve.
4. Dewey Beach
Dewey Beach is one of Delaware's finest nighttime fun spots. Lying on a small strip of land between Rehoboth Bay and the Atlantic Ocean, Dewey is a popular family resort spot due to its expansive sandy beaches and numerous party events during the summer months.
The coastline offers ample opportunities for swimming and sunbathing. You can wade through the Atlantic waters, lay your towel down, and soak up the coastal ambiance. Dewey Beach also has lifeguards that keep a watchful eye over the beachgoers.
The beach is popular for its vibrant nightlife, which makes it appealing to young partygoers. The numerous resorts and restaurants dotting its boardwalk offer excellent waterfront dining experiences. Your family may also enjoy other water sports activities such as surfing, skimboarding, kayaking, nature cruises, ferry rides, paddleboarding, or sailing.
The Natural Resource Defence Council awarded the beach a 5-star rating in water quality in 2011, with Delaware beaches ranked first in all the 30 states with a coastline. 
5. Fenwick Island State Park
Fenwick Island State Park is a 3-mile stretch of a barrier island coastline between Bethany Beach to the North and Ocean City to the south. The park offers an exciting escape for summer crowds who love swimming, surfing, and sunbathing along Delaware's Atlantic coast.
The white sandy beach on Fenwick Island is a popular destination for families searching for a swimming adventure. The beach is relatively quiet and less crowded, offering a relaxing ambiance for the beachgoers. Fenwick Island Beach features beach-access mats and beach wheelchairs that ensure everyone can enjoy their day at the beach.
The beach has a bathhouse and changing rooms, making it convenient to switch to your swimming wear once you get to the shoreline. Lifeguards patrol the beach from Memorial Day weekend through Labor Day weekend. Fenwick Island also has a gift shop and snack food concession. Umbrellas, rafts, and beach chairs are available for rent throughout the summer.
6. Silver Lake
Silver Lake is part of Dover's freshwater lakes, serving as a bird refuge and a popular family recreation destination. The lake was formed from remnant glaciers from the last ice age and is the source of the St. Jones River.
The freshwater lake is ideal for dipping your feet in the water. The shoreline has a boat ramp, a public area with picnic tables, a children's play section, and a boardwalk.
Your family can also enjoy fishing, camping, ducks, and birdwatching. Avid anglers can take their chance at hooking a carp, striped bass, pike, and white perch. Birdwatchers can take their moment away from swimming to spot ruddy ducks, gulls, and canvasbacks.
7. Philips Landing
Philips Landing is a recreational area close to the confluence of the Nanticoke River and Broad Creek. This hidden gem traces its history back to 1607 and 1609, when John Smith, an English explorer, surveyed the region around the Chesapeake Bay and New England. A monument in honor of the explorer was erected at Philips Landing in 2007.
Besides a historical tour, families can dive into the cool river waters. However, most people use the site for picnics and boat launches. Philip Landing is also an excellent spot for fishing and exploring nature trails In the nearby Nanticoke Wildlife Area.
The Delaware Division of Fish and Wildlife manages the recreational area and requires visitors to hold a valid fishing license to fish. Additionally, all motorboats must have a valid ramp certificate.
8. Trap Pond State Park
Trap Pond is a 90-acre pond within the 3,653-acre state park in Laurel, Delaware. The pond's history traces back to the 1800s when lumbermen extensively harvested the bald cypress trees, damning the wetland's outflow to run a Trap Mill. The Delaware legislature took over Trap Pond in 1951, renaming it a state park, thus becoming its first state park.
While the park featured a sandy swimming beach when the legislature took over ownership, the section was permanently shut in 2000. Visitors to the pond can still dive, but swimming isn't recommended. No lifeguards are on duty, and swimmers must remain vigilant of boats.
Fortunately, families can enjoy numerous recreational activities at the park, including boating, camping, and fishing. The campground has over 142 campsites, including 130 with water and electric hookups.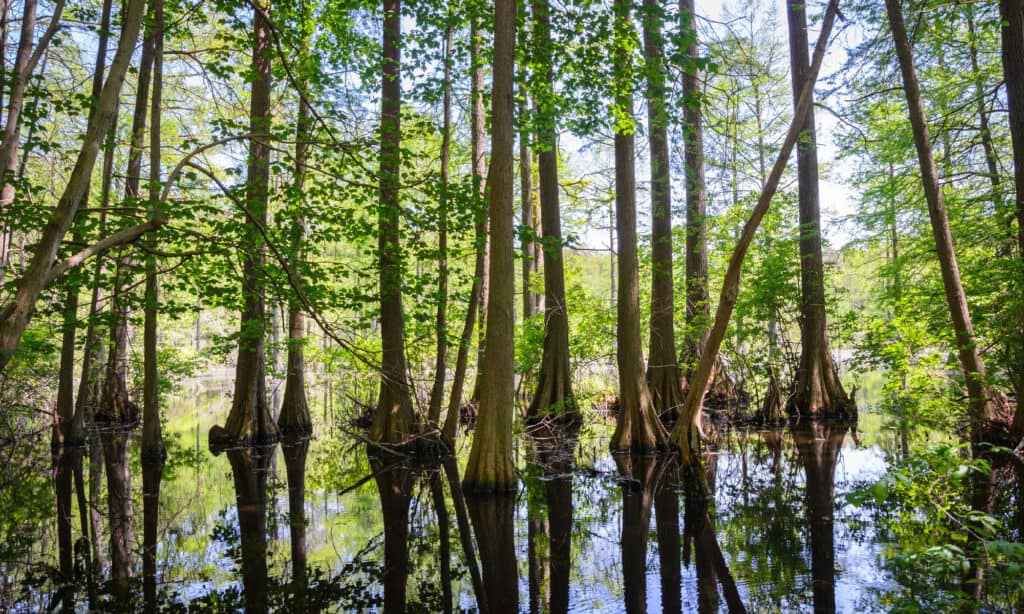 9. Slaughter Beach
Slaughter Beach is an exciting recreational area on the Southwest Shore of Delaware Bay. While swimming is permitted, this swimming hole is best avoided during the spring and early summer months. Over a quarter of a million horseshoe crabs come to shore to spawn.
Some residents speculate that's how the beach may have gotten its name. As the tide washes the crabs into shore, some are flipped over on their back, falling victim to the scorching sun, thus the term "Slaughter of The Crabs."
This swimming spot does not have active lifeguards patrolling it, and swimming is done at your own risk. Slaughter Beach has a public beach access area with parking and a tiny bathhouse that remains open during the summer.
10. Lake Como
Lake Como is a beach recreational area in Smyrna, DE, and one of the state's few public swimmable lakes. Located at the south end of Main Street, the swimming area opens up for the swimming season on Memorial Day weekend and remains open seven days a week.
The lake features a swimming designated area, beach, waterfront, pavilion, and children's playgrounds. You can wade through the waters under lifeguard supervision, making it an excellent spot if you have smaller children. The lifeguards patrol the Lake from Memorial Day through Labor Day weekends.
Families can also enjoy fishing species such as largemouth bass, brown bullhead, white perch, yellow perch, and black crappie. The lake has a boat ramp, with motorized boats requiring a license from the Smyrna Police Department. Kayaking and paddleboarding are other popular activities among the lake's visitors. Admission to Lake Como is free.
11. Killens Pond State Park
The Killens Pond State Park is named after the 66-acre pond located along the Murderkill River. Previously used as a Millpond in the late 18th century, the park currently hosts numerous recreational amenities, including a waterpark, hiking trails, playgrounds, and campgrounds.
The Killens Pond waterpark sits next to the pond's shores and features four-speed waterslides, a leisure pool, and a baby pool. It also has a swim shop and food concession stand, ensuring you have all you need for a fun-filled swimming adventure.
The main pool has a zero-depth entrance, while the baby pool has a tot lot section with bubblers, small slides, and groundwater jets. The Killens Pond is also home to white perch, bluegills, crappie, and largemouth bass, making it an ideal destination for families interested in angling.
12. Holtz Landing State Park
Holtz Landing State Park is a waterfront recreational park hidden along the Indian River Bay. The park has a 203-acre woodland where visitors can enjoy the shoreline, salt marshes, intertidal zone, and maritime forest.
Diving and swimming enthusiasts can plunge into the bay waters for a swim. Swimming is at your own risk without any safety protections or lifeguards present. Families can cast a seining net to catch fish, crabs, and other marine critters.
The Holtz Landing State Park also has a hiking trail where your bird watchers can enjoy watching hawks, herons, and ospreys on the Seahawk Trail. The park is also littered with picnic tables and grills under shade trees. 
13. White Clay Creek State Park
Named after the clay once mined in the area, White Clay Creek State Park is a wooded recreational park with many tributaries spanning the Piedmont Ridges and stream valleys along Delaware's northern edge. The streams provide ample opportunities for a late-afternoon summer swim. However, swimming at the creek is a highly risky adventure without any water safety knowledge or lifeguards present.
White Clay Creek is the most stocked water body in the state. The Smith Mill Pond within the state park allows bluegill and largemouth bass fishing. However, a fishing license is required at all times. The park has over 37 miles of trails that can lead you to scenic vistas overlooking the lush river valleys.
14. Alapocas Run State Park
Open year-round, the 415-acre Alapocas Run State Park is a popular tourist destination between the Alapocas Run tributary and Brandywine Creek. An early 20th-century philanthropist, William Poole Bancroft, donated much of the park's land. Alapocas Run State Park features numerous walking trails, children's playgrounds, athletic fields, and a rock climbing wall.
While swimming isn't listed as one of the official activities acceptable at the park, some visitors still take a plunge. Take caution as you wade through the Brandywine to avoid hurting yourself. Explore the wooded, three-quarter-mile hike trail afterward. You can also step into the Blue Ball Barn and discover the rich history of the area as well as observe an art collection. 
15. Bowers Beach
Bowers Beach is a quiet beach located along the shores of Delaware Bay that offers excellent venues for recreation and fishing. The calm waters at the bay provide a safe environment for swimming, boating, and sunbathing.
The beach is between two tidal river bays, St. Jones and the Murderkill, and has a black muddy sand mix. We highly recommend that you wait for the high tide before heading out for a dip; you may need to watch out for horseshoe crabs.
Dive Into Delaware's Refreshing Waters
Despite its small size, Delaware boasts a vast array of swimming spots that cater to every water lover's goals. From beautiful seashores alongside the Atlantic coastline to serene lakes nestled amidst picturesque landscapes, the primary nation offers numerous options for those searching for a clean dip.
So, pack your swimsuit, towel, and sunscreen, and embark on an aquatic adventure to discover the nice swimming spots that Delaware has to offer. Remember to check for safety guidelines and local ordinances regarding swimming before heading out. 
Summary of the 15 Best Swimming Spots in Delaware
| Rank | Best Swimming Spot | Location |
| --- | --- | --- |
| 1 | Rehoboth Beach | Sussex County |
| 2 | Bethany Beach | Sussex County |
| 3 | Cape Henlopen Beach | Lewes |
| 4 | Dewey Beach | Sussex County |
| 5 | Fenwick Island State Park | Fenwick Island in the Southeast corner of the state |
| 6 | Silver Lake | Dover |
| 7 | Philips Landing | Laurel |
| 8 | Trap Pond State Park | Laurel |
| 9 | Slaughter Beach | Southwest shore of Delaware Bay |
| 10 | Lake Como | Smyrna |
| 11 | Killens Pond State Park | Felton |
| 12 | Holtz Landing State Park | Dagsboro |
| 13 | White Clay Creek State Park | Newark |
| 14 | Alapocas Run State Park | Wilmington |
| 15 | Bowers Beach | Delaware Bay |
Summary Table of the 15 Best Swimming Spots in Delaware
The photo featured at the top of this post is © Khairil Azhar Junos/Shutterstock.com
---