Texas is known for its large cities, food, and cowboy culture. Texas is the second largest state by both population and area in the USA, behind only California and Alaska, respectively. The state is full of vibrant cities, amazing culture, and beautiful landscapes. However, within its diverse expanse, a few unique locations present their own risks and challenges. From treacherous roads and high crime rates to unpredictable weather conditions, these distinct areas are among the most dangerous places in Texas.
As we explore the lesser-known side of Texas, staying informed about these hidden risks is crucial, ensuring your safety while embracing Texas's adventurous spirit. Let's discuss the untold stories of Texas' most dangerous places, from areas affected by natural disasters to dangerous roads and cities riddled with crime. We will navigate these places with caution and curiosity.
What Makes a Place Dangerous?
There are several factors that we considered when compiling this list of the most dangerous in Texas. The most obvious factor is the crime rate. We included some Texas cities with the highest crime rates as this obviously contributes to making a place dangerous. We also included some places with the risk of bad weather and natural disasters. The Gulf Coast of Texas is especially prone to destructive hurricanes making some of the towns and cities on this coast risky places to live. The final type of place we included in this list is dangerous roads. There are several highways in Texas that are dangerous, with several casualties per year.
Now, let's dive straight into the most dangerous places in Texas!
1. Galveston
Galveston, a beach town on the Gulf Coast, is renowned for its charm and warm weather that attracts beachgoers. However, this location has a dark side — it frequently falls victim to hurricanes due to its unfortunate geographical position. Among all the cities in Texas, Galveston has suffered the most severe hurricane damage over the past century.
Galveston is at the forefront of hurricane danger, with a recorded 56 hurricanes since 1930. The most recent significant one, Hurricane Ike, struck in 2008​​.
In 1900, Galveston also fell victim to the deadliest natural disaster in US history. A massive hurricane swept over the island and destroyed nearly ⅔ of the city was destroyed. Between 8,000 to 12,000 people were killed, or around 20 to 30 percent of the total population!
What makes Galveston particularly dangerous is its unique challenges when it comes to storm preparation and response. The Houston and Galveston Metropolitan areas form the most densely populated zone along the Gulf Coast. Over the past decade, the population in these areas has increased by nearly 23%, making emergency evacuation a daunting task. Indeed, the rush to safety during a hurricane requires an extra level of planning and preparation​.
The lessons from Hurricane Rita in 2005, where more fatalities occurred during the evacuation than from the storm itself, have led to new strategies, such as staggered evacuations​​.
Galveston's vulnerability to hurricanes, combined with its population density and logistical challenges, makes it one of the most dangerous places in Texas during hurricane season.
2. Amarillo
Amarillo, located in the Texas Panhandle, can be a dangerous place during the winter due to frequent snowfall, leading to hazardous road conditions. This city often receives significant amounts of snow, with totals reaching 2.4 to 4.5 inches during a single winter storm and additional snowfall of up to two inches possible on occasion​. Amarillo is in fact, the snowiest city in Texas! Most other major cities rarely receive any snowfall.
Every year Amarillo receives up to 18 inches of snow. Not only that, it is also the windiest city in Texas, with an average wind speed of 13.8mph.
Overnight temperatures often drop below freezing, turning the heavy, wet snow into icy conditions on untreated roads. This ice, coupled with the potential for black ice — a thin, hard-to-spot layer of glazed ice on streets — significantly heightens the risks for drivers.​
Texas Department of Transportation continually monitors and treats the roadways. However, they caution drivers to be extra vigilant and recommend staying off the roads during snow events, if at all possible, to avoid dangerous conditions.​
Remember, the beauty of this snow-covered city can quickly turn into a challenge for drivers.
3. Interstate 35E
Interstate 35E (I-35E) is a vital north-south highway traversing Texas's bustling Dallas-Fort Worth metroplex. 35 East is a portion of IH-35, which is a massive Interstate Highway that stretches from Texas to Lake Superior. Regrettably, this portion of the highway has earned a notorious reputation as one of the most dangerous roads in the state.
Among its segments, the deadliest stretch between 2017 and 2019 spanned approximately 10 miles, leading from downtown to Dallas Love Field and witnessing a tragic tally of 20 fatal accidents.
Notably, a chilling incident in 2020 further underscored the hazards lurking on this expansive roadway. A devastating pile-up involving a staggering 133 vehicles occurred near Fort Worth during a bout of freezing rain, resulting in six fatalities and numerous injuries. This grim occurrence serves as a somber reminder of the inherent dangers that lie along this particular section of I-35E.
The history of Interstate 35E is also tainted by a long record of fatal accidents, often attributable to drivers flouting traffic laws and signals. Disregarding red lights, stop signs, right-of-way protocols, and speed limits has contributed significantly to its infamy as a hazardous thoroughfare.
4. U.S. Highway 83
Highway 83 has earned the nickname "Road to Nowhere." In Texas, Highway 83 extends through the cities of McAllen and the Rio Grande Valley. This extensive and solitary road captures the attention with its breathtaking views of Texas landscapes, but it is also one of the most dangerous places in Texas.
Highway 83 stands apart from the typical straight and flat Texas highways. Its winding path traverses some of the most diverse terrains in the state, characterized by sudden turns, unpredictable paths, and isolated stretches. This combination creates a perfect storm for potential road hazards, often catching drivers off guard and leading to unfortunate accidents.
Over the years, Highway 83 has witnessed its fair share of tragic incidents, serving as vital reminders of the road's dangers and the critical need for caution. Notably, the 2017 devastating incident near Uvalde left an indelible mark on the nation's consciousness when a head-on collision between a pickup truck and a church minibus claimed the lives of 13 individuals.
5. Odessa
Odessa has earned an unfortunate reputation as a city with high levels of criminal activity, leading to its classification as the "most dangerous" city within the state. The city exhibits a crime rate that surpasses the national average by a significant margin. Keep in mind that while Odessa has the highest crime rate in Texas, it does NOT have the highest violent crime rate.
Odessa is renowned for its notable involvement in the oil production sector and embodies the essence of cowboy culture. Nevertheless, the city grapples with the pressing issue of poverty, which unfortunately contributes to escalating criminal incidents.
The economic landscape of Odessa heavily relies on the oil industry, thus amplifying the cyclical nature of social and economic disparities. Furthermore, Odessa's geographical positioning along a drug trafficking route originating from Mexico contributes to the high incidence of criminal activities.
The statistical data concerning crime in Odessa raises valid concerns. The overall crime rate stands at 63.62 incidents per 1,000 residents, signifying that approximately 1 out of every 16 residents falls victim to or is involved in criminal acts such as robbery, drug use, assault, etc.
6. Lubbock
Lubbock, a bustling north Texas town known for its association with Texas Tech University, unfortunately, faces certain challenges that have led to its inclusion in the top 100 cities with notable crime rates in the United States. Surpassing the national average, Lubbock encounters ongoing issues related to substance abuse, property crimes, and acts of violence.
The city's vibrant atmosphere, largely influenced by its student population and lively nightlife, regrettably contributes to high crime rates.
Lubbock's crime rate stands at 62.19 incidents per 1,000 residents, indicating that approximately 1 in 16 individuals falls victim to criminal activities. Notably, the city experiences a high number of violent offenses, including murder, rape, robbery, and assault.
Compared to other communities in Texas, over 98% exhibit lower crime rates than Lubbock, emphasizing the gravity of the situation. Recognizing these statistics underscores the significance of addressing the city's challenges and striving to foster a safer environment for all.
7. Houston
Houston is another dangerous place in Texas because of the high crime rate and severe risk of hurricanes and flooding.
While some neighborhoods are relatively safe, others struggle with high violent crime rates. These issues are influenced by the city's vast size, population, and economic disparities.
Houston ranks among the top 100 most dangerous cities in America, with a crime rate of 56.23 incidents per 1,000 residents. Shockingly, approximately 1 in 18 individuals in Houston experience some form of crime. Gang activity, the illicit drug trade, and economic hardship contribute to the crime problem in the area.
What exacerbates Houston's dangerous nature is its severe weather, particularly during the months of July and August. The city frequently experiences heavy rains, strong winds, storms, and significant structural damage due to the hurricane season.
A prime example of the impact of severe weather in Houston is Hurricane Harvey in 2017. This devastating storm led to the loss of 103 lives in Texas due to storm-related incidents. Certain parts of Houston recorded over 30 inches of rainfall during this event, causing extensive damage. The total cost of storm damages amounted to a staggering $125 billion.
8. Beaumont
Beaumont, a city boasting a rich historical background and a multicultural heritage, unfortunately, deals with a crime rate that surpasses national averages. Beaumont exhibits a rate of 45 crimes per 1,000 residents, signifying a cause for concern, particularly regarding property crimes such as burglary and theft.
Several contributing factors underpin the elevated crime rates in Beaumont, including economic hardships, unemployment, and limited access to educational opportunities. However, the community actively engages in combating crime through a range of initiatives. These efforts consist of community policing strategies, revitalization projects targeting blighted areas, and programs designed to guide at-risk youth away from engaging in criminal activities.
Notably, the city also faces a notable prevalence of violent crimes, encompassing offenses like murder, rape, robbery, and assault. With these crime rates, Beaumont is surely one of the most dangerous places in Texas!
9. Corpus Christi
Corpus Christi is a famous vacation spot because its beautiful beaches confront significant crime-related challenges. Specifically, a few areas within the city experience high crime rates. These are often attributed to factors such as poverty, drug trafficking, and gang activity.
Corpus Christi is located in southeastern Texas near the Mexican border, and its status as a major port contributes to its crime issues. Corpus Christi faces a concerning crime rate of 738 incidents per 100,000 people, surpassing that of San Antonio. This staggering figure is also more than double the national average.
The city's residents are aware of the disturbing prevalence of drug-related violence and homicides. However, unaware tourists who are unfamiliar with the areas can become prime targets for criminals.
A substantial portion of the crime in Corpus Christi revolves around property offenses.
10. San Antonio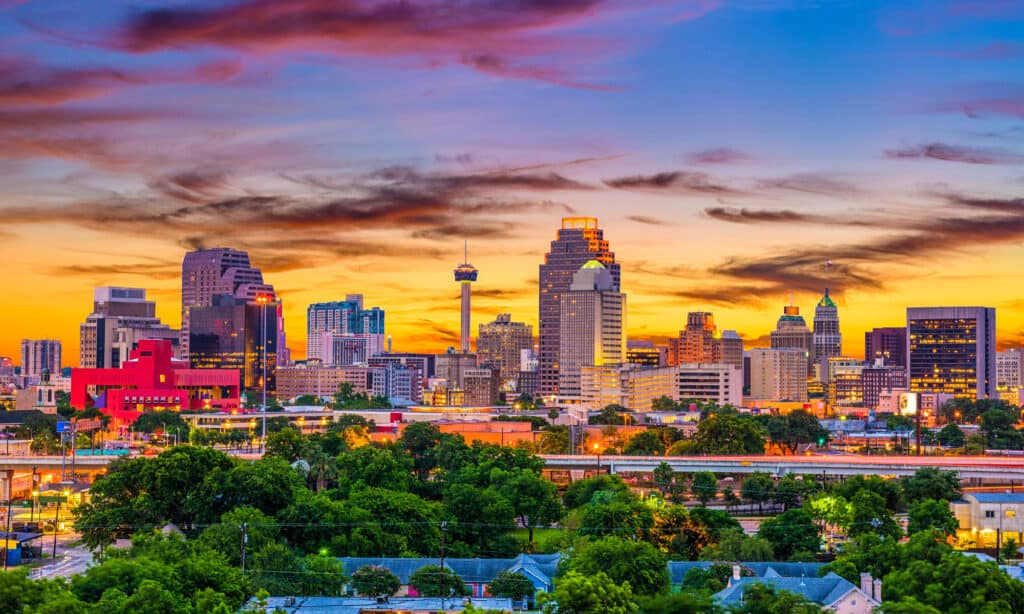 San Antonio, one of the oldest cities renowned for its historical landmarks and charming River Walk, faces significant crime-related challenges. While San Antonio attracts tourists to iconic sites like the Alamo, certain areas continue to struggle with high crime rates.
Factors such as economic disparities, drug trafficking, and gang violence contribute to the city's crime issues.
San Antonio experiences a higher violent crime rate than other major cities in the United States. With 735 incidents per 100,000 people, it exceeds California's rate of 447 incidents per 100,000 and the national average of 388 incidents per 100,000. Despite an increase in overall crime in 2022, dedicated law enforcement officers are optimistic about improvements in 2023.
Particularly during nighttime travel, the likelihood of experiencing crime in San Antonio is as high as 1 in 10. Even the relatively less populated neighborhood of Villa De San Antonio is recognized as one of the city's most dangerous areas.
Although the crime rate is lower than in Houston, San Antonio remains a dangerous place in Texas!
Summary of the 10 Most Dangerous Places in Texas
| Rank | Place | Why It's Dangerous |
| --- | --- | --- |
| 1 | Galveston | Severe Weather |
| 2 | Amarillo | Snowy Conditions |
| 3 | I-35E | Road Accidents |
| 4 | U.S. Highway 83 | Road Accidents |
| 5 | Odessa | Crime Rate |
| 6 | Lubbock | Crime Rate |
| 7 | Houston | Crime Rate, Storms |
| 8 | Beaumont | Crime Rate |
| 9 | Corpus Christi | Crime Rate |
| 10 | San Antonio | Crime Rate |
Summary Table of the 10 Most Dangerous Places in Texas
The photo featured at the top of this post is © Roschetzky Photography/Shutterstock.com
---