Mesmerizing sea caves are found throughout the world. They form when wave action from the sea erodes sediments along coastlines, primarily in high-energy tidal environments. Over millions of years, the pure power of crashing waves erodes enormous caverns along the sea. And thankfully for us, they are breathtaking features to explore. Discover the 17 most spectacular sea caves in the world and learn why people love them so much.
1. Phang Nga Bay Caves – Thailand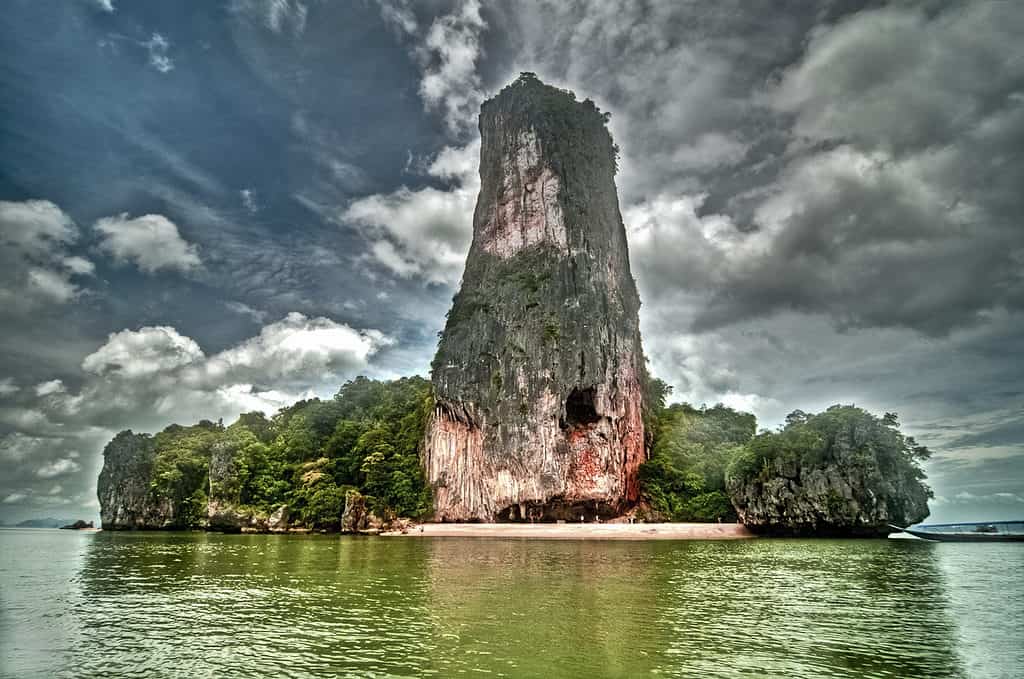 Rising vertically from the sea, Phang Nga Bay Caves are a geological wonder featuring sunken caverns and rock formations in Phuket, Thailand. You can kayak through these caves, along with lush jungles and mangroves, before lounging on the island's beach. This destination is also famous for its appearance in the James Bond movie. 
2. Waiahuakua Cave – Hawaii
Waiahuakua is the second-longest sea cave on earth, located along the Na Pali Coast on Kauai in the Hawaiian Islands. You can explore this volcanic rock, which has two openings, by raft or kayak. The cave also features a truly dazzling waterfall that drops straight through the cave's roof.
3. Great Blue Hole – Belize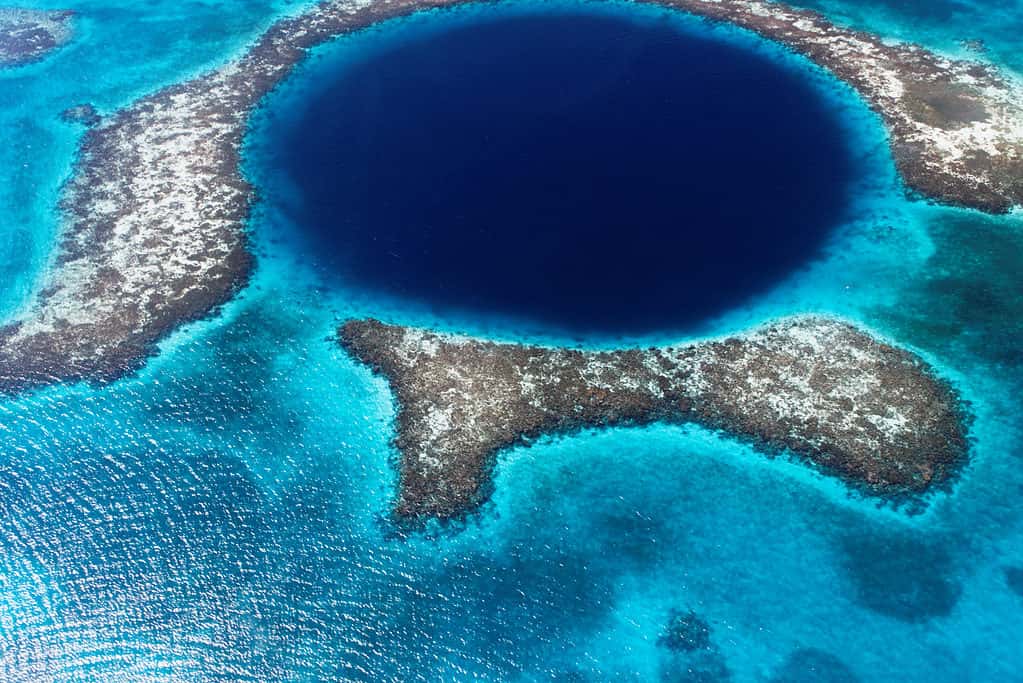 This giant underwater sinkhole is off the coast of Belize, about 60 miles near the mainland. The circular hole features caverns with stalagmite formations, which were present before the sinkhole opened. It is a popular spot for advanced scuba divers hoping to explore submerged caves and marine life. Jacques Cousteau named the Great Blue Hole one of the world's top 10 diving sites.
4. Benagil Beach Sea Cave – Portugal
Also known as Grotte de Benagil, this spectacular seaside cave sits near Benagil Beach in Portugal. It is only reachable by water and is well-known for the large hole in its roof and its picturesque cave beach. People boat, paddleboard, kayak, or even swim to reach this sea cave beach. The area is a tourist destination and can get quite congested, so you may not be able to stay at the beach for very long. 
5. Cenote Dos Ojos – Mexico
True to its name, Cenote Dos Ojos is a pair of connecting underwater caves in Quintana Roo, Mexico. The two eyes are part of the Sac Actum cave system, which is a popular area for snorkeling and diving. Due to the crater, there is plenty of natural sunlight for spotting marine life and cave formations. Families with children can also visit with life jackets. But take a guided tour for the best experience.
6. Smoo Cave – Scotland
The Smoo Cave is both a saltwater and freshwater cave on Scotland's northwest coast. Specifically, the cave is in Durness in Sutherland. You can walk to the cave from the parking lot. The entrance is pitch dark and 50 feet high. Once inside, wood paths bring you to a cascade and deep pool. Guided tours bring you deeper into the cave.
7. Grotto Azzurra – Italy
The Blue Grotto is in Southern Italy on the island of Capri. This underwater cavity features crystal-clear water with a vibrant blue color, which you can explore by wooded rowboat. The only way to enter the cave is by boat, and visitors are not allowed to swim due to the large waves that slam against the rocks. If you visit, be prepared to wait in long lines. 
8. Admiral's Arch – Australia
Located on Kangaroo Island in Flinders Chase National Park, this Australian cave features an arch-shaped rock formation and stalactites. Inside, you can view the ocean scenery from a platform that faces the ocean. You can access the platform by a boardwalk that reaches around the cave entrance. It's a fun and scenic place to explore and sightsee in Australia. 
9. Playa de las Catedrales – Spain
Playa de las Catedrales is in the northwest region of Galicia in Spain. You can stay in the city of Coruna and visit the nearby As Catedrais Beach, which features dramatic cathedral-like cliffs and arches. You must go during low tide to enjoy all of the caves and natural scenery and make reservations in advance to secure a spot during the summer. 
10. Sea Lion Cave – Oregon, USA
This famous United States tourist attraction lies along the Pacific Coast in Oregon. The Sea Lion Caves are a connected system of sea caves and caverns within a wildlife preserve and bird sanctuary. As its name suggests, this cave is a popular hub for wild sea lions who like to hang out on the cave's rocks as water flows in and out.
11. Cathedral Cove Sea Cave – New Zealand
The breathtaking Cathedral Caves are connected limestone sea caves in New Zealand on Waipati Beach. The area consists of a volcanic coastline and features sea caves, white sand beaches, and blowholes. It's about an hour's walk to the cove from Hahei Beach, where you will descend the cliff top to the cove. Once there, enjoy swimming and picnicking.  
12. Apostle Island Sea Caves – Wisconsin, USA
Located on the banks of Lake Superior in Wisconsin, the Apostle Island Sea Caves feature magnificent rock formations of pillars, arches, and intricate, snaking caves. During the summer, you can reach the caves by kayak tours. And in the winter, when the water freezes, you can view majestic ice caves.
13. Neptune's Grotto – Italy
Discovered by fishermen in the 18th century, Neptune's Grotto is a stalactite cave on the island of Sardinia in Italy. The easiest way to visit Neptune's Grotto is by boat tour, so you can disembark and walk through the cave and take pictures. While the area is stunning and a must-see, it is a very busy and popular cave, with lots of loud crowds. 
14. Fingal's Cave – Scotland
Fingal's Cave is on an uninhabited island in the Inner Hebrides of Scotland. The Island of Staffa holds this natural wonder, which features a large walkthrough and magical acoustics. The volcanic basalt columns are enormous and have attracted visitors for hundreds of years. The best way to reach the cave is by boat tour, and you may also see puffins up close!
15. Chandelier Cave – Palau
Underneath the island of Ngarol in Palau, the Chandelier Cave is a four-chamber underwater system popular with scuba divers. Experienced divers only can experience this unique geological formation of hanging stalagmites and stalactites. A fifth chamber is completely above water and connects to the last two underwater chambers.
16. Painted Cave – California, USA
The Painted Cave is the fourth largest in the world by length and a natural wonder in the United States. This sea cave is located on the northwest end of Santa Cruz Island in California and is a popular recreational area filled with ancient history. The cave is accessible by boat and the historic park features rock art from the Chumash people.
17. Cuevas de Marmol – Chile
Cuevas de Marmol is a unique marble cave system in a remote location along the rugged coast of General Carrera Lake in Central Patagonia. You can enter the mesmerizing chambers with small boats or kayaks and view the smooth marble formations and soft, glowing blue light from the water. While it's a popular area, the caves can be difficult to get to and require a guide.
Most Spectacular Sea Caves in the World: A Recap of the Top 17
| Rank | Most Spectacular Sea Caves in the World | Location |
| --- | --- | --- |
| #1 | Phang Nga Bay Caves | Thailand |
| #2 | Waiahuakua Cave | Hawaii, USA |
| #3 | Great Blue Hole | Belize |
| #4 | Benagil Beach Sea Cave | Portugal |
| #5 | Cenote Dos Ojos | Mexico |
| #6 | Smoo Cave | Scotland |
| #7 | The Blue Grotto | Italy |
| #8 | Admiral's Arch | Australia |
| #9 | Playa de las Catedrales | Spain |
| #10 | Sea Lion Cave | Oregon, USA |
| #11 | Cathedral Cove Sea Cave | New Zealand |
| #12 | Apostle Island Sea Caves | Wisconsin, USA |
| #13 | Neptune's Grotto  | Italy |
| #14 | Fingal's Cave | Scotland |
| #15 | Chandelier Cave | Palau |
| #16 | Painted Cave | California, USA |
| #17 | Cuevas de Marmol | Chile |
---
The Featured Image
---