Minnesota, often called the "Land of 10,000 Lakes," stands as a testament to the natural splendor of the United States. Nestled in the heart of the Midwest, this state is home to some of the country's most breathtaking and pristine lakes. From the crystal-clear waters of Lake Superior to the serene charm of the countless smaller lakes that dot its landscape, Minnesota's aquatic wonders are a source of pride and awe for residents and visitors alike.
Let's explore why Minnesota has the best lakes in the United States.
Natural Beauty
Minnesota's lakes are some of the most beautiful lakes in the entire country. Whether you're seeking adventure, relaxation, or a deeper connection with nature, Minnesota's lakes are an ideal destination that showcases America's natural beauty.
Lake Superior, the most famous, is the largest and deepest of the Great Lakes. With its turquoise water, this lake is almost an inland sea. The rugged cliffs, sandy beaches, and lush forests surrounding Lake Superior create a mesmerizing contrast. It is the perfect spot to hike along the Superior Hiking Trail, kayak in the Apostle Islands, or bask in the sunset's glow.
Tucked away in the state's northern reaches, the Boundary Waters Canoe Area Wilderness is a paddler's paradise. This pristine wilderness area encompasses over a million acres of interconnected lakes and waterways. Crystal-clear lakes like Saganaga and Seagull Lake beckon adventurers to explore their hidden corners. The dense forests provide the perfect backdrop for camping, hiking, and fishing.
Lake Itasca is a small yet historically significant gem in Itasca State Park. This is where the Mississippi River begins its long journey to the Gulf of Mexico. The lake, with its serene coves and pristine waters, is a testament to the beginnings of one of America's most iconic rivers. Visitors can even walk across the headwaters of the Mississippi on a series of stepping stones while taking in the lush, wooded surroundings.
Lake Vermilion in northeastern Minnesota is dotted with clear water and countless picturesque islands framed by dense forests, offering a perfect setting for boating, fishing, and water sports. Whether you're gliding over its surface in a canoe, casting a line for walleye, or simply gazing out at the tranquil expanse, Lake Vermilion exemplifies the serene beauty of Minnesota's lakes.
Size and Depth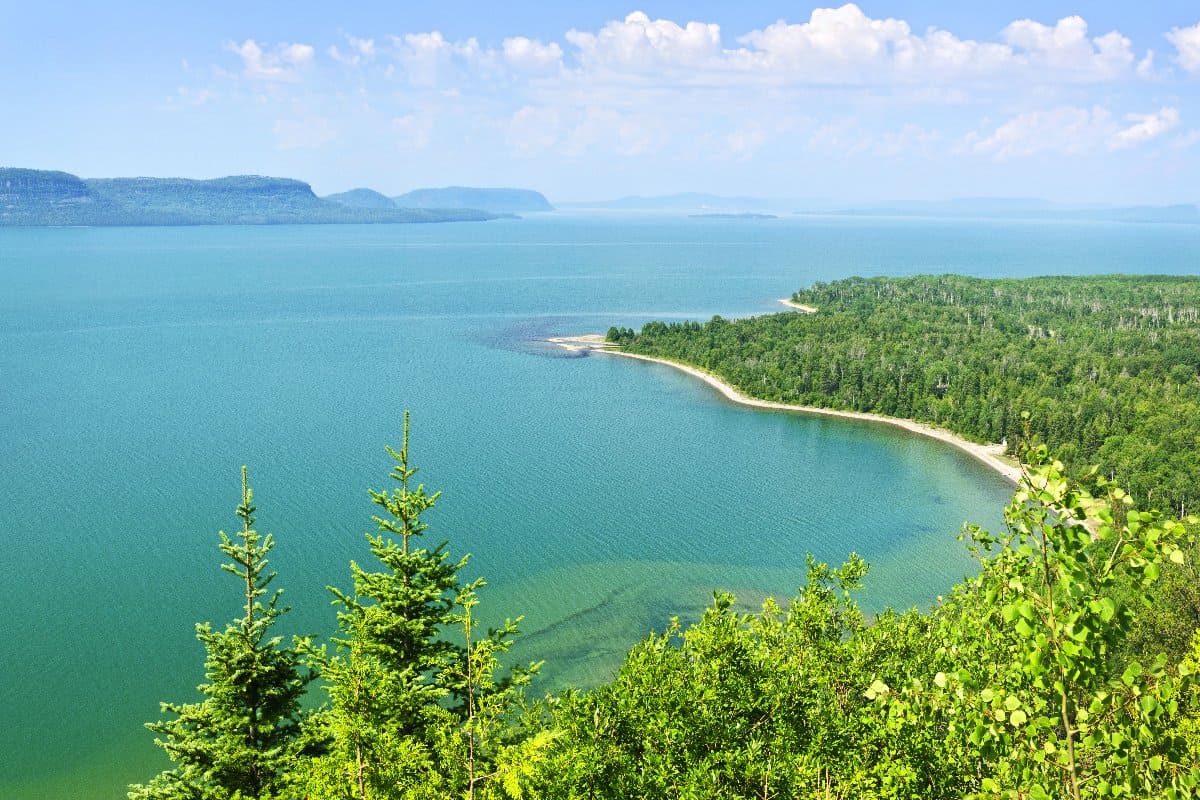 Minnesota's lakes are renowned for their sheer number, impressive size, and remarkable depth. The state boasts an astonishing 11,842 lakes, earning its nickname as the "Land of 10,000 Lakes." Among these, Lake Superior is the largest of the Great Lakes. This magnificent body of water stretches across 350 miles (563 kilometers) of Minnesota's northern shoreline. It is the largest lake in the state, in the country, and on the continent. But that's not all. Lake Superior is the largest freshwater lake in the world by surface area and second-largest by volume. Its vastness is awe-inspiring, covering 31,700 square miles (82,102 square kilometers).
In addition to their substantial size, many of Minnesota's lakes exhibit impressive depth. Lake Superior, for instance, plunges to depths of over 1,300 feet (396 meters), making it one of the deepest lakes in the world. Even within the state's inland, lakes like Lake Itasca, the headwaters of the Mississippi River, boast surprising depths. The state's diversity of lake sizes and depths ensures a perfect aquatic destination for every type of visitor.
Water Quality
The water quality of Minnesota lakes stands out as some of the best in the United States. One of the key factors contributing to this distinction is the state's commitment to environmental conservation and preservation. Minnesota has implemented stringent water quality standards and regulations to protect its lakes from pollution and degradation. These efforts paid off, as many Minnesota lakes consistently rank high regarding water clarity and purity.
A significant contributor to the water quality of Minnesota lakes is the state's abundance of freshwater sources, which are primarily fed by natural springs and streams. Unlike many other regions in the U.S., Minnesota's lakes are not plagued by excessive agricultural runoff or industrial pollution. This natural purity results in exceptionally clean, clear water, which is ideal for leisure activities.
Minnesota's unique geography also contributes to the outstanding water quality of its lakes. For example, the Boundary Waters Canoe Area Wilderness is under stringent regulations in the state's northern region. These have kept the pristine waters virtually untouched by human activity. Visitors to this area can experience water quality and natural beauty unrivaled in many parts of the country.
The commitment of Minnesotans to sustainable practices plays a crucial role in maintaining the high water quality of their lakes. Many communities around the state have adopted eco-friendly initiatives to reduce nutrient runoff and protect fragile aquatic ecosystems. The presence of strong environmental advocacy groups and governmental agencies dedicated to preserving the state's water resources further underscores the importance placed on maintaining pristine water quality in Minnesota.
Biodiversity
Minnesota's lakes are also biodiversity hotspots, teeming with a rich variety of aquatic life. One of the critical reasons for this remarkable biodiversity is the state's unique mix of cold, clear lakes in the north and warmer, more fertile lakes in the south. This diversity in lake types creates distinct ecosystems, each supporting various species.
In the northern part of the state, crystal-clear lakes like those found in the Boundary Waters Canoe Area Wilderness provide habitat for a variety of cold-water fish species. Among the most iconic inhabitants are the lake trout, which thrive in these deep, cold lakes. These lakes also support populations of walleye, northern pike, and whitefish. Moreover, the region is home to countless smaller species, such as minnows, insect larvae, and native crustaceans, which form the foundation of the food chain.
Visitors will encounter a different ecological tapestry as you move southward into Minnesota's fertile lake country. These lakes are warmer and more nutrient-rich, providing ideal conditions for largemouth and smallmouth bass, crappie, and bluegill species. These fish attract anglers from all over, making these lakes popular destinations for fishing enthusiasts. The lush vegetation and abundant nutrients in these waters also support a diverse range of aquatic plants and invertebrates. These sustain many bird species, including herons, eagles, and waterfowl.
One of the most remarkable aspects of Minnesota's lake biodiversity is the presence of unique and endangered species. The state is home to the elusive and rare eastern massasauga rattlesnake, which relies on the unique habitats found near some of the state's lakes. The Minnesota freshwater mussel, a critically endangered species, is vital in maintaining water quality and is found in several lakes across the state.
Recreational Activities
Minnesota's lakes are a treasure trove of recreational opportunities. One of the most iconic activities in these pristine waters is fishing. Anglers flock to Minnesota to experience some of the finest freshwater fishing available. From the walleye-rich waters of Mille Lacs Lake to the legendary bass fishing in Lake Minnetonka, there's a fishing adventure for everyone.
Boating is a famous pastime on Lake Superior. Whether it's kayaking along a tranquil shoreline or sailing on the vast expanse of Lake Superior, the options are abundant. Many lakeside communities offer boat rentals, making it easy for visitors to explore the water at their own pace. Water sports like water skiing, wakeboarding, and tubing are perfect for adventure seekers who crave the adrenaline rush of gliding across the sparkling Minnesota lakes.
Minnesota's lakes also provide an idyllic backdrop for camping and hiking enthusiasts. Itasca State Park, home to the headwaters of the Mississippi River, offers numerous campgrounds and hiking trails. Campers can fall asleep to the sound of waves and wake up to stunning sunrise views over the water. Hikers can explore dense forests, witness wildlife, and dip in the cool lake waters after a day on the trails.
Swimming and beach activities are another highlight of Minnesota's lakes. From sandy shores on Lake Superior's north shore to the inviting beaches along the state's many inland lakes, residents and visitors can bask in the sun, build sandcastles, and take refreshing dips in the clean, clear waters. For families, these beaches provide an excellent setting for picnics and creating cherished memories.
Lastly, the winter season transforms Minnesota's lakes into a playground for snow enthusiasts. Ice fishing, ice skating, ice hockey, and snowmobiling take center stage on the frozen lakes.
Fishing Opportunities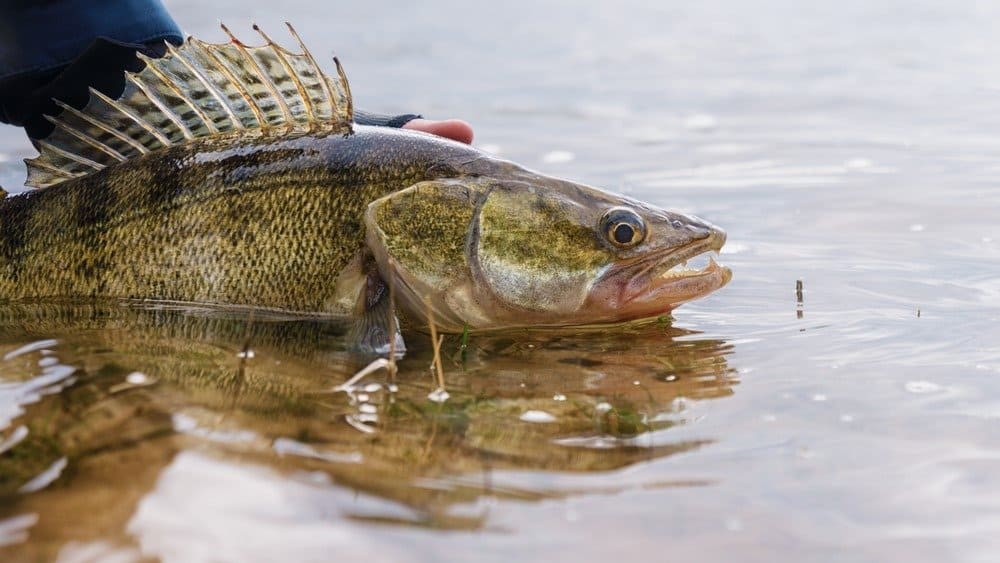 Fishing in Minnesota is a revered tradition, and its lakes offer abundant opportunities for anglers of all levels. With an extensive network of lakes, rivers, and streams, the state provides a diverse and rich ecosystem with a wide range of fish species. Perhaps the most iconic is the walleye, often called the "state fish." Minnesota's clear and cool lakes, such as Lake Mille Lacs and Leech Lake, are renowned for trophy walleye fishing. These lakes and many others host annual fishing tournaments, attracting enthusiasts from all over the country.
Moreover, northern pike thrive in the shallower waters of many Minnesota lakes. With their large size, these aggressive predators offer a thrilling challenge for anglers. They live in numerous locations throughout the state, including popular spots like Lake Vermilion and Lake of the Woods.
Minnesota's lakes teem with other sought-after game fish, such as largemouth and smallmouth bass, crappie, sunfish, and muskellunge. Whether you prefer casting from the shore or trolling on a boat, there's a fishing opportunity to suit every taste and season. The diversity of fish species and angling techniques make Minnesota a paradise for fishing enthusiasts.
Ice fishing during the winter months also draws fishing enthusiasts. It offers a unique and thrilling experience for those brave enough to withstand the cold.
One unique aspect of fishing in Minnesota is the state's commitment to sustainable fishing practices. Anglers can enjoy the thrill of catching their limit while participating in programs that help preserve and protect these valuable aquatic resources. The catch-and-release culture is deeply ingrained in Minnesota's fishing community. It ensures lakes remain healthy and thriving, allowing anglers to enjoy exceptional fishing experiences for years to come.
Scenic Trails and Parks
Minnesota's lakes are also surrounded by scenic trails and parks that beckon outdoor enthusiasts and nature lovers year-round. One gem is the Boundary Waters Canoe Area Wilderness (BWCAW). This sprawling wilderness area in northern Minnesota encompasses over a million acres of pristine forests and thousands of lakes. Paddling through these crystal-clear waters while taking in the breathtaking wilderness vistas is an experience that truly immerses you in Minnesota's natural beauty.
For those seeking a more extensive hiking adventure, the Superior Hiking Trail offers a remarkable journey along the rugged, forested ridges of Lake Superior's north shore. With its panoramic views of the vast lake and lush landscapes, this trail is a favorite among hikers and backpackers. Visitors will encounter waterfalls, dramatic cliffs, and diverse wildlife.
Lake Itasca State Park, located in the northwestern part of the state, is a must-visit for anyone interested in the origin of the mighty Mississippi River. This park allows you to walk across the river's headwaters and offers scenic trails that wind through old-growth pine forests and serene lakeshores.
Near Minneapolis, the Chain of Lakes Regional Park offers an urban oasis like no other. Comprising several interconnected lakes, including Lake Harriet and Lake Calhoun, this park system features paved biking and walking trails, beaches, and opportunities for kayaking and paddleboarding.
The north shore of Lake Superior is home to Tettegouche State Park, which boasts dramatic cliffs, cascading waterfalls, and pristine inland lakes. The rugged terrain and extensive trail network make it a paradise for hikers and rock climbers. Hike to the top of Shovel Point for a stunning lake view, or explore the hidden gem of Illgen Falls for a peaceful and secluded experience.
Accessibility and Amenities
Accessibility and amenities around Minnesota lakes are among the many reasons they are considered the best in the United States. Whether you're an avid angler, a water sports enthusiast, or simply looking for a serene, relaxing spot, the state's lakes cater to various interests and preferences.
Minnesota's commitment to accessibility is commendable. Many of the state's lakes have well-maintained public access points, making it easy for everyone to enjoy the water. Whether in a bustling city like Minneapolis or exploring the remote wilderness, you will likely find well-marked access points with amenities like parking areas, boat ramps, and picnic facilities. This inclusivity ensures that individuals with varying physical abilities can participate in lake activities, making Minnesota's lakes welcoming to all.
Many lakeside communities offer cozy cabins, resorts, and campgrounds, providing visitors with the perfect blend of comfort and proximity to nature. These accommodations often have stunning lakeside views; some even offer private docks. The lakeside towns also feature charming restaurants, shops, and cultural attractions that enhance the overall experience.
For those who enjoy outdoor activities, Minnesota's lakes are a paradise. The state's Department of Natural Resources maintains numerous public parks and recreational areas around the lakes, offering hiking trails, birdwatching spots, and wildlife observation areas. Fishing enthusiasts will find lakes with fishing piers. Water sports fans will also have access to boat ramps, docks, and water sports equipment available.
Accessibility and amenities around Minnesota lakes contribute significantly to their reputation as the best in the United States. Additionally, Minnesota's extensive amount of lakes makes it accessible to residents from the entire state. Large cities like Minneapolis or Saint Paul are just short drives away from the state's most beautiful lakes.
Cultural and Historical Significance
The lakes of Minnesota have played an integral role in shaping the cultural and historical landscape of the state. Native American tribes, such as the Ojibwe and Dakota Sioux, have long considered these lakes sacred and central to their way of life. The word "Minnesota" derives from the Dakota Sioux language, meaning "sky-tinted water." These lakes served as a source of sustenance and hubs for trade and communication among different tribes.
In the 19th century, Minnesota's lakes played a pivotal role in the United States' westward expansion. Lake Superior, the largest of the Great Lakes, was a vital transportation route for fur traders and early European settlers. Cities like Duluth, situated along Lake Superior's shores, grew into bustling centers of commerce, connecting the Midwest to global markets.
Minnesota's lakes have also inspired countless artists, writers, and musicians. Iconic figures like Bob Dylan, who hails from the town of Hibbing near the state's many lakes, have drawn creative inspiration from these waters' tranquil beauty and contemplative nature. The lakes also have been immortalized in numerous works of art, literature, and music.
These lakes are also symbols of recreation and leisure, attracting visitors from all over the country. Whether fishing, boating, swimming or simply enjoying a peaceful lakeside picnic, these bodies of water have everything. They provide a backdrop for countless cherished memories for generations of Minnesotans and tourists alike.
Community Engagement
The communities surrounding lakes in Minnesota are highly involved in protecting these lakes. One remarkable aspect of this engagement is the countless volunteer-driven cleanup efforts that take place regularly. Whether picking up litter, removing invasive species, or restoring shorelines, Minnesotans ensure their beloved lakes remain pristine.
Community events and festivals centered around these lakes foster a strong sense of togetherness. Minnesotans often celebrate their cherished lakes, from the annual "Fishing Opener" to local regattas and water sports competitions. These events serve as a platform for education and awareness about environmental conservation.
The lakes are also important sites for environmental conservation efforts. Local lake associations play a pivotal role in community engagement. These organizations serve as advocates for lake health and often work closely with government agencies to implement conservation measures. They organize workshops and seminars to educate residents on water quality, habitat restoration, and sustainable development.
The community engagement also extends to the next generation with various youth programs. Summer camps, school initiatives, and nature-based educational programs provide opportunities for young Minnesotans to learn about the importance of lakes and develop a lifelong connection to these natural resources. This commitment to educating the next generation ensures that the legacy of lake conservation continues to thrive in Minnesota.
The photo featured at the top of this post is © ehrlif/iStock via Getty Images
---