Miniature flowers are delicate and whimsical. Moreover, they add contrast to a larger array of spring blooms. Many aspiring gardeners use these to line their garden beds or create tiny fairy garden displays to create a magical atmosphere in patio gardens.
There are several dwarf and miniature tulip options to choose from in different colors, styles, and heights. Let's dive into 12 stunning miniature tulip varieties to consider adding to your garden.
1. Little Beauty
Botanical name: Tulipa hageri 'Little Beauty'
This stunning dwarf tulip variety is proof that blooms don't need to be large and showy to make an impact. The Little Beauty has stellate petals with pink to purplish red tips, fading into a white and blue center. This miniature tulip grows no more than 6 inches tall with a similar spread.
As a hybrid miniature tulip variety, it will require special care to encourage perennial growth. Wait until the foliage withers and deadhead the tulips before the winter. These sun-loving tulips will stay closed at nighttime and on cloudy days. Despite their affinity for bright, direct light, Little Beauty bulbs are sensitive to heat. It would be best if you buried the bulbs approximately 8 inches deep to keep them cool.
2. Little Princess
Botanical Name: Tulipa 'Little Princess'
This miniature tulip only reaches 4-6 inches in height. Yet, with its stunning petal shades and patterns, the Little Princess is still considered a showy tulip and excellent addition to the garden.
Petals are stellate in shape with shades of burnt orange, gold, and tints of red. The centers are yellow and black with contrasting overlaps that add depth and dimension to this miniature tulip cultivar.
These mid-season bloomers prefer full sun and thrive in pots with sufficient drainage and depth. The Little Princess will naturalize and produce offsets over time, but it can take up to six years for an offset to develop.
3. Little Star
Botanical Name: Tulipa 'Little Star'
This dwarf tulip variety has bright white petals with a bold yellow center, resembling a little star. It grows to about 6-8 inches in height and prefers full sun and well-draining soil. They naturalize easily and grow in clumps, which will have to be separated over time.
The Tulipa 'Little Star' loves well-draining soil and full sun, preferably in a South or East-facing garden with no trees or larger blooms blocking the light. Deadhead after the foliage has withered to promote continuous growth.
4. Tulipa tarda
Tulipa tarda is considered one of the most desirable and notable botanical species of tulips. In other words, it's a naturally-occurring species that hasn't been hybridized or altered over time — despite being grown commercially for centuries.
Growing only 3-6 inches tall, Tulipa tarda directly translates to "late tulip," highlighting its fashionably late arrival to gardens. This petite, showy bloom has white petals with a soft yellow center. Native to Central Asia, this small-but-mighty bloom is hardy in extreme conditions and naturalizes easily in full sun and well-draining soil.
5. Lady Jane
Botanical Name: Tulipa clusiana 'Lady Jane'
This award-winning miniature tulip has soft flaring petals with a pale pink exterior and a white edge and interior, punctuated by a pale yellow base and center. Tulipa clusiana 'Lady Jane' is a botanical tulip that prefers full sun and well-draining soil.
While Lady Jane can reach up to 10 inches tall, it's still considered a dwarf variety. It's a hardy, mid-season bloomer known to withstand rainy and windy environments better than other tulip varieties.
The name Tulipa clusiana roughly translates to "turban tulip" in honor of its natural habitat. This botanical tulip grows naturally in Iraq, Iran, and the surrounding areas. Unlike many tulips, this species tends to be annual. However, it naturalizes efficiently and produces offsets to replace spent bulbs.
6. Purissima
Botanical Name: Tulipa 'Purissima'
Another award-winning miniature tulip, Tulipa 'Purissima,' has pure white or soft yellow petals with deep black anthers in the center for contrast. It grows to about 8-10 inches tall and prefers full sun and well-draining soil.
Sometimes called Tulipa' White Emperor,' the Purissima has large, showy blooms for what's considered a short flower. Like many miniature tulips, this variety is a mid-season bloomer.
The Purissima is a part of the Fosteriana horticultural group, referring to its natural origins in Central Asia.
7. Red Riding Hood
Botanical Name: Tulipa 'Red Riding Hood'
Tulipa 'Red Riding Hood' has decadent, dark red flowers with bowl-shaped petals. The petals darken to crimson closer to the stem with deep black centers.
Red Riding Hood has stunning foliage that also makes it a well-loved miniature tulip variety. The pointed leaves are a gorgeous blue-green shade. In the summer, streaks of red-purple stripe the leaves for an extra pop of color.
The Red Riding Hood is a taller miniature variety, reaching up to 12 inches with proper care. A mid-season bloomer, Red Riding Hood prefers full sun and well-draining soil.
8. Peppermint Stick
Botanical name: Tulipa clusiana 'Peppermint Stick'
This fan-favorite tulip variety has white petals with red stripes resembling peppermint candy. It's nearly identical to Lady Jane, save for its height. The Peppermint Stick grows to about 14-16 inches in height but maintains the delicate, small blooms that earn it the distinction of a miniature variety. 
The Peppermint Stick tulip likes full sun or partial shade and blooms late in the season. This variety is also deer-resistant and can help keep curious animals away from your precious bulbs.
9. Blue-Eyed Tulip
Botanical Name: Tulipa humilis 'Alba Coerulea Oculata'
This enchanting miniature tulip is named quite literally for its appearance. With small, pointed white petals and a captivating gray-blue center, these botanical tulips are a lovely addition to any garden.
Tulipa humilis 'Alba Coerulea Oculata' is an early bloomer and efficient naturalizer. It grows 4-6 inches tall with a 2-3 inch spread. It prefers full sun and well-draining soil, reminiscent of its natural environment in the Mediterranean and Caucasus regions.
Unlike many varieties of tulips, the Blue-Eyed Tulip does well when clumped together in pots. Ensure adequate soil drainage and organic matter to watch these stunning flowers thrive.
10. Lilac Wonder
Botanical Name: Tulipa saxatilis 'Lilac Wonder' syn. Tulipa bakeri
Perhaps one of the most fitting names, the Lilac Wonder boasts ethereal lilac-colored star-shaped petals with vibrant gold centers. Its otherworldly appearance makes it unsurprising that this miniature tulip has won several prestigious awards.
This beautiful species is cultivated in the Netherlands, though it originates from Crete, Greek. It's also classified as Tulipa bakeri, named for its discoverer G.P. Baker, a respected member of the Royal Horticultural Society.
This delicate bloom grows no more than 6 inches tall with a spread of 2-3 inches. It's a great border flower, and while it's a mid-season bloomer, the Lilac Wonder has a long lifespan.
11. Odalisque
Botanical Name: Tulipa humilis 'Odalisque'
Named for its feminity and alluring beauty, the Odalisque offers a stunning magenta profile with bold yellow centers. This goblet-shaped miniature tulip has pointed petals and grows no more than 4 inches tall with a spread of 2 inches.
The Odalisque is considered a wonderful addition to a pollinator garden and attracts bees. It's an early bloomer that requires additional care and well-draining soil to perennialize. This miniature tulip's love of rocky, well-draining soil also makes it a stunning addition to a rock garden or planters.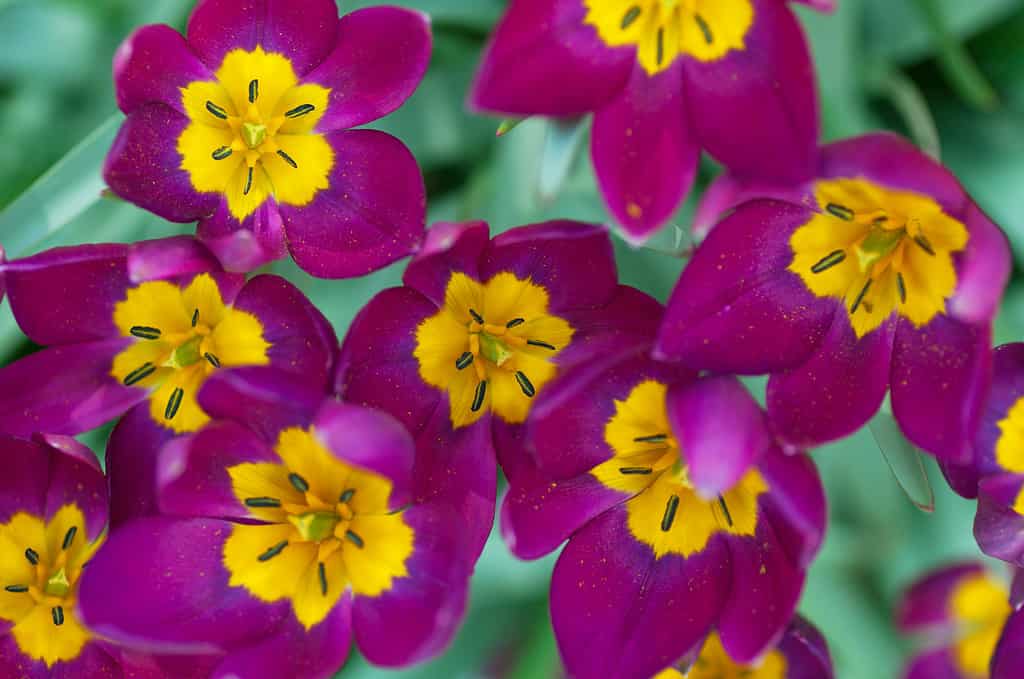 12. Toktogul's Tulip
Botanical Name: Tulipa kolpakowskiana
Tulipa kolpakowskiana is an award-winning miniature tulip with soft yellow petals in a star formation. Some blossoms also have red tones on the back (exterior) of the petals, adding dimension and a fire-like glow in the sunset of the mountains it calls home.
This miniature tulip grows to no more than 6 inches. It's a botanical tulip with strong naturalizing instincts and thrives in rock gardens and pots. While Tulipa kolpakowskiana is a hardy tulip species, it's also considered rare and threatened due to environmental changes.
The photo featured at the top of this post is © iStock.com/Anatoliy Berislavskiy
---