↓
Continue Reading To See This Amazing Video
Determining what vegetables to plant in January depends largely on your Hardiness Zone and region. You may find that this time of year is fairly dormant for plants, but January brings a number of opportunities to the average gardener. But what can be planted during the month of January, and what vegetables need to be started from seed?
When it comes to what vegetables you can plant in January, you need to determine your Zone and climate before starting seeds indoors or directly sowing any seeds outdoors. In Zones 7-9, most eggplants and tomato plants can be started indoors from seed. If you live in a colder region, you may have some success with onions and broccoli. However, microgreens and an indoor herb garden may be your best bet, no matter your Zone!
Let's go over what some of the best vegetables might be to plant or start indoors during the month of January. No matter where you live, January can be a productive month for your garden! We'll even address some of the ways that you can get your garden into shape before the more active spring months arrive. Let's get started.
The Best Vegetables to Plant in January
Knowing the types of vegetables that need to be directly sown outdoors or started indoors is a good place to begin when working in a January garden. Depending on your region, your ground may be too frozen to plant anything outside! However, timing your indoor-grown seedlings for outdoor spring planting can also be a tricky task. 
No matter your region, here are some of the best vegetables to work with in January, both indoors and out.
Microgreens and Sprouts
Peas, alfalfa, broccoli, sunflower, and bean sprouts are all fantastic types of microgreens and sprouts to consider growing indoors. You may even have success growing your microgreens outdoors with some protection, such as a hoop house or greenhouse. Any type of vegetable that produces edible leaves can work well as a microgreen, especially in a climate that remains cold through the winter.
For example, you may find that your radishes and spinach plants aren't growing very tall given a lack of sunlight and warm weather. You don't have to let these plants fully develop. You can eat their greens and still have something to harvest, even when it's cold out! Plus, sprouts are easily grown in jars in your kitchen, so definitely consider this if you want to keep fresh veggies around all winter long.
Broccoli
Depending on where you live, broccoli can be started from seed either indoors or outdoors. Broccoli takes a long time to germinate and fully develop, so timing your seedlings is important. In warmer climates, you should sow your broccoli outside directly into the soil 2 to 3 weeks before your last frost date. Does your region remains freezing well into the month of February or March? Start your broccoli indoors roughly 6-8 weeks before your frost date. 
Tomatoes
Similarly to broccoli, tomatoes need a long time to germinate and fully develop before they will produce edible fruits. Many people purchase tomato plants from garden centers or nurseries. However, you can start tomato seeds indoors 6-8 weeks before your frost date. You need to make sure that they remain warm, in full sunlight under a grow lamp. Some varieties germinate faster than others, so make sure you time your tomato plantings properly!
Eggplants
Eggplants are another vegetable that needs plenty of time to germinate and grow before being planted outdoors. Just like tomatoes, eggplants need warm weather conditions, or else you risk damaging or even killing your young crops. Start eggplants from seed inside, roughly eight weeks before your last frost date. Some eggplant varieties are small enough to grow in containers, so choose a type that suits your garden and lifestyle. 
Onions (Red, White, Yellow, and Green!)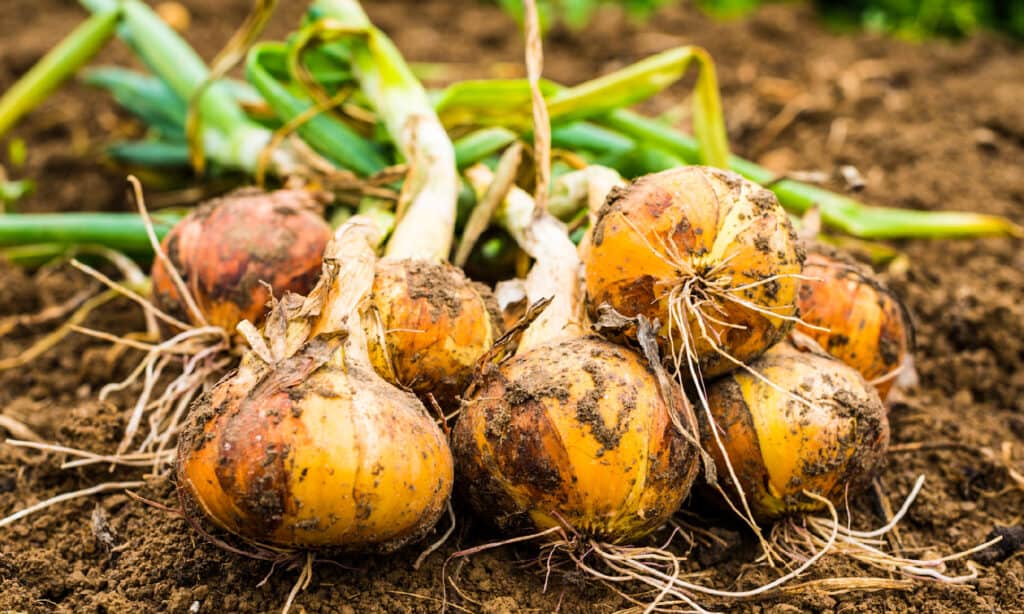 Depending on your region, you may still have green onions thriving from the prior month of December. However, all onions can be started indoors for springtime harvests and continued harvests throughout the summer. Red, white, and yellow onions can be started from seed. Green onions may thrive if directly sown outdoors in Hardiness Zones 8 through 11. 
An Indoor Herb Garden is Always in Season
If you live in a consistently cold or freezing part of the country, having an indoor herb garden is a great way to keep something fresh in your home without worrying about it dying in freezing temperatures. Many types of herbs grow well in a sunny windowsill, including basil, mint, thyme, and rosemary. You can also try keeping certain herbs as a Bonsai tree year-round for added interest in your home! 
Prepare for Spring By Starting Seeds Indoors!
January is the perfect time to plan your seedling growing schedule and your garden in general. You may want to take some time planning and plotting out where all of your crops will go. Many different vegetables do best when planted in tandem with other plants. Plus, growing seedlings indoors is incredibly easy and helps you get a jumpstart on the very busy growing months of February and March! 
Up Next
More from A-Z Animals
---
The Featured Image
---
Sources

Microgreen Garden: Indoor Grower's Guide to Gourmet Greens, Available here: https://books.google.com/books?hl=en&lr=&id=IKrTBgAAQBAJ&oi=fnd&pg=PT4&dq=indoor+grown+seeds&ots=Km17PbUHow&sig=iSi_a1cYhZ_yQH0yBV7Q54O7GmI