Key Points
Montana, with its natural beauty, rich cultural heritage, and unique way of life, is a state that captivates the hearts of both residents and visitors.
Whether you are a hiker, a photographer, or someone who just wants to connect with nature, Glacier National Park has something for you.
From its stunning landscapes and diverse wildlife, Montana offers a rich and authentic experience that's truly one of a kind.
Montana, the "Treasure State," is a place of rugged natural beauty, diverse wildlife, and a rich cultural heritage. From the stunning landscapes of the Rocky Mountains, Yellowstone, and Glacier National Parks to the thriving arts scene and delicious local cuisine, Montana offers something for everyone.
Explore what Montana is known for, uncover famous people who originate from the state, and delve into the Montanan way of life and their ideologies.
What Does Montana Excel In?
Let's start with the obvious. Montana's great expanses of rugged, natural landscapes include mountains, lakes, rivers, and mineral resources.
Natural Beauty
Montana's claim to fame is undoubtedly its natural beauty. With the Rocky Mountains cutting through the state, Yellowstone National Park residing in its borders, and Glacier National Park straddling the northern border with Canada, Montana is a haven for outdoor enthusiasts. The state's vast expanses of unspoiled wilderness, including forests, mountains, lakes, and hot springs, make it a paradise for nature lovers.
Diverse Wildlife
Montana is home to a diverse range of wildlife, from grizzly bears and wolves to bison and elk. Montana boasts the largest population of grizzly bears in the lower 48 states. Visitors can witness these majestic creatures in their natural habitat, making wildlife viewing a popular activity in the state.
Natural Mineral Resources
Nicknamed the "Treasure State," Montana has a rich history of mineral extraction. Copper, silver, gold, coal, oil, and natural gas have played a significant role in the state's economy for over a century. The intense blue Yogo sapphires originate in the Little Belt Mountains of Montana.
Food Montana Is Famous For
Montanans love to eat. Amongst their favorite choices are cherries, cinnamon rolls, and huckleberries.
Flathead Cherries
Flathead cherries, grown in the northwestern Flathead Valley, demand their famous Montana status. These sweet, delicious cherries, including varieties like Lapins, Sweetheart, Rainier, and Lambert, drip with juiciness. They find their way into pies, jams, and various desserts, making them a popular summer treat.
Wheat Montana Cinnamon Rolls
Wheat Montana, originally a family-owned wheat farm in Three Forks, Montana, has become famous for its mouthwatering cinnamon rolls and other whole-grain products. These cinnamon rolls, baked with Montana-grown wheat and natural ingredients, boast a cult following and ship worldwide.
Huckleberries
Montana's office state fruit, huckleberries, grow wild in the state's mountains and find use in pies, jams, syrups, and more due to their small, sweet-tart nature.
Huckleberry picking is a popular activity, and you can find them in various state parks and farmers' markets during the late summer months.
Montana's Known History, Culture, and Traditions
Bookstores Per Capita
Montana consistently ranks among the states with the most bookstores per capita in the United States. Independent bookstores like Country Bookshelf, Elk River Books, Fact & Fiction, and BookWorks of Whitefish offer a wide selection of books, including works by local authors and bestsellers.
Bird Watching
Montana's diverse landscape makes it a prime destination for bird watchers.
From American white pelicans and bald eagles in the spring and summer to Bohemian waxwings and rough-legged hawks in the fall and winter, there are numerous bird species to observe. Popular bird-watching spots include Glacier National Park, Flathead Lake, and the Charles M. Russell National Wildlife Refuge.
Whether you're an experienced birder or a beginner, you can find excellent places in Montana to enjoy this outdoor activity.
Sapphire Production
Sapphires are a type of gemstone that comes in a variety of colors, but the most popular and well-known color is blue. Typically, people find sapphires in riverbeds and alluvial deposits.
Montana holds a prominent position as one of the world's leading sapphire producers, with a particular reputation for Yogo sapphires, which are renowned for their intense blue color and are discovered in the Little Belt Mountains.
Yogo sapphires were first discovered in the late 1800s, and since then, Montana has become one of the most important sources of sapphires in the world. If you're interested in seeing some of these beautiful stones, you can visit one of the many sapphire mines or rock shops in the state.
Mineral Deposits
Montana's nickname, the "Treasure State," comes from the abundance of rich deposits of natural minerals including copper, silver, and gold. Mining for each of these began in the early 1860s and continues to contribute to the state's economy today.
In addition to metals, Montana also has large deposits of energy resources including coal, oil, and natural gas.
Wildlife
Naturally with great natural expanses of land comes an abundance of wildlife. Montana harbors some of North America's most iconic species, such as grizzlies, wolves, bison, elk, deer, moose, mountain goats, and bighorn sheep. Additionally, numerous species of freshwater fish that call Montana home include trout, bass, walleye, pike, and perch.
Did you know that Montana has the largest population of grizzly bears in the lower 48 states?
Famous Cities and Travel Destinations of Montana
Montana is mostly rural, but a couple of notable exceptions include Helena and Butte.
Helena
Helena, Montana's state capital, is nestled between the Rocky Mountains and the Great Plains. The city's notable landmarks include Capitol Hill, home to the Montana State Capitol, and the Charlie Russell Chew-Choo, a vintage dinner train offering a unique dining experience.
Butte
Butte, located in southwestern Montana, was once known as the "richest hill on earth" due to its extensive copper mining. Visitors can explore the city's mining history through tours and museums while also enjoying modern dining and shopping experiences.
Other cities of note include Missoula, Bozeman, and Billings.
Famous People From Montana
The state of Montana is home to a plethora of famous folks. Here are just a few highlights:
David Lynch
Filmmaker David Lynch, born in Montana, is renowned for his unique and often surreal films, including "Eraserhead," "Blue Velvet," and "Mulholland Drive." His work has garnered numerous awards and a devoted following.
Myrna Loy
Actress Myrna Loy, originally from Helena, appeared in over 100 films, with notable roles in "The Thin Man" and "The Best Years of Our Lives." She received an Honorary Academy Award in 1991 for her contributions to cinema.
Evel Knievel
Evel Knievel, born in Butte, MT, is a well-known daredevil. He loved flying through the skies on his motorcycle, reckless driving, and spectacular crashes. He earned the nickname "Evel" as a result of some time spent in jail (for theft).
Jesse Tyler Ferguson
Actor and comedian Jesse Tyler Ferguson hails from Missoula, MT. He moved from Montana at the age of eight with his family to Albuquerque, NM, where he found his love of acting. His most popular role is in Modern Family.
Dana Carvey
Comedian Dana Carvey was born in Missoula, MT as the fourth of five children. Dana is best known for his roles in Saturday Night Live (The Church Lady) and Wayne's World movies.
Jeff Ament
Musician Jeff Ament, Pearl Jam's bassist, has helped fund and build over 20 skate parks for skaters of all ages. Jeff was born in Havre, MT, but now lives in Missoula when he's not touring with his grunge band.
Gary Cooper
Actor Gary Cooper may not be a famous name actor, but most people know his face. He played many roles, mostly in westerns. He won an Academy Award for Best Actor twice and several nominations for other awards.
An interesting fact about Gary: he worked as a tour guide in Yellowstone National Park for a short period.
Famous Montana Landmarks
No article on Montana would be complete without talking about its' breathtaking landmarks.
Yellowstone National Park
Yellowstone National Park, established in 1872, is a must-visit destination in Montana. This expansive national park boasts diverse landscapes, including forests, mountains, lakes, and hot springs. It's also home to a wide variety of wildlife including bison, elk, grizzly bears, wolves, and more.
Located near the cities of Bozeman and Billings, the park's 2+ million acres attract millions of visitors annually.
Bighorn Mountains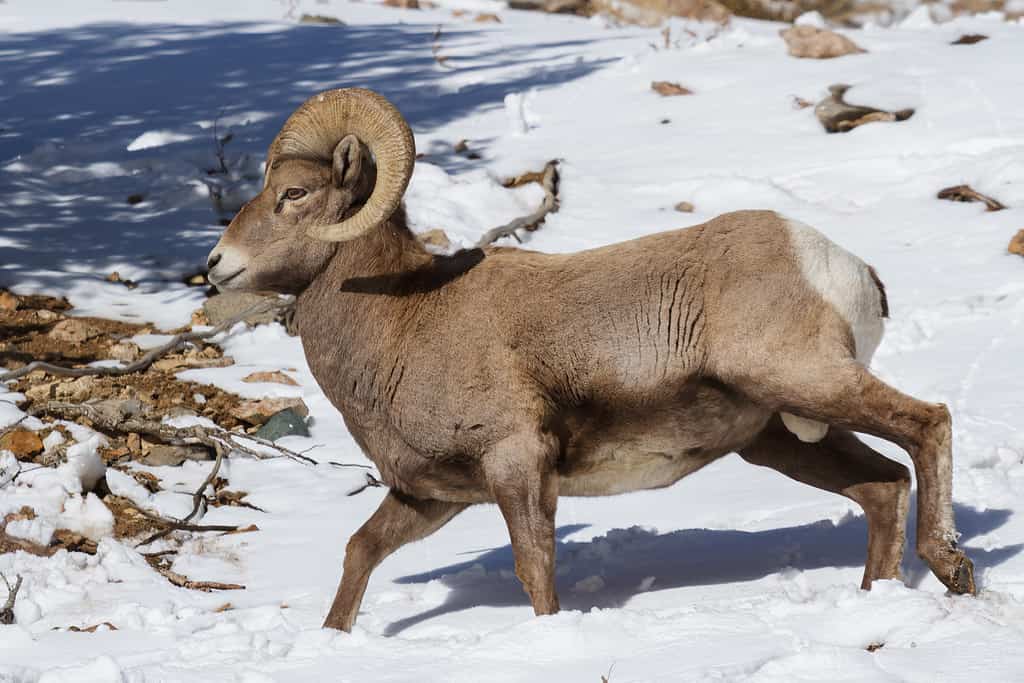 The Bighorn Mountains, spanning north-central Wyoming and southern Montana, offer fantastic outdoor experiences. The name stems from the large numbers of bighorn sheep calling the area their home.
Hiking, climbing, camping, fishing, hunting, and horseback riding are just a few of the activities available in this beautiful region.
Triple Divide Peak
Triple Divide Peak, located in Glacier National Park, is a unique geographical feature where water flows into three different watersheds: the Pacific Ocean, Hudson Bay, and the Gulf of Mexico. Hikers and climbers are drawn to this peak for its stunning views of Glacier National Park.
The Cut Bank Trail leads to the peak. The trail is about 16 miles in total (round trip) and is rated as a challenging trail. But, the challenge is worth the view from the peak.
Glacier National Park: Montana's Crown Jewel
When it comes to Montana's natural wonders, Glacier National Park stands out as one of its crown jewels for year-round enjoyment.
Established in 1910, this pristine wilderness is a testament to the state's commitment to preserving its natural beauty. The park boasts breathtaking landscapes, abundant wildlife, the 50-mile-long Going to the Sun Road, and Native American heritage.
Whether you are a hiker, a photographer, or someone who just wants to connect with nature, Glacier National Park has something for you. Over 700 miles of hiking trails, numerous clear lakes for water sports, and hundreds of amazing locations for camping are waiting to fulfill the visitor's wishes. And don't forget the awe-inspiring sunrises and sunsets to complete the experience.
Now, that you know the highlights of Montana, let's learn a little about the Montanan way of life and their ideologies.
10 Things Everyone In Montana Absolutely Loves
Montanans consider themselves a diverse group of people who treasure freedom above all. Comment or join in on these things to make yourself an "insider" when visiting:
The Outdoors: Montanans cherish their natural surroundings, and outdoor activities like hiking, fishing, and camping are integral to their lifestyle.
Old School Country Music: Country music resonates with many Montanans, reflecting their love for tradition and simpler times.
Patriotism: Montana's residents are known for their strong sense of patriotism, and the Fourth of July celebrations are a testament to their love for America.
Glacier National Park: The state's crown jewel, Glacier National Park, is beloved by all Montanans for its breathtaking beauty.
Ghost Towns: Montana's rich history includes ghost towns, which intrigue and captivate the imagination of its residents.
Huckleberries: These wild berries hold a special place in Montanans' hearts, inspiring homemade huckleberry treats.
Pastries from the Polebridge Mercantile: The iconic Polebridge Mercantile is celebrated for its delectable pastries, a favorite among locals.
Lake Time: With abundant lakes in Montana, spending time by the water, whether fishing, swimming, or boating, is a cherished pastime.
Bonfires: Gatherings around bonfires are a beloved tradition, fostering community and camaraderie.
Montana: Above all, Montanans love their state, valuing its natural beauty, genuine people, and sense of freedom.
10 Things Only People From Montana Understand
Beach Vacations Are for People Who Lack Imagination: Montanans appreciate their state's natural wonders more than beach destinations.
Elk and Bison Meat: Hunting season is a way of life, and many Montanans have freezers filled with elk and bison meat.
Being a World-Class Badass: Montanans are known for their resilience and resourcefulness, capable of tackling challenges head-on.
Making Friends with Anyone, Even Grizzly Bears: Montanans are renowned for their friendliness, striking up conversations with strangers and even befriending wildlife.
Living Life to the Fullest in the "Last Best State": Montana's official motto reflects its residents' pride in their state's beauty and authenticity.
Weather Forecasts Are More of a Suggestion: Montana's ever-changing weather keeps residents on their toes, making plans unpredictable.
Being in a Libertarian Paradise: Montanans value their independence and are known for their libertarian leanings.
The Dedication It Takes to Get Through a Whole at the Pickle Barrel: The Pickle Barrel sandwiches are a local favorite, and ordering a Whole is not for the faint of heart.
Montana's Your Huckleberry… Literally: Huckleberries are a treasure, both in the wild and as ingredients in local treats.
The Answer to Why You Live in Montana: Montanans have a strong sense of what makes their state special and are unapologetic about living there.
Montana, with its natural beauty, rich cultural heritage, and unique way of life, is a state that captivates the hearts of both residents and visitors. From its stunning landscapes and diverse wildlife to its love for local cuisine and a strong sense of freedom, Montana offers a rich and authentic experience that's truly one of a kind.
Whether you're a nature enthusiast, a fan of classic literature, or simply seeking a taste of the Montanan way of life, this state has something to offer everyone. So, consider exploring Montana and discovering its hidden treasures for yourself.
Summary of 10 Things Montanans Love About Themselves
| Number | Things Everyone In Montana Absolutely Love | Things Only People From Montana Understand |
| --- | --- | --- |
| 1 | Outdoors | Beach Vacations Are for People Who Lack Imagination |
| 2 | Old School Country Music | Elk and Bison Meat |
| 3 | Patriotism | Being a World-Class Badass |
| 4 | Glacier National Park | Making Friends with Anyone, Even Grizzly Bears |
| 5 | Ghost towns | Living Life to the Fullest in the "Last Best State" |
| 6 | Huckleberries | Weather Forecasts are More of a Suggestion |
| 7 | Pastries from the Polebridge Mercantile | Being in a Libertarian Paradise |
| 8 | Lake Time | The Dedication It Takes to Get Through a Whole at the Pickle Barrel |
| 9 | Bonfires | Montana's Your Huckleberry… Literally |
| 10 | Montana | The Answer to Why You Live in Montana |
Summary Table of 10 Things Montanans Love About Themselves
The photo featured at the top of this post is © Jon Bilous/Shutterstock.com
---