Louisiana is a state located in the south-central United States. It's known for having numerous coastal marshlands, beaches, low swamp lands, and barrier islands — wetlands, in general.
Besides the natural lakes, it's home to, the state has several artificial lakes, also called reservoirs, and we're here to tell you which ones are the largest! However, we must mention that we've assessed them depending on the surface area since they can also be measured based on water capacity.
What's the Largest Man-Made Lake in Louisiana?
The largest man-made or artificial lake in Louisiana is the Toledo Bend Reservoir. However, the reservoir isn't located entirely in Louisiana, as bits of it cross the border into Texas, thus being considered the largest man-made body of water in Texas, too. Moreover, the reservoir is the largest in the southern part of the state and ranks the sixth-largest by surface area in the country! Just imagine how lucky you'll be if you ever get to visit it!
While the dam site is in Burkeville, Texas, little of the reservoir is located there. It extends up the river for around 65 miles towards Logansport, Louisiana, crossing Sabine and DeSoto parishes in Louisiana, and Shelby, Sabine, and Panola counties in Texas.
The construction of the Toledo Bend Dam began in 1964. At the same time, authorities started building the spillway and power plant. This project was initiated to ensure water supply, recreational activities, and hydroelectric power. In short, Louisiana and Texas joined forces and worked together towards completing this project.
Where is the Largest Man-Made Lake in Louisiana on a Map?
The Toledo Bend Reservoir, the largest man-made lake in Louisiana, is located on the border of Louisiana and Texas with both states sharing the lake.
How Large Is the Largest Man-Made Lake in Louisiana?
The largest man-made lake in Louisiana, Toledo Bend Reservoir, has a surface area of 185,000 acres (75,000 hectares). It has a maximum length of 65 miles (105 km) and a width of 10 miles (16 km). The average depth stands at 24 feet (7 m) below the ground, while the maximum depth is 110 feet (34 m). The water volume is 4,477,000 acre-feet (5.52 cubic km), and the shore length reaches 1,264 miles (2,030 km), which makes the reservoir a major recreational area in Louisiana and Texas.
Can You Visit Toledo Bend Reservoir?
You can definitely visit the largest reservoir in Louisiana! We suggest looking for information about North Toledo Bend State Park and South Toledo Bend State Park, which offer multiple amenities for a full-day getaway! If you enjoy fishing, you'll undoubtedly enjoy your visit to the reservoir.
Moreover, you can also rent a kayak and explore the waterways from your perspective. You can also swim, enjoy a picnic in the heart of nature, and hunt. Moreover, you can camp on the reservoir's shoreline if you're planning a longer trip. There are several campgrounds and RV parks, so plenty of options are available.
However, if you prefer staying in a motel room or renting a cabin, there's no need to worry. You can check out the Toledo Bay Resort or the Paradise Point RV and Cabin facilities. Furthermore, these facilities provide supermarkets, stores, banks, and golf areas. In short, you won't even want to return home after a weekend spent at Toledo Bend Reservoir!
If you're visiting it primarily for boating, you should know that the authorities recommend using shallow draft power boats because the lake is filled with trees and stumps. You should be careful both on and off the boat lanes, paying attention to trees, stumps, and floating logs.
What's Another Large Reservoir in Louisiana?
Since Louisiana has plenty of lakes and other bodies of water, you're probably wondering about other large reservoirs in the state. Lake D'Arbonne is located around Farmerville town in Union Parish. The lake is located behind a 54-foot-tall dam. The reservoir has a surface area of 15,250 acres (62 sq km).
Compared to Toledo Bend Reservoir, this number isn't very large. However, for the area it's located in, Lake D'Arbonne is a true natural gem and a very popular recreational area, which people primarily visit for its fishing amenities!
If you're planning to visit it, check out Lake D'Arbonne State Park, which also features a maintained camping area. However, if you don't plan to stay, you can take Louisiana State Highway 33, which takes you to the James Peyton Smith Bridge, a low bridge crossing Lake D'Arbonne. This will certainly provide you with spectacular views during your road trip!
What's the Largest Man-Made Lake in the United States?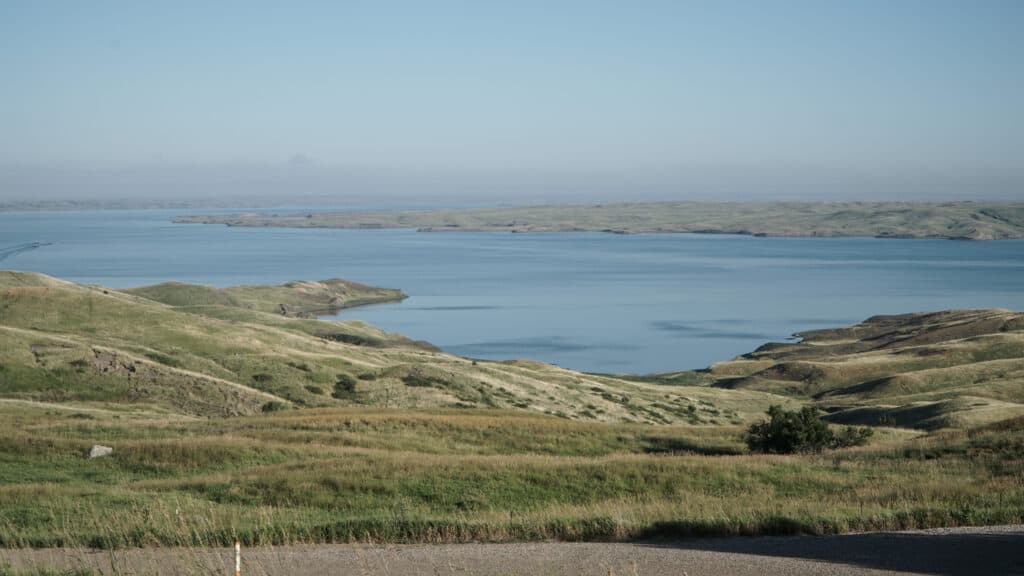 The largest man-made lake by surface area in the United States is Lake Oahe, located in the north-central part of the country between North and South Dakota. However, there's a small trick to this, and you're probably already guessing what we're talking about!
Many sources list Lake Oahe as the largest, while others state loud and clear that the largest is Lake Sakakawea. So which one has a larger surface area?
Some sources show that Lake Sakakawea has a surface area of 307,000 acres, which equals 480 sq mi. Others list it as measuring 368,000 acres, equaling 575 sq mi. Lake Oahe, on the other hand, is sometimes listed as having a surface area of 370,000 acres (578 sq mi) and other times as measuring 438,400 acres (685 sq mi). Based on these numbers, it's clear that Lake Oahe is larger. However, if Lake Sakakawea has a surface area of roughly 575 sq mi, it's pretty close to the surface area of Lake Oahe!
The photo featured at the top of this post is © Bonnie Taylor Barry/Shutterstock.com
---