↓
Continue Reading To See This Amazing Video
Vermont is the 45th-largest state in the country. The Green Mountains cross the country from north to south, which is one of its most notorious geographic characteristics. Moreover, the Champlain Valley, another notable Vermont geographic area, is located near Lake Champlain, while the Connecticut River marks Vermont's border with New Hampshire.
Since the state is subject to large-scale flooding, many dams and reservoirs have been built over the years. Today we'll tell you about the largest artificial lake in Vermont, but that's not all! Keep reading to discover more about the area's wildlife and the largest natural lake in Vermont!
What's the Largest Man-Made Lake in Vermont?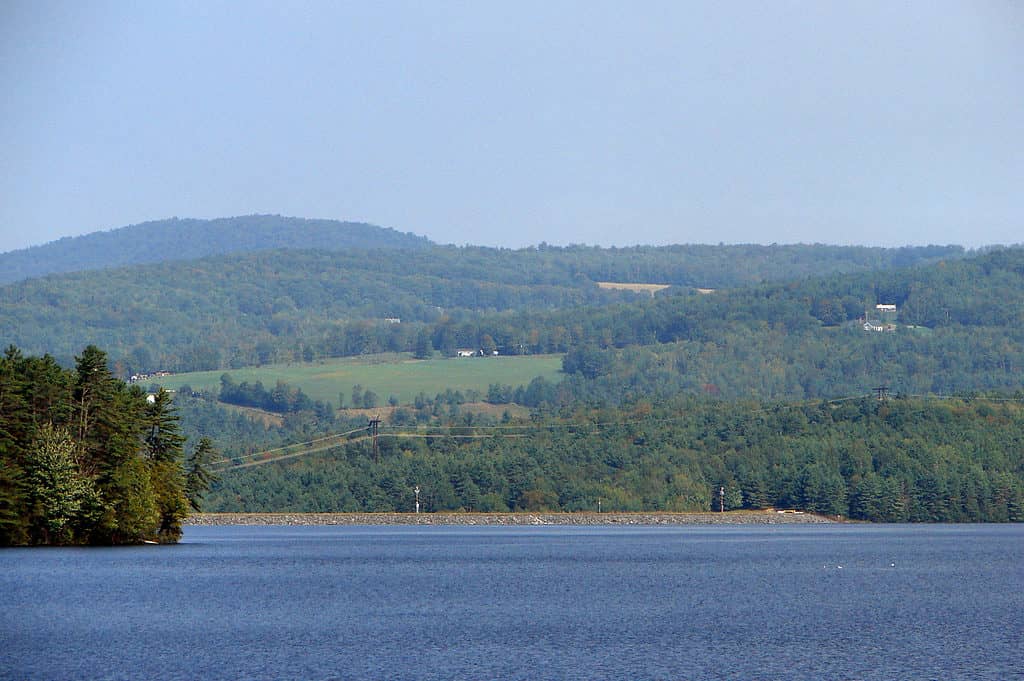 The largest man-made lake in Vermont is Moore Reservoir. It has a surface area of 3,181 acres, a maximum length of 9.8 miles, and a maximum width of 2 miles. Some sources, however, mention that the reservoir is slightly larger, reaching almost 3,500 acres in surface area. The average depth of the reservoir is 60 feet, but it can reach 120 feet in some regions.
The reservoir is located on the Connecticut River and was formed by the Moore Dam, completed in 1956. However, Moore Reservoir isn't completely located in Vermont; a part of it is in New Hampshire, where it's found in Littleton and Dalton communities. In Vermont, it's located in Waterford and Concord.
The Moore Dam, which forms the reservoir, is one of the most significant hydroelectric dams in the region. In fact, Moore Station is New England's largest conventional hydroelectric plant. Moreover, the dam plays an important role in controlling floods. Site preparation for building the dam and the reservoir started in the 1930s, when more than 3,000 acres of forest and farmland were cleared. However, the process stopped there and resumed only in 1954, followed by two years of hard work. The dam was completed in 1956, and power generation began in 1957.
In the 1980s, the dam had some leakage problems, which were fixed in 1996. However, the problem reappeared in 2009 and 2010. Authorities discovered that the situation was more significant than they had thought, as the water leaked between the original ground surface and the dam structure. This implied a serious reconstruction.
Recreational Activities at Moore Reservoir
Needless to say, Moore Reservoir is now one of the most popular recreational areas both in Vermont and New Hampshire. It is widely known for providing boating, canoeing, and kayaking facilities. Moreover, since the reservoir is rich in aquatic wildlife, fishing is allowed, too.
Swimming is permitted, too, although the reservoir is often subject to waves and large amounts of floating debris and tree trunks, so you must be very careful if you plan to swim in it. If you don't, you can spend your afternoon sunbathing and enjoying the silence in the heart of nature!
Moore Reservoir Flora and Fauna
Moore Reservoir is located in eastern Vermont, at the border with New Hampshire. The most notorious geographical element in the area is the Connecticut River, which marks the border. In fact, almost half of Vermont's land area is part of the river's watershed. The region is home to a myriad of plant and animal species.
Generally, Vermont is home to more than 1,500 native vascular plant species and more than 600 rare native species. Some of the most common aquatic plant species that grow throughout Vermont and may also be found in and around Moore Reservoir are the following:
Common Bladderwort
Water Buttercup
Common Waterweed
Cow Lily
Big-leaf Pondweed
Arrowhead
Horsetail
Blue Flag Iris
The state is also home to numerous animals. Near Moore Reservoir, you may stumble upon muskrats, which are very common in Vermont. North American river otters are also often found near lakes and rivers and are common in Vermont. Beavers are often spotted in the state, where they are residents of aquatic ecosystems. Another small mammal that lives in forested areas near large water sources is the American mink.
Besides these, the surroundings host animals like:
Ducks
Mice
Gophers
Foxes
Raccoons
Black bears
Bobcats
Some birds inhabiting Vermont include:
Can You Fish in Moore Reservoir?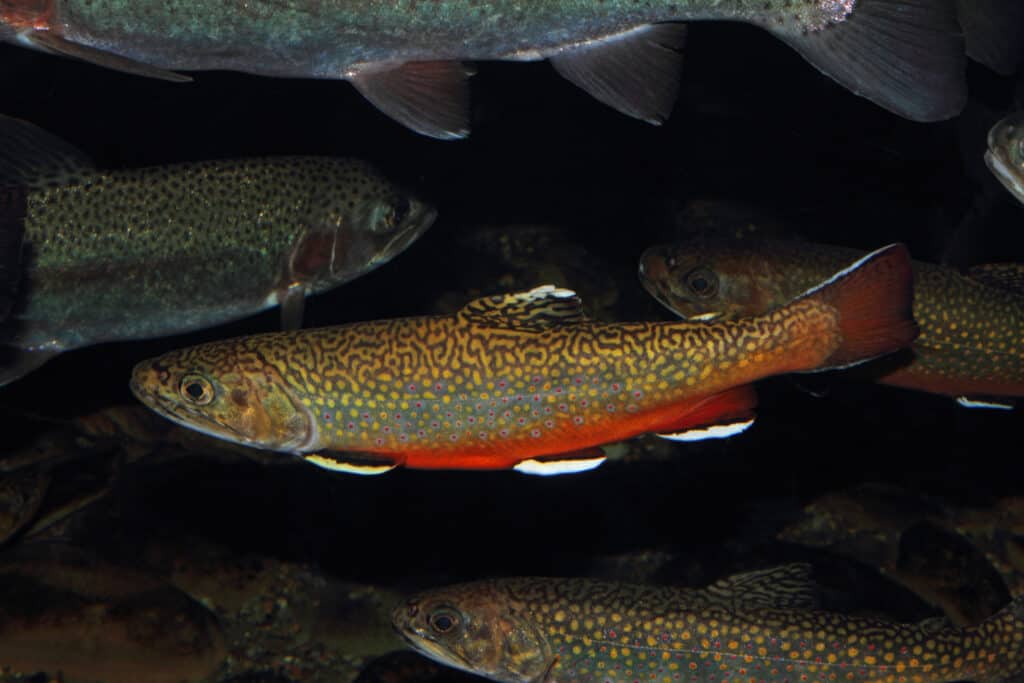 Yes, you can fish at Moore Reservoir! You'll undoubtedly enjoy your experience there, as there are numerous locations you can fish from both in Vermont and New Hampshire. Besides, if you want to spend more days fishing, you should know that camping is allowed, too.
Here are some fish species you can catch in Moore Reservoir:
Brown trout
Rock bass
Chain pickerel
Northern pike
Black crappie
Rainbow trout
Largemouth bass
What's the Largest Natural Lake in Vermont?
If we're discussing the largest lakes in Vermont, why not include the largest natural lake as well? We're talking about Lake Champlain and Lake Bomoseen! Why are we discussing two lakes? Because one of them isn't located completely within Vermont's territory.
Lake Champlain is the country's sixth-largest body of freshwater; part of it is in Vermont. It extends into New York and Quebec. The lake has a surface area of 328,960 acres; compared to its size, Moore Reservoir looks like a small pond! The lake has a maximum length of 107 miles and a maximum width of 14 miles. The shore length is almost 600 miles!
Another large lake in Vermont is Lake Bomoseen. Unlike Lake Champlain, Lake Bomoseen is located completely within Vermont's territory, in Castleton and Hubbardton towns in Rutland County. It's the largest natural lake in the state and has a surface area of 2,400 acres and an average depth of 27 feet. Bomoseen State Park, a true natural gem, occupies part of the western shoreline! The lake is a major recreational destination in Vermont, where people can sunbathe, boat, swim, fish, camp, and hunt.
Up Next…
More from A-Z Animals
---
The Featured Image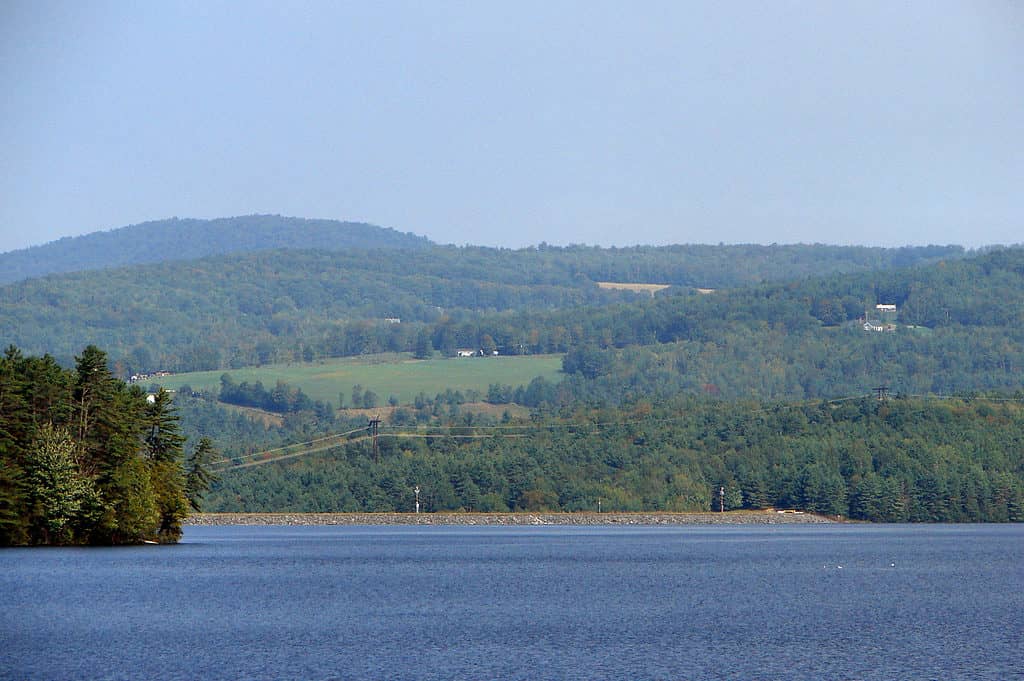 ---