Key Points:
It's appropriate for your dog to wear booties when the weather gets cold, when hiking, walking on ice or in snow, and on hot surfaces.
Working dogs are prime candidates for boots, doing jobs like hunting, sledding, herding, and more. The shoes can protect their feet from rocks, broken glass, sharp wires, and other dangers.
Dogs need to adjust to shoes over time before they should run in them. They must fit well, and it's important to build up your dog's tolerance for them slowly to avoid issues like painful rubbing.
Dog boots are cute, but they're more than fancy footwear. They make it safer for your dog to walk on rough terrain or in harsh weather. These durable booties are available in all dog sizes, and most feature adjustable straps for a good fit. Which are the best booties for your pup? We've chosen four that should work for most dogs.
How To Use Dog Boots
Are you ready to buy a pair of booties for your dog? Follow our handy guide.
When Should You Use Dog Boots?
If it's cold enough for you to wear a hat, gloves, and heavy boots, it's cold enough for your dog to bundle up in booties. You should let your dog wear boots on hot surfaces, when hiking, or when walking on ice melt. In short, put dog boots on any time your dog's feet might need protection.
When To Not Use Dog Boots
Our testers found that dog boots aren't suitable for running right away. They must fit well, and it's important to build up your dog's tolerance for them slowly. They found that using the booties to run, especially in wet weather, caused painful rubbing. This is important to remember if you're looking for working dog boots. Dogs that need to run and herd may need time to get used to wearing shoes.
Regular walking or hiking in dog boots is fine, but avoid running until your dog is fully comfortable wearing the booties. You might consider letting your dog wear a soft sock to add more cushioning.
How To Put Dog Boots on Your Dog
Once you've bought the perfect pair of dog booties, how do you put them on? Some dogs are happy to wear anything you put on them, but others are a little more skeptical about the whole idea. Here are some ideas to help you turn your pooch into a fashion plate.
To put dog boots on a standing dog:
Straddle your dog, and hold her securely with your legs.
Lift one front paw, and put the boot on.
Repeat this with the second front paw.
Repeat this process with the back paws.
Place all the dog boots on before fastening them.
Once they're all on, fasten each boot with the strap or closure.
If your dog is lying down:
Pull one of your dog's paws onto your lap, and hold it firmly.
Place the dog boot on the paw, but don't secure it.
Repeat this with all the booties.
Once each boot is on, secure it with the adjustable fastener.
Do you need more help with this process? This video from Top Dog Tips will show you how to do it.
What Are Dog Boots Used For?
You may be surprised to learn that a dog needs paw protection. Doesn't a dog have natural protection from outdoor conditions? He does, but the outdoor world can still offer a lot of dangers to dogs. Here are some situations where dog boots are a good idea.
For Hot Pavement
If it's searing outside, the pavement can get dangerously hot. Booties will protect your dog's sensitive footpads and prevent burning. The best dog boots for hot pavement have breathable materials and thick bottoms.
For Rain
Outdoor activities are fun, but they can be risky for dogs. Protect his paws from thorns, rocks, and slippery streets. Dog boots for rain can prevent these dangers. Waterproof boots with reflective features are a good idea, especially for evening and early morning walks.
For Snow
Protect your puppy with dog booties that protect her feet from ice and snow. Look for waterproof dog boots with soles that grip. A warm inner lining is another good choice for snow boots.
For Ice
Protect your dog's paws from ice melt and ice salt. These substances are common in the winter, but they can be dangerous for dogs. It's also a bad idea to track them into your home because they can damage your floors. Dog boots protect your dog and your home.
For Hiking and Camping
Your buddy will be ready for hiking and camping with waterproof dog boots. Look for boots designed for outdoor use that stay on in all conditions. They should have thick soles that grip.
For Older Dogs
As dogs get older, their paws can get thin. Some older dogs are prone to arthritis, hip problems, and other conditions. Help those dogs with booties that provide extra support and cushioning.
For Working Dogs
Working dog boots are a necessity for dogs who work on farms or city streets. These include hunting dogs, sled dogs, herding dogs, and other hardworking pooches. These dogs need durable shoes that stay on and protect them from rocks, broken glass, sharp wires, and other dangers.
For Muddy Yards
When your dog plays in the mud, he brings all that dirt into your house. Dog booties keep the mud outside. Your house and your dog will stay cleaner with the right dog boots.
Shake Your Dog Booties
Choosing dog boots for your pup doesn't have to be difficult. Look for waterproof materials, reflective elements, and a sole with a good grip. These boots come in all sizes, so your dog can be ready to join you on all your outdoor adventures.
Our Criteria and Experience–How We Chose the Best
We researched about a dozen brands before coming up with our list of the best dog shoes. One of our top requirements was boots that stay on in all types of weather, even when wet. Another was comfort, and the ability to walk normally. And lastly, we favored boots that were easy for parents to slip on and off their pup's feet.
It was hard to pick the "best overall" because each of the tested brands had advantages and disadvantages. At the top of our list, we put the EXPAWLORERE Waterproof shoes for all-around weather, though they were not as soft as some choices. The Kurgo Blaze shoes were great for all conditions except heavy rainfall, and they were also pricey. The Ruffwear boots were lightweight and breathable, but the design wouldn't work for all dog paws.
The Arcicidou boots did an excellent job for a low price, but they weren't as durable as the other brands. The Pupteck anti-slip dog boots were affordable and comfortable, but they weren't right for hot pavement or rough terrain.
If you look at each description, you're sure to find the dog boots that are perfect for your pup.
Best Dog Booties: The Top 5 Products
#1: Best Overall — EXPAWLORER Waterproof Dog Shoes
Best Overall Dog Booties
If you're looking for the best all-purpose dog bootie, our overall pick is the EXPAWLORER Waterproof Dog Shoes. They feature reflective markings for good visibility at night, and are made of waterproof material to resist damp from rain and snow. Another benefit is anti-collision toe naps to protect your dog's toes from injury. For control, these booties sport a flexible lug design and grooved sole. Two adjustable fastener straps make it easy to fit them on your dogs' feet. The booties come in 8 sizes to fit any sized dog foot, and there's a helpful chart to size them appropriately.
Some of the issues with this product is that the material is somewhat stiff, and some customers complained of the shoes running small, so you may need to size up.
Anti-collision toe naps
Reflective tape
Adjustable buckle straps
Lug design and grooved soles
Waterproof material
Stiff material
#2: Best for Snow and Ice — Kurgo Blaze Shoes for Dogs
Best for Snow & Ice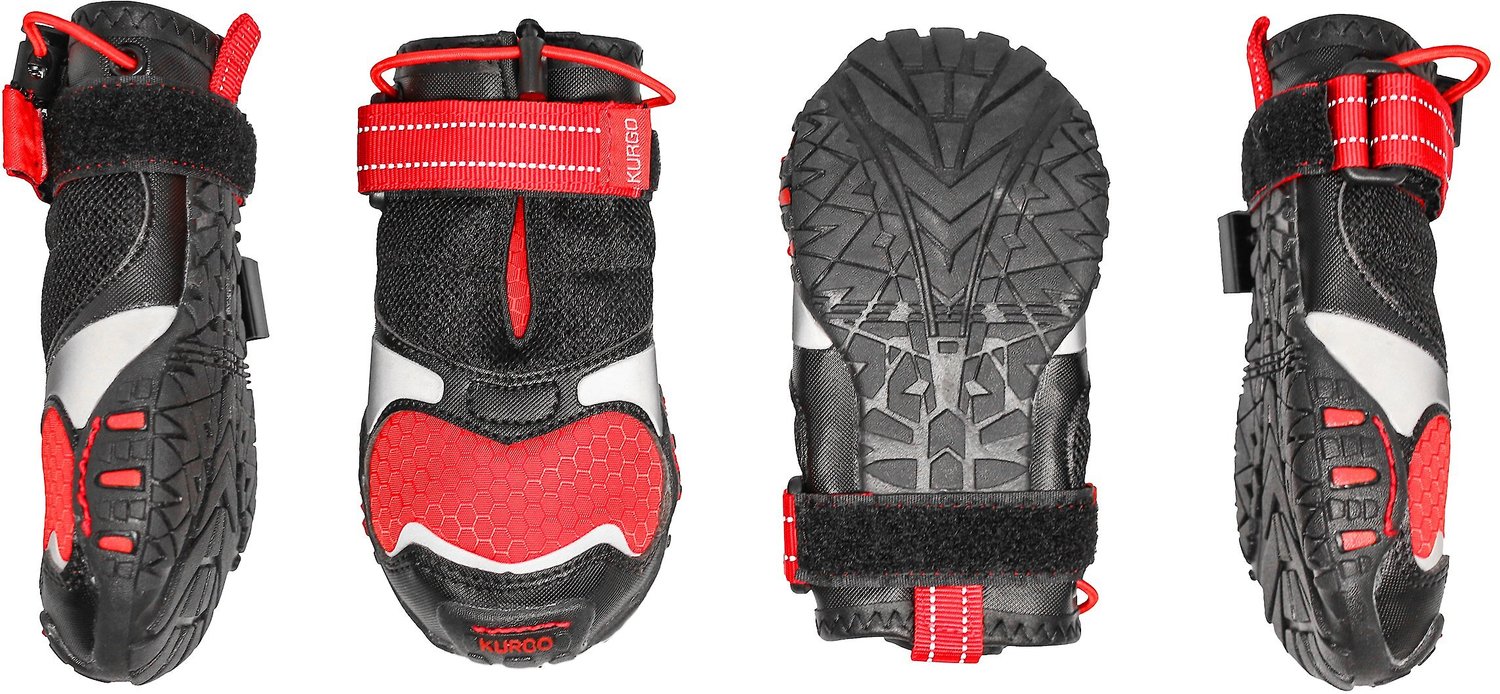 These shoes have many features you want in dog boots. Made of lightweight, durable leather, they are tough enough to protect your dog against rain and snow. Designed to mimic the shape of a dog's paws, they allow full movement with breathable nylon mesh.
While these were among the higher-priced dog boots, our testers agreed they were high quality and excellent for hiking or camping. They are made in America by Kurgo, which is known for its well-made outdoor dog gear.
One disadvantage of these is they're not designed for heavy downpours. These boots are water-resistant, but they're not waterproof.
Reflective patches
Durable material protects against heat, snow, ice and light rain
Breathable mesh panels
Thick soles with good grip
Water-resistant but not waterproof
Lifetime warranty
#3: Best for Hiking and Camping — Ruffwear Grip Trex Outdoor Dog Boots
Best for Hiking and Camping
Designed for hiking and trail running, these dog booties have a slim, snug fit. The secure hook-and-loop closure means these are boots that stay on when moving through any terrain. Our testers like the solid rubber soles, which gave these shoes excellent grip. Breathable mesh panels help your dog's feet stay cool, even on a long trek.
Some testers found that these dog boots didn't fit their pet's paws as comfortably as some other brands. Try them on before you take them on a trip.
Reflective trim
Lightweight, waterproof material
Vibram outsole for secure grip
Slim, snug fit for running
Come in blue, black or red
#4: Best Affordable Option — LETSQK Waterproof Hiking Booties
Best Affordable Option
These blue dog booties feature a random crisscross pattern and a comfortable fleece inner lining. Made from durable, waterproof vinyl, they have a thick, non-slip sole. These shoes have breathable mesh and reflective straps and offer full protection for the dog's paws. These were comfortable for most dogs who tried them, and they are an excellent choice for everyday protection.
Reflective strap
Anti-slip sole with extra grip
Adjustable Velcro closure
Waterproof
Cute pattern
#5: Best for Indoor and Outdoor Wear — Bing-Pet Anti-Slip Dog Socks
These dog booties are like thick socks with a non-slip bottom. Our testers liked the soft fabric, which was comfortable for all the dogs who tried these. While not as rugged as the other dog boots on our list, these supplied good protection against wetness and rough surfaces. The socks stayed on well and were excellent for walking almost anywhere. An elastic tape and detachable strap help these dog boots fit almost any paw.
Soft, knitted fabric
Reflective tape
Adjustable elastic
Waterproof bottom
May not protect against hot pavement
Summary of the Best Dog Booties
| Rank | Best For | Product |
| --- | --- | --- |
| 1 | Overall | EXPAWLORER Waterproof Dog Shoes |
| 2 | Snow & Ice | Kurgo Blaze Shoes for Dogs |
| 3 | Hiking & Camping | Ruffwear Grip Trex Outdoor Dog Boots |
| 4 | Most Affordable | LETSQK Waterproof Hiking Booties |
| 5 | Indoor and Outdoor Wear | Bing-Pet Anti-Slip Dog Socks |
Related Images
Up Next…
Best Dog Booties: Updated for 2022 FAQs (Frequently Asked Questions) 
Is it okay to put boots on a dog?
It's not only okay, it's an excellent way to protect your dog from cold, heat or dangerous, rough ground. All dogs who go outside can benefit from wearing dog boots.
Do vets recommend boots for dogs?
Yes, they do. According to a veterinarian quoted on the website Vet Street, "Booties are most important for sled dogs running long distances, dogs walking on surfaces covered with salt or ice melt, which can be toxic, and dogs with hairy paws that collect snowballs."
What Kind of Boots Should I Get for My Dog?
The answer depends on what kind of outdoor activity your dog enjoys. For walks or backyard play, the Pupteck anti-slip boots or Arcicidou boots are excellent, affordable options. If you want working-dog boots or dog boots for rough terrain, choose the Kurgo Blaze or the Ruffwear.
Shake Your Dog Booties
Choosing dog boots for your pup doesn't have to be difficult. Look for waterproof materials, reflective elements, and a sole with a good grip. These boots come in all sizes, so your dog can be ready to join you on all your outdoor adventures.