Key Points
The #1 Best Overall dog water fountain is PetSafe's Drinkwell Platinum Water Fountain.
Dog water fountains are a convenient alternative to standard bowls for providing fresh and clean water to your pets and motivating them to drink. Since running water is more likely to be clean, dogs prefer it over still water. Historically, running water was considered a safer drinking water source by their ancestors who lived in the wild.
Ceramics, stainless steel, and plastic are all common materials used for dog water fountains. Among the various types of fountains are those with water dispensers, as well as outdoor and indoor fountains. For multiple pets, there is also a multi-tier option.
When it comes to drinking their water, dogs seem to care little about what containers they're using. Even rain puddles left behind by a rain shower will appeal to some dogs, who will gleefully lap up the water. Although dogs may seem indiscriminate, they're well aware of the difference between stagnant and fresh water. To prevent bacteria and mildew from growing, dog water bowls must be monitored constantly, including trading old water for fresh. Water fountains are a brilliant solution for owners who want their dogs to drink fresher water and make their lives easier. A dog water fountain provides fresh, filtered water to your pooch 24/7.
Even if you have no trouble getting your dog to drink, you should always provide him with fresh, clean water at all times. Even on the busiest days, you can keep your dog hydrated and happy with a dog water fountain. The best water fountains are a bit hard to find, but we've compiled a list of five of our top choices. It is our hope that our reviews will assist you in finding the best dog water fountain.
Top Picks: The Best Dog Water Fountains Today
#1. Best Overall: PetSafe Drinkwell Platinum Fountain
PetSafe's Drinkwell Platinum Water Fountain is our pick for the best overall dog water fountain.
It can hold 168 ounces of water and is made of BPA-free plastic. With this one fountain, you will be able to keep several small to medium-sized dogs hydrated at the same time. In contrast to other fountains, this is the only one with a transparent reservoir, so you can see how much water is in it. In the absence of an automatic shut-off feature, a transparent tank is the next best thing.
There is a free-falling stream in the fountain that encourages dogs to drink. PetSafe's Drinkwell stream is relatively quiet and adjustable, so you can adjust it to suit your dog's preferences.
In addition to removing odors and debris, the fountain features a replaceable carbon filter. Daily cleaning of the fountain is no longer necessary thanks to the filter. In addition, the fountain is dishwasher-safe, making it even more convenient, and definitely not universal with other fountains. You should, however, deep clean it every two to three weeks.
The fountain should, of course, remain indoors most of the time. Additionally, the pump cannot be replaced. If it comes down to it, you might be stuck doing some research, at least with the manufacturer.
Pros and Cons of the PetSafe Drinkwell Platinum Fountain
| Pros | Cons |
| --- | --- |
| The large 168 oz water reservoir means you won't have to refill it very often. | It will be necessary to replace the charcoal filters pretty frequently. |
| With its 6-foot power cord, the fountain can be placed almost anywhere in your home. | The pump cannot be easily replaced. |
| The water pump is very quiet. | |
| The container and water bowl are all made out of BPA-free plastic. | |
#1 Best Overall
2. Best Stainless Steel: Pioneer Pet Raindrop Fountain
Stainless steel is an even more durable option than BPA-free plastic, which is why we recommend the Pioneer Pet Raindrop Foundation. Additionally, it is a great option for dogs with allergies to plastic. In addition to being made of premium stainless steel, the Pioneer Pet Raindrop Fountain also offers many benefits. As well as being durable, the material is easy to clean and dishwasher-safe, making it a more convenient option. The hefty metal prevents your dog from easily flipping or moving the fountain.
The Raindrop also comes with a filter that keeps the water fresh for your dog, like our number one pick. The water, however, flows like a stream rather than falling. Water is still available in the reservoir (where it flows into) as well as on the top where clean water bubbles up.
The stainless steel construction makes it suitable for indoor and outdoor use. Although this is an option, it may be more practical to buy a step-on fountain for outdoor use rather than lugging this waterfall around.
You'll need to refill this fountain more often if your dog is a big drinker or if you have multiple dogs since the reservoir only holds 60 ounces. This fountain is relatively easy to assemble and is an excellent choice for a fountain!
Pros and Cons of the Pioneer Pet Raindrop Fountain
| Pros | Cons |
| --- | --- |
| This fountain comes with only three parts, including the filter, and is easy to assemble. | Since the reservoir isn't very large, it needs to be refilled pretty often. |
| It is possible for your dog to drink from the top or bottom of the bowl. | |
| In addition to keeping the water cooler, stainless steel prevents bacteria from growing. | |
Best Stainless Steel
3. Best Ceramic: PetSafe Drinkwell Pagoda
There is no doubt that the PetSafe Drinkwell Pagoda is the best ceramic dog water fountain on the market. In addition to being visually pleasing, ceramic is also antimicrobial, unlike plastic. Therefore, it is not surprising that pet owners prefer ceramic dog water fountains.
With this multi-tier drinking fountain, your dog can easily access water on multiple levels and from any angle. Pets can drink from the top tier without having to bend too low, which is perfect for dogs with certain medical conditions and/or who are older. Cats and small dogs will love the lower tier. There are multiple ways for pets to access the water, including the two free-falling streams on the upper tier.
With this multi-tier fountain, you can choose from a variety of colors! The surface is easy to clean since there are no nooks and crannies. Two filters are also included. Besides removing odors and bad taste, the active carbon filter also captures pet hair and other debris, which helps keep the fountain and the water clean.
So, why did we not pick this one as number one on our list? Since it has a limited capacity of 70 ounces, it isn't ideal if you want to refill it less frequently, especially if you have a large dog or multiple dogs. In addition, it is much more expensive than the other options we considered and there is only one speed setting on the motor.
Pros and Cons of the PetSafe Drinkwell Pagoda
| Pros | Cons |
| --- | --- |
| Thanks to the ceramic material, it is easy to clean. | The capacity of its water reservoir is smaller than the other options on our list. |
| As a result of the charcoal filter, bad smells and tastes are eliminated. | There is only one speed setting on the motor. |
| It has been tested and approved by UL (independent safety testing company). | |
| Plastic-allergic dogs can benefit from this fountain. | |
Best Ceramic
4. Best for Large Dogs: Zeus H2EAU Drinking Fountain
Dog owners with large breeds will love the Zeus H2EAU Drinking Fountain. This pick is quite different from the rest. For extra freshness and cleanliness, the fountain uses triple water filters. Other picks had not featured the multiple layers in filtration systems that this one features.
Due to its 200oz capacity, the Zeus won't need to be refilled often, probably once a week for a big dog or two medium dogs. Once the water level reaches 24 ounces, the pump begins making a loud humming noise. The fountain has no automatic shut-off feature. The fountain is otherwise a quiet option.
This fountain is also perfect for big dogs because of its elevated design. Big dogs can drink from the fountain without bending too low because of the height. With its large surface area, the fountain is easy to refill, resulting in fewer spills. In addition, the BPA-free plastic is easy to wipe down and does not stain.
This fountain has only two minor drawbacks. The first is that you need to replace the filters at least once a month. Additionally, there is no option to adjust the water flow. However, these aren't really dealbreakers.
Pros and Cons of the Zeus H2EAU Drinking Fountain
| Pros | Cons |
| --- | --- |
| With its elevated position, the fountain is ideal for large breeds, older dogs, or dogs suffering from arthritis. | The filters need to be replaced at least once a month. |
| It is easy to clean and quiet to operate the fountain. | There is no option to adjust the water flow. |
| Water fountain reservoir with a capacity of 200 ounces. | |
Best for Large Dogs
5. Best for Outdoors: Trio Gato Happy Dog Pet Water Fountain
There is no other water fountain like the Trio Gato Happy Dog Pet Water Fountain. In all the other models we selected, once the tank is filled and the device is plugged in, water is automatically recirculated to maintain freshness.
Step-on water dispensers, on the other hand, are exactly what they sound like. To start the water flow, your dog steps on a pedal that works similarly to a drinking fountain for humans. You don't have to refill or clean this design because it doesn't require any maintenance. It is also fun for your dog, since he gets clean, fresh water as a reward.
You can connect the Trio Gato fountain directly to a hose or faucet. During drinking, rubber friction pads prevent the device from moving, and a copper valve prevents leaks. The fountain is made of heavy gauge steel for durability. Additionally, a two-way Y hose connector is included so that you can control the water pressure and use two hoses simultaneously.
It's easy to see why the fountain is a favorite among water fountains. Unfortunately, the fountain can only be used outdoors. Those who often let their dogs out in their backyard often should consider this fountain.
Pros and Cons of the Trio Gato Happy Dog Pet Water Fountain
| Pros | Cons |
| --- | --- |
| Fountain with a step-on design for easy use. | The fountain can only be used outdoors. |
| It comes with a Y connector for connecting to hoses. | |
| The copper valve prevents the fountain from leaking. | |
Best for Outdoors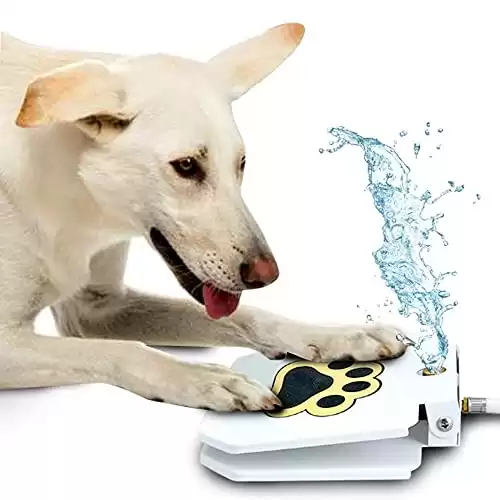 What to Look For in Dog Water Fountains
Water fountains can actually help your dog become healthier and more hydrated over time because they play into his natural instincts. As an added benefit, dog water fountains aerate the water. Water that has been aerated stays fresher for longer. Regularly cleaning the water fountain bowl is necessary to prevent bacterial growth from spreading to your pet. It is possible, however, to go without cleaning a fountain for up to two to a month in most cases. This helps save lots of pet owner's time and energy. If owners are away for long periods of time, the fountain can refill the pet's water supply so the dog doesn't run out of water.
There is, however, a wide variety of dog water fountains to choose from. If you are shopping for a fountain for your pet, what should you keep in mind?
There are four main factors when considering the right water fountain for your pup:
Water capacity
Noise level
Material
Filtration system
Here is a more in-depth look at everything:
Water Capacity
A dog water fountain's capacity is an important factor to consider. A dog needs about one ounce of water per pound of body weight per day in order to stay healthy. In hot weather conditions or after intensive exercise, this number may rise dramatically as a result of a rise in body temperature. The most important thing is to choose a fountain that has enough water for all of your pets and a refill schedule that is convenient for you.
Noise Level
There is nothing worse than having a noisy and disruptive water fountain in your home. You may want to choose a fountain that won't annoy you or your pet if you or they are sensitive to motor noises. The sound of a fountain will always be soft, but that can actually be very calming to your dog!
Material
The material of the fountain will also play a role in your decision. You should make sure that the material used for your dog's water fountain is safe, such as stainless steel, which does not rust, has low bacteria retention, or plastic that does not contain BPA. The water in the fountain will remain clean and safe for your dog to drink as a result of this step. There are many advantages to plastic, including that it is lightweight, portable, and less expensive. The benefits of stainless steel include durability and ease of cleaning. A ceramic bowl, however, would be a good choice if your dog is prone to flipping his bowl.
Filtration System
A good filter will remove dirt and hair without you having to do any work. Generally, filters need to be replaced every two to four weeks, so you'll want to consider the cost of replacing filters before making the purchase.
Up Next…
The 5 Best Dog Water Fountains, We Checked FAQs (Frequently Asked Questions)
What is the best water fountain for dogs?
The best dog water fountain is one that suits your lifestyle and encourages your dog to drink more. It's quite possible that what's best for you and your pet won't work well for a different pet parent and pooch. But there are similar features that all pet owners need to consider:
Ease of use
The problem of drinking water isn't something you normally deal with when you have a dog. A dog water fountain, however, is a great way to make your life more convenient. It wouldn't be convenient if assembling, maintaining, or cleaning the fountain were too complicated. Get something intuitive if you can. You should also take note that ease of use extends to your dog. Make sure the bowl is easy to drink from for your dog. As an example, a dog with mobility issues may also find it difficult to use a step-on dog water fountain.
Capacity
Having a large capacity would allow you to fill the fountain less frequently. The water tank you need will also need to be large if your pets are large. It is important for large dogs to drink more water. It is the same if you have more than one dog or pet at home.
Material
The most durable material is stainless steel. However, it is more expensive than BPA-free plastic. Ceramic looks good, but it's more expensive. There are pros and cons to each type of material. Choosing a material depends on several factors, including durability, cost, ease of cleaning, and allergies.
Noise
A dog water fountain that makes too much noise is clearly not what you want. Besides affecting your pet's sleep quality, it can also become irritating whenever you are near it. Make sure to check reviews for mentions of the noise level of a fountain. Even if you plan to use the fountain both indoors and outdoors, it is best to choose one that is quiet
Do dogs need water fountains?
Unlike cats, dogs don't generally require encouragement to drink. However, they will still benefit from using a water fountain or dispenser. In the same way that cats prefer to drink moving water, dogs enjoy drinking fresh, clean, and cool water. Their ancestors also drank from running water because it was safer. More importantly, a water fountain will allow you to skip the chore of periodically refilling your pet's water bowl. You can probably refill the tank every three to four days, depending on the capacity of the fountain and your dog's thirst. As a result, cleaning it won't be a daily chore. The answer to this question is yes, dogs need a water fountain.
Can a dog use a cat water fountain?
Yes, dogs can use a cat water fountain. Both dog and cat water fountains function the same way and have the same features. The main difference between the two would be the size of the fountain. Cat water fountains typically have a smaller capacity which makes them ideal for cats and small to medium-sized dogs.