Dog bike trailers are one of the safest ways to take your furry friend on the road. Models like Schwinn Rascal and Burley provide name recognition, along with high quality. Finding the right dog bike trailer, from a quick-fold version to the types with UV-protected windows, is easier said than done. Deciding whether you want a large bike trailer or a lightweight option is one of several choices you'll need to make. Is having a sunshade or being foldable more vital to you as a buyer? You might want to think about whether a sports option that works as a jogger stroller in addition to a trailer is helpful.
We've put together a list of the dog bike trailer options that may work best for your needs. Hopefully, one of these trailers will be the right option for taking your dog along on biking trips. We've also covered which features are the most practical, possible safety concerns, and how to make sure the trailer supports your dog's weight.
Verified Review: Our Hands-On Experience
One of the things that we like the most about dog bike trailers is how many large bike trailer options on the market feature a relatively lightweight design. UV-protected windows or sunshade options are features that provide extra protection for your dog that we are pleased about. We also enjoyed the availability of sports models that you can use while jogging instead of biking.
There were a few complaints with these trailers, however. Customers might find that the models that they used smaller than anticipated. Another possible concern is the possibility of trailers tipping over in certain conditions.
Overall, most reviewers found the excellent traits to outweigh the bad. These trailers provide a safe way to include your dog on bicycling trips. Choosing your trailer wisely will help eliminate potential problems.
User-Friendliness
You don't want to waste your whole day off figuring out how to assemble and connect to the trailer. You just want the set-up to be quick and painless so you and doggo can get out there and enjoy a day on the trail or at the park.
Compactness
If you've got your bike, your dog, and a trailer in tow, that's a lot to bring with you on the go. So a good dog bike trailer should be light and compact and/or easily foldable to minimize the hassle and maximize the enjoyment!
Safety
Safety features like dog seat belts, brakes, non-slip surfaces, durable materials, lights, reflectors, and other high-vis stuff are some more important considerations. You also want the trailer to be designed well so there's no rogue movement or tip-over risk.
Comfort
Your dog will want enough room to get comfortable and enjoy as smooth of a ride as possible. It's also smart to look for features like breathability, protection from bugs and dirt/gravel kick-back, and ways to make the trailer water resistant.
Nifty Features
Storage compartments are a big plus so supplies like treats, food, and water are easily accessible when you and your pup need a break. UV protection is another useful feature. One of the options on this list also dually functions as a sort of jogging stroller!
The Top Picks for Dog Bike Trailers: Ranked
#1 Best Overall: Schwinn Rascal Bike Pet Trailer
Best Overall Dog Bike Trailer
Schwinn Rascal Bike Pet Trailer
Bike pet trailer for dogs up to 50 lbs
Folding frame and quick-release wheels for easy transport and storage
Coupler attaches to almost any bike
Internal leash prevents pet from exiting
Check Amazon
The Schwinn Rascal Bike Pet Trailer is our number one choice of dog bike trailer. It comes in two color choices and two sizes, making it stand out as one of the most versatile trailers on the market. The frame folds easily for storage, and the wheels feature a quick release feature allowing them to pack up quickly.
One of the helpful things about the coupler is the ability to attach the trailer to any bike. An internal flash and safety flag offer extra security. This design provides maximum airflow, necessary for hotter days.
We found a flaw that some larger dogs who weigh under 50 lbs. may not ride as comfortably in this trailer without tipping concerns. Upgrading the larger trailer may be worth your time.
#2 Best Premium Option: Burley Design Tail Wagon Bike Trailer
Best Premium Option
The Burley Design Tail Wagon Bike Trailer is one of the highest quality trailers available for dog owners with conversion to a stroller possible. A tailgate makes it easier to get your dog in and out. With a 75 lb. carrying capacity and tie-downs, you can feel confident about your dog's safety.
An all-weather cover helps keep your dog comfortable and happy in all kinds of weather and temperature conditions. Heavy-duty mesh on four sides provides the airflow that your dog needs to adjust. This system folds quickly, which we greatly appreciated.
When our reviewers tested this trailer, they were pleased with how sturdy the design was but had concerns about the brake and hitch's function, as well as a lack of a kickstand. Because we've dealt with our fair share of dogs getting needlessly wiggly, not having a kickstand to keep the trailer still can cause frustration.
#3 Best for Easy Folding: Retrospec Rover Waggin' Pet Bike Trailer
Best for Easy Folding
Retrospec Rover Waggin' Pet Bike Trailer features a quick-fold design that makes it an optimal choice for smaller and medium dogs. This design makes the trailer one of the most easily portable options when you go on a trip. The compatibility with any bike opens up the range of options as you go out on the road.
A canopy and mesh shielding provide maximum protection from the elements, as well as annoying insects. The floor is non-slip, and an internal leash helps keep your dog secure. One of the helpful features that we enjoyed about the trailer was a pouch perfect for storing treats.
Some of our reviewers had difficulty assembling the trailer because of misaligned holes in the foldable frame. Another problem that some experience during assembly is having the fabric tear. These concerns made reviewers question the overall safety of the individual trailers where these issues occurred.
#4 Best 2-in-1 Trailer: Aosom 2-in-1 Dog Bike Trailer and Stroller
Best 2-in-1 Trailer
Aosom 2-in-1 Dog Bike Trailer and Stroller
Dog bike trailer converts to a stroller for walking or jogging
Carries pets up to 66 lbs
Easy entry/exit through front or back zipper doors
Sunroof opens for pet to enjoy breeze
Quick release wheels for easy transport and storage
Check Amazon
The Aosom Dog Bike Trailer 2-in-1 Pet Stroller and Jogger offer maximum versatility to sports enthusiast dog owners by doubling as a jogger. Connecting the trailer to your bike is something that we found effortless. Lightweight design helps make the trailer easy to maneuver.
Multi-layer mesh and plastic foldable screen windows plus a sunroof option help give your dog an excellent vantage point no matter where you go on your journey, as well as plenty of ventilation. Our reviewers found the wheel size comparable to most large bike trailer options, making the road much smoother for the dogs. Safety leash, front and exterior reflectors, and a safety flag also help make everything safer during your journey.
Some reviewers noted a concern that larger dogs not being able to stretch out comfortably inside the trailer. In addition to being uncomfortable for the dog, we felt that this was also a safety issue. If you have a very large dog, other options may work better.
What Are the Most Helpful Features in a Dog Bike Trailer?
One of the most important considerations that many dog bike trailer users have when selecting a model is the material, which needs a balance of comfort and durability. The style is also essential, as some dogs may prove resistant to loading into a trailer without a tailgate.
Dog bike trailers, also known as boki trailers, are best for dogs comfortable being on the road with you. If your dog has anxiety issues, you may want to consider a different option. A trailer will only serve its purpose well when the dog feels comfortable during rides.
What Are Some Dog Bike Trailer Safety Concerns?
Regardless of your dog's comfort level, you will want to ensure that the frame is stable, especially if it is a quick-fold model. Having the trailer tip over during a ride is distressing for a dog and no picnic for the owner, either! Your dog may also be at risk of escaping from the trailer.
Making sure that the safety harness fits is also essential to a safe, comfortable ride. The last thing you want is for your dog to get loose in traffic. When the harness fits properly, your dog will be a lot more comfortable during the journey.
How Do I Make Sure the Bike Trailer Safety Supports my Dog's Weight?
The trailer that you buy will have a maximum weight capacity in the description. Making sure you choose by the number of pounds ensures that the vehicle will take the dog's weight. Even if you need to select a trailer that holds dogs slightly larger than yours, you will be making a safer choice.
Maximum weight according to your dog's size is a more accurate assessment than going by breed. For example, some dogs' height, length, and weight, like Shepherds, can vary. Knowing how much your dog weighs will make your choice easier.
The Different Types of Dog Bike Trailers: Pros and Cons Compared
| Pros! | Cons! |
| --- | --- |
| Many models are easily foldable for more efficient storage. | A few models are somewhat more likely to tip than others. |
| Sunshade and screening options provide more protection from the elements. | Some reviewers have noted problems with construction quality. |
| Many models are compatible with most bikes because of convenient hitches. | |
Related Images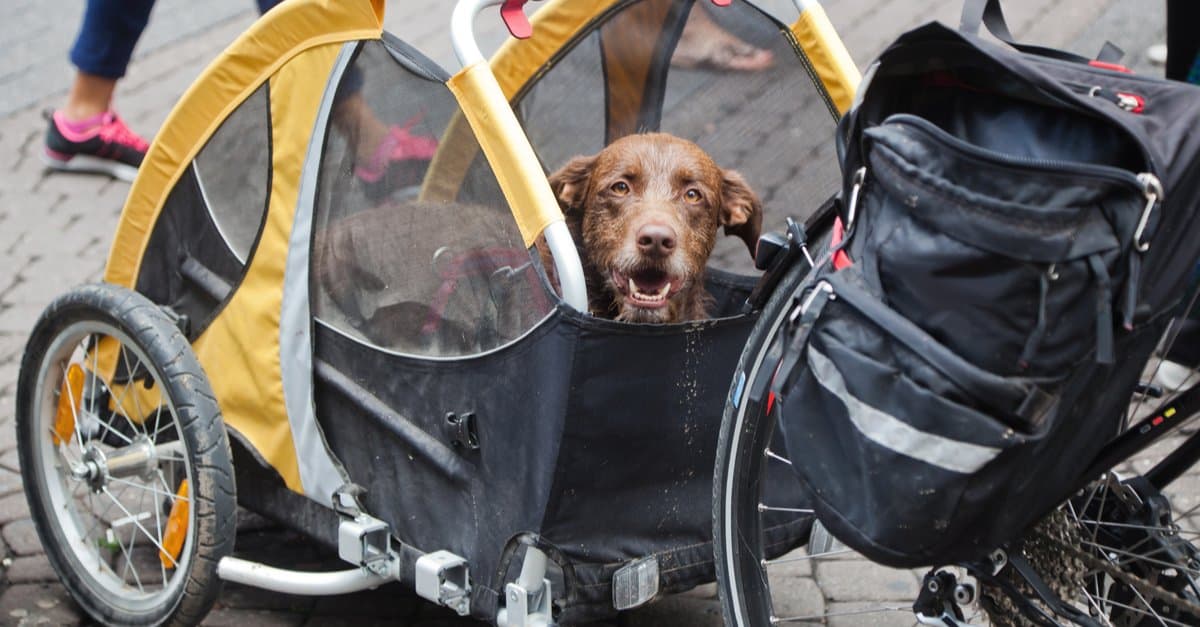 Dog Bike Trailers Summary
| Rank | Best For | Product |
| --- | --- | --- |
| #1 | Versatility | Schwinn Rascal Bike Pet Trailer |
| #2 | Premium Quality | Burley Design Tail Wagon Bike Trailer |
| #3 | Portability | Retrospec Rover Waggin' Pet Bike Trailer |
| #4 | 2-in-1 Trailer | Aosom 2-in-1 Dog Bike Trailer and Stroller |
Up Next…
We Reviewed Some Dog Bike Trailers: 2022 Update FAQs (Frequently Asked Questions) 
Are bike trailers safe for dogs?
Bike trailers are safe for dogs if they are specifically designed for use by dog owners.
Can I use a kid bike trailer for dogs?
Although there are trailers that hold kids or dogs, a trailer designed for dogs will offer the safest, most comfortable fit.
What should I look for in a dog bike trailer?
Some of the things to look for in a dog bike trailer include a foldable frame, an adjustable safety harness, and material that is easy to clean.
What is the largest dog bike trailer?
The largest of the bike trailers that we reviewed was the Schwinn Rascal Bike Pet Trailer, which accommodates dogs up to 100lbs.