Na na na na na na na na BATDOG! If you love Batman, you're sure to love these dog costumes inspired by the characters from the comic book series and the movies. From Batman to Robin, to Joker to Batgirl, we've pulled the top options to help you dress up your dog for Halloween, a fun costume party, or some other special occasion. If you have more than one dog, consider dressing them all up as different characters from the series!
But buying a good costume for your dog isn't as easy as 1-2-3….POW!!! There are a few things to take into consideration when clothes shopping for your canine. Read on as we take a look at how to choose the best costume in general, and then we'll share our recommendations on the best Batman series costumes we've discovered.
•Batman-themed harness for dogs

•S-L sizes

•Double-logo

Check Amazon

Polyester slip-on Robin shirt with detachable gold cape
Separate black mask
Sizes Small - 3XL

Check Amazon

Polyester slip-on costume with tails on back
Comfortable, itch-free material
Sizes XS-XL

Check Amazon

Adorable Batgirl tutu dress

Top made of 95% Cotton, 5% Spandex; Skirt made of 100% Polyester

Foam Pieces made of 100% Polyurethane

Sizes XS - XL

Check Amazon
Features to Consider When Shopping for a Dog Batman Costume
Keep the features listed below in mind as you look for the best Dog Batman Costume for your pup. There are several options on the market, and you want to take your time to select the one that offers exactly what you're looking for.
Safety
Safety should be your top priority when shopping for a costume for your dog. Some costumes may be poorly designed or feature smaller pieces that could pose a choking risk for your dog. Avoid any costumes that look like they may have such features or could cause harm or discomfort to your dog.
As you're thinking about your dog's safety, also keep in mind that some dogs simply don't like costumes. They don't like having anything put over their body and don't see costumes as the fun and exciting things we see them as. If your dog seems to be overly hesitant or anxious as you try to dress him in his costume, it is a good idea to respect his wishes and look out for his mental health.
Fit
The costume you select must offer the right fit for your dog. A costume that is too small will feel tight and uncomfortable for your dog, while one that is too large will be slipping and sliding around when your dog tries to move.
To help you select the right size, manufacturers include a sizing chart with their costumes. These sizing charts most likely include a range of check and neck measurements that will best fit in each size. Some sizing charts may also include a dog's weight or length. Have your dog's measurements and weight on hand before you begin shopping for a costume.
Materials
Materials are another important feature to consider when shopping. Choose a costume that is made from comfortable and breathable materials that will feel nice against your dog's skin and keep him from overheating.
Also, consider the durability of the materials. Cheap materials will likely mean that the costume won't last very long, and, as we mentioned above, may potentially threaten your dog's safety.
Character
Finally, don't forget to think about which of the Batman characters you'd like your dog to dress up as. Of course, there are several Batman costumes, but there are also costumes for many other characters in the series including Robin, Batgirl, and Joker.
Our Criteria and Experience–How We Chose the Best
Each of the products featured below was selected after extensive research and testing. Before writing this review, we researched a variety of highly-rated Batman dog costumes and ordered several different costumes to try. The ones you'll find below represent our favorite choices. Here are a few things we noticed about each of these choices:
Our favorite thing about the Batman harness/costume is its quality. We feel it is very durable, which makes us feel confident that dogs will stay safe and secure when they're dressed up and out with their families. And cape, which is detachable, comes with a small hole in it to clasp to a leash.
We really liked the Robin dog costume–the fabric was very lightweight to keep our pups from overheating when wearing the costume. While the mask is really cute, the eye holes often don't line up correctly since all dogs' eyes are in a slightly different position, so your pup may not be able to keep it on for long.
We thought the Joker costume was the perfect way to bring a touch of villain to our pups, without losing his cuteness. We also liked the soft material used to make the costume and could see a dog comfortably wearing it for a longer period of time than many other costumes. We wished the costume was designed a bit differently to make it easier to hook our dog's leash up to their harness without covering the costume up.
We like the fact that the Batgirl costume has stretchy material, and the tutu dress is ultra cute for the sassiest of female canines! Two things to look out for though: Many customers found the dress to run small, so you may do well, if in doubt, to order up a size. And the overall consensus is that the gold glitter on the dress comes off in the beginning, so an initial shaking outside would be advised.
The Top Picks for the Best Dog Batman Costume: Ranked
#1 Overall Best Dog Batman Costume: DC Comics Batman Harness
Best Batman Costume
In our estimation, the overall best choice for a Batman dog costume is the DC Comics Batman Harness. With this Batman Harness, not only can you dress your dog up as Batman, but you can also easily keep your pup on their leash while you're out. This is a harness that doubles as a Batman costume with its black cape and signature yellow Batman logo. There is an additional Batman logo on the front of the harness that will be displayed on the dog's chest when they're wearing it.
The harness is made from a heavy-duty, yet lightweight and comfortable fabric. It also has a mesh lining to keep dogs from getting too warm.
The metal D-ring is strong and secure to keep your pup safely hooked to their leash. This harness is available in three different sizes (small, medium, and large) for dogs with a neck circumference between 6.5 and 10 inches, a chest circumference between 15 and 24 inches, and a back length between 9 and 17 inches.
#2 Best Robin Costume: Rubie's DC Comics Teen Titans Robin Pet Costume
Best Robin Costume
Batman wouldn't have accomplished near as much without his faithful sidekick Robin. This dog costume from Rubie's allows you to dress your canine up as this well-known and loved sidekick from the Teen Titans.
The costume includes a red shirt with green sleeves, a black eye mask, and a detachable yellow cape. To leave no doubt that your dog is dressed up as Robin from Teen Titans, the front of the shirt features Robin's logo.
There are six different available size options for this costume: small, medium, large, extra-large, 2X, and 3X. These sizes will accommodate dogs weighing between just three pounds all the way up to 85 pounds, with neck girths ranging from 10 inches to 24 inches and chest girths ranging from 15 to 38 inches.
#3 Best Joker Costume: DC Comics Joker Dog Costume
Best Joker Costume
Batman can't be a hero without a villain. Enter your dog dressed in this Joker costume from DC Comics. The costume is designed to be comfortable for your pooch. It is made using a soft material that won't irritate a dog's skin and make them itch.
The costume is designed like a shirt to slip over the dog's head. Your dog will instantly be recognized as The Joker since the shirt's printing makes it look like dogs are wearing a purple suit jacket, bright green shirt, yellow vest, and black tie.
Extra-small, small, medium, large, and extra-large sizes of this costume are available to fit a variety of dog breeds and sizes. The extra-small fits dogs with a neck girth of 5.5 inches, a chest girth of 12 inches, and a back length of 7 inches, and the extra-large fits dogs with a neck girth of 13.5 inches, a chest girth of 29 inches, and a back length of 20 inches. Dogs with measurements that fall between these two sizes should fit in the small, medium, or large costume.
#4 Best Batgirl Costume: DC Comics Batgirl Pet Tutu Dress
Best Batgirl
What great male superhero can save the day without a little help from a female counter-part? Enter Batgirl! For those of you that would rather not have your female canine masquerade as a boy this Halloween, Rubie's Batgirl costume is the right choice.
This adorable dog dress features a shapely black top that's 95% cotton/5% spandex, and a tutu skirt made of polyester. The dress is black and etched in gold to make your pooch POP in a crowd.
There are five size options for this costume: x-small, small, medium, large, extra-large. These sizes will accommodate dogs weighing three pounds to 45 pounds, with neck girths ranging from 10 inches to 20 inches and chest girths ranging from 15 to 27 inches. While this dress won't work for larger dogs, it's a great option for the average female dog that dreams of superhero status.
Summary of Best Batman Dog Costumes
| Rank | Best For | Product |
| --- | --- | --- |
| 1 | Batman | DC Comics Batman Harness |
| 2 | Robin | Rubie's DC Comics Teen Titans Robin Pet Costume |
| 3 | The Joker | DC Comics Joker Dog Costume |
| 4 | Batgirl | DC Comics Batgirl Pet Tutu Dress |
Related Images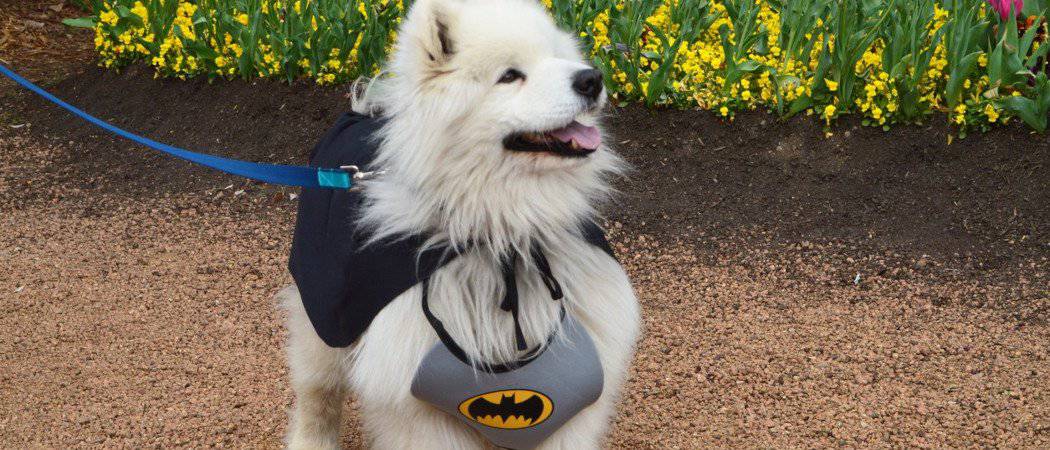 Up Next…
Check Out the Best Batman Dog Costumes: Updated for 2022 FAQs (Frequently Asked Questions) 
Do they make Batman costumes for dogs?
Yes, you can find many different Batman costumes available for dogs. In addition to Batman costumes, there are also various options for other characters from the comic book series including Robin, Batgirl, and Joker.
What size costume do I need for my dog?
You will need to take measurements of your canine's chest girth, neck girth, and length to find a costume that will offer the proper fit. Some manufacturers may also include weight in their size chart to help you select the best-fitting costume.
Where should I buy a Batman dog costume?
Looking at reputable online realtors is likely the best bet when you're trying to purchase a Batman costume for your pup. Since this is more of a specialty costume, you may not be able to find it just by looking in pet stores or costume shops. And, even if you were to find a Batman costume, you almost certainly wouldn't find as many different options and sizes as are available online.
What kind of dog is Batdog?
Ace the Bat-Hound is a German Shepherd. Ace is Batman and Robin's sidekick who had his first appearance in Batman #92 in June 1955.