Many dog parents are worried about anxiety in their pets. They frequently inquire about ways to assist their pets cope, such as dog soothing treats. Anxiety in domesticated animals can occur due to a variety of reasons. Chronic anxiety can lead to harmful behavior as well as mood disorders like depression. 
There are several things you may do if your pet is suffering from anxiety or other sorts of stress. We've done the research for you and compiled a list of the top calming treats to help your four-legged friend. 
You can give your pooch calming treats for several reasons. Whether Rover is an anxious traveler or Fido doesn't do well with thunderstorms, our top four options are sure to help them stay relaxed even in the most stressful circumstances. 
What Is Anxiety in Dogs?
Even though dogs can't talk in a language that we humans can understand, they still show us signs that they're stressed out. Just like people, when a dog is continuously in a state of nervousness, it can affect the rest of its health. 
Dogs are most commonly stressed by loud noises such as fireworks or thunder, as well as separation from their owner. Canines will show anxiety and stress by:
Having diarrhea
Hiding
Shaking
Urinating inside
Scratching
Whimpering
Acting aggressive
Shaking
Digging in place
Prolonged yawning
Lack of appetite
Trying to get out of the area
Barking a lot 
Using a safe and healthy treat during anxious times will help your pet feel much more relaxed and calm. Let's get started with our top choice that your furry friend will surely love the taste of! 
1. Overall Best: Pawfectchow Calming Hemp Dog Treats
Because of the raving reviews of how well this product works, the Pawfectchow Calming Hemp Dog Treats takes the trophy. That's not the only reason we love it! These relaxing treats work fast and efficiently to decrease worry and tension in your dog, resulting in fewer behavioral problems. 
You can trust that hemp seed, passionflower, valerian root, ginger root, chamomile, and l-tryptophan are all-natural components for your dog that will help him feel at ease. There's no added sugar, dairy, corn or soy-derived ingredients, hormones, artificial flavors, or preservatives in this product. 
The treats are available in modest enough sizes to suit dogs of all ages and breeds. Finicky eaters may not be a fan of these goodies, despite the fact that they are created with a dog's taste preferences in mind. Overall, we believe these are one of the best relaxing dog treats available this year.
Overall Best
Pawfectchew Hemp Calming Treats for Dogs
Work quickly and efficiently
Decrease tension and worry in your dog
Made from natural ingredients like hemp seed, passionflower, valerian root, ginger root, chamomile, and l-tryptophan
Does not include added sugar, dairy, corn, or soy-derived ingredients, hormones, artificial flavors, or artificial preservatives
Check Amazon
2. Best Budget: Smartbones Calming Dog Chews
If you're looking to save a buck or two, consider the Smartbones Calming Dog Chews. We love that you can still help your dog who's feeling uneasy without breaking the bank. One pack of these chews comes with 16 bones made with all-natural ingredients that look similar to rawhides.
Because this is a bone, your dog will be distracted with a tasty treat from whatever is causing him stress. Chewing on a bone will not only calm your dog down, but it's also beneficial for their dental health as well! 
We do want to mention that these treats only come in one size. How effective the calming effect will be can vary from one dog to another. Smartbones are made with easy-to-digest ingredients and have a delicious chicken flavor that your pooch will love. 
Best Budget
3. Best All-Natural: PetHonesty Hemp Calming Chews for Dogs
Here at A to Z Animals, PetHonesty is one of our favorite brands. Their Hemp Calming Chews for dogs is a safe way to keep your pup at ease. They're made with natural ingredients such as chamomile, ginger, and valerian root. 
It's heartbreaking to see our pets experience fear, worry, and tension. Whether it's caused by separation, traveling, loud noises or anxiety caused by changes in your pet's everyday routine, or behavioral difficulties like aggressiveness, barking, or hyperactivity, these natural chews assist dogs to maintain a normal and peaceful demeanor.
Calming Hemp dog vitamins have a delightful natural flavor and come in a soft chew that your pet will love! Calming Hemp soft chews from PetHonesty have been vet-tested and advised to help relax your dog's anxieties, boost brain function, and maintain a tranquil temperament.
Best All-Natural
4. Best Flavor: Zesty Paws Calming Dog Bites
If your dog is a picky eater, like many are, consider the Zesty Paws Calming Dog Bites. 
The effective and carefully selected ingredients in Zesty Paws calming bites make this product our premium choice. Each element enhances the effectiveness of a specific nervous behavior. 
These snacks are also free of artificial flavors and preservatives, as well as gluten. Suntheanine, a potent ingredient that balances your dog's brain waves for rest and decreased stress levels without causing drowsiness, is found in Zesty Paws relaxing bites. 
Thiamine and organic chamomile can also help to lessen aggressive behavior. The chewable vitamins with turkey flavor are popular with most dogs. The chews are small enough that you can split them out to fit your dog's dosage. 
Best Flavor
Bundle: Zesty Paws Calming Bites
Perfect for picky eaters
Made from effective, carefully selected ingredients
Free from gluten, artificial flavors, and preservatives
Includes suntheanine, a potent ingredient that decreases stress levels without drowsiness
Turkey-flavored chews are dog-approved
Check Chewy
Check Amazon
Choosing the Best: What to Look For
Even the most relaxed and laid-back dogs can become tense at times. While positive rewards can help with some dog behaviors, soothing treats are meant to help a dog relax and remain calm. 
Dogs will feel secure and animal owners will have comfort if some planning is done. Fears, anxieties, and worry can cause tension in both dogs and their owners, so here's what to look for when selecting a calming treat for your canine companion.
Ingredients
We're looking for high-quality components that include chamomile, L-tryptophan, magnolia, passionflower, and hemp to help with anxiety. Most natural soothing therapies for dogs incorporate them. 
We don't advocate products with artificial colors or a lot of fillers because they aren't good for your dog. The best thing you can do for your dog is to keep it all-natural.
Flavor & Taste
If your dog is going to consume a treat, it must have a good taste. We've seen a few picky eaters before, so we're familiar with the problem. Any relaxing products for dogs that have a meaty flavor are a good choice. 
Dogs are carnivores, therefore such delicacies will pique their interest in eating them. Peanut butter, on the other hand, is a popular choice among dogs that don't enjoy meat flavors. 
Side Effects 
Several dog owners wonder why they can't just give their dogs anything to put them to sleep. However, this is quite risky. Your pooch should be able to protect itself and flee if necessary in an emergency. When it comes to sleepy medications, we need also to consider breathing. Giving your dog sleeping pills if they have any form of breathing problem is very risky.
Cause of Anxiety 
When looking for calming treats, it's also important to figure out what kind of anxiety your dog has and then tailor your search accordingly. Your dog may be experiencing separation anxiety if she becomes anxious when left alone. Fear-related anxiety may be to fault if your dog trembles, shivers, or hides when exposed to loud noises. 
Is your dog exhibiting any additional anxiety-related symptoms? Anxiety in dogs can also be caused by illness or sickness. Calming treats isn't a solution for everything, and it's preferable to address the source of your dog's nervousness or fear before offering him a treat to relax.
The Different Types of Calming Treats: Pros and Cons Compared
As you'll read below, the main type of calming treats for dogs is chews and sticks. In addition, there are several other calming methods available for man's best friend! Let's take a look at the advantages and disadvantages of each! 
Chews and Sticks
We prefer chews and bones since they come in a variety of textures, tastes, and natural ingredients. Some are meant to be used on a regular basis for chronic anxiety, while others are meant to be taken only when stressful events arise. 
They can also be highly quick-acting, which is useful in emergency situations. However, some will take action after roughly 30 days of everyday consumption.
Aromatherapy
Most people think this is strange, but we did some research and discovered that aromatherapy isn't only for our Sunday evening soak. It involves the application of particular oils to the skin or the use of a diffuser. A hyperactive dog will be instantly calmed by the fragrance. 
Finding relaxing treats for diabetic dogs, for example, might be difficult, so we suggest trying this option. Lavender, citrus, and peppermint are all popular smells. Please remember that essential oils can be hazardous if consumed, so use caution while using them near your dog.
Distractions 
This is where a dog and its owner can have a good time. Dog puzzles and toys are excellent for diverting your dog's attention away from the scenario. In the same way, that distraction works for humans when we have an increase in anxiety, the same can be said for pups! Grab their favorite toy or stuffed animal, or just give them some extra cuddles. 
Verified Review: User Experience
Getting the right product for your dog is essential. The last thing you want to do is waste money trying to make your furry friend feel better. One Chewy customer has this to say about their experience with the PETHONESTY calming treats! 
"My Boston barks nonstop when I leave! I began giving her two chews a day, one in the morning and one in the evening, and no more barking when I have to leave the house!! She use to pace nervously all day as well and that has calmed down tremendously! This product is perfect for any pup with anxiety! I would say it took a good 2 weeks to fully work but so worth the wait! Thank you for this product!" 
Patience can be key, depending on which type of treat you choose! Pet parents are eternally grateful for calming chews from Zesty Paws. A German Shepherd owner has this to say in their review:
"These have made all the difference in our dog! We have a 75 lb. Shepherd mix who suffers from severe separation anxiety & had become extremely destructive to the point she hurt herself. This product is a lifesaver- it works well to help her stay calm and it is like she is a new dog! Our vet looked at the ingredients and said it is everything they would recommend and approves. This also helps when storms blow through. She doesn't freak out like she used to. Thank you for such an awesome product!" 
Products For This Review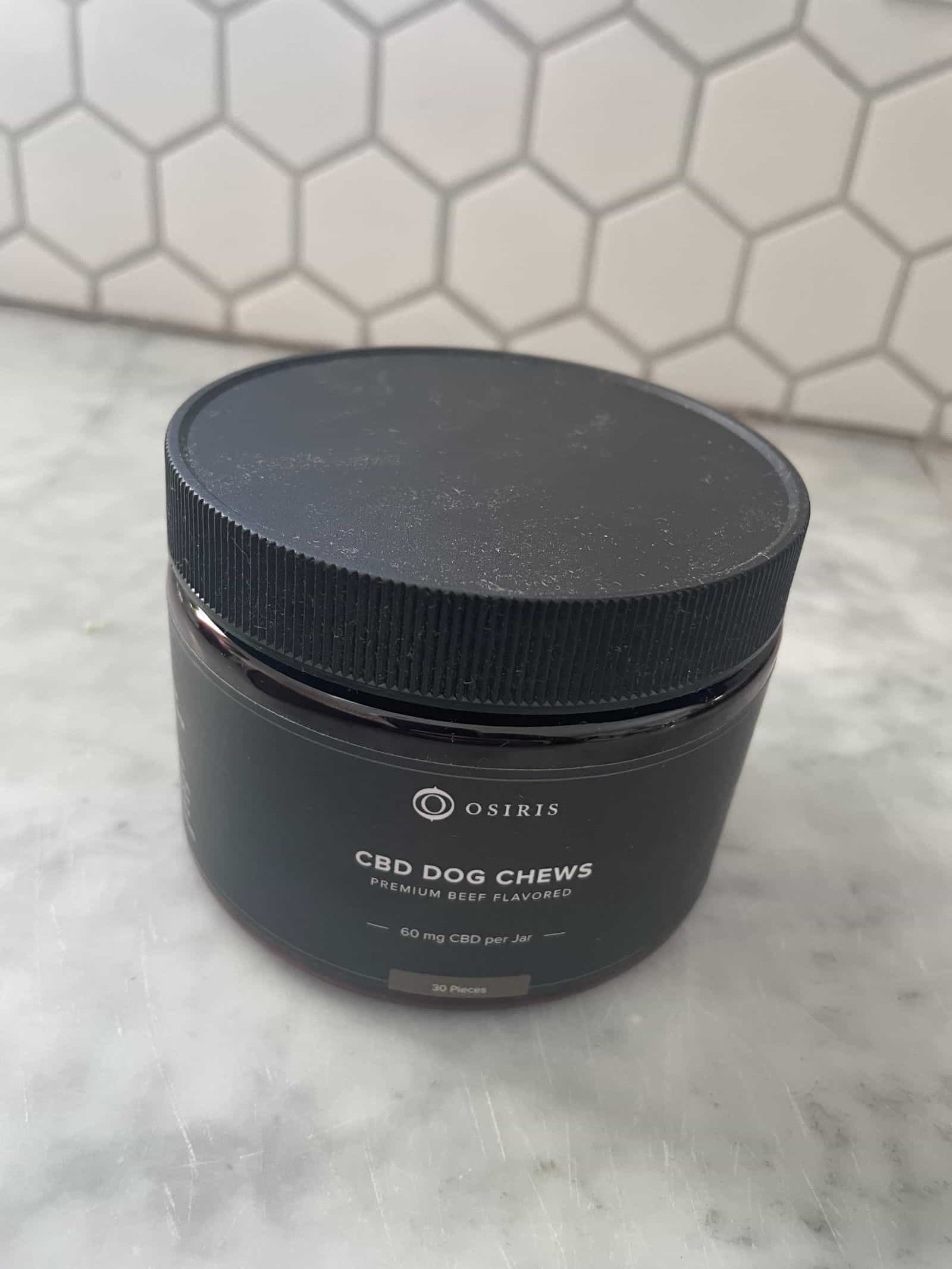 The Best Dog Calming Treats FAQs (Frequently Asked Questions) 
How long until dog calming treats start to work?
The benefits of fast-acting treats are usually seen in 20-30 minutes, however, this might vary.
What happens if your dog takes too many calming treats? 
If consumed in excess, calming treats might cause changes in salt levels in the blood. If your dog's salt levels are excessively high, they may have symptoms like increased thirst or more serious nervous system symptoms including restlessness, trembling, and even seizures.
How long do dog calming treats last?
While all dogs are different, it's most common that the effects last for 8 – 10 hours.