No two dogs are the same, and that means every dog has different dog bed needs. Whether you're looking for an outdoor bed, a heated dog bed, or some other option for your pup, here are the best options in each category to help you make a quick, easy, A-Z-Animals-approved selection!
And make this best-of list new and improved for 2022, we topped it off with a super useful bonus product review!
Our Criteria
This list is a round-up of the #1 best dog beds we found in each general category. But here are some of the characteristics that are important to look for when shopping for a quality dog bed, regardless of which type of dog bed you need based on you and your dog's needs and lifestyle:
Comfort
Comfort is kind of the whole point, right? Take your dog's needs into account to pick the bed that will make your dog the most comfortable.
Is he or she a puppy that passes out anytime, anywhere? Or a slightly creaky senior with aches and pains who'd do better in a luxurious or orthopedic bed?
What's the weather like where you live? You might consider a dog bed that keeps your dog warm in cold temperatures or cools your dog when it's hot.
Does your dog get nervous about storms, fireworks, etc.? For anxious dogs, comfort might mean a calming bed that cradles dogs and gives them a safe place to hide.
Size
Especially when you're shopping online, it can be easy to misjudge the size of the product you're ordering.
So be careful- double and triple-check the dimensions of the product you're buying to make sure your dog will fit in the bed and the bed will fit in your space.
Durability
Durability can mean a couple of different things. And in any case, a guarantee or warranty never hurts.
But if you deal with heavy chewing or scratching in your household, prioritize strong, heavy-duty fabrics.
Maybe your dog comes in to lay down after being out in the rain. Or maybe your dog is very young or very old and has accidents. Then, you'll want something moisture-resistant and easy to clean.
Ease of Use
Easy cleaning is one plus. For example, many beds have a cover you can simply unzip and handwash or throw into the washing machine.
But other dog bed designs like elevated beds may require a bit of assembly/disassembly. You don't want to spend twenty minutes or longer getting frustrated any time you have to transport the outdoor/elevated bed.
1. Best Outdoor Bed: Coolaroo The Original Elevated Pet Bed
There's only one outdoor dog bed that proved to be the best overall: the Coolaroo The Original Elevated Pet Bed. While many manufacturers have tried to copy this design, we found that the Coolaroo is still number one in terms of comfort, durability, and ease of assembly. Plus, it is well within everyone's budget. See A-Z Animals other top-rated outdoor dog beds here.
Best Elevated
Coolaroo The Original Cooling Elevated Pet Bed
Elevated cots are an alternative to cooling beds and pads filled with gel and/or memory foam
The Coolaroo features Greenguard-certified breathable high-density polyethylene
It's made of 100% recyclable fabric
It works by allowing air to circulate through the bed and dissipate any heat radiating from your dog
Flea, mite, mold, and mildew resistant
Check Amazon
2. Best Large Dog Bed: Big Barker 7-Inch Pillow Top Orthopedic Dog Bed
When it comes to large dog beds, the undisputed best overall choice is the Big Barker 7-Inch Pillow Top Orthopedic Dog Bed. This uber-comfortable bed features three layers: a top and bottom layer made of comfort foam 2 inches thick, and a 3-inch middle layer made of support foam. It is specifically designed to provide comfort and support for big dogs. See the other best large dog beds A-Z Animals recommends here.
Best Overall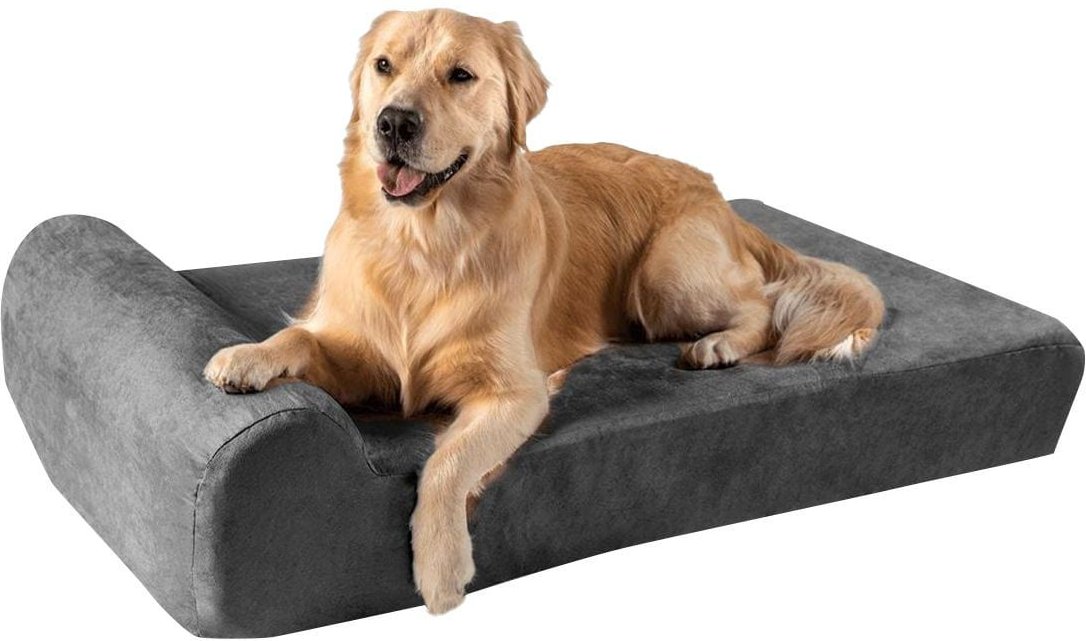 3. Best Heated Bed: K&H Pet Products Self-Warming Lounge Sleeper Pet Bed
The K&H Pet Products Self-Warming Lounge Sleeper Pet Bed is our pick for the best overall heated dog bed because it fits all our requirements to a T. It was able to keep our dog warm and comfortable. Because the bed is self-warming, there are no safety issues (e.g. cords and overheating) that we needed to worry about. Plus, the materials seemed to be of really good quality. See the complete list of other heated dog beds A-Z Animals has reviewed.
Best Overall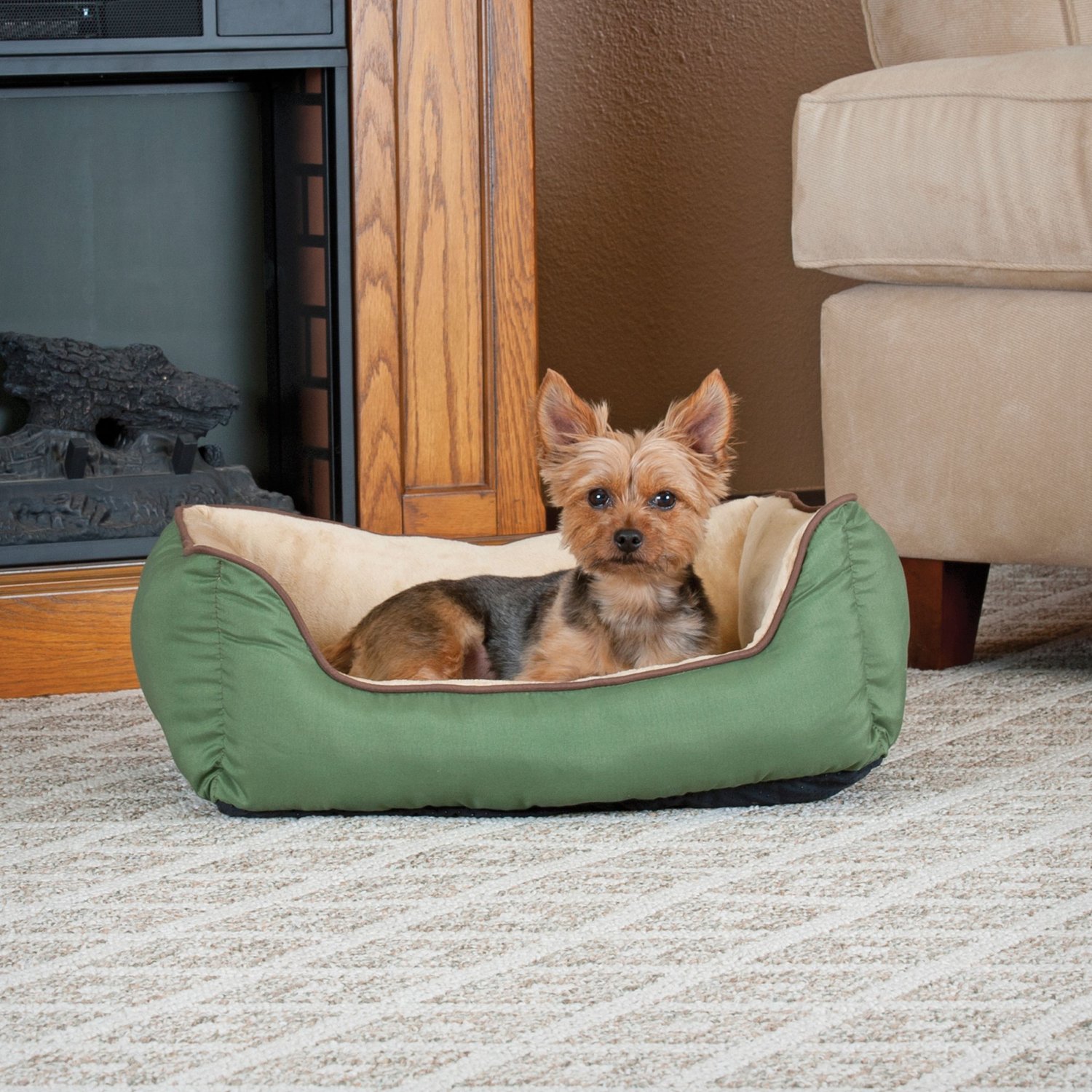 4. Best Cooling Bed: The Green Pet Shop Dog Cooling Mat
When it comes to cooling your dog off, the best overall cooling mat is The Green Pet Shop Dog Cooling Mat. This pressure-activated cooling gel pad made it to the top of our list because it was able to take one very hot dog and help him chill out. And it wasn't hard to convince our Goldendoodle that it's better than our kitchen tiles. Check out the complete list of other cooling dog beds HERE.
Best Overall
The Green Pet Shop Pressure Activated Pet Cooling Mat For Dogs
Pressure-activated
Features a patented, non-toxic gel that will absorb your dog's heat for up to 3 hours
It "recharges" after 20 minutes of disuse
You can put it in the freezer for an hour before use if it's particularly hot out
The surface is heavy-duty, waterproof plastic and features double-stitched edges
Check Amazon
5. Best Calming Bed: Best Friends by Sheri The Original Calming Donut Dog Bed
Our pick for the best overall calming dog bed is Best Friends by Sheri The Original Calming Donut Dog Bed. And we're not the only ones. This shaggy thing has over 47,000 ratings on Amazon with a score of 4.7 out of 5. Of course, our first thought was that this could just be loads of fake reviews. It couldn't be that good, could it? Well, after days of testing and loads of research, we were happily surprised that this stylish donut bed really does deliver. See other tested and reviewed calming dog beds.
Best Bolster Bed
6. Best Indestructible Bed: Kuranda Chew Proof Dog Bed
The Kuranda Chew Proof Dog Bed is our top recommendation if you're looking for an indestructible dog bed. It features a furniture-grade, heavy-duty PVC frame designed to support up to 100 pounds.
The sleeping surface is made from Cordura fabric that is durable like canvas and resistant to abrasions. When designing this bed, Kuranda engineered it so that the fabric would slide into the bed's frame, keeping the edges hidden to deter dogs from chewing. Kuranda offers a 1-year warranty to protect your purchase.
This rectangle-shaped bed features a raised design to ensure dogs stay cool and comfortable. You can find this bed on Amazon available in six sizes (mini, small, medium, large, extra-large, and extra-extra-large). There are four fabric color options to choose from: burgundy, forest green, khaki, and smoke.
See other tested and reviewed indestructible dog beds.
Best Indestructible
Kuranda Elevated Indoor Bed
Features a furniture-grade, heavy-duty PVC frame
Supports up to 100 pounds
The sleeping surface is made of a durable, canvas-like Cordura fabric that is abrasion-resistant
Designed to hide the bed frame edges from your dog's sight to deter them from chewing
The raised design keeps your dog cool and comfortable
Check Amazon
7. Best Orthopedic Bed: Furhaven Orthopedic Memory Foam Pet Bed
The Furhaven Orthopedic Memory Foam Pet Bed is our overall orthopedic dog bed top pick if you're looking to splurge in the name of comfort for your pup. There is a lot to love about this bed, and it is certain to offer the support your pet needs to stay comfortable. The bed with an L-shaped bolster offers support for a dog's head while also helping them feel safe and nestled in.
The bed's cushion is made from a gel-infused memory foam that offers a cooling effect by pulling heat away from a dog's body. The memory foam material also offers ideal support for a dog's joints to keep them comfortable. An extra soft faux fur material covers the base of the sleeping area and suede covers the bolsters. These materials were selected because of how the comfort they will provide for dogs.
Available in five different sizes (small, medium, large, jumbo, and jumbo plus), this can accommodate both small and large dogs. It also comes in 12 different color options to match a variety of decors. Choose from: two-tone stone gray, two-tone marine blue, two-tone espresso, two-tone dark sage, kilim desert brown, kilim boulder gray, kilim black medallion, faux fur & velvet sable brown, faux fur & velvet platinum gray, faux fur & velvet merlot red, and faux fur & velvet deep sapphire.
See more tested and reviewed orthopedic dog beds.
Best Overall
8. Best Waterproof Bed: PetFusion Ultimate Dog Bed
The PetFusion Ultimate Dog Bed is our favorite waterproof bed. This bed features a waterproof liner to keep liquids from penetrating the padding and help extend the life of the bed. The cover is removable and can be washed in the washing machine.
Your dog will also find this extremely comfortable. The orthopedic design features a 4-inch layer of solid Certi-PUR-US memory foam to offer relief from joint pain, enhance mobility, and help your dog sleep soundly. It also features a bolster on all sides to offer a nice spot for your pup to rest his or her head.
This bed is available in four sizes (small, large, XX, and XXL). It is perfect for tiny dogs to giant breeds. There are also three neutral color choices available: chocolate brown, sandstone, and slate gray.
See more reviewed and tested waterproof dog beds.
Best Bolster Bed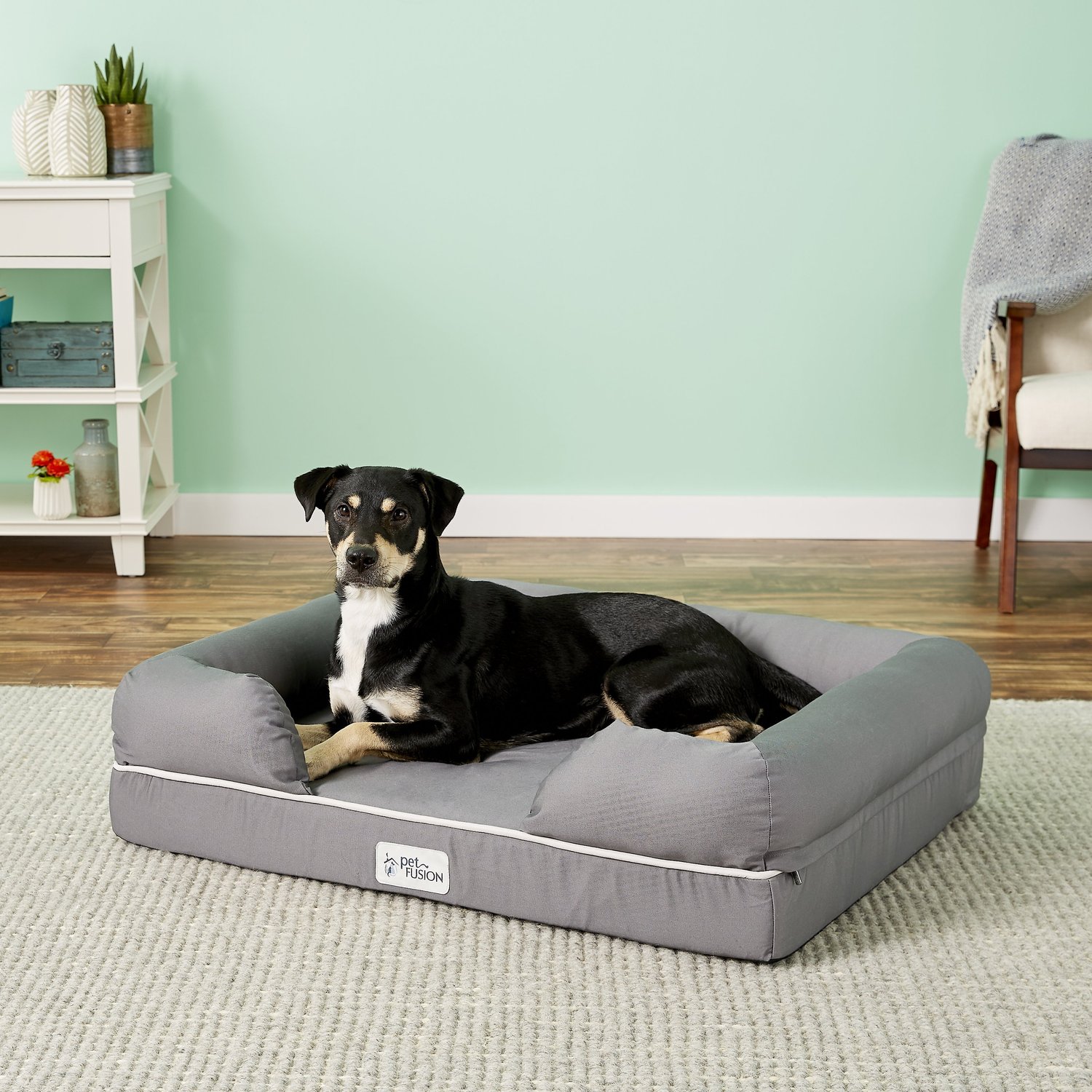 9. Best Cover: Furhaven Pet Bed Cover
This cover is intended to fit Furhaven traditional foam, orthopedic, pillow, memory, and cooling gel mattresses for dogs.
But whether you already have a Furhaven dog bed or something else, you can instantly improve almost any bed with a Furhaven cover. You can even improvise a DIY dog bed by upcycling old clothes, towels, sheets, bed, or pillow stuffing to fill up the shell.
Then, the cover handles everything you need from a dog bed. It's water-resistant and durable enough for outside use, easily washable, affordable, and available in a range of sizes and colors to complement your decor.
Best Cover
Furhaven Replacement Pet Bed Cover
Designed to fit 20" x 15" x 3" foam mattresses
Available in additional sizes
Four colors -- one of which is sure to match your decor
You can fill it will alternative fillings, such as shredded foam or even old clothes
Machine washable
Check Amazon
Related Images
Best Dog Beds Summary
| Rank | Best For | Product |
| --- | --- | --- |
| #1 | Outside | Coolaroo The Original Elevated Pet Bed |
| #2 | Large Dogs | Big Barker 7-Inch Pillow Top Orthopedic Dog Bed |
| #3 | Keeping Warm | K&H Pet Products Self-Warming Lounge Sleeper Pet Bed |
| #4 | Staying Cool | The Green Pet Shop Dog Cooling Mat |
| #5 | Calming Nervous Dogs | Best Friends by Sheri The Original Calming Donut Dog Bed |
| #6 | Intense Chewers | Kuranda Chew Proof Dog Bed |
| #7 | Peak Comfort | Furhaven Orthopedic Memory Foam Pet Bed |
| #8 | Moisture Resistance | PetFusion Ultimate Dog Bed |
| #9 | Instantly Improving Any Dog Bed | Furhaven Pet Bed Cover |
Up Next…