Are you searching for the best costume for your dog for Halloween, a costume party, or some other fun occasion? You really can't go wrong choosing a dinosaur costume. Your dog will channel Jurassic Park adventure and stand out at any doggie dress-up event. Whether you're looking for a ferocious dinosaur who shouldn't be messed with or a cute and cuddly dino to match your dog's sweet personality, you'll find that there are lots of options out there!
Since there are so many different dinosaur costumes for dogs, it can be tricky trying to decide which one to get. That's where we come in! After researching and testing numerous dog dinosaur costumes, we put together a list of our favorite options to share with you. So, sit back, keep reading, and discover the perfect costume to dress your dog up as a dinosaur.
Ensuring Your Dog's Safety When Dressed Up
As a responsible pet owner, your priority when choosing a costume for them should be ensuring they remain safe while wearing it. Dog costumes are very cute, but they do pose some potential safety threats. However, with proper precautions and good pup-parenting, you should be able to let your dog wear a costume without worry.
Be aware of choking hazards: Costumes with smaller pieces that could easily be ripped or chewed off may pose a potential choking hazard. Keep this in mind when shopping for a costume. Each time you plan to put the dinosaur costume on your dog, give it a quick inspection to ensure nothing has become loose or torn that may pose a risk.
Keep an eye on your dog when he's wearing his costume: Don't leave your dog unattended when he is wearing his costume. As we mentioned above, he may choke on a piece of the costume. It is also possible for a dog to get stuck on something (such as a piece of furniture or a bush) as they walk by since costumes are bulkier than they're used to.
Don't force dogs to wear a costume: While you may feel very excited about your dog's new costume, your dog may not feel the same way. Some dogs don't like wearing costumes and may become overly anxious if you try to force them into a costume. If it seems the idea of wearing a costume is causing unnecessary stress for your dog, it is best to just skip the idea of a costume.
What to Consider when Choosing the Best Dog Dinosaur Costume
Keep the considerations outlined below in mind as you shop for a dinosaur costume for your dog. While there are many dinosaur costumes on the market, no two are the same. Keeping these features in mind can help ensure that both you are your dog are satisfied with the costume you choose.
Comfort and Materials
One of the most important things to consider is your dog's comfort. Look for costumes made from soft materials that will feel good on your dog's skin and coat. Also, keep in mind that dogs can overheat and already have a fur coat, so you will want to look for costumes that are made from lightweight and breathable materials.
Some costumes may be bulkier than others. Keep this in mind as well, since a costume that is too bulky or heavy likely won't be very comfortable for a dog to wear.
Size and Fit
If you buy a dinosaur costume that is too big or too small for your dog, it clearly won't be a good situation. To help you select a costume that will provide the correct fit, most manufacturers offer a sizing chart. For most costumes, you'll need to have measurements for the circumference of your dog's neck and chest and possibly their length and weight.
Safety
Finally, as we shared above, keep your dog's safety in mind when shopping for a dog dinosaur costume. Avoid any costumes that have small pieces that could become a choking hazard.
Our Criteria and Experience–How We Chose the Best
Before recommending any of the costumes below, we did extensive research to determine which ones not only looked great, but also checked our boxes when it came to comfort, safety, and durability. We only included dinosaur dog costumes that met our high expectations. We also took into account what other customers who used the products had to say. Below are a few notes and observations about each of our recommended products:
One of our favorite features of our #1 overall best pick is that this costume is made using durable materials and feels like it will really last. It's a great choice if you want your pup to be a Velociraptor, and the design is fun and cute. We also like that the sizes fit accurately based on the measurements we used. Some customers found that the headpiece was a bit bulky and didn't always stay up that well.
You can't beat a soft fleece hoodie when it comes to comfort for your dog. That's why we love our #2 dinosaur costume. We found the material to be breathable and stretchy. Multiple customers found that it runs a little small, so you may want to order a size up. And it isn't a great option for very large breeds.
Our #3 is just a hilariously cute design! Your dog will be the talk of the town in this Disney-dino costume. We liked how easy this costume was to put on our dogs. The bodysuit is flexible, which makes it easy for a dog to step in. But based on customer recommendations, we'd recommend going up a size to ensure a proper fit.
We love how lightweight our #4 choice is, which really matters when your dog is working up a sweat while trick-or-treating. We found the quality of the construction to be very good in this costume, and the hood was not too heavy for a dog's head. We did find that some customers found this costume ran too big, so take care when choosing from the available sizes.
The Top Picks for the Best Dog Dinosaur Costumes: Ranked
#1 Overall Best: California Costumes Dog Pupasaurus Costume
Best Dinosaur Costume
The Pupasaurus Rex costume from California Costume Collections is our top pick for the best dog dinosaur costume. This costume will transform your cuddly canine into a ferocious, but still cute, raptor!
This is a 2-piece set that includes a whole-body, foam-padded dinosaur costume with a long raptor tail and a separate raptor headpiece.
The Pupasaurus Rex costume is available in small, medium, and large sizes to fit dogs between 12 and 20 inches long with a neck circumference between 12 and 20 inches and a chest circumference between 16 and 28 inches.
#2 Best with Spikes: GBD Pet Dinosaur Costume
Best with Spikes
This dinosaur hoodie costume from GBD features spikes along the back and tail for a truly adorable look. The costume is available in two color combinations: pink with purple spikes and dark green with light green spikes.
This dinosaur costume is made from a durable and non-toxic felt material. It features elastic bands around the legs and neck to ensure a secure and comfortable fit.
Medium, large, and extra-large sizes of this costume are available to fit dogs between 10.4 and 13.5 inches long, with a neck circumference between 9.7 and 12.3 inches, and with a chest circumference between 13.5 and 18.3 inches.
#3 Best Toy Story Rex Costume: Rubie's Disney Toy Story Rex Pet Costume
Best Toy Story Rex
Whether you're planning out a family Toy Story costume for Halloween or are just a big fan of the movie, this Rex costume will suit your needs perfectly. This officially licensed Disney Toy Story costume features a simple step-in design.
Fake dinosaur arms and a tail are attached to the bodysuit. A separate Rex headpiece is also included with each person to tie the look together.
You can choose from a wide range of sizes to accommodate large- and small- breed dogs weighing from 6 to 45 pounds and with a neck girth between 12 and 20 inches.
#4 Best Triceratops Costume: California Costumes Pet Dino Pup Dog Costume
Best Triceratops
This Triceratops costume does a great job representing a dino-pup just hatched from the egg! It consists of a headpiece, body that fits comfortably over the front two legs, and a hatched egg attachment to conjure the image of a newborn dino-baby. The costume is made of safe, lightweight polyester fabric, and has a soft band that secures the costume under the belly. It comes in one color–a charcoal gray and dark green mix pattern that accurately mimics reptilian skin.
Extra small, small, medium, and large sizes of this costume are available, and size recommendations are based on measurements for the dog's chest, neck, and length. The chest ranges from 16″ – 28″; the neck from 12″ – 20″; and length from 12″ – 20″.
Summary of Best Dog Dinosaur Costumes
| Rank | Best For | Product |
| --- | --- | --- |
| 1 | Overall | California Costumes Dog Pupasaurus Costume |
| 2 | Spikes | GBD Pet Dinosaur Costume |
| 3 | Toy Story Rex | Rubie's Disney Toy Story Rex Pet Costume |
| 4 | Triceratop | California Costumes Pet Dino Pup Dog Costume |
Related Images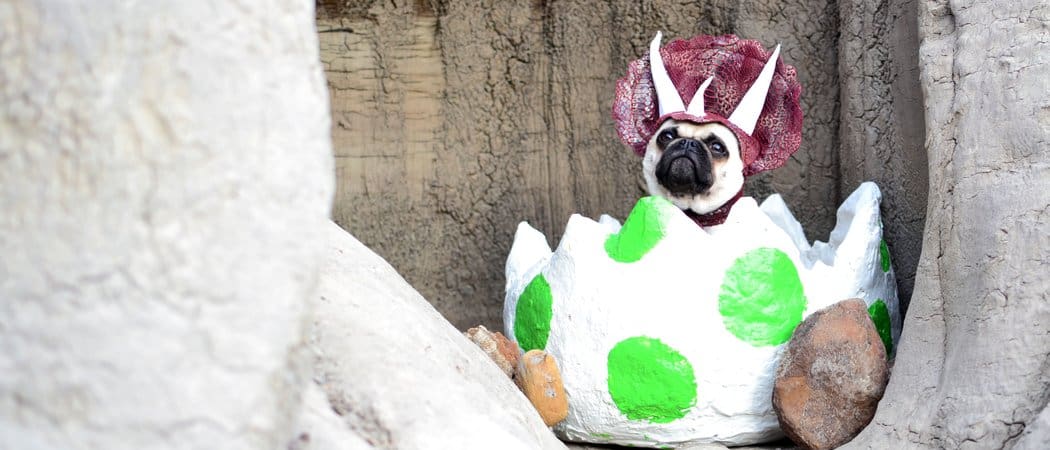 Up Next…
Check Out the Best Dog Dinosaur Costumes: Ranked for 2022 FAQs (Frequently Asked Questions) 
Do dogs like wearing costumes?
Some dogs do enjoy wearing costumes, just as they may enjoy wearing dog sweaters or dog coats. However, other dogs do not like clothing or costumes. It may make them nervous or anxious.
If your dog doesn't like wearing other clothing items, they most likely won't like wearing a costume. If you haven't tried to put other clothes or costumes on your dog, you can buy a costume and pay attention to how your dog reacts to it. If they try to run away from you, begin shaking, or show other signs of stress when you put the costume on or try to put the costume on, it probably means you shouldn't dress your dog up.
Dogs don't understand that costumes make them 'cute.' If they feel stress from a costume, it isn't worth making them uncomfortable, even just to get a few pictures.
Where can I buy a dog dinosaur costume?
The best place to buy a dog dinosaur costume is online. Amazon has a huge selection of options available to fit both small- and large-breed dogs. While you can probably find some dog costumes in costume shops or pet stores, your options will be more limited.
What size dinosaur costume should I buy for my dog
To find an appropriately-sized costume for your dog, you'll need to know their weight and measurements. Most costumes require a chest and neck measurement, and some may also need your dog's overall length. After you take these measurements, you can consult the sizing guide provided by each manufacturer to find the costume that will best fit your dog. Keep in mind sizing isn't consistent between brands, so even if your dog wears a large in one costume, they may be a medium or an extra-large in another.
Are costumes safe for dogs?
As long as you choose a costume made from high-quality materials and properly supervise your dog when he's dressed up, a costume should be safe. Avoid purchasing any costumes that have loose materials or anything else that could be chewed off and turned into a choking hazard for your dog.
When your dog is dressed up in its dinosaur costume, always keep him within your sight. The costume could become stuck on something, that could put the dog in harm's way.