Key Points:
Double dog leashes allow people to walk more than one dog at the same time holding one handle, while preventing the dogs from getting constantly tangled up.
Some double dog leashes are retractable, some are adjustable, and still others have leads made of bungee material to provide some give in the leash when the dogs are pulling. 360 degree swivel clasps can rotate, helping to prevent tangles in the leads.
When shopping for the best double dog leash, think of yourself as the one walking them. Look for a leash with a comfortable handle to prevent hand fatigue if you plan to walk your dogs for extended periods of time.
Trying to walk two dogs at once can be a real challenge. One dog wants to go in one direction and the other dog wants to go in a different direction. Before you know it, your dogs' leashes are all tangled up and you're getting frustrated. So, is a double dog leash the best solution?
Using a double dog leash can help you keep your pups from getting so tangled and can make it much easier to control two dogs on a leash at the same time. A double dog leash can also help ensure you're keeping both dogs on a leash when you're out, which is the law in most areas.
We've put this article together to help you select the best double dog leash for your pups. These no tangle options can help you keep your dogs happy on a walk while also keeping yourself from getting frustrated with them pulling you in all different directions.
What is a Double Dog Leash?
Double dog leashes feature a unique design that integrates two leashes with one handle for the owner. They can make it easier to walk two dogs together without their leashes getting all tangled up or having each dog pulling off in different directions.
Double dog leashes make sure that the pressure placed on each dog is evenly distributed between their collar and chest. This will help keep them comfortable during the walk as well. They may also feature shock absorption bungees to reduce pulling and keep handlers and dogs comfortable throughout the walk.
Many double dog leashes feature a 360-degree swivel design that will allow the leash to adjust when the dogs switch sides. This keeps the leashes from getting intertwined if the dogs repeatedly change sides during the walk.
Weight Limits for Double Dog Leashes
Different double dog leashes may have different weight limits. If you have two small dogs, you likely won't need to look too closely at the weight limits, but when you're looking for a double dog leash for large dogs, pay attention to these limits. Some leashes may only hold up to 100 pounds, while others may hold up to 200 pounds or more. The heavy-duty design of a double leash that can hold up to 200 pounds can make it a better choice for large dogs.
Train Your Dogs for the Best Results
While double dog leashes may seem like a great idea in theory, they can cause problems if your dogs are not trained properly to walk politely on leads. There are techniques to train dogs how to walk correctly together, but they must first learn to walk well as individuals, not straining themselves from pulling too hard. A combination of a clicker, treats, and walking the dogs separately, but side by side to start, will start the process of training each dog to walk properly. When this training is accomplished adequately for both dogs, then the activity of walking the dogs on double leashes will go much more smoothly.
Our Criteria and Experience–How We Chose the Best
When making our recommendations for the best double dog leashes, we researched and tested multiple double dog leashes. Factors we considered where how sturdy the leashes were made, how comfortable it was for the dog walker to hold the leashes, how easy (or not) it was to keep control of the pets, price, and how safe they were.
Material width: Make sure that you take into account the size of your dogs (or those you'll be walking for someone else) before making your selection. As smaller dog breeds weigh less and aren't as strong as larger breeds, you want to shoot for a lead that is lower in width. such as 1/4 inch wide. Smaller dogs don't need a heavy-duty lead, and the weight of it could be cumbersome for them. On the other hand, bigger dogs need leads that are strong enough to control them, as they have much more power to pull. A lead that is 1/2 inch or wider is recommended for large breeds.
Swivel clasps: Most double dog leashes have the ability to rotate 360 degrees with a swivel clasp, whether that part is just below the handle or a bit lower down where the leash coupler attaches to the main lead. This feature helps to prevent your two dogs' leashes from getting tangled. While not every double dog leash offers full rotation, it is certainly a factor to keep in mind when shopping.
Retractable design: A retractable double leash is an item you should definitely consider, as it allows you the ability to adjust the length of each dog's lead at a moment's notice. If you are out on a trail and see a person with a dog approaching, you can shrink the leads to have more control of each dog. On the other hand, you may want to let one or both of them wander but not have to stop to adjust their leads. A retractable leash takes care of that hassle.
Adjustable length: If you're leaning away from a retractable double dog leash, then you will want to consider leashes where each separate dog lead is adjustable. An adjustable leash will either offer two distinct lengths, or varying from the smallest to the longest. For example, we've provided two options in our top six picks, one that ranges in length from 11-20 inches, and another with two length options–64 inches or 34 inches.
Comfortable handle: It's not an easy task to walk two dogs at the same time. Therefore, the dog walker's comfort is as important as the dogs'. Think about the type of leash handle you'd enjoy holding for up to an hour. If the old fashioned kind of simple loop handle has left your hand aching, look at designs that make holding the double leash comfortable, thus relieving hand fatigue or pain. We've provided options that have soft gel handles, foam, or padding to make the handles easy on the hands.
Durability: Look for leashes that are made of sturdy fabrics that will hold up against the strength of your pets. Double or triple stitching on all stress points is a great feature, and leashes with bungees are great for allowing your pet some give so that you don't get jarred by sudden pulling. You'll also want to check that the leashes are capable of handling your particular dogs' weights.
Price: Most double dog leashes will run you anywhere from $12-$24, which is reasonable, given the fact they are made to accommodate two or more dogs. If your goal is to walk more than two dogs, you'll need to seek models that allow for extra attachments, or perhaps invest in two duplicate models. Retractable leashes run a bit more than other designs, so be prepared to spend around $40-$50.
The Top Picks for the Best Double Dog Leash: Ranked
1. Overall Best Double Dog Leash: iYoShop Dual Dog Leash
We found that there was a lot to love about the iYoShop Dual Dog Leash, which makes it our overall best choice. This leash is available in two different sizes for small dogs (between 8 and 25 pounds) and medium/large dogs (between 25 and 150 pounds). The 360-degree swivel clasp works to prevent leashes from tangling up if your dogs cross sides as you walk.
The leash features a shock-absorbing bungee lead that works to reduce that feeling of being pulled when your dog becomes too excited on its leash. You can extend the bungee to provide your dogs with more freedom or keep them closer to you for greater control. It can adjust to between 20 and 35 inches.
The leash is made using a heavy-duty climbing rope that has reflective threads woven into it to increase nighttime visibility. A comfortable padded handle is also integrated into the design to keep owners comfortable while on a walk. iYoShop also added a waste bag ring just below the handle to keep waste bags within easy reach.
You can purchase this double leash in six colors. Choose from black, blue, green, pink, purple, and red.
Overall Best
iYoShop Dual Dog Leash 360 Swivel No Tangle
Available in two sizes
360-degree swivel clasp prevents leashes from tangling
Features a shock-absorbing bungee lead so you won't feel like your dog is pulling you
You can extend the bungee for more freedom or retract it for more control
Made of heavy-duty climbing rope
Check Amazon
2. Best for Large Dogs: BWilkon Dual Dog Leash 360° Swivel No Tangle
If you have large dogs, then the BWilkon Dual Dog Leash is one of your best choices. This leash is constructed from heavy-duty and durable nylon materials and is designed to be used with dogs weighing up to 200 pounds.
The leash features a dual bungee lead design. The bungee leads work to absorb shock to prevent your hand from getting pulled as much should your dog suddenly pull forward. You can extend the length of the walking leash up to 6.6 feet to give your dog greater freedom if desired.
It also features a 360-degree no-tangle clasp to ensure your dog's leads don't get intertwined if they cross and switch sides with one another during a walk. In addition to using the double leads with a leash, you can also hook them to a waist strap for a hands-free leash option.
Four different color choices are available for this double leash: black, pink, royal blue, and sky blue.
Best for Large Dogs
3. Best Adjustable Lead: DCBARK Tangle Free Double Dog Leash
This double leash allows you to adjust the length of each lead between 11 and 20 inches. This feature makes it easier to walk dogs of different sizes or adjust the amount of freedom you give your pup on a walk based on whether you want a long or short lead.
The leash features a tangle-free swiveling clasp that will prevent those frustrating cross-over mix-ups. DCBARK also added a comfortable neoprene padding to the leash's handle to prevent rope burn or pain in the owner's hands when walking their dog.
This adjustable double leash is available in medium and large sizes. The medium size is suitable for use for dogs weighing between 10 and 50 pounds, and the large size is best for dogs weighing between 50 and 100 pounds. You can purchase the leash in turquoise, neon green, neon orange, or army green.
Best Adjustable Lead
4. Best Retractable: WIGZI Original Dual Doggie Reflective Retractable Dog Leash
If you like the design of a retractable leash, you may want to consider the WIGZI Two Dog Retractable leash. This would be a good option to consider if your dogs are well-trained and you want them to have more freedom on the leash to go in their own direction. The long leads allow each dog to go up to ten feet away from the handler.
This double leash uses 360-degree untangling technology to ensure the two leads never get mixed up and intertwined. The handle features an ergonomic design to keep the dog walker's hand comfortable and only weighs the same as a single retractable leash.
The two leads on the leash, one orange, and one green, are bright and reflective to help increase visibility at night. Additionally, there are color-coded buttons on the handle to allow you to lock each lead when needed to control your dog. This double lead is designed for use with dogs weighing up to 50 pounds.
Best Retractable
5. Best Grip Comfort: Wigzi Dual Doggie Gel Rope Dog Leash
It's common for a person walking more than one dog at once to suffer from hand fatigue on a longer walk. If this is an issue for you, consider the Wigzi Dual Doggie Gell Rope Dog Leash. The patented handle on this leash is filled with soft liquid gel to relieve tension on your hand when gripping it. Other features are the 360 degree spinning action to prevent tangling, and the leads are reflective for high visibility when walking at night.
Each lead is 4.5 feet long, allowing for up to 9 feet of distance between the two dogs to allow them plenty of freedom to explore. There are two sizes–the one for smaller breeds features a smaller hand grip and leads that are 1/4 inch thick, while the one for larger breeds has a larger hand grip and a 1/2 inch thick lead.
Best Grip Comfort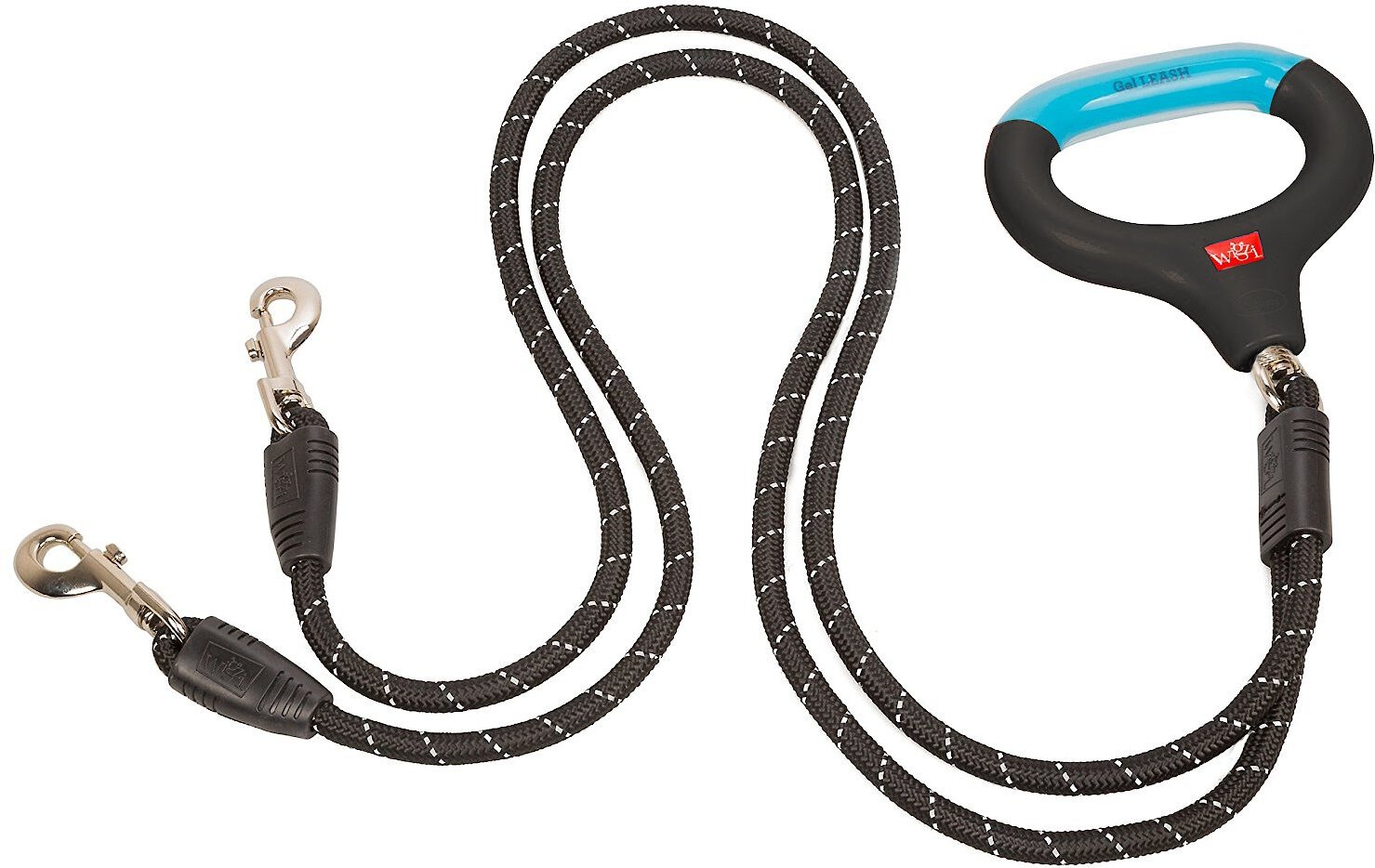 Wigzi Dual Doggie Gel Rope Dog Leash
360-degree spin ability with built-in coupler allows automatic untangling of the two leashes
Soft, gel-filled ergonomic handle relieves hand fatigue during long walks
Suitable for all sizes and breeds, durable leashes tested for strength
4.5 ft reflective lead to allow for evening outings
Check Chewy
Check Amazon
6. Best Extra Features: Pet Fit For Life Dual Dog Leash with Bowl
The Pet Fit for Life Dual Dog Leash has several great features we love. For one, it's adjustable to two lengths–64″ long for exploring and free exercise, and 32″ length to have better control over your two dogs when in more trafficked areas. Each lead has short integrated bungee tethers to cue your dog when it's getting to the end of the leash. All of the stress points on the leash have triple stitching to ensure not unraveling occurs over time.
The entire leash has reflective stitching throughout to increase your dogs' visibility on evening walks, and the soft, foam rubber handle provides comfort for the handler on extended walks. Another cool extra with this leash is the collapsible bowl that attaches to one of the multiple metal rungs. Made of durable, BPA-free plastic, it's perfect to give your dogs some refreshment when taking long walks. The leash has 360 degree spin capabilities, and the main lead is detachable, connected by a sturdy carabiner.
Best Extra Features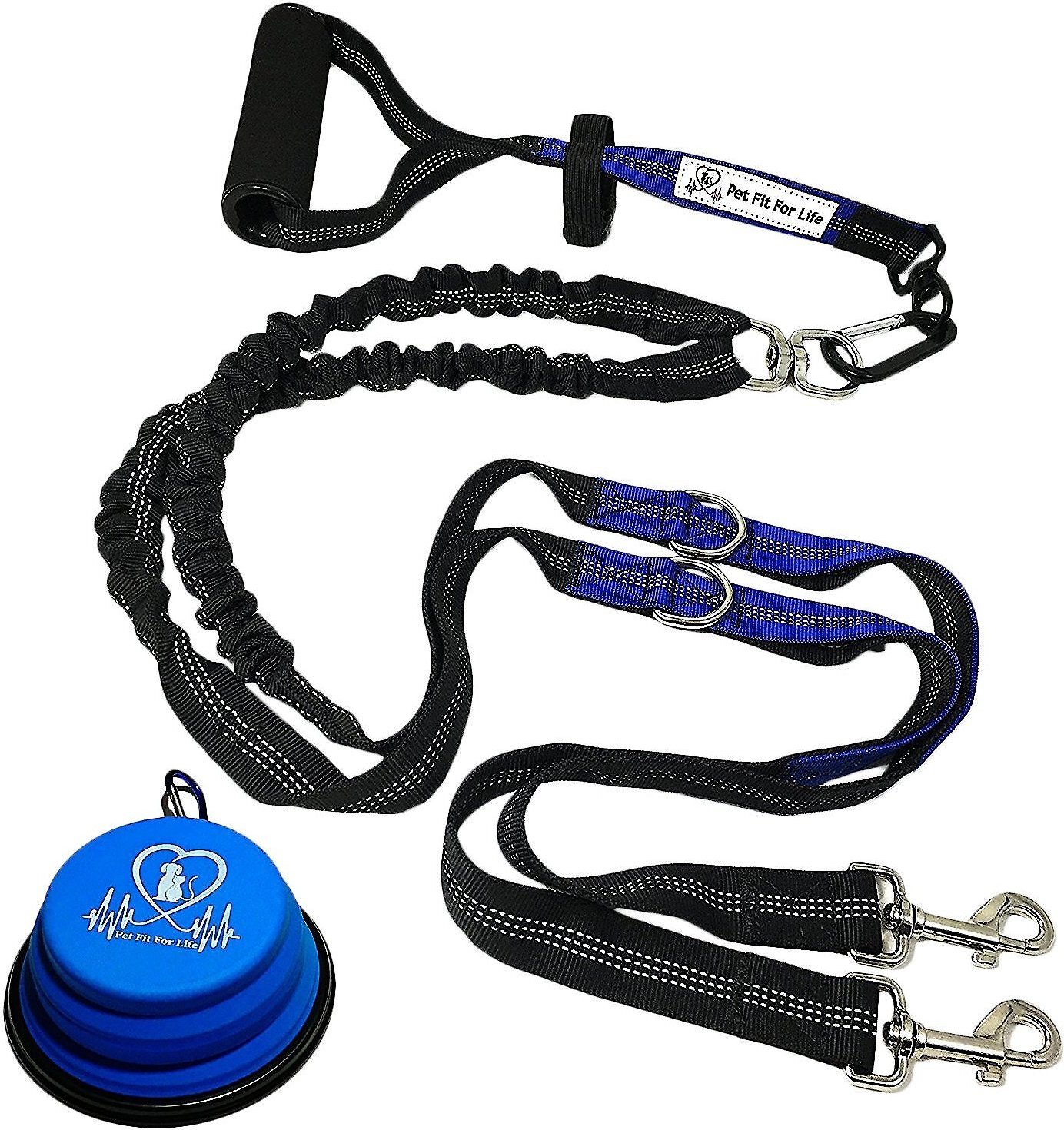 Pet Fit For Life Dual Dog Leash with Bowl
64" dual dog leash converts to 34" with sturdy, easy on/off carabiner clips

12" long, soft foam rubber grip for comfortable handling and control

All stress points and loops on the leads are triple reinforced for durability

Bonus clip-on, collapsible BPA-free plastic water bowl to hydrate your dogs on long walks
Check Chewy
Check Amazon
Summary of Best Double Dog Leashes
| Ranked | Best For | Product |
| --- | --- | --- |
| 1 | Overall | ¡YoShop Dual Dog Leash |
| 2 | Large Dogs | BWilkon Dual Dog Leash |
| 3 | Adjustable | DCBARK Adjustable Lead Double Dog Leash |
| 4 | Retractable | WIGZI Two Dog Reflect Retractable Pet Leash |
| 5 | Grip Comfort | Wigzi Dual Doggie Gel Rope Dog Leash |
| 6 | Extra Features | Pet Fit For Life Dual Dog Leash with Bowl |
Related Images
Up Next…
The Best Double Dog Leashes We Found FAQs (Frequently Asked Questions) 
Are double dog leashes good?
Double dog leashes can be good, but they aren't for every dog/owner. For many owners, using a double dog leash makes the task of walking two dogs together easier. However, some find that it is easier to walk two dogs on separate leashes. The strength of your dogs and how well they follow commands may impact whether a double dog leash is right for you and them.
What is the best double dog leash?
The best double dog leash will be one that is comfortable to hold and strong enough to hold the weight of both of your dogs. We chose the ¡YoShop Dual Dog Leash as our top pick.
Where can I buy a double dog leash?
Double dog leashes can be found in pet stores, but you'll likely find a larger selection shopping through a reputable online retailer.
How do you prevent dog leash tangle with a double dog leash?
Many double leashes feature a tangle-free design. These leashes have a 360-degree mechanism that makes it easy to get the dogs where they need to be and keep the two leads from getting tangled together.