I've always loved lap dogs, from their sweet dispositions to their small size. (Isn't everything cute in miniature?)
If you're looking for a lovable, sweet, and cuddly dog breed, look no further than this list. But first, let's discuss what to expect in a lap dog:
Lapdog breeds are affectionate, clingy, and sweet. They can be prone to separation anxiety, and shouldn't be left alone for long periods. They're best for homes where someone is around most of the day, such as a couple who works opposite shifts.
In this article, we'll talk about 15 lap dog breeds you're sure to love.
1. Chihuahua
Chihuahuas have large eyes, pointy ears, and well-defined "eyebrows" that make their facial expressions pretty adorable! They stand five to eight inches tall and weigh six pounds or less.
They can be short or longhaired, with longhaired Chis requiring a little more grooming to keep their fur healthy.
These pups love their families but may be wary of strangers. They aren't recommended for families with small children, mostly because of the risk of the Chihuahua being hurt by the child (though they might also bite if provoked).
Chihuahuas are protective, despite their small size, and make great watchdogs. They're quite vocal as well and can be pretty independent thinkers.
2. Toy Poodle
The Toy Poodle takes traits from the Standard Poodle, a retrieving breed, and toy breeds which are more affectionate and laid-back.
They have thick, fluffy coats that require high amounts of grooming. If you adopt a Toy Poodle, you'll need to either pay a groomer to trim their coat every 4-6 weeks, learn to clip it at home or commit to brushing them every single day.
Toy Poodles tend to think everyone is their friend–they're very agreeable, social, and eager to please. They're also high-energy, vocal, and have great senses of humor!
3. Miniature Poodle
Miniature Poodles are slightly larger than toys, standing 10-15 inches and weighing 10-15 pounds. They have the same curly coats and sunny dispositions.
They're great for a person who wants a slightly larger dog without committing to a large dog like a Standard Poodle. They're also wonderful if you'd like a dog with slightly higher stamina when it comes to exercise than a Toy Poodle.
4. Italian Greyhound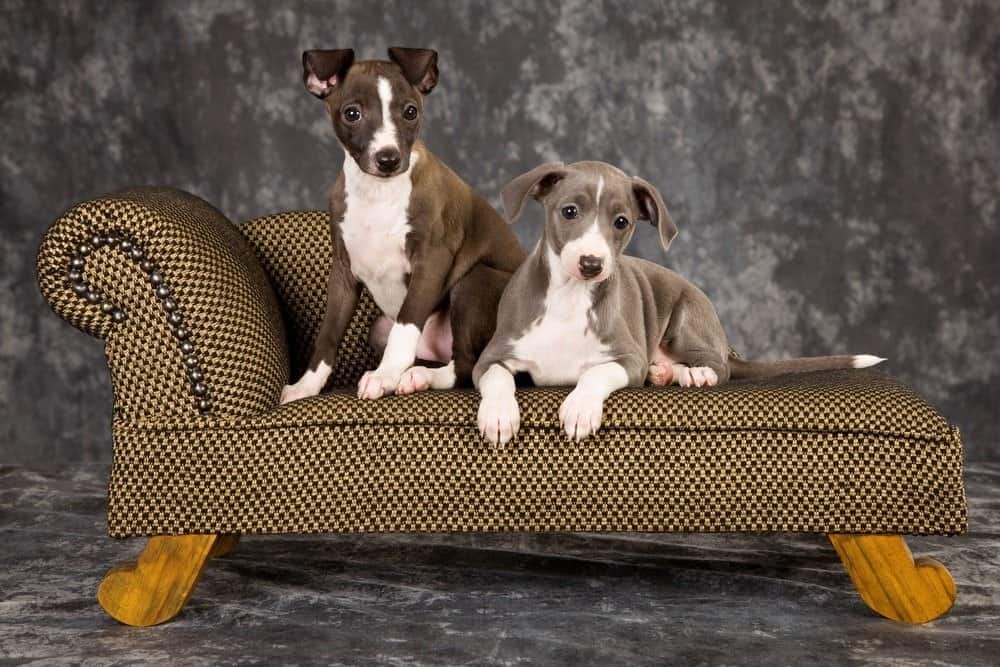 The Italian Greyhound is the smallest sighthound breed, standing 13-15 inches tall and weighing 7-14 pounds.
They tend to be more cuddly and affectionate than the other sighthounds, but they keep most of the stereotypical sighthound personality.
This means they're sensitive and empathetic, picking up on their environment and people's moods. They can also be quite stubborn, and training must be kept engaging, positive, and fun.
They're born sprinters, and need space to run at top speeds–whether it's a large living room floor cleared for them to race around, or a fenced backyard.
Italian Greyhounds shouldn't be allowed off-leash unless they're in a well-enclosed space, as they have strong prey drives and likely won't listen to recall.
5. West Highland White Terrier
West Highland White Terriers are white dogs with medium-length coats. They're 10-11 inches tall and weigh 15-20 pounds.
They're affectionate and friendly, playful, and protective. They make great watchdogs and exercise companions.
As terriers, they can be quite vocal, and it's important to teach a "quiet" command or similar to stop them from continuing to bark for long periods.
6. Toy Fox Terrier
Toy Fox Terriers are white dogs with black, tan, or brown markings. They commonly have docked tails and ped ears, but please remember that these procedures are highly unethical. Research has proven that they're little more than cosmetic surgeries.
It's important to avoid breeders who will injure their animals for profit, and not to cause undo harm to your dog after adoption either.
Toy Fox Terriers are smart little dogs who weigh around 4-9 pounds. They stand just 8.5-11.5 inches tall.
They're affectionate, playful, and protective. Like many others on this list, they are prone to problem barking behavior if untrained, or if they aren't mentally or physically stimulated enough day to day.
7. Pembroke Welsh Corgi
These pups are affectionate and tend to be good with other dogs as well as strangers. They're active, playful, and easy-going. Corgis can also be very protective and make great watchdogs.
They have round eyes, large ears that stand naturally upright, and thick, fluffy coats. Unfortunately, Corgis do typically have their tails docked–which, as we discussed above, is an unethical practice. Tail docking can continue to harm a dog physically, psychologically, and in their interactions with other dogs, for their entire lives.
Corgis also have long backs and very short legs, which makes them very prone to spinal injuries. This is the result of unethical breeding practices, and it's why I never recommend buying a Corgi from a breeder. They do make great rescue dogs, though!
8. Rat Terrier
Rat Terriers have short fur, deep chests, and naturally upright or "button" ears (when most of the ear stands upright, but the top folds down).
Rat Terriers are sometimes born with short tails that are left at their natural length, but many breeders still choose to crop them–even if they're already short–for aesthetic reasons. 
It's important to look for breeders who care for their dogs and refuse to injure the puppies for looks or profit.
These dogs are curious, active, and easy to train. They're also very loving and affectionate, which makes them great companions for both snuggling on the couch and playing in the backyard!
9. Cairn Terrier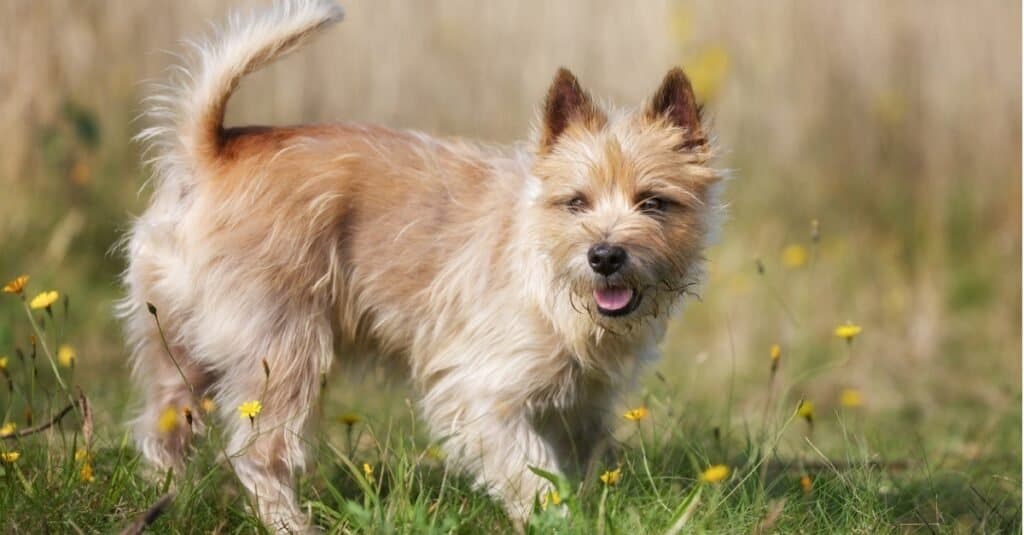 These dogs have fluffy coats, upright ears, and watchful eyes. These dogs are alert and make great watchdogs, though you might need to call them off from excessive barking.
They have moderate energy levels, their coats are easy to maintain with weekly brushing, and they're very smart. However, they're also quite stubborn and need extra patience during training. Keep training sessions short, fun, and engaging.
These little dogs are about 9.5-10 inches tall and weigh 13-14 pounds.
10. Chinese Crested
Chinese Cresteds are unique little dogs that can be mostly hairless, or long-haired (referred to in the breed as "powderpuff"). They're 11-13 inches tall and weigh 8-12 pounds.
Don't adopt these pups thinking they're good for allergies–hairless animals might actually trigger allergies more since people are more exposed to their dander (which is what causes dog allergies).
DO adopt these pups because they're lively, affectionate, and adorable. Neither variety sheds any more than human hair. They're easy to train and require just a short walk and some indoor play as their daily exercise.
If you do adopt a hairless Chinese Crested, remember to protect their skin! They can actually require quite a bit of grooming maintenance despite being hairless.
11. Miniature Pinscher
Miniature Pinschers are brave little dogs, standing 10-12.5 inches tall and weighing 8-10 pounds. 
They're loving dogs who tend to be more affectionate toward their family than strangers, because they have strong guarding instincts. Socializing them well at a young age is important, as is training manners.
Min Pins can be stubborn, but you can get through to them by keeping training sessions short and engaging. Skip aversive methods, as these are harmful to all dogs and can especially backfire in a guarding breed.
Remember not to crop a dog's ears, dock their tail, or purchase from a breeder who engages in these practices. I promise your pup will look just as cute with a tail and floppy ears–perhaps even cuter!–and they'll thank you for putting their well-being first.
12. Parson Russell Terrier
Parson Russell Terriers are 13-14 inches tall and weigh 13-17 pounds. They're sweet and cuddly, tend to get along well with other dogs when introduced properly and shed little.
They may be a little wary of strangers, but their sunny dispositions and easy trainability make up for it! Like all terriers, they were bred to hunt and require plenty of daily exercise.
Parsons can also be little escape artists, and they love to chase, so it's important to keep them on leash or in a well-enclosed backyard.
13. Beagle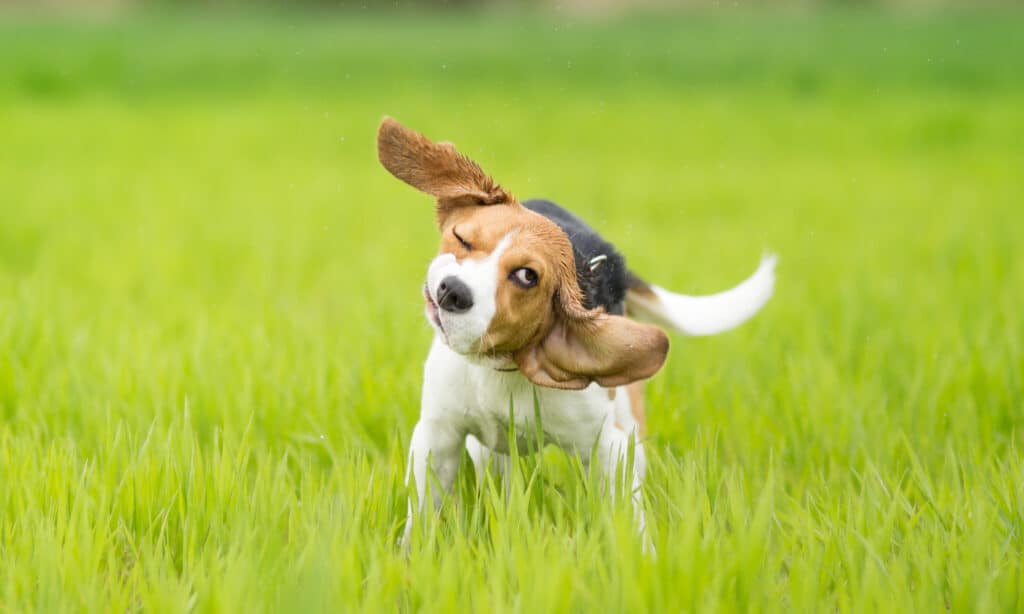 Beagles were bred to hunt in packs, so they're very social dogs! They're perfect for multi-dog households in particular.
Like the Parson Russell Terrier, Beagles may try to escape confinement–so a fence that will hold them in, perhaps going underground as well to prevent them from digging their way out, is important. As is keeping them on-leash or enclosed at all times so that they don't run off chasing something!
Beagles are gentle, playful, and adaptable. They tend to be great with children, though interactions should always be supervised.
During training, they can be stubborn and require extra motivation using force-free training methods only.
A bored Beagle will bark, howl, and may be destructive. It's important to ensure you can give them enough exercise and mental enrichment before adopting.
14. Yorkshire Terrier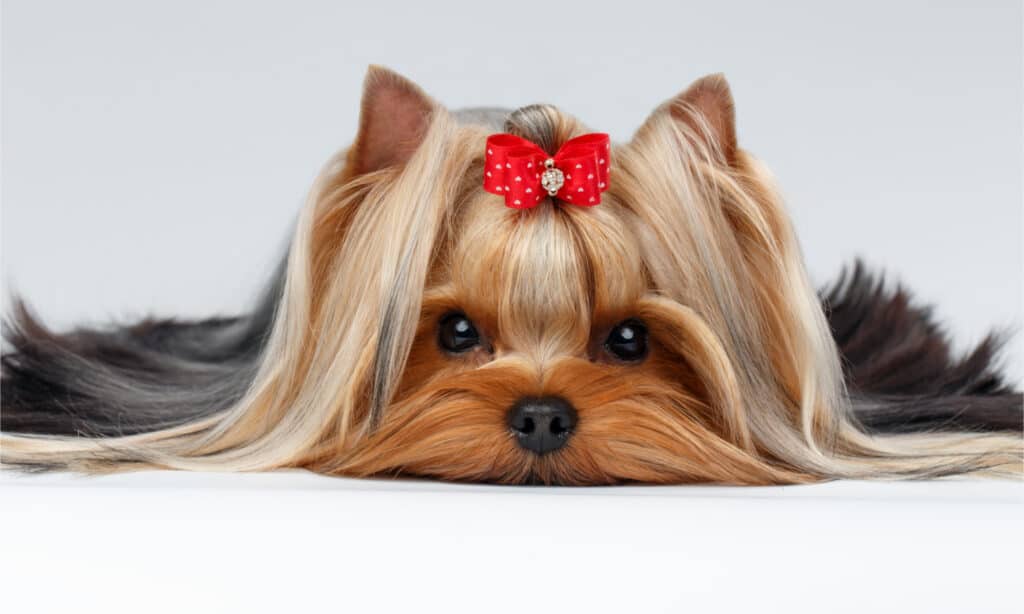 Yorkshire Terriers, or Yorkies, are 7-8 inches tall and weigh around 7 pounds. They're a popular breed because of their cute looks, playfulness, and friendly dispositions. Yorkies love cuddling with their families, are great with children (but should still be supervised, as with all dogs!), and even tend to be friendly toward strangers.
They can be wary of other dogs, so introductions should be made slowly. A neutral environment might help, as Yorkies can be quite protective of their homes and families!
Yorkies are eager to please and love people. Training them not to bark might be a challenge, as they're quite vocal little dogs. They're also quite active and need mental enrichment as well as physical exercise.
Unfortunately, Yorkies are classified as brachycephalic, or short-snouted. Many breeds have been bred to have shorter and shorter snouts for aesthetic purposes, and this causes many health problems including difficulty breathing, exercise intolerance, dental issues, and an increased risk of heat stroke.
I suggest avoiding Yorkie breeders so as not to support these poor breeding practices, and to rescue a Yorkshire Terrier in need instead!
15. Maltese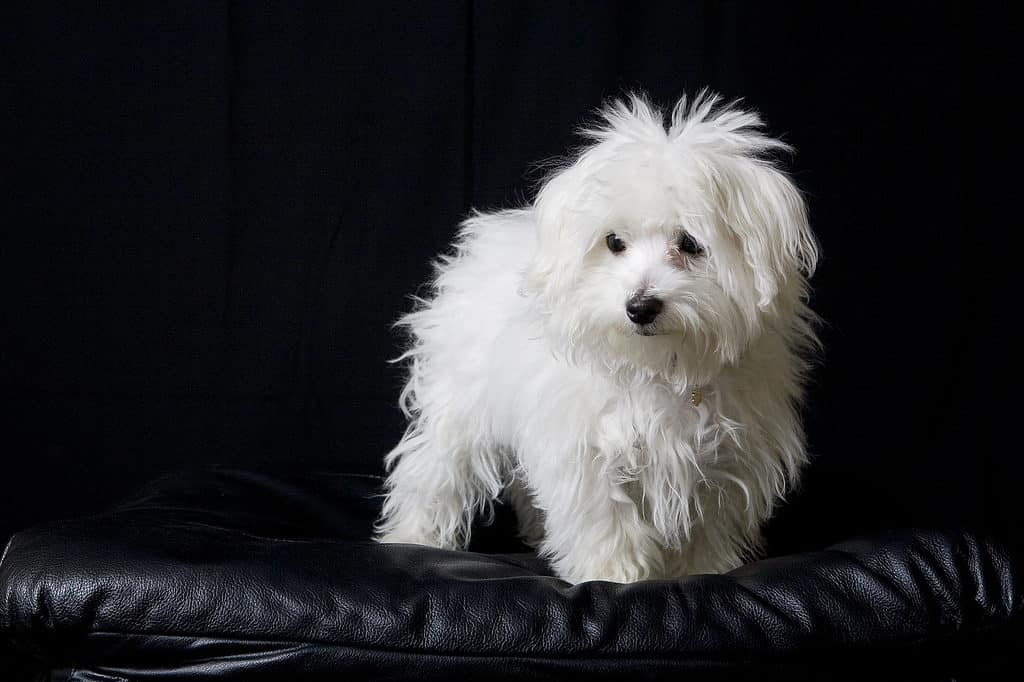 These delightful white dogs are just 7-9 inches tall and weigh around 7 pounds. Maltese are sweet and cuddly. They were bred for companionship and to sit in peoples' laps, so, of course, they belong on this list!
Your Maltese may be a bit of a challenge to train due to their stubbornness, and they tend to be less affectionate toward strangers than they are with their families.
Maltese dogs have long, constantly growing fur that requires daily maintenance or a short trim every four to six weeks.
Despite their cutesy looks, Maltese make great watchdogs as well. They're very alert, though they likely won't be scaring off any intruders!
That concludes our list of 15 lovable lap dog breeds. I hope you've enjoyed seeing these cuties and learning a bit more about these small pups.
Remember to research a breed thoroughly before adoption, and be ready for the hard parts of dog ownership as well as the lovely parts–of which there will be plenty!
Summary Of 15 Most Lovable Lap Dog Breeds
| Rank | Lap Dog Breed |
| --- | --- |
| 1 | Chihuahua |
| 2 | Toy Poodle |
| 3 | Miniature Poodle |
| 4 | Italian Greyhound |
| 5 | West Highland White Terrier |
| 6 | Toy Fox Terrier |
| 7 | Pembroke Welsh Corgi |
| 8 | Rat Terrier |
| 9 | Cairn Terrier |
| 10 | Chinese Crested |
| 11 | Miniature Pinscher |
| 12 | Parson Russell Terrier |
| 13 | Beagle |
| 14 | Yorkshire Terrier |
| 15 | Maltese |
Summary Table of 15 Most Lovable Lap Dog Breeds
Ready to discover the top 10 cutest dog breeds in the entire world?
How about the fastest dogs, the largest dogs and those that are -- quite frankly -- just the kindest dogs on the planet? Each day, AZ Animals sends out lists just like this to our thousands of email subscribers. And the best part? It's FREE. Join today by entering your email below.
---
The Featured Image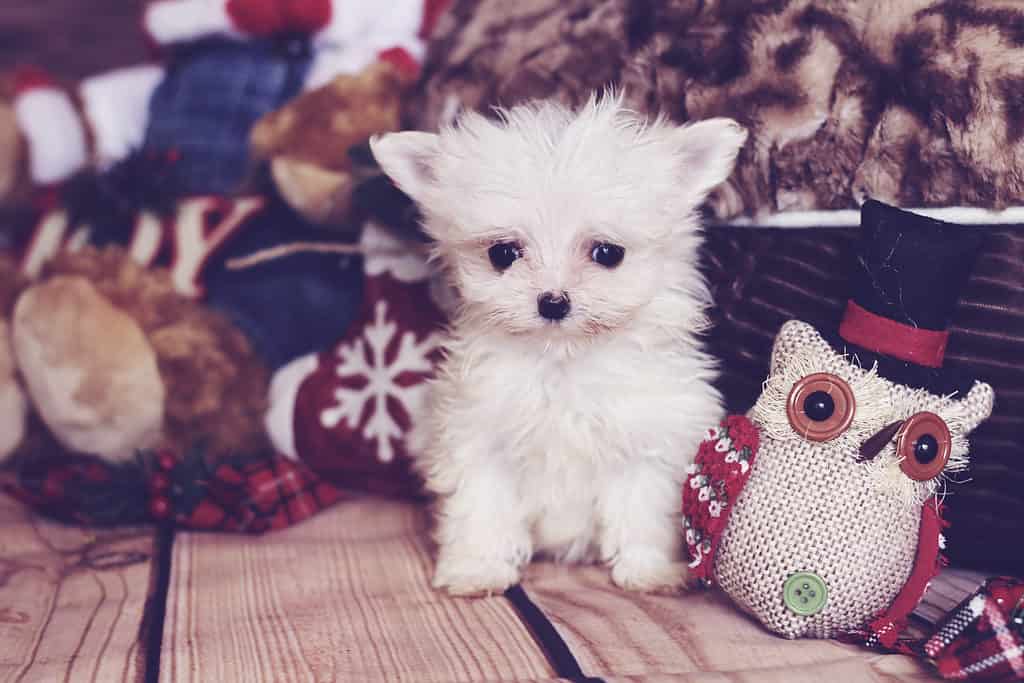 ---