Tulips are a popular garden flower with over 3000 varieties and cultivars to choose from. Yet, some are harder to come by than others. In this article, we'll discuss nine tulips that are rare, unique, and worth adding to your collection. 
1. Tulipa sprengeri 'Baker'
The Tulipa sprengeri 'Baker' reigns comes from Turkey, making its way to the Netherlands in the late 1800s or early 1900s. As the legend goes, a single bulb was discovered by collector J.J. Manissaadjian. This bulb had a complex journey, having been traced to the region around Amasya. Locating it in the wild has proven difficult ever since.
The Tulipa sprengeri 'Baker' has deep, rich red petals that seem to glow in the sunlight. The small flowers sit on long, elegant stems that sway gently in the breeze. The leaves are slender, with a deep green color contrasting with the flowers' fiery red.
What makes these tulips unique and rare is their mysterious origins and difficulty to harvest. The bulbs dig deep into the ground, making them nearly impossible to uncover without tearing the garden apart. 
Despite its complex history and enigmatic nature (or maybe because of it), Tulipa sprengeri remains a highly sought-after species. It is often noted as rare and expensive in standard references on species bulbs.  
2. Tulipa biflora
The Tulipa biflora is a delicate beauty with a unique charm. Its flowers are small and dainty, with six elegant petals overlapping and curved toward the sky. The petals are a soft, creamy white, with a delicate pink blush at the tips that give the flower a hint of rosy warmth.
One of the most striking features of the Tulipa biflora is that it produces two flowers per stem, hence the name "biflora." This makes it a unique tulip for any garden.
The Tulipa biflora is endangered in its natural environment. It is native to Central Asia and grows in rocky alpine meadows and mountain slopes. Overgrazing, habitat loss, and climate change threaten its habitat. It is difficult to find in the wild. Fortunately, the Tulipa biflora has been successfully cultivated and is widely available from reputable nurseries and bulb suppliers. 
3. Tulipa kolpakowskiana
Tulipa kolpakowskiana is an award-winning tulip native to Central Asia. This miniature tulip has delicate, lemon-yellow petals that form a star shape. Some varieties have a red backing on alternating petals for a flame-like appearance that glows in the sun. This variety grows to a height of no more than 6 inches and has a naturalizing habit, making it perfect for planting in rock gardens or along pathways.
The Tulipa kolpakowskiana is named for botanist Vladimir Leontyevich Komarov and is considered one of the hardiest tulip species withstanding extreme heat and cold in its natural environment. It's a threatened species.
4. Tulipa toktogulica
The Tulipa toktogulica discovery in Kyrgyzstan made headlines in late 2022 as a new species. Named after the region it calls home, the Tulipa toktogulica is also known as Toktogul's Tulip.
Tulipa toktogulica is similar in appearance to Tulipa kolpakowskiana. This leads to confusion at the time of its discovery. This lovely yellow bloom boasts the same star shape as Tulipa kolpakowskiana, with a red streak up the center of its alternating yellow petals. The foliage also sets this tulip apart. It boasts a minty green color with frilly, tube-like leaves designed to capture moisture in the dry, extreme environment. 
The Tulipa toktogulica is only in this one region of the world, with few naturally-occurring plants. It hasn't been cultivated for gardens yet. Collectors around the world are waiting with bated breath.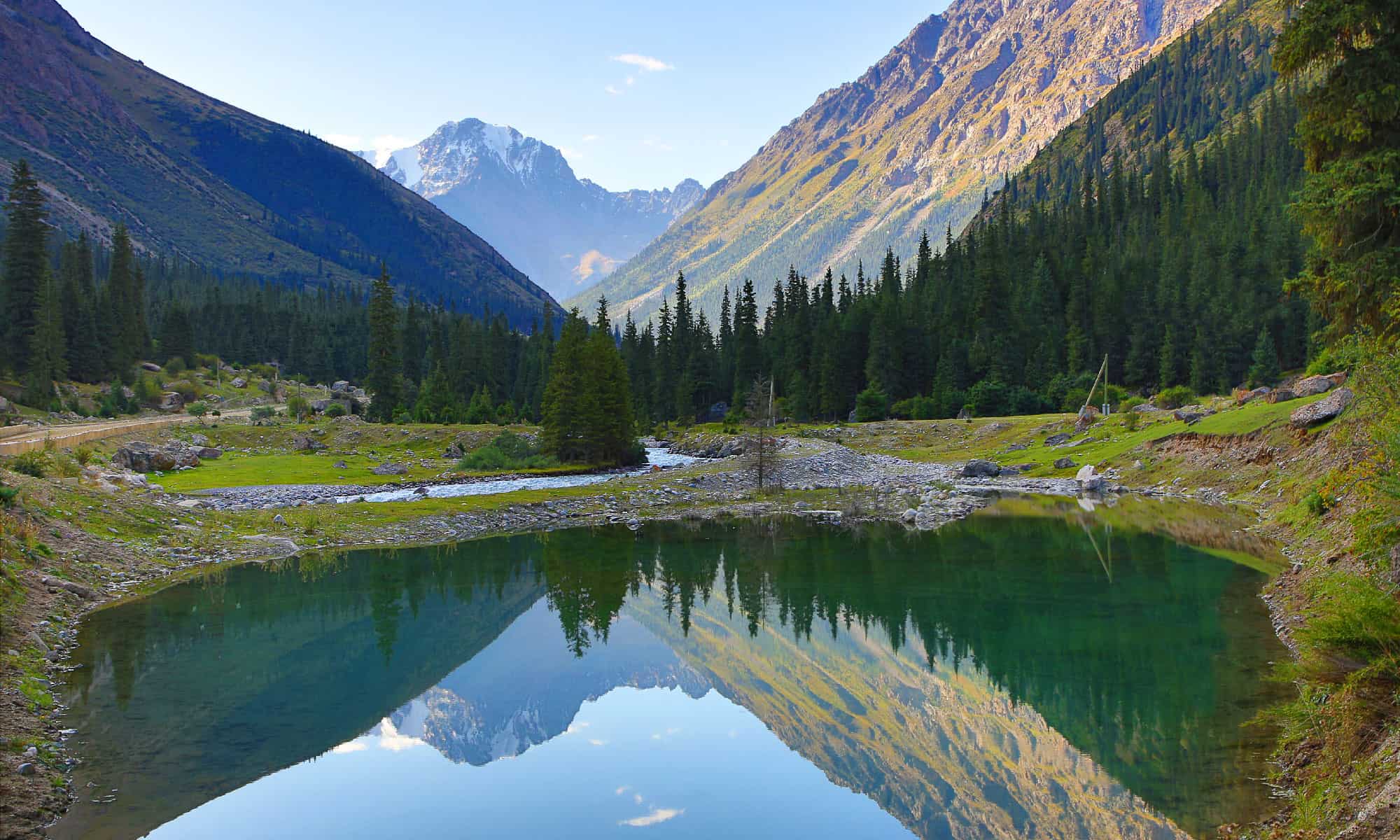 5. Tulipa clusiana
Tulipa clusiana is a popular tulip species. The Tulipa clusiana 'Cynthia' is a rare tulip with gray leaves and bicolor yellow and red petals that deepen as the season goes on. This reactive cultivar closes up on cloudy days and after nightfall, only showing its true beauty in the sun.
The Tulipa clusiana 'Peppermint Stick' is another top choice among tulip collectors. This chaliced tulip is a bicolored hybrid with delicate pink and white petals. It has narrow blooms with a cheerful disposition, named for its similarity in appearance to peppermint candy.
Its natural deer-resistant properties truly set the Tulipa clusiana apart from other tulips. While deer typically love munching on tulips, they avoid this species as much as possible. The negative reaction results from alkaloids and other compounds within the Tulipa clusiana that give the plant a bitter taste and cause digestive issues for the deer if they consume it. 
Additionally, a papery layer covers the bulbs of Tulipa clusiana which make it difficult for deer to eat through. As a result, many gardeners use Tulipa clusiana as a natural deer repellent.
6. Tulipa 'Black Hero'
Black flowers are rare in the natural world. Especially rare among traditionally brightly colored tulips. Not only is the Tulipa 'Black Hero' dark and moody, but it's also a rare double bloom. The hybrid Tulipa 'Black Hero' is famous for its lush petals and coloration. Its sturdy stem reaches up to 16 inches in height, making it a true standout in any garden.
What sets the 'black hero' apart from other dark tulips is its dramatic contrast of dark purple-black petals against its bright yellow center. This double bloom is opulent, with a resemblance to the peony. It's also a late bloomer, making it perfect for extending your tulip season.
7. Tulipa 'White Triumphator'
In direct contrast to the Tulipa 'Black Hero' is the Tulipa 'White Triumphator.' This pure white or creamy ivory fluted bloom is a vision of purity and elegance, with pristine petals that open up like a graceful ballerina's tutu or champagne glass.
As the name suggests, this tulip is truly triumphant in any garden or floral display. It commands attention with its regal presence and striking beauty. This classic and timeless variety has been popular for generations and continues to captivate gardeners and flower enthusiasts alike with its simple yet stunning beauty.
This heirloom bloom has become less common in recent years. It's also remarkably long-lasting, making it an unbeatable choice for the garden.
8. Tulipa humilis 'Alba Coerulea Oculata'
The rare Tulipa humilis 'Alba Coerulea Oculata' hails from the eastern Mediterranean region. It has been cultivated for centuries. It grows to a height of 4-6 inches with strong naturalization tendencies. This makes it a great choice for planting in rock gardens, along pathways, or in containers.
This tulip variety boasts a unique appearance that sets it apart from other tulips. Tulipa humilis 'Alba Coerulea Oculata' features delicate, star-shaped flowers that are a pale white color, with deep blue blotches around the base of each petal. These striking blue markings resemble the eyes of a peacock feather. As blue tulips aren't naturally occurring, this patch of color is a true testament to the beauty and diversity of the tulip family. 
Tulipa humilis 'Alba Coerulea Oculata' is also an early grower. This makes it a great flower for kicking off the spring season.
9. Semper Augustus
While the Semper Augustus no longer exists, it must be on a list of rare tulips. Known as the rarest and most treasured tulip of all time, the Semper Augustus was the crown jewel of Tulipmania. There were only 12 bulbs available at the time.
The Semper Augustus tulip has crisp, white petals with deep, velvety red flames that flicker along the edges. The red coloration is so intense that it almost appears to be dripping down the petals like blood. This contrast between the pure white petals and the rich, dark red flames is what makes the Semper Augustus such a showstopper.
Due to its rare appearance, the Semper Augustus is for sale at a modern equivalent of $178,200.
Despite best efforts, botanists found it impossible to recreate this cultivar. Later, they learned it was not a cultivator at all. The virus caused infection in an heirloom tulip. Semper Augustus translates from Latin to "Always August."
The tulip-breaking virus (TBV) causes the characteristic streaking and feathering of colors on the petals. It can weaken the tulip plant over time. Private collections of broken tulips are intentionally stored away from healthy crops in the Netherlands.
The Semper Augustus is long gone. There are other breeds of "broken" tulips available. Add them to your garden at your own risk.
The photo featured at the top of this post is © iStock.com/Prasit Rodphan
---