South Carolina hosts the famous National Bass Fishing competitions in the state's many lakes and reservoirs. That forms a massive part of the appeal of the state as one of the popular places to visit for some individual or family fishing expeditions.
But it isn't only bass you can expect in the many lakes in the state. Catfish, crappie, trout, and many others are also a staple. You only need to know which lake to pack your fishing equipment for.
This article will guide you to the best fishing lakes in South Carolina, the typical fish types in these lakes, and other recreational activities. South Carolina boasts 14 major water reservoirs perfect for boating, skiing, paddling, and fishing.
The 10 listed below are the best spots for fishing in South Carolina.
1. Lake Murray
Located just 30 minutes from South Carolina's capital, Columbia, Lake Murray is one of the richest bass reservoirs. The lake is at least 41 miles long and covers approximately 50,000 acres.
Lake Murray also boasts nearly 500 miles of shoreline, making it a popular destination for anglers. On the shoreline are several marinas with over 20 fish attractors and 8 fishing access locations. Anglers seeking a challenge love targeting largemouth bass. This fish is known for its elusiveness, making it exciting to reel in.
These are the most common fish types to expect in Lake Murray:
White and black crappie
Redear sunfish
Yellow and white perch
Blue gill
Warmouth
Anglers looking to catch famous largemouth bass and other fish are better off trying the main lakeside. The open lake or the Saluda River part of the lake presents challenges that make the fish difficult to catch.
Visitors can also enjoy recreational water activities like skiing, canoeing, and swimming on the lake. All these stand testimony to the lake's popularity as a premium fishery for individuals and families. Note, however, that you need a state license to fish on Lake Murray.
2. Lake Wylie
Lake Wylie is a prominent location for bass and many other fish species. The lake touches York County in South Carolina and Mecklenburg and Gaston counties in neighboring North Carolina over 13,400 acres.
The artificial Lake Wylie was created in 1904 by the then Catawba Power Company under the name Lake Catawba. Catawba Power Company is the modern-day Duke Energy. Lake Catawba became Lake Wylie in 1960 after W. Gil Wylie, the founder of Duke Energy. It is the oldest of seven artificial lakes created by Duke Energy to produce hydroelectric power.
Though the bass is the main catch in Lake Wylie, anglers can also expect the below fish kinds:
Catfish
White Perch
Crappie
Walleye
March and April are the best times to grab your fishing equipment and set out for Lake Wylie. Bass are usually about to spawn during those periods of the year and are thus shallow.
If you're not planning to fish, you can enjoy acclaimed fishing tournaments like the Wylie Fisherman tournament. Kayaking, paddle boarding, swimming, and picnicking are the other things that will spice up your expedition on Lake Wylie.
You will also need a state license to fish on the lake.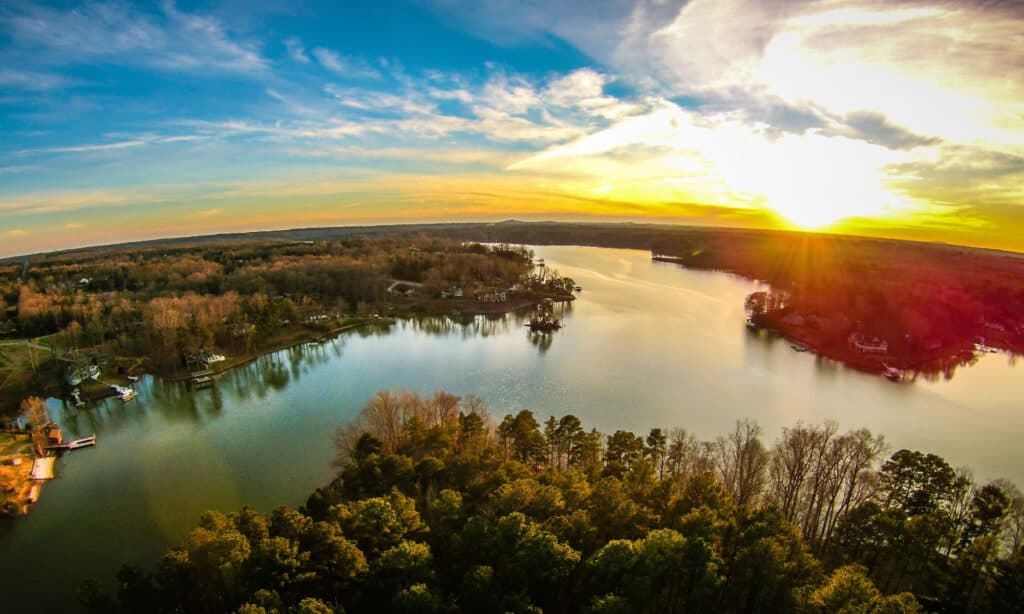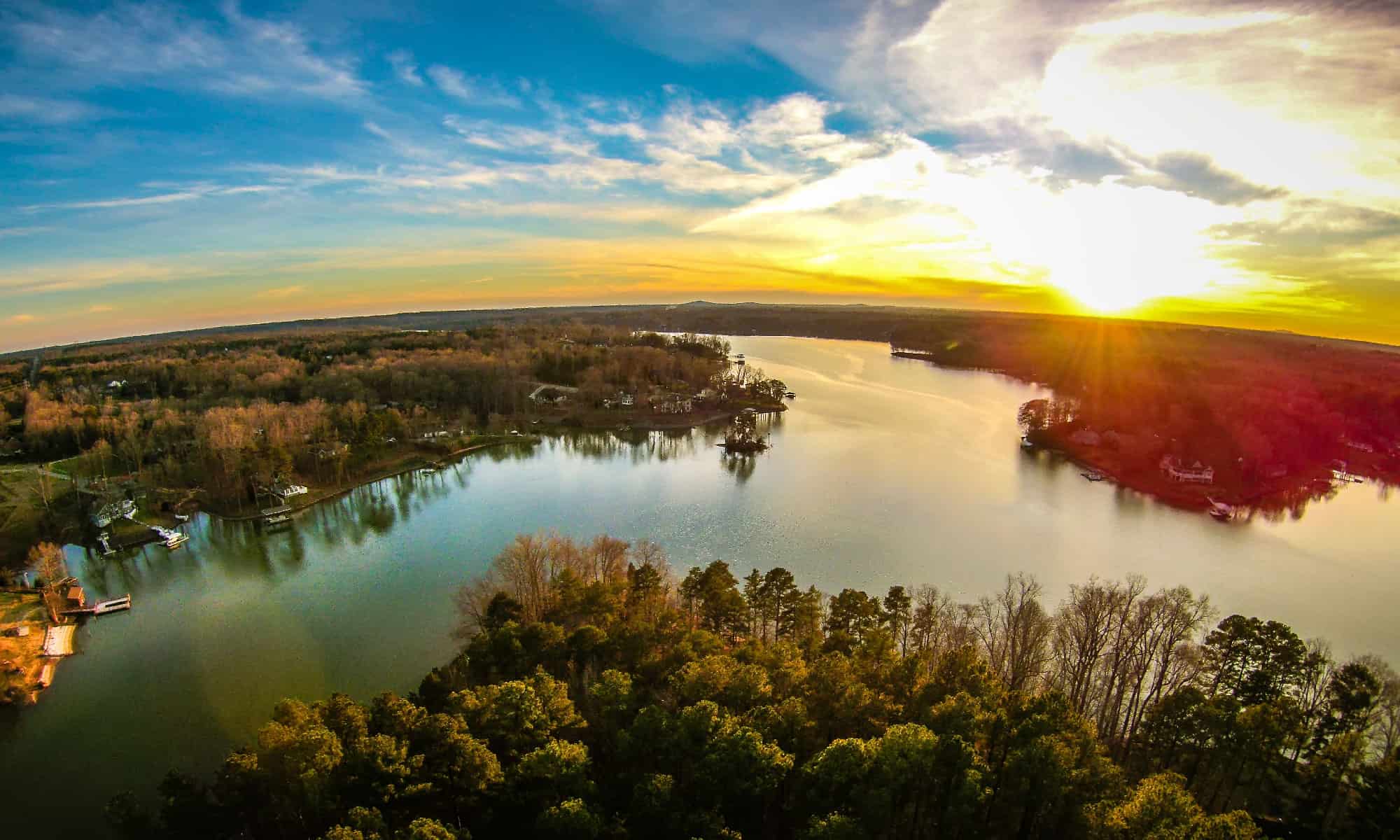 3. Lake Greenwood
Lake Greenwood covers close to 12000 acres and spans 26 miles. The lake has a maximum water depth of 69 feet, with a shoreline stretching 212 miles. The lake is a fishing hot spot with anglers coming for the following types of fish:
Pickerel
Bream
White perch
White bass
Striped bass
Lake Greenwood State Park offers excellent recreational opportunities for families and individuals. An extended stay is possible whenever planning a fishing expedition to Lake Greenwood. You must have a state license to fish on Lake Greenwood as well.
4. Clarks Hill Lake
Clarks Hill Lake, J. Strom Thurmond Reservoir, or Lake Thurmond, holds the South Carolina record for the largest sauger ever caught. Broadus Moody caught a 4-pound sauger on this lake in 1985.
Like many lakes in South Carolina, Lake Thurmond is also artificial. The US Army Corps of Engineers created the lake between 1946 and 1954. It covers an area of over 71000 acres with an 800-mile shoreline. The shoreline provides superb breeding grounds for different types of fish, including bass.
Below are the species you can expect to catch from Lake Thurmond:
Striped bass
Largemouth bass
White and black crappie
Brown and rainbow trout
Yellow and white perch
Channel catfish
The lake is a popular fishery for locals and visitors alike. And there are plenty of fish species to catch.
5. Lake Wateree
Lake Wateree has the particular favor of being a popular fishing spot and a premium vacationing spot in South Carolina. Camping and overnight trips are an option, thanks to the Lake Wateree State Park next to the lake.
Lake Wateree covers 13,800 acres and offers ample opportunities for crappie fishing. Fish are plentiful throughout the year, and with the many access points, it's easy to see why this is one of the best fishing lakes in South Carolina.
Below are the species you can expect to reel in on Wateree Lake:
Largemouth bass
Channel catfish
White and black crappie
Redbreast
Sunfish
Warmouth
Pumpkin see
Bluegill, among others
The diverse fish species have most anglers falling line, hooker, and sinker for this fishery. There's an abundance of fish species anglers can enjoy reeling in.
6. Lake Marion
Fishing in a large lake directly corresponds to fishing for large fish. Lake Marion is the largest lake in South Carolina, with many fish reserves. Anglers get to test themselves against the wits of some of the largest fish in the state.
With an average size of 110,000 acres and at least 300 miles of shoreline, Lake Marion offers terrific fishing opportunities. To go with the expansive shoreline are numerous fishing access points likely to attract fishing enthusiasts from all over the country.
Moreover, several marinas, vacation, and camping spots enhance any fishing trip. Visitors will scarcely find a reason to be bored on this lake that offers many recreational activities besides fishing.
You might even get a fair shot at catching a large fish since it holds the most recent state record catch for white perch.
The fish you're likely to reel in here are:
Crappie
Perch
Stripers
Largemouth bass
White perch
Sunfish
Chain pickerel, among others
Lake Marion offers an all-encompassing fishing expedition thanks to the scores of fish species available. Get packing and check out the diversity of species in this fishery.
7. Lake Hartwell
Lake Hartwell is another fishing pearl to visit in South Carolina for an ambient time reeling fish of different species. Nestled right on the border of South Carolina and Georgia, the lake is one of the best places to visit if you love prowling the waters for large bass.
It spans 56,000 acres, with an average depth of 45 feet. This expansive water surface is home to various species of fish besides bass. Additionally, the movement of blueback herring heavily affects the fishing seasons.
The lake offers immense fishing opportunities for:
Largemouth bass
White perch
Smallmouth bass
White crappie
Spotted bass
You need a valid Georgia or South Carolina license to fish in the lake. The presence of many boat ramps makes boat fishing the best option for anglers. At the same time, the three marinas offer a picturesque environment for fishing.
8. Lake Jocassee
Another popular fishery to go fishing in South Carolina is Lake Jocassee. The lake holds five state records of the largest fish ever caught.
That's enough to make it a famous hunting ground for many anglers itching to get their names in the record books. The species diversity is astonishing, with bass and trout being the primary attractions.
The lake only covers about 7500 acres, so its richness as a fishery is rather impressive. It makes it to this list because of the number of species available.
It is yet another lake in the chain of Duke Energy-affiliated artificial lakes and offers the following species:
Catfish
Bass
Crappie
Bream, among others
The lake offers plentiful options for recreational activities in Devils Point State Park. The Jocassee outdoor center has canoes, kayaks, and boats you can hire for fishing and fun on the lake.
With three public boat ramps and a rocky 75-mile shoreline, boat fishing is the most plausible option.
9. Lake Moultrie
Lake Moultrie covers over 60,000 acres, making it the third-largest lake in South Carolina. So there's plenty of lake area to while away time fishing the numerous species available.
Lake Moultrie and Lake Marion form the Santee Cooper Lake system. Sitting in the southeastern part of Berkeley, the lake has a species diversity unrivaled by most fishing spots in the state.
The lake is home to, among others, the following fish species:
Largemouth bass
Crappie
Chain pickerel
Sunfish
Lake Moultrie holds three South Carolina fishing records, one being a world record catch. The 58-pound channel catfish caught in 1964 by angler W.H. Whaley remains the largest ever seen worldwide.
Records often mean there's plenty of fish to go around. Therefore, before you embark on a fishing expedition to another place, consider Lake Moultrie and its varied fish species.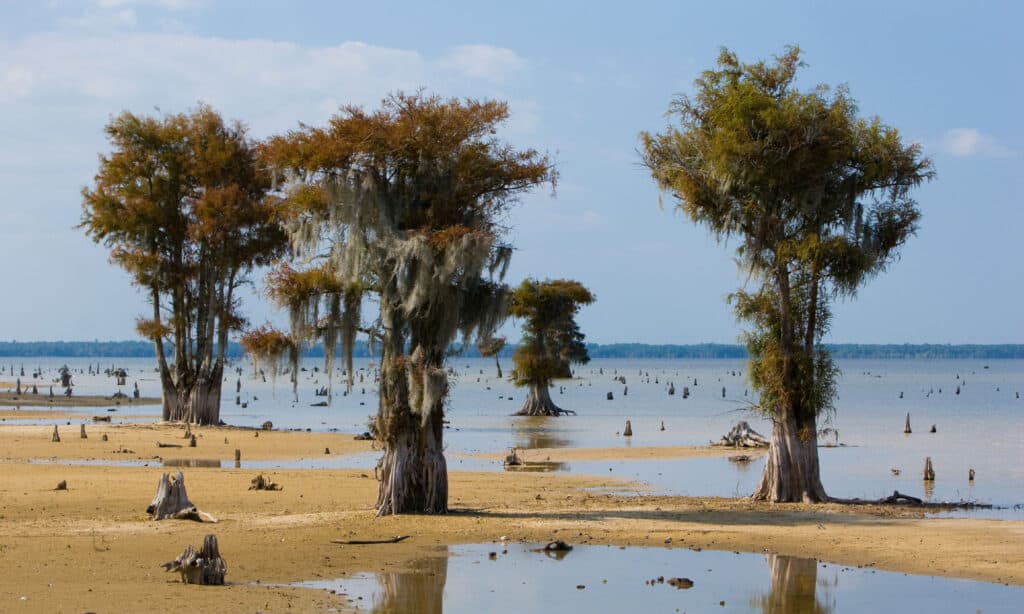 10. Lake Keowee
Lake Keowee possesses a sweeping 385-mile shoreline thanks to the 18000 acres it covers. The lake is part of the seven lakes made by Duke Energy and is home to many species.
Bass is the most popular species on this lake, alongside trout. These are some species to expect when fishing on Lake Keowee:
Largemouth, smallmouth, and spotted bass
Rainbow trout
Bluegill
Crappie
In 1979 the waters of South Carolina's Lake Keowee were the site of a momentous catch – an impressive yellow perch tipping the scales at 3.4 pounds. This hefty fish was the largest yellow perch to have been caught in the lake.
On the northern part of the lake is the Keowee-Toxaway State Park. The park offers many recreational opportunities. It is a hot vacation spot with enough camps to host many visitors.
Honorable Mentions
These lakes listed below are decent fishing spots but aren't large enough. For those that seem large enough, they don't offer quite the range of species to attract many anglers.
a) Lake Bowen
Lake Bowen is a little small, spanning a modest 1535 acres. It is owned and managed by the Spartanburg Water System. Though it's mainly a water recreation lake, it boasts the following fish species:
Crappie
Largemouth bass
Catfish
Anglers can expect decent amounts of the above species.
b) Monticello Lake
Another sport fishing port of call is the South Carolina DNR-managed Monticello Lake. The lake initially provided water to cool the turbines in the Virgil C. Summer Nuclear Plant. Later, it became a fishing spot as the fish made it a habitat.
Another of its functions is to produce hydroelectric power. This affects the water levels by as much as 5 feet at times. Surprisingly, this doesn't affect the fish numbers much, making it a popular stopping point for anglers in the region.
The most common fish species to expect on this lake are:
Crappie
Largemouth bass
Bluegill
Catfish
The lake covers a modest 6700 acres of water and is perfect for those seeking private fishing trips. It has four fishing access locations, several boat ramps, and one fish attractant over the 7.2-mile shoreline.
The modest size makes it an uncrowded fishing spot for those seeking the tranquility of sparsely populated places.
South Carolina Lakes and Fishing- A Match Made in Heaven
South Carolina hosting the National Bass Fishing competition is proof the state and fishing are perfect duos. As the list of the best fishing lakes in South Carolina has shown, there is no shortage of fishing spots all over the state.
Bass and crappie are the most likely fish species anglers will encounter. However, other species exist, such as trout, perch, and catfish. Although South Carolina lakes mostly have bass as the predominant species, the diversity is the envy of many states.
Summary of the 10 Best Fishing Lakes in South Carolina
Here are the 10 Best Fishing Lakes in South Carolina:
| Rank | Fishing Lakes |
| --- | --- |
| 1 | Lake Murray |
| 2 | Lake Wylie |
| 3 | Lake Greenwood |
| 4 | Clarks Hill Lake |
| 5 | Lake Wateree |
| 6 | Lake Marion |
| 7 | Lake Hartwell |
| 8 | Lake Jocassee |
| 9 | Lake Moultrie |
| 10 | Lake Keowee |
The photo featured at the top of this post is © iStock.com/mel-nik
---