Devils Lake fishing ranks among the most exciting ventures to pursue in North Dakota. Located in Ramsey County and Benson County, this natural body of water is among the largest lakes in the state, putting it in the same pool as the 368,000-acre Lake Sakakawea. 
Thanks to its unmatched beauty, it has garnered massive attention from countless locals and tourists, most of whom visit it for angling and other fun activities.
This article provides an in-depth focus on Devils Lake, presenting comprehensive details about its unique features and the exciting fishing experiences it offers. If you're up for other thrilling pursuits, we'll also discuss your top options so you know what awaits you. Let's get down to it!  
Devils Lake: Size, Depth, and Geography
Devils Lake covered roughly 211,300 acres as of 2011, with an elevation of 1,454 feet. The body of water is in northeastern North Dakota and is named Devils Lake after the city near it.
Devils Lake's saline water flows into the Sheyenne River, a large tributary that meanders roughly 591 miles across eastern North Dakota. When the lake's elevation exceeds 1,447 feet, it naturally spills into the nearby Stump Lake in Nelson County.
The indigenous Spirit Lake Tribe occupies much of Devils Lake's southern shore. Intriguingly, the people have stuck to this region for years, despite being continually affected by flooding, which mainly started in the 1990s.
History of Devils Lake
Centuries ago, Devils Lake was known as Spirit Lake or Minnewaukan, which some English people believed translated into "Bad Spirit Lake." According to Native American Lore, this body of water was home to an 80 feet-long, red-eyed serpent, and mischievous spirits, a myth that made most people dread it. Unfortunately, the belief was hard to refute since the lake's highly saline water was unsuitable for drinking, and its Lakota name is the "Lake of Spirits." 
That, however, didn't stop anglers from fishing in Devils Lake. Regrettably, the water body's levels began dropping in the early 1880s. By 1889, the lake couldn't support activities like boating because the vessels would barely move heavy loads, let alone people. 
Things got worse in 1890 when the water level was 1,425 feet. The lake's salinity dramatically increased until 1920, a period that saw the demise of most fish species inhabiting the natural water body.
Devils Lake didn't support commercial fishing for many years after 1920; there were no fish for anglers to catch. In 1940, the body of water hit its lowest level, at an elevation of about 1401 feet. Fortunately, the lake's water level began to rise again after a few years, and in 2011, it reached a peak of 1,454.3 feet.
Devils Lake Fishing: Everything You Should Know
Are you planning to fish in Devils Lake? Here's essential information to help you indulge and enjoy the amazingly worthwhile venture.
Popular Fish Species Found in Devils Lake
Devils Lake is teeming with these five sought-after fish species:
Walleye
Walleye lurks in almost every part of Devils Lake, and many anglers have confessed that fishing for the species improves yearly. The freshwater fish belongs to the perch family and is known for its whitish glossy eyes that help it navigate murky waters, especially at night. Again, the species boasts a gold and olive shade, but its belly is white. On its back, you'll spot around five bands.
Devils Lake experiences its peak season for walleye angling during spring, typically in April, May, and June. Since it's just after the winter, the water level rises a few feet, making it possible to fish in the lake. Then, the fish species are drawn to current areas, so you should explore regions by inlets and culverts.
Walleye anglers can safely navigate Devils Lake with a boat. Some spots near the shoreline are also great for casting.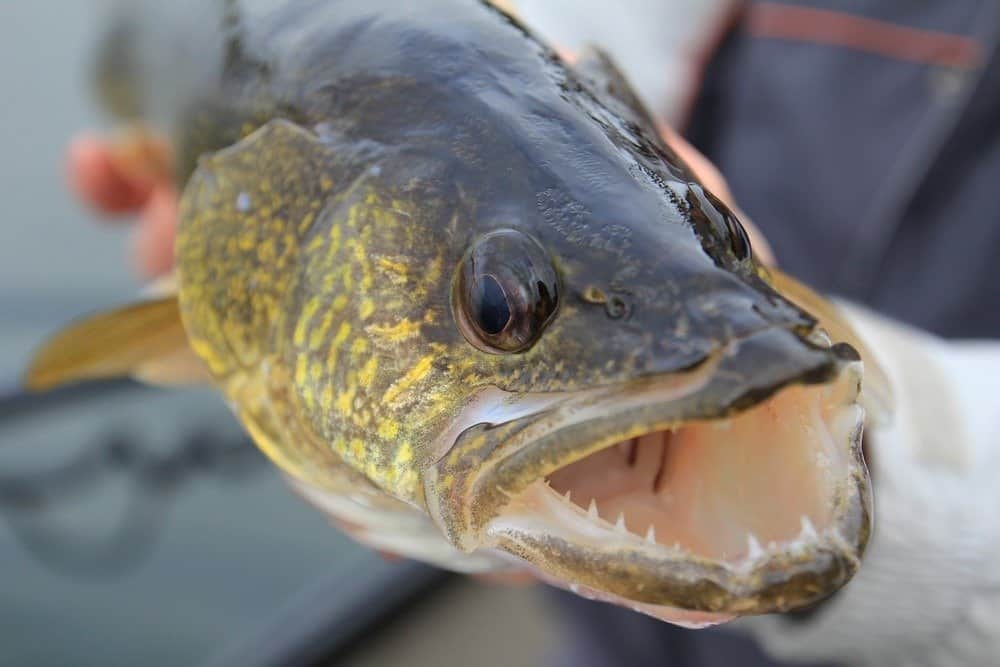 Northern Pike
For those seeking world-class northern pike, both in large and small sizes, Devils Lake is a must-visit destination in North Dakota. 
These apex predators boast speeds of 8-10 mph, enabling them to quickly cut through the waters to devour their prey, which mainly includes:
Smaller fish
Birds
Small mammals
Frogs
Crayfish
Aquatic invertebrates
If you're a beginner casting for pike, you should know what the fish looks like. Thankfully, it has distinctive physical characteristics that make it hard to miss. The species has massive, elongated bodies, large bright-yellow eyes, and shovel-like snouts covering its extended, razor-sharp teeth. While its back is usually green, its belly is white; and both sides are embellished with small scales.
The largest northern pike ever caught in Devils Lake was a 51.5-inch trophy fly angler Nathan LaFleur caught in 2015 alongside his father, Boyd LaFleur, and brother Blake. The specimen exceeded the state record – 48 inches and 37.5 pounds – and the fishermen released it back into the body of water.
Yellow Perch
Devils Lake is also a fantastic spot for trophy-yellow perch anglers. It is North Dakota's leading perch fishery, producing specimens weighing up to 2 pounds! The interesting panfish species are characterized by yellow to gold-colored torpedo-shaped bodies with 6-8 olive-green stripes running along their sides. Contrarily, the young are usually whitish.
The largest yellow perch ever caught in Devils Lake was a 15-inch long specimen weighing 2 pounds, 15 ounces; Kyle Smith of Carrington found it in March 1982. The fish species' lean meat has a mild, sweet flavor and conveniently firm, flaky texture, making it easy to bite into. Its distinct taste makes cooking it a breeze, even with minimal seasoning.
Muskie
Devils Lake has a healthy population of muskies, popularly known as muskellunge or lunge. The fish species is the most prominent representative of the pike family, often reaching lengths of over 50 inches. It boasts a long, torpedo-shaped body whose color ranges between dark gray and olive, with dark markings gracing its sides. The fish's mouth is large enough to accommodate its 500-700 long, needle-like teeth.
We recommend heavy-action rods between 7-9 inches best for catching muskies in Devils Lake. Boost your chances of success by pairing them with convenient lures and bait. Most anglers use bucktails because they're strong enough to make long casts, even in windy environments.
But do muskies put up a good fight? They're predatory creatures that pack a lot of power, so the answer to that question is a resounding yes! Nevertheless, they tire quickly. Hence, when they bite unintentionally, they'll struggle to free themselves for about 20 seconds, and then you'll win.
White Bass
Many anglers can attest that white bass fishing experiences in Devils Lake are incredible. First, you can fish for these species at any time of the year as they're always abundant. Typically, they come with a silvery-white to pale green shading. While their backs are black or dark gray, their bellies and sides are white, with thin, dark stripes along them.
Hunt for white bass in the open waters; the fish usually stay deep until things warm up. Although you can fish for them anytime, mid-May to June is an excellent time for anglers in Devils Lake because the species nest in the same regions. If you head to the lake during the spawning season, you can easily land a large female loaded with eggs, meaning it'll be weightier.
Notably, fishing for white bass in the winter is also rewarding. The species usually fall onto the ice, allowing you to catch them if you drop your lure or bait quickly enough. Although the fish usually struggle to escape, you can still snag up to 50 on a good day.
Rules and Regulations for Anglers
If you contemplate fishing in Devils Lake, acquaint yourself with this exciting pursuit's rules. First, have a fishing license as a resident or non-resident if you're at least 16 or above. Supposing you lack one, visit the state Game and Fish Department website to apply for one. Once you acquire the permit, remember to carry it everywhere on the lake. Also, hunting for species like paddlefish will require an additional license.
In North Dakota, fishing licenses are usually valid for a year, beginning at the start of the season, on April 1, to the end of March 31 of the following year. Thus, once that time elapses, you must get another permit before fishing again in Devils Lake. If you're a resident under 16, you don't need one to take or possess the fish species inhabiting the body of water as long as you adhere to the state limit regulations.
On the other hand, non-residents below 16 can only take and possess the state limit of fish only when accompanied by an angler with a reasonable fishing limit. Fishers with married couple licenses can lawfully have individual limits of various fish species.
More Regulation for Devils Lake Fishing Enthusiasts
A license isn't mandatory to erect an ice house, but you must display your name, phone number, or address in characters 3 inches high on its exterior.
Before leaving the water, remove all aquatic vegetation from your boat or vessel and other fishing equipment.
You must drain water from your boat or fishing vessel before leaving Devils Lake. Remember, you must do this at the access site, into the lake's water, since it's the origin.
It would be best not to move aquatic live bait or vegetation into the lake.
You can fish with boats numbered with another state's numbering system, but only for 90 days.
Properly dispose of unused bait instead of dumping it in water or the surrounding land. We recommend throwing it in the trash after putting it in a sealed container. Alternatively, take it with you back home for use the next time you visit Devils Lake for fishing.
Other Fun Things to Do in Devils Lake 
Besides fishing, North Dakota's Devils Lake offers these other fun opportunities. 
Hunting
Devils Lake provides some of the finest waterfowl hunting experiences in North Dakota. The area has a staggering number of species, including: 
You'll need a valid license to hunt around Devils Lake. Invest time in learning the rules governing this activity to avoid issues that could affect the quality of your hunting escapades. For instance, you must request the staff on site for permission to access all the lake areas. Again, you must stay over 440 yards away from buildings and avoid littering. 
Devils Lake offers public hunting zones to explore, providing ample opportunities for a thrilling hunting experience. Planning and preparing in advance is essential, considering the specific waterfowl you intend to hunt.
Wildlife Viewing 
Devils Lake hosts the White Horse Hill National Game Preserve, which welcomes wildlife lovers all week round. Expect to see a broad range of animals at this sanctuary, including the American bison, prairie dogs, elk, raccoons, skunks, gray squirrels, foxes, and weasels. If birds enthrall you, you'll be glad to see the bald eagles flying around this destination and many songbird species. 
The White Horse Hill National Game Preserve is a paradise for curious learners. Check out the visitor center on-site for various habitat and wildlife displays. Head to the classrooms where different conservation sessions are held to enlighten guests about protecting some of North Dakota's most treasured species. In addition, there's an outdoor amphitheater that offers comprehensive historical, cultural, and environmental programs. 
If you're a hiking enthusiast, a great time awaits you in the White Horse Hill National Game Preserve. The trails on-site have interpretive stops, so getting lost should be the least of your worries, especially if you're trekking alone. Remember to take advantage of the many photo opportunities as you explore the location—you can't miss a few Instagram-worthy shots!
Cross Country Skiing 
Should you visit Devils Lake in the winter, consider cross-country skiing. The area surrounding the lake has some excellent trails for you to explore. But if you're looking for groomed trails, visit the Grahams Islands State Park on the water body's shoreline. Veterans or military personnel should go to the Camp Grafton Training Center, whose ski trails are specifically designed for them. 
Bring your North Dakota State Park Pass for skiing at Devils Lake. But don't stress over it if you forget yours at home or haven't gotten one yet—they're available on-site at the office. 
Discover North Dakota's Devils Lake Today
Devils Lake deserves its spot in the pool of North Dakota's best fisheries. The fishing destination might not host countless types of fish, but the quality and quantity of the few species it has is impressive!
Fortunately, Devils Lake is easily accessible for all, regardless of your origin. Of course, you must first land in Devils Lake to get to the body of water; the city center is only 20 minutes away. If you're a newcomer, you should be relieved to know guide services are available to help you make your way around the massive water body (contact the North Dakota Game and Fish Department for recommendations or help).
In conclusion, Devils Lake offers exceptional fishing opportunities with its impressive size, substantial depth, and diverse aquatic offerings. Whether you're an avid angler or a recreational fisherman, this lake provides a rich and rewarding fishing experience that is sure to captivate enthusiasts of all skill levels. 
Plan your visit to Devils Lake and immerse yourself in its abundant fishing possibilities. At the same time, don't limit yourself to just fishing during your time at Devils Lake. You can do much more, including wildlife viewing, boating, hunting, skiing, and hiking. Best of luck!
The photo featured at the top of this post is © McGhiever / CC BY-SA 3.0 – License / Original
---