For a question that usually revolves around the famous smelling capabilities of dogs, how far cats can smell is often left to the wayside. The reality is, cats have a fairly keen sense of smell. Not only can they go toe-to-toe with dogs, but they can also distinguish between different scents better than dogs, even the legendary bloodhound.
Depending on the strength of the wind and the source of the smell, a cat can generally smell something up to 4 miles away. Cats have more olfactory receptors than some dogs (roughly 200 million) and they have three times the number of V1R receptors than dogs.
A V1R receptor is a specific type of receptor that (out of all the other receptor types) differentiates between a variety of scents better. In other words, a bloodhound may be able to capture a scent farther off than a cat. However, at a maximum distance of four miles, a cat can tell exactly what the smell is and the underlying smells around it.
The Function of a Cat's Sense of Smell
From the moment of birth, a cat's sense of smell is its most powerful sense, far outranging the benefits of touch, sight, sound, and taste. This is all thanks to the vomeronasal organ, otherwise known as Jacobson's organ. Surprisingly, this organ is not located in the nose. Rather, it's connected to the nose via cavities that run from the front tip of the upper mouth to the nose.
The mechanism behind a cat's sense of smell is two-fold—the Jacobson's organ and the nose itself. The nose functions exactly like a nose; there's nothing special or extraordinary going on there. However, when combined with the vomeronasal organ, it becomes a veritable powerhouse of scent distinctions and range.
in layman's terms, the nose picks up the scent and the vomeronasal organ sifts through it—all of which occurs in a microsecond. Though a cat lacks the number of receptors that a bloodhound has, it still has a lot more than humans.
Humans have roughly 5 million receptors and, generally speaking, we feel like we can smell pretty well, including differentiating between different scents. A cat has up to 200 million, far fewer than the 300 million of a bloodhound, but with the additional benefit of the vomeronasal organ, something dogs lack.
How Cats Use Their Sense of Smell
How far cats can smell is pretty impressive, however, what they do with that sensory information is even more so. The fact that it's nearly instantaneous just makes it that much more impressive. Cats use their sense of smell for food, hunting, communication, mating, danger alerts, territory disputes, and bonding.
Not only does the organ distinguish between smells, but it also identifies certain things that humans can't such as pheromones. This is another reason why cats use their sense of smell to do so much. You've probably heard of 'marking territory' when it comes to animals. This is a huge part of a cat's nature.
Cats don't rub themselves against your leg purely out of affection, though that may be a small part of it. What they are doing is marking you—releasing their scent and passing it to your clothing. If you watch, your cat will rub itself against furniture, other objects throughout the house, and even against the wall.
It makes its surrounding environment more familiar, safe, and comfortable by layering everything in its own, distinctive smell. Two cats will do the same thing, rubbing against the same objects, and merging their scents together to make them more familiar with the environment and each other.
If a cat urinates inside or starts shredding furniture with their claws, there's a strong chance that it's doing it because its previous efforts to 'scent' the house is not very effective (excessive cleaning may cause this). So, the cat will crank things up a notch.
How Far Cats Can Smell Versus Dogs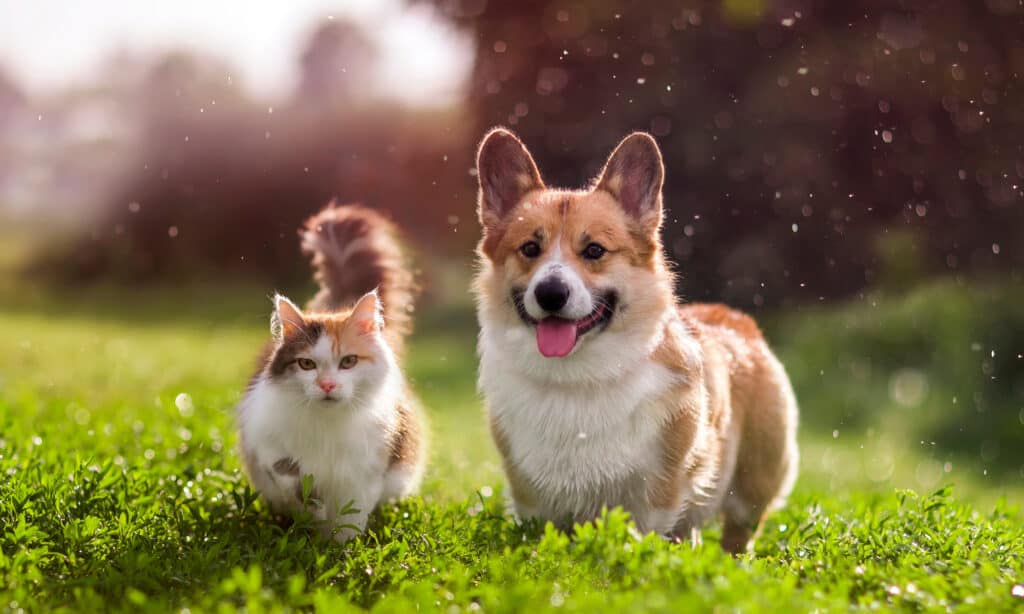 We've determined that a bloodhound may smell farther than a cat (bloodhounds are known for tracking smells well over a hundred miles), though it can't distinguish the individual smells as quickly and efficiently as a cat. But what about other dogs? We already know that dogs are incredibly efficient smelling-machines.
Dogs have anywhere between 100 million and 300 million olfactory receptors, so whether or not a cat has a more powerful sense of smell depends on the dog. Most of the dogs that have flat, square faces, such as bulldogs, boxers, pugs, Boston terriers, and Pekingese, have the lowest sense of smell.
The typical alley cat probably has a better sense of smell than any of those dogs. How far cats can smell compared to bloodhounds, beagles, retrievers, and coon hounds is a lot lower. However, as mentioned above, though some of those dogs have a higher distance range, the cat is better able to distinguish, even among similar scents.
Dogs have probably had a leg up when it comes to perceptions of their sense of smell because of their historic ability to work. Whether it's a hunting dog, a sheepdog, or a retriever dog, people have always known that a dog's sense of smell makes them an incredibly useful companion when it comes to survival and companionship.
No matter how far cats can smell, they will never be known for retrieving ducks, treeing a raccoon, tracking a criminal, aggressively defending their humans, sniffing out drugs, or flushing a deer from cover.
Final Thoughts on How Far Cats Can Smell
How far cats can smell turns out to be very comparable to dogs and, in some ways, even better than dogs. Cats have a very powerful sense of smell, especially with the combination of their nose and the vomeronasal organ, which helps them distinguish between the various scents they take in.
Cats are not known for their sense of smell but never underestimate their capacity for doing so. They use their smell, in some form or manner, for just about everything they do, including hanging out with you!
The photo featured at the top of this post is © SakSa/Shutterstock.com
---