The Loveland Pass is a must-visit destination for adventure lovers in the Rocky Mountains of Colorado. The first thing to note is that the pass is one of the highest in the US, at 11,990 feet above sea level. The second is that it sits right on the Continental Divide. The divide is the line that separates the Pacific and Atlantic Ocean watersheds.
Covering approximately 20 miles, Loveland Pass attracts thousands of visitors every year. There are tons of activities, including hiking, snowboarding, skiing, and more. Let's uncover more details about Loveland Pass.  
History of Loveland Pass
Loveland Pass got its name from William A. H Loveland, who was, in the 19th century, the Colorado Central Railroad president and resident of Golden, Colorado. 
The exact location of the pass is on the Continental Divide, west of Denver, in the Front Range on Highway 6. Loveland Pass opened in 1910 and was the primary way to get through the Continental Divide. This was an important passage for the Ute and Arapaho Native Americans, who would use it for migratory purposes and habitation in summer.
At the time, the primary mode of transportation was horses. Later on, early miners, settlers, and explorers used the pass to venture into the rocky mountain.
During World War 2, Loveland Pass played a significant role as the training ground for the specialized 10th Mountain Division. The rugged terrain and high altitude provided an ideal environment for preparing the division for combat in mountainous regions.
It wasn't until 1929 that the first automobile used Loveland Pass. In 1954, the pass officially became an automobile highway with its paving. The opening of the Eisenhower tunnel in 1973 provided an alternative route via Interstate 70.
Loveland Pass is still in use today and is open all year round. The pass can get quite busy as it caters to larger trucks that cannot use the Eisenhower tunnel. These are trucks over 13 feet, 11 inches high, or those carrying hazardous material. Cyclists and pedestrians are also not allowed to use the tunnel.  
At this point, you may be right in wondering if there's more to Loveland Pass. Other than providing a way over the Continental Divide, the pass attracts adventure lovers in droves for one reason.
This scenic mountain Colorado region has tons to offer in things to do. Consequently, hikers, skiers, snowboarders, and those who want to commune with nature converge at the scenic Loveland Pass to sate their thirst for adventure and relaxation.
Getting to Loveland Pass
County: Clear Creek
Location: Slightly over an hour from Denver in north-central Colorado in the Arapaho National Forest
Elevation: 11,990 feet above sea level
Gain- 3,197 feet
Accessibility – Via i70
GPS Coordinates – 39.663589, -105.878858
Road stretch – 20 miles
If coming in from Denver:
Take i70 westbound
Exit at 216
Drive on till you get to US 6 on Loveland Pass Road
Continue for about 4 miles to the Continental Divide
If coming from Vail or Colorado, which is from the west
Exit 205 at i70
Stay on the right so that you can hop onto US 6
Drive on for about 16 miles to get to the destination.
So How Is It Driving Through Loveland Pass?
Some may describe the drive up the road as treacherous, especially in winter. The drop-offs are steep, and the lack of guardrails in some places will test any driver's mettle. Furthermore, the road can be pretty slippery in winter. So, please pay attention to the weather as it'll directly impact the road conditions. In extreme weather, road closures may require all vehicles to use the Eisenhower tunnel.
Loveland Pass has, over the years, been associated with some unfortunate events. Frequent vehicle accidents are not uncommon, thus the need to reiterate the point of extreme care when driving on the pass. A 2013 avalanche killed five snowboarders. There was also the 1970 plane crash incident that killed 31 people. Only 9 Wichita State University team members onboard the aircraft survived the tragic incident.
It'll be a relief to know that the whole road, which goes by the name US Highway 6 or Loveland Pass Road, is paved. But nonetheless, it is a challenging road to navigate. Indeed, it all depends on your skill level and height tolerance. If coming in from the North on exit 216 off i-70, some road sections are pretty steep with the twisting switchbacks.
Sometimes the gradient hits a maximum of 11% on some ramps. That can make it quite scary for someone new to the area. The southern half is less frightening, although it has its share of twists and turns.
If you would rather handle heights better, you'd rather approach Loveland Pass from Keystone and drive north. That saves you from the horror of driving along the cliff edge.
When you reach an elevation of about 11,000 feet, it places you above the treeline. Be careful; the alpine conditions can make the roads quite dangerous due to high winds and heavy snow.
You should only use the pass during winter if you're confident about your driving skills. Additionally, please ensure you have tire chains and use an AWD car if you plan to travel to Loveland Pass in winter.
Please stay keen and keep your eyes on the road at all times. The scenery can be so breathtaking that you may, for a life-changing second, forget that you are driving. A good idea is to always give the Loveland Pass drive plenty of time. There are so many places to stop and take pictures or enjoy the breathtaking beauty of nature.
Things to Do On Your Visit to Loveland Pass
Why is Loveland Pass such a magnet to so many people? Well, the area has tons of activities for adventure lovers.
Skiing
The snow cover in winter makes it ideal for snowboarding and backcountry skiing. Keystone and Loveland Ski areas have some of the best trails. Many skiers ride to the top, run laps, and hitch rides back up. The ski season is open from late November to early April.
Do pay attention to the avalanche risk notifications, though. You would want to avoid getting caught up in one of those. Ignoring such warnings could result in serious injuries or even death.
Hiking
Several trails are available for those who wish to explore scenic landscapes. You'll fall in love with the breathtaking scenery, spanning miles from the top of the pass.
Understand your fitness level before attempting any of the trails. For instance, the Loveland Pass Lake Hike trail is easy due to a negligible elevation gain. Covering a mere 0.8 miles, it's excellent for a stroll. Along the way are three Lakes, including Pass and Kaz Lake. 
The best time to take on the Loveland Pass Lake Hike trail is mid-July, when the full splendor of summer is on display. In winter, the lack of maintenance of the parking lot and trailhead makes it challenging to access.
If you're a moderate hiker, head over to West Ridge Trail. It covers 2.8 miles at an elevation of 639 feet. However, the height typically starts at 12,000 feet above sea level. Some people will experience altitude sickness at this altitude. Consequently, it could be challenging for anyone from a lower elevation. On average, you should cover the trail distance in about one and a half hours. If bringing your dog along, please always keep it on a leash.
The Sniktau Mountain trail is one of the most challenging, at an elevation of 1,587. The hike is short, at only four miles, but it will challenge you. The trail takes about two hours to cover, and you get to witness stunning scenery at the top. Pack sunscreen and dress warmly because it gets windy at the top. The trail is also quite popular and gets full fast, so come early.
Beginners can try the Grizzly and Cupid peak hikes, which are short but steep. Avoid them in winter, though, because they are in avalanche territories.
Biking
If you feel like you need to go hiking, bring along your mountain bike. There are plenty of bike trails at the top to try. Alternatively, think how exciting it would be to cover the 20-mile Highway 16 or ride to the mountain top and cycle down!
Picnics
Take a moment to relax and enjoy a packed meal at one of the designated Loveland Pass eating areas. The places can get quite crowded, so make sure to reach them early. Also, remember to use sunscreen and bug spray to keep the pesky insects away.
Best Time to Visit Loveland Pass
Summer – June to August
Loveland Pass is open all year round, giving you plenty of leeway for when you can visit. However, if you want to catch the breathtaking scenery, plan for June and July. The explosion of wildflowers in bloom and the green of the alpine meadows against a backdrop of snow-capped peaks is simply breathtaking.
Keep an eye out for the monsoon climate; in other words, watch the weather updates. Falling from July to Mid-August, Loveland Pass experiences thunderstorms in the afternoons. The lightning and loud thunderstorms can be nerve-wracking for the uninitiated, especially when driving.
The road gets very busy on midsummer mornings and weekend afternoons. You could spend hours stuck in traffic. Eisenhower tunnel closures necessitating the re-routing of vehicles to Loveland Pass can worsen the situation.
Fall – September to October
Fall at Loveland Pass presents a stunning vista of color and vibrancy. Nature lovers interested in capturing nature at its best will love this rocky, mountainous region in the fall. Hiking and photography top the list of some of the best things to do.
Winter – November to March
Winter activities like skiing and hiking make Loveland Pass a heaven-on-earth for snow lovers. Falling from November to March, the winter views are gorgeous, with miles and miles of snowy splendor.
Ensure you have tire chains and are alert on your ascent up the Pass. Please note that chain restrictions are common in winter months. Consequently, you may face a fine if you ignore the requirement. Snowshoes are a must if you're planning on a hike. Also, stay alert to notifications on temporary road closures due to storms or avalanche threats.
Spring – April to May
Spring at Loveland Pass may not be the best time to visit. The melting snow makes the place muddy, making it hard to enjoy a hike or any snow sport.
Wildlife at Loveland Pass
Many animals call Loveland Pass home. Please maintain your distance from the wildlife and respect the space as their natural habitat. No matter how cute you think they are, avoid feeding, petting, or forcing the animals into your pictures. So what wildlife can you expect to see?
Mountain Goats
It's not uncommon to spot the sure-footed mountain goats at Loveland Pass. These animals live on cliffs and rocky slopes. Seeing the goats' agility in navigating the landscapes provides an unrivaled thrill for visitors.
Bighorn Sheep
The bighorn sheep are also quite common in Loveland Pass. Like the mountain goats, these animals inhabit rocky and alpine habitats near the Pass.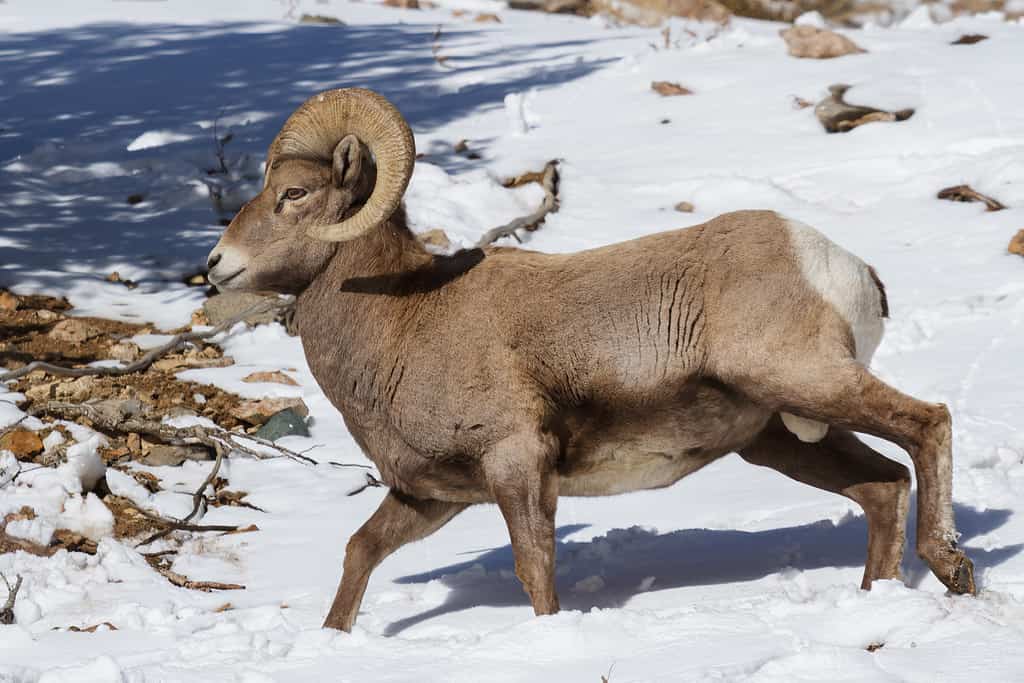 Marmots
You may hear the high-pitched whistling call of the marmot before you see one. The small yet quite stocky rodents call Loveland Pass home and love to sun themselves on the rocks. 
Additional wildlife includes the following:
Elks
Pikas
Coyotes
Foxes
Cougars or mountain lions
Lynx
Bobcats
Chipmunks
Squirrels
Moose, etc.
Birdlife
Loveland Pass is one of the best places to spot the white-tailed ptarmigan, mainly in winter. You'll need a keen eye as the birds change their plumage to blend into the snow in winter. In summer, the birds are much harder to find.
Similarly, many other bird species exist, including horned larks, American pipits, and white-crowned sparrows. Notable birds of prey include golden eagles, prairie falcons, and red-tailed hawks. 
Plant life at Loveland Pass
Wildflowers are plentiful in Loveland Pass. They are in full bloom in summer and introduce so much color and vibrancy. But during the last half of August, they tend to fade away. Some of the common species include:
Alpine Yarrow
Alpine Thistle
Colorado blue Columbine
White Marsh Marigold
Nodding sunflower
Giant red paintbrush
Elephant head 
American Bistort, etc.
Enjoy Nature's Splendor at Loveland Pass
For outdoor lovers, Loveland Pass is worthy of a visit. Besides the sheer beauty of the surrounding landscape are the tons of activities within. You can hike, bike, ski, or simply picnic while enjoying nature. There's plenty of inexpensive accommodation in nearby towns like Georgetown, Silver Plume, and Keystone.
As we stated, driving on the pass can be pretty tricky. Give yourself plenty of time and keep up with weather information. Road closures and avalanche notifications are expected, depending on the season, and it helps to stay in the loop. Also, keep your eyes open for wildlife and always maintain a safe and respectful distance.
Finally, Loveland Pass has a rich history, ranging from its namesake to its crucial role in World War II training. Be sure to arm yourself with all of the necessary knowledge and suggestions before starting on a vacation to this incredible place. Explore the spectacular beauty and historical significance of Loveland Pass to make your visit one to remember.
The photo featured at the top of this post is © Nicholas Courtney/Shutterstock.com
---