Do you fancy a dose of vitamin D? Has it been ages since you last saw the sun? Whether you reside in a city with a colder climate or simply can't get enough sun, you might like to consider moving to or visiting a sunny place for a short vacation. To choose what city you fancy, you should first understand which states get the most sunlight in the US. While Florida is dubbed the "Sunniest State," it doesn't host the sunniest city precisely. So, which are the sunniest cities in the United States? Below, we will discover the 10 sunniest cities in the United States and how many sunny days each city gets annually. Spoiler alert: most of them get over 280 sunny days a year!
The 10 Sunniest Cities In The United States
10. Redding, California – 249 sunny days per year
The tenth on this list is the city of Redding in California, receiving an average of 249 sunny days annually. Redding is the county seat of Shasta County, located along the Sacramento River. The city has a population of 95,542 people, according to the census of 2022. Furthermore, it boasts a Mediterranean climate, with hot, dry summers and cold, rainy winters. Despite its location just north of the 40th Parallel North, Redding is notorious for its scorching summer temperatures. The average daily highest temperature hovers around 100 degrees Fahrenheit (37.8 degrees Celsius) in July.
On July 20, 1988, at the adjacent Redding Municipal Airport, the highest recorded temperature in Redding reached a whopping 118°F (48°C). Redding serves as the regional hub for education, shopping, employment possibilities, corporate and private business development, professional services, medical facilities, and government as the biggest California city north of Sacramento. The sun shines 88 percent in Redding, making it a great place to travel.
9. Reno, Nevada – 252 sunny days per year
Reno is renowned as the "Biggest Little City in the World," and it is among the sunniest cities in the United States, with 252 days of sunlight per year. This city in Nevada is also a famous tourist destination because of its proximity to Lake Tahoe. For those looking to enjoy outdoor activities in and around Lake Tahoe, it's generally the most cost-effective alternative. This could imply hiking, boating, and sunbathing in the summer, while it could mean skiing in the winter. Reno boasts its own casino culture despite its proximity to Las Vegas, the country's presumed gambling hub.
8. Pueblo, Colorado – 259 sunny days per year
Pueblo may be smaller than other cities on this list, but it gets a fair share of sunshine. The average number of sunshine days in the Colorado town is 259 per year. The City of Pueblo is a home rule municipality in Pueblo County, Colorado, and it is the county seat and the most populated metropolis in the county. The climate of Pueblo is steppe, with four different seasons. Summers are hot and dry, with highs of 90°F (32°C) or higher on 66.7 days per year on average and 100°F (38°C) or higher on 10.2 days. Sunshine is plentiful all year, with about 3470 hours, or 78 percent of the total achievable.
7. Sacramento, California – 269 sunny days per year
California's sunniest city isn't even in the state's southern reaches. Sacramento, the state capital, has 269 sunny days per year. It may not be at the top of most California itineraries, but its history and sunny location are incentive enough to visit it. Sacramento is the largest city in Sacramento County and the capital of California. The city has a subtropical climate with sweltering, dry summers and pleasant to chilly winters with sporadic rainfall. Sacramento is renowned as the "Farm-to-Fork" Capital of the United States because it ships food all over the country and has 40 local farmers' markets packed with fresh vegetables. The city is known for various things, including wonderful meals and fresh produce grown locally.
6. Fresno, California – 271 sunny days per year
Another Californian city makes this list, getting an annual average sunny day of 271 days per year. Summers in Fresno are hot, dry, and clear, while winters are chilly, damp, and partially cloudy. Fresno is a large city in California's San Joaquin Valley. It has a population of 542,107 people and encompasses 112 square miles (290 km2), making it California's fifth-most populated city, the state's most populated inland city, and the nation's 34th-most populous city. If visitors have time to spare, there is much to keep them occupied in this metropolis.
5. Tucson, Arizona – 286 sunny days per year
Lying just two hours away from Phoenix, Arizona, the city of Tucson ranks as one of the country's sunniest cities receiving an annual average of 286 sunny days every year. Tucson is a city in Pima County, Arizona, and is home to the University of Arizona. With a population of 542,629 people according to the 2020 United States Census, it is Arizona's second-largest city. Tucson's climate is hot and dry, with two distinct seasons: hot summer and a mild winter. During certain times of the year in Tucson, the sun is powerful, and individuals who spend time outside require protection. According to recent studies, the rate of skin cancer in Arizona is at least three times that of more northern states. Hikers, mountain bikers, and explorers who explore open desert lands, gorges, and other exposed areas are also at risk of heatstroke.
4. Las Vegas, Nevada – 294 sunny days per year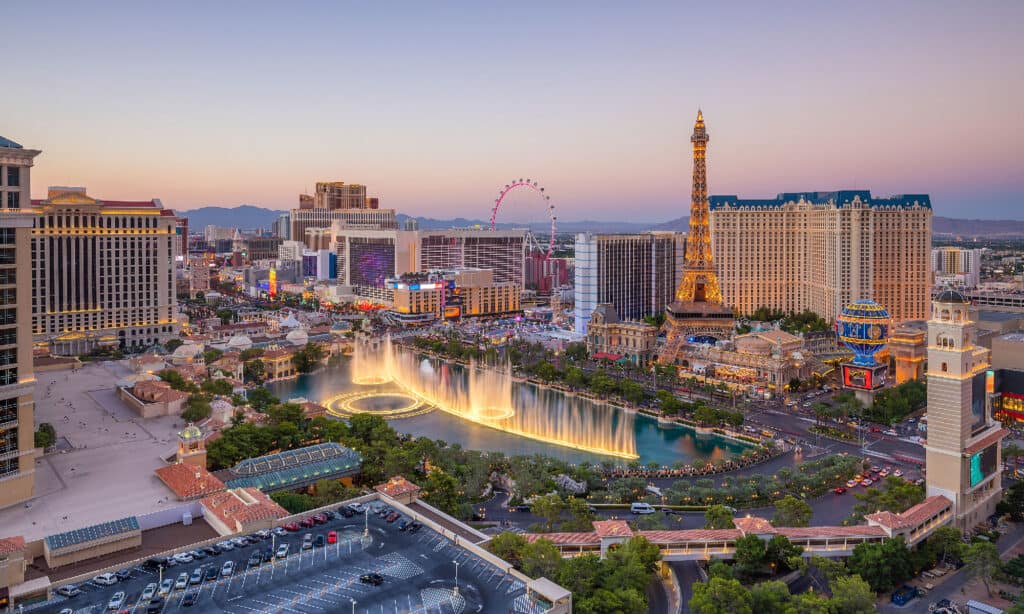 With 294 sunny days per year, Sin City might also be Sun City since Las Vegas ranks fourth among the sunniest cities in the United States. This Nevada city is underappreciated for the diverse entertainment options once you get off the Las Vegas Strip. It is known for its nightlife, unique buffets at themed hotels, live entertainment, and casino culture. But apart from being a sunny city, Las Vegas is also an arid one.
According to data collected since 1938, Las Vegas receives slightly less than 4.2 inches of rain per year on average. Summer temperatures in Las Vegas average 102 degrees Fahrenheit and regularly exceed 110 degrees Fahrenheit. For years, Las Vegas has struggled with water scarcity, and climate change is expected to compound the situation in the coming years. As a result, the city has banned non-functional grass since 2021 to lessen grass from competing with the city's water source.
3. El Paso, Texas – 297 sunny days per year
Surprisingly, El Paso is the only Texas city to make it to this list. El Paso has a lot of sunshine, with an average of 297 sunny days per year. The city also has a lot of Mexican influence, from the food to the cultural landmarks, due to its proximity to the Mexican border, which is less than 10 miles away. El Paso has a halfway climate between cold and hot deserts, with scorching summers and little humidity and chilly to mild dry winters. According to the National Weather Service, the city receives 83 percent of its daylight hours, earning the nickname "The Sun City."
2. Phoenix, Arizona – 299 sunny days per year
As the sunniest state in the country, it is not surprising that the two sunniest cities in the US are found in Arizona. With 300 sunny days annually, Phoenix is ranked second on this list. With 1,608,139 residents as of 2020, Phoenix is the most populated city in the American state of Arizona. Phoenix experiences a hot desert environment with long, scorching summers and mild winters, experiencing 3,872 hours every year. The city is located in one of the world's sunniest locations, with sun exposure similar to the Sahara. Due to its enormous area and varying elevation, the climate of Arizona, which is situated in the southwest, is not homogeneous and varies significantly within the state. The highest temperature ever recorded in Phoenix was 122 degrees on June 26, 1990.
1. Yuma, Arizona – 308 sunny days per year
Yuma, Arizona, is considered the sunniest city in the US, with 320 sunny days on average per year, but even more impressive is that, according to the World Meteorological Organization, it is also the world's sunniest place! In the winter, it receives 11 hours of sunlight and 13 hours in the summer. Yuma has 4,015 hours of daylight every year, to put it another way. It gets about 3 inches of rainfall annually, making rain on any given day extremely unlikely. The city receives 31.6 days of rainfall every year, accumulating 2.8 inches of precipitation. Yuma receives the greatest documented mean sunshine of anywhere on Earth, and the sun is said to shine on the city for about 90% of the daylight hours.
Summary Of The 10 Sunniest Cities In The US
| Rank | City | Average Sunshine |
| --- | --- | --- |
| 10 | Redding, California | 249 sunny days per year |
| 9 | Reno, Nevada | 252 sunny days per year |
| 8 | Pueblo, Colorado | 259 sunny days per year |
| 7 | Sacramento, California | 269 sunny days per year |
| 6 | Fresno, California | 271 sunny days per year |
| 5 | Tucson, Arizona | 286 sunny days per year |
| 4 | Las Vegas, Nevada | 294 sunny days per year |
| 3 | El Paso, Texas | 297 sunny days per year |
| 2 | Phoenix, Arizona | 299 sunny days per year |
| 1 | Yuma, Arizona | 308 sunny days per year |
The photo featured at the top of this post is © iStock.com/f11photo
---