Major cities, Indian reserves, woodlands, and soaring peaks can all be found in Arizona along with the world-famous Grand Canyon National Park and Petrified Forest National Park. The state has no shoreline, although it does have several beautiful lakes. Some of Arizona's nicest lakes are located near major urban centers, making access to them fast and easy, which is a huge plus during a scorching hot summer day.
River damming, such as the mighty Colorado, which created Lake Mead, Lake Mohave, and Lake Havasu, has resulted in several of Arizona's most beautiful lakes. These lakes allow outdoor enthusiasts to boat through red rock canyons, scuba dive to depths, fish for tournament-sized bass, and more around the state. Below, we will list the 12 biggest lakes in Arizona.
The 12 Biggest Lakes in Arizona
12. Lyman Lake
The Lyman Reservoir is the region's largest lake. Anglers, campers, and water skiers go to Lyman Lake State Park, nestled in and managed by the Apache-Sitgreaves National Forest. It covers 1,400 acres (570 hectares) and reaches a maximum depth of 57 feet (17 m). With average temperatures varying from 80 to 90 degrees throughout the spring, summer, and fall, the weather here is close to perfect.
Hiking, boating, swimming, and fishing are just a few of the various recreational activities available in the park. Lyman Lake State Park encompasses the entire lake. Walleye, largemouth bass, and channel catfish are all part of the fisheries.
11. Apache Lake
Apache Lake is a reservoir along the Salt River, located 104 kilometers (65 miles) northeast of Phoenix. With 2,568 acres (1,039 hectares), Apache Lake is a well-known recreational location, with several activities available at the lake's marina. Fishing is one of the most popular activities here, with largemouth bass, channel catfish, crappie, walleye, and sunfish being caught regularly. The scenery around the lake is unarguably breathtaking. The lake, which stretches for 17 miles, provides excellent opportunities for all types of leisure.
10. Bartlett Lake
Bartlett Lake, a reservoir created by the Verde River damming, is a popular recreation location in the Tonto National Forest. It is located 48 miles (77 kilometers) from downtown Phoenix and 17 miles (27 kilometers) northeast of Carefree. The surface area of Bartlett Lake measures 2,815 acres (1,139 ha), and the maximum depth is 174 feet (53 m). Largemouth bass, smallmouth bass, channel catfish, flathead catfish, carp, crayfish, crappie, sunfish, and bullfrogs live in the lake, located at roughly 1,600 feet (490 meters) above sea level. Bartlett Lake is particularly lovely in the spring. At the same time, cacti bloom and wildflowers carpet the terrain.
9. Alamo Lake
This secluded lake, bordered by the western Arizona highlands, is regarded as one of the top bass fishing spots in the state. Alamo Lake encompasses 3,500 acres and is surrounded by the Alamo Lake State Park. It was created in 1968 for flood control concerns and is now a popular leisure destination and one of Arizona's best fishing places. Alamo Lake is home to a plethora of crappie, sunfish, largemouth bass, channel catfish, and tilapia, making it a popular destination for fishing contests. Every year, at least one of the state's fishing records is set at this lake. Alamo Lake also offers swimming, boating, biking, and picnicking.
8. Imperial Reservoir
The Imperial Reservoir is a man-made lake in Imperial County, California, and Yuma County, Arizona, created by the erection of the Imperial Diversion Dam across the Colorado River. It has an area of 6,918.95 acres (28 km2) and holds 160,000 acre-ft (200,000,000 m3) of water. The principal watershed supply systems to Imperial Reservoir are dry washes. The Bill Williams River, which originates in western Arizona, is the next significant watershed feeder upstream. The Havasu-Mojave Lakes Watershed of Lake Havasu is the primary feeder watershed for the Imperial Reservoir upstream on the Colorado River.
7. Lake Pleasant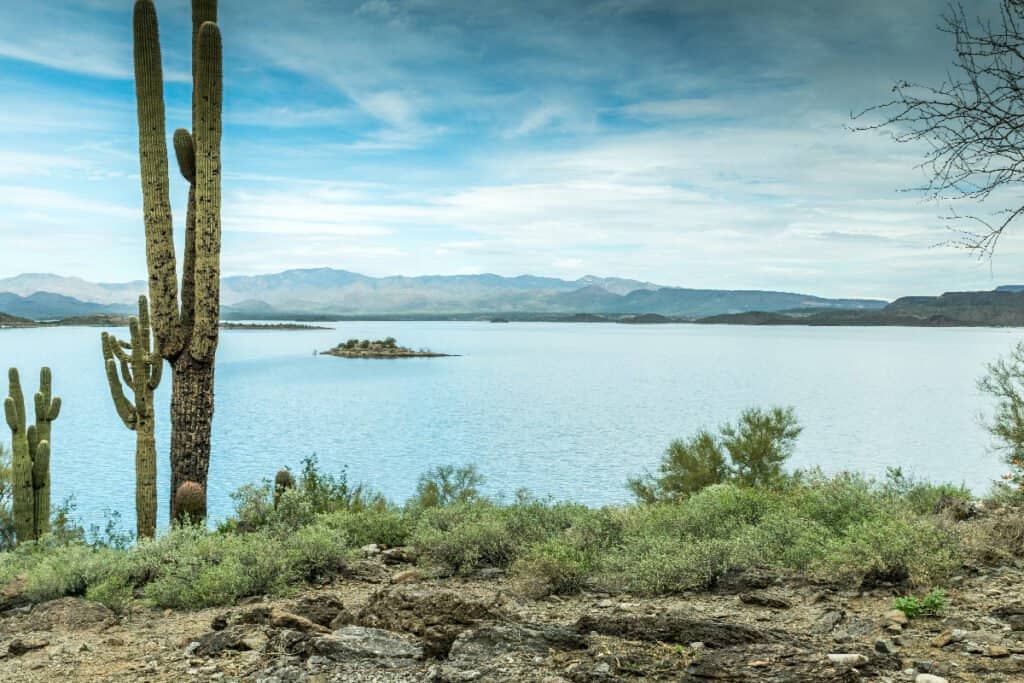 Lake Pleasant is one of the nearest lakes to Phoenix, formed by the Waddell Dam on the Agua Fria River. It spans a total surface area of 7,500 acres (30 km2) and is 170 feet (52 meters) deep. During weekends, outdoor enthusiasts travel to the lake to paddleboard, boat, kayak, sail, and waterski. The lake also prides itself as one of the best inland diving spots in the West.
Lake Pleasant Regional Park, a large recreational center noted for its fantastic boating and fishing, is a great place to go if you're searching for something different. There's a nature center there and supper cruises and scorpion hunts at night. Largemouth bass, white bass, striped bass, crappie, sunfish, and tilapia can all be caught in the lake at night.
6. Lake Havasu
With 60 miles of accessible waterways along the state's northwest border, Lake Havasu is one of Arizona's best boating lakes. It's popular with spring breakers who flock to party on the water and the pristine shorelines of Lake Havasu State Park. It covers 19,300 acres (7,800 ha) of surface area and reaches a maximum depth of 90 feet (27 m). Throughout the summer, the lake draws numerous visitors and many snowbirds in the winter. Anglers who want to catch world-record-breaking striped, largemouth, and smallmouth bass flock to the area.
5. San Carlos Lake
San Carlos Lake, with a surface size of 19,500 acres (7,900 hectares) and 158 miles of shoreline, is one of Arizona's largest lakes. Deep blue pools are framed by slender, rocky, cactus-speckled peaks — in this case, the slopes of the Gila and Mescal mountain ranges. On the picturesque reservation, the San Carlos Recreation and Wildlife Department provides opportunities for hunting, boating, camping, fishing, birdwatching, and nature research. Cast a line to see if you can beat the state record for black crappie, largemouth bass, and flathead catfish held by the lake. 
4. Theodore Roosevelt Lake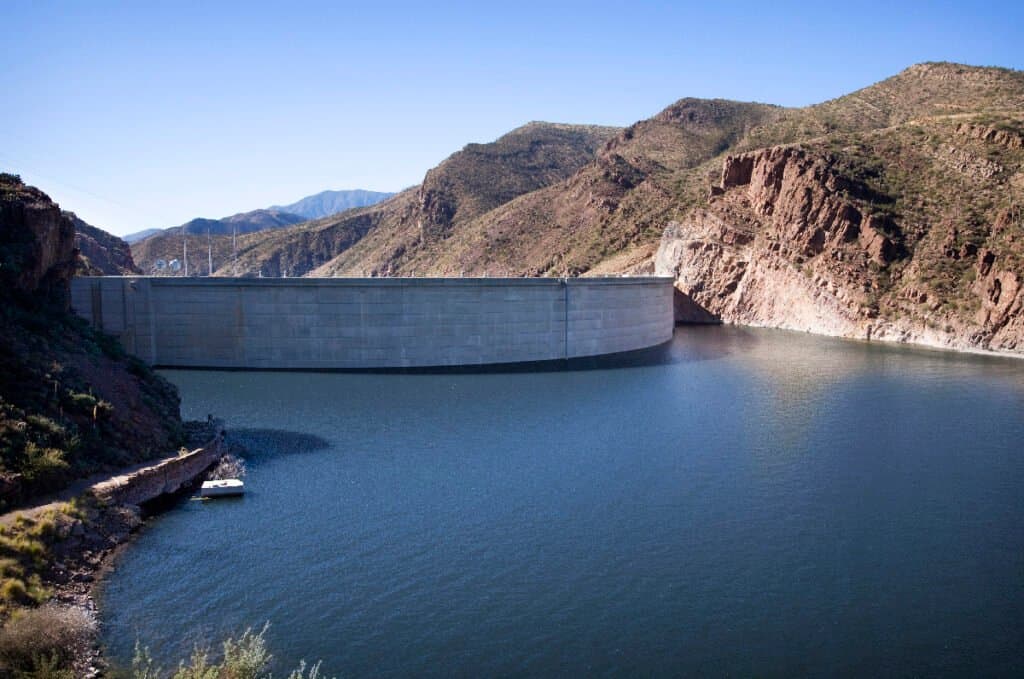 Theodore Roosevelt Lake is a major reservoir created by the Salt River Project's Theodore Roosevelt Dam on Arizona's Salt River. With a surface area of 21,493 acres (8,698 ha) and a 205-kilometer (127-mile) shoreline, it is one of the state's largest lakes and is named after the former President.
The Theodore Roosevelt Dam became the world's largest man-made lake when it was erected in 1911. It's still Central Arizona's most massive lake, attracting boaters, watersports enthusiasts, and anglers looking for smallmouth and largemouth bass, crappie, and catfish. Theodore Roosevelt Lake is remarked for its excellent fishing, as it is home to a variety of gamefish. The willow flycatcher, an endangered Neotropical migrating bird, calls the lake home.
3. Lake Mohave
Lake Mohave is a reservoir that forms the Nevada-Arizona border downstream of the Hoover Dam. The lake is less popular than Lake Mead, yet it is remarkable for its surface area of 26,500 acres (10,700 ha). It is 75 feet (23 meters) deep and has a capacity of 246.1 million cubic meters (199,500 acre-ft). The razorback sucker and the bonytail chub are two endangered native fish species found in the lake. Rainbow trout, striped bass, largemouth bass, smallmouth bass, channel catfish, crappie, common carp, and sunfish are among the main freshwater species.
The lake's upper 22 miles are carved out of small gorges, making it a fascinating place to visit and reconnect with nature. The water is chilly up here as the lowest layers of Lake Mead continue to flow over the Hoover Dam.
2. Lake Mead
With a surface area of 158,100 acres, Lake Mead is the largest lake in Nevada, the largest man-made lake in the United States by volume, and the second-largest in Arizona. On the Arizona-Nevada border, Lake Mead was formed by the world-famous Hoover Dam damming the Colorado River. The reservoir was built in 1936 to provide hydroelectric power, water, recreational possibilities, and wildlife habitat.
Surrounding Lake Mead, the shoreline is a maze of shrinking valleys that lead to breathtaking views, quiet beaches, and hidden fishing holes. Despite being one of the state's and country's most beautiful lakes, it is also one of the most snake-infested. There are four species of rattlesnakes within the recreation area, all of which are considered deadly.
1. Lake Powell
Lake Powell is the second-biggest reservoir in the United States by volume and the largest lake touching Arizona's boundaries, with a total capacity of 26,214,900 acre-feet and a total surface area of 161,390 acres (65,310 hectares). In addition to providing vast water storage for the American states of Colorado, Arizona, Utah, Wyoming, and New Mexico, Lake Powell is well-known for its magnificent scenery, bringing around two million tourists and visitors each year.
Lake Powell, like Lake Mead, was formed by a dam on the Colorado River (Glen Canyon Dam). You wouldn't need a houseboat to experience the over 2,000 miles of shoreline and 96 major canyons along the Arizona-Utah border. You may kayak, jet ski, sailboat, and waterski through the waters.
Summary of the 12 Biggest Lakes in Arizona
| Rank | Arizona Lake |
| --- | --- |
| 1 | Lake Powell |
| 2 | Lake Mead |
| 3 | Lake Mohave |
| 4 | Theodore Roosevelt Lake |
| 5 | San Carlos Lake |
| 6 | Lake Havasu |
| 7 | Lake Pleasant |
| 8 | Imperial Reservoir |
| 9 | Alamo Lake |
| 10 | Bartlett Lake |
| 11 | Apache Lake |
| 12 | Lyman Lake |
---
The Featured Image
---