The Midwest region of the USA is home to some of the most impressive zoos, which attract people from all over the country. With many featuring unique exhibits and hundreds of different species, visitors are sure to have an incredible experience. As a top tip, it is best to visit these zoos on weekdays and non-public holidays to avoid crowds! Conservation efforts are the purpose of many of these zoos, so take some time to learn about the animals, as education is a big part of conservation efforts.
Lincoln Park Zoo in Chicago, Illinois
Lincoln Park Zoo is located in Chicago, Illinois, open 365 days a year, and offers free admission. With around 1,100 animals across 200 species from around the world, this zoo keeps visitors engaged. Lincoln Park Zoo spans 49 acres for visitors to explore; your family will stay entertained for hours!
Large animals such as the African lion, American black bear, and chimpanzees are found here. Smaller animals, such as the African penguin, the black and white Colobus monkey, and the crowned lemur are also located in the zoo. Additionally, Lincoln Park Zoo is home to several critically endangered species, such as the brush-tailed Bettong.
This animal haven has a great family-fun area where children can play. It's also home to the Great Ape House, one of the best places in the world to view gorillas, chimpanzees, and other great apes! Perhaps most notably, Lincoln Park Zoo is one of America's last free-admission zoos.
Known for its great conservation efforts, this zoo does everything right! Their mission is to conserve wildlife and provide a high level of care. By improving the welfare of zoo animals, monitoring the behavior of the animals, and leading conservation research in African forests, Lincoln Park Zoo is ahead of the game!
Best Time To Visit
The best time to visit Lincoln Park Zoo is during the weekday. It's best to avoid busy weekends and stay away from public holidays. As the zoo is free, you can expect a large crowd during the holidays. Spring is generally when many animals give birth, so this is the best time to visit if you want to see adorable baby animals!
Henry Doorly Zoo in Omaha, Nebraska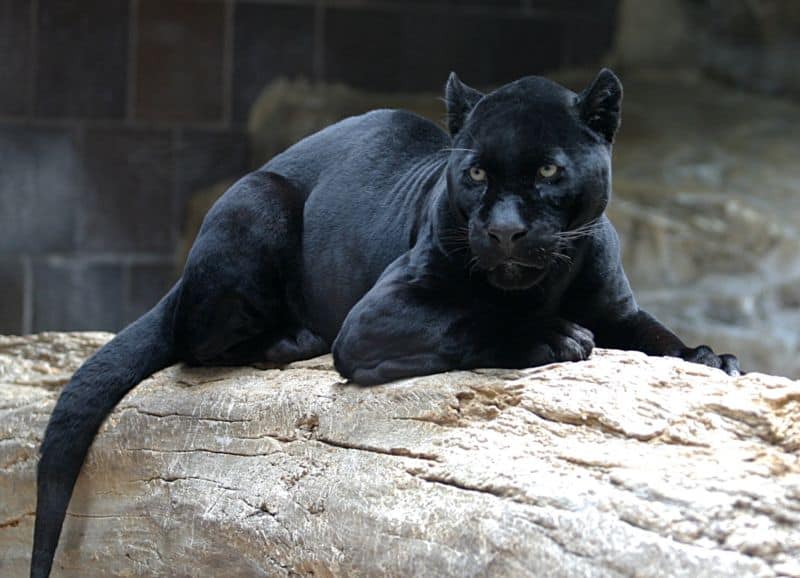 Henry Doorly Zoo is known for its state-of-the-art exhibits and is considered one of the best zoos in the country for its variety of animals and naturalistic habitats. Spread over 130 acres, the zoo houses more than 17,000 animals from 900 different species!
Some amazing stand-out exhibits at the zoo include the world's largest indoor desert, the world's largest indoor rainforest, and the world's largest indoor swamp. It's no wonder the zoo is so popular, attracting around two million visitors every year!
Besides the many animals and exhibits, they also offer a wide range of other educational opportunities, like guided tours, train rides, and a "skyfari" ride that soars across the top of the zoo. They also have several eateries and gift shops.
The exhibits at Henry Doorly Zoo are designed to provide an immersive and educational experience that simulates the natural habitats of the animals. The zoo is well known for its conservation efforts and range of breeding programs for endangered animals.
Best Time To Visit
Depending on your personal preference and what you are hoping to see and do, the overall best time to visit Henry Doorly Zoo is in the spring or fall, when the weather is calm and comfortable. Summer can be hot and humid in Omaha, and the winter can be cold and snowy. You should also consider checking their website, as they have special events throughout the year and different animal feedings at various times throughout the day.
Cleveland Metroparks Zoo in Cleveland, Ohio
Founded in 1882, Cleveland Metroparks Zoo houses over 3,000 animals from 600 different species, spread across 183 acres. The zoo is most known for its RainForest exhibit. This large indoor exhibit simulates a tropical rainforest and is home to a variety of animals, such as monkeys, parrots, and crocodiles. They also feature The African Elephant Crossing, which is a five-acre exhibit that simulates the African Savannah and houses elephants, zebras, and other African animals.
Cleveland Metroparks Zoo offers venue rentals for events. Weddings, birthday parties, or just a family picnic are all welcome in this unique setting. They have over 75 rental facilities, so you should definitely be able to find one to suit your needs!
Big on education, the zoo offers many learning pathways for all ages, from programs for teachers to virtual services for remote students. Learn about Andean bears, gorillas, Asian turtles, the illegal wildlife trade, and more.
The Cleveland Metroparks Zoo offers a membership that pays for itself in only two visits, giving you free access for a whole year, discounted admission to other zoos nationwide, 15% off at the gift shop, and even early admission to the park!
Best Time To Visit
The best time to visit The Cleveland Parks Zoo is right when they open their doors at 10 am. The animals are most active in the morning hours before the weather has a chance to get too hot. It takes between two to four hours to see everything at the zoo and at least half an hour for the RainForest experience.
Saint Louis Zoo in Saint Louis, Missouri
Open since 1904, the Saint Louis Zoo has a wide variety of animals and well-maintained habitats. It is also known for its conservation efforts. The zoo sits on 90 acres and contains over 14,000 animals from 500 species, while also supporting wildlife from around the world. Notable exhibits at this zoo include Big Cat Country (home to lions, tigers, and jaguars), the Penguin and Puffin Coast, and River's Edge (featuring elephants, giraffes, and other African animals).
The Saint Louis Zoo is dedicated to animal conservation, with extensive breeding and research programs for endangered animals. It also operates the WildCare Institute, which conducts research and conservation programs for a variety of animals around the world.
In addition to its animal exhibits, the Saint Louis Zoo also offers a wide range of educational and recreational activities, such as guided tours, a train ride, and a children's zoo. They also have a number of dining options, gift shops, a 4D theater, and a playground.
Best Time To Visit
It usually takes around four to seven hours to see the whole zoo, so plan your trip accordingly. Spring and fall are good times to visit, as it is neither too hot nor too cold and the animals are the most active. As always, check the zoo's website for feeding times and exhibits before you go to make sure you don't miss anything!
Indianapolis Zoo in Indianapolis, Indiana
The Indianapolis Zoo is open all year round. There are 64 acres to explore in indoor and outdoor habitats. It is home to nearly 1,300 animals with 230 unique species. The zoo is also home to 47,000 plant specimens.
Indianapolis Zoo houses many animals, including orangutans, Alaskan brown bears, Amur tigers, and bottlenose dolphins. You can also find many types of birds and reptiles here! All these animals are housed in naturalistic habitats to ensure they feel at home.
This zoo is known for its Orangutan Center. Some species of orangutans are critically endangered as deforestation continues in Borneo and Sumatra, and the orangutans here were rescued from unfortunate situations. The facility is equipped with 80-foot canopied towers mimicking their forest habitats. In fact, you are likely to experience orangutans swinging 80 feet over your head.
The shark touch pool is another amazing attraction where you can touch dogfish sharks! Other attractions include close-up encounters, where you can feed flamingos, budgies, and even giraffes. The zoo also features an endangered species carousel that's great for children!
The Indianapolis Zoo places a significant emphasis on its educational and conservation mission. The zoo has set up Animal Chats that help children learn about zoo animals. It also offers conservation awards for successful animal conservationists!
Best Time To Visit
The best time to visit the zoo is when the temperatures are moderate, such as in the spring. The animals are generally more active during this time. To avoid crowds, it is best to go during the week and avoid public holidays.
Brookfield Zoo, in Brookfield, Illinois
Going strong for over 80 years, the 216-acre Brookfield Zoo is home to over 2,300 animals. They have over 450 different species and interesting exhibits, such as Tropic World, featuring animals from across South America, Asia, and Africa. The zoo also features the Regenstein Wolf Woods, which shows off the Mexican gray wolf. The Pachyderm House features Pygmy hippos, black rhinos, and lowland tapirs, to name a few.
Brookfield Zoo features a number of year-round and seasonal attractions. Dolphins in Action is a favorite among visitors. Watch dolphins show off their incredible intelligence and agility. Hamill Family Wild Encounters is a hands-on experience in which visitors can touch and feed the animals – this exhibit alone is over three acres! Other attractions include The Carousel, Butterflies, and Motor Safari. Make sure you check the website for information before you arrive, as some attractions are closed for certain parts of the year.
The conservation efforts at Brookfield Zoo are led by the Chicago Zoological Society. They oversee educational programs, breeding programs, veterinary science and husbandry research, and animal enrichment investigation.
Brookfield Zoo even offers fully catered event hosting, whether it's a birthday, wedding, or corporate event, hosted in style amongst the animals. For a truly unique and unforgettable experience, consider having your next event here. You'll hear monkeys chattering nearby or even get a visit from a cheeky giraffe popping its head in!
Best Time To Visit
Winter may be the best time to visit this zoo, as you can see many of the winter animals in their prime, such as the polar bear. Visiting between January and February on Sundays, Tuesdays, Thursdays, or Saturdays means you get free admission! However, Chicago can be unbearably cold during the winter, so check the weather beforehand. There are plenty of buildings to warm up in, so come during this time to experience fewer crowds and free admission!
Summary of 6 Absolute Best Zoos in the Midwest
| Rank | Zoo | Location |
| --- | --- | --- |
| 1 | Lincoln Park Zoo | Chicago, Illinois |
| 2 | Henry Doorly Zoo | Omaha, Nebraska |
| 3 | Cleveland Metroparks Zoo | Cleveland, Ohio |
| 4 | Saint Louis Zoo | St. Louis, Missouri |
| 5 | Indianapolis Zoo | Indianapolis, Indiana |
| 6 | Brookfield Zoo | Brookfield, Illinois |
Up Next:
More from A-Z Animals
---
The Featured Image
---