↓
Continue Reading To See This Amazing Video
Alaska has the most lakes in the United States. There are more than 3,000 named lakes and it is estimated that there are more than 3 million unnamed lakes. A quick aerial view of the state and you will see how the landscape is dotted with thousands of scattered lakes. There are also some massive lakes like Lake Iliamna that covers 1,000+ square miles. But is the biggest lake also the deepest lake? Did you know three of the ten deepest lakes in the United States are in Alaska? How cold does it get in the deepest lakes in Alaska? Let's find out all about the deepest lake in Alaska!
What is the Deepest Lake in Alaska?
The deepest lake in Alaska is Lake Clark. Lake Clark is located in southern Alaska about 150 miles southwest of Anchorage. The lake itself is more than 40 miles long! The salt marsh habitat surrounding the lake is the perfect ecosystem for a wide range of wildlife including brown bears, black bears, caribou and moose. It is also home to a thriving population of sockeye salmon (or red salmon).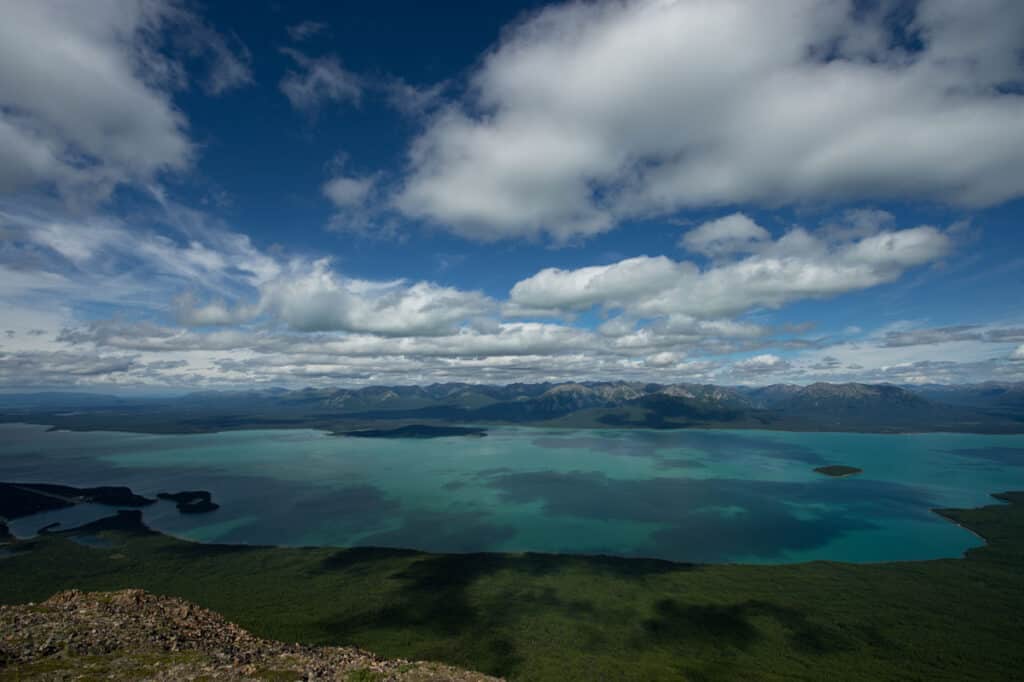 How Deep is the Deepest Lake in Alaska?
The deepest lake in Alaska is 1,056 feet deep! There are only 6 lakes in the United States that are more than 1,000 feet deep. Lake Clark is 1,056 feet but Lake Iliamna is not far behind at 988 feet deep.
How many Sockeye Salmon are in Lake Clark?
Each year an average of 372,000 sockeye return to Lake Clark to spawn. Sockeye salmon are born in freshwater where they spend a year, sometimes two and then migrate out to the ocean where they live. After a year or two, sometimes three, they swim back up the Newhalen River to return to their birthplace in Lake Clark. After spawning they complete their life cycle and die. Can you imagine thousands of red-backed salmon all swimming together in a mass migration? It happens every year.
How is the Fishing in Lake Clark?
The fishing in Lake Clark is remarkable with acres of pristine waters for a variety of fishing. You won't be able to pull up with your boat trailer and back your boat onto the boat ramp. Lake Clark is not accessible by roads; most visitors fly in although there is an access point by boat as well. If you plan for a week of fishing on Lake Clark you will be rewarded with more than just amazing fish. Some of the most visited places are Crescent Lake, Chinita Bay and Silver Salmon Creek. Besides fishing you can go kayaking, hiking and backpacking.
What are the Three Deepest Lakes in Alaska?
The three deepest lakes in Alaska are Lake Clark (1,056 feet), Lake Iliamna (988 feet) and Tustumena Lake (950 feet). All three of these lakes are in the top ten deepest lakes in the United States. Lake Iliamna is located near Lake Clark, about 20 miles south of Lake Clark. It is the biggest lake in Alaska covering 1,012 square miles and is the third largest lake entirely in the United States.
Tustumena Lake is around 100 miles east of Lake Clark on the other side of the Cook Inlet on the Kenai Penninsula. Tustumena covers 93.75 square miles and is the largest freshwater lake on the Kenai. You may be familiar with the epic fishing that occurs on the Kenai River, especially for King Salmon. Multiple state fishing records have been pulled from the Kenai River Including a 75 pound King Salmon caught by Lester Anderson back in 1985.
How does the Deepest Lake in Alaska Compare to the Deepest Lake in the US?
When you compare the deepest lake in Alaska at 1,095 feet deep to deepest lake in the US it falls short by around 850 feet. The deepest lake in the US is 1,949 feet deep. Crater Lake in Oregon is in the Cascade Mountains and sits atop an old volcano. The crater at the top of the mountain was created around 7,700 years ago when Mount Mazama erupted and left a gaping hole in the top. The crater later filled with water and the deepest spot in the lake is the bottom of that crater.
How Deep is Katmai Crater Lake in Alaska?
Katmai Crater Lake in Alaska is also formed in a collapsed volcano. In 1912 Mount Katmai erupted and left a crater in the top which has since filled in to form Katmai Crater Lake. The lake is 800 feet deep at the deepest point making it the 11th deepest lake in the United States. The Katmai cluster of volcanoes in the Katmai National Park are still active volcanoes.
Crater Lake in Oregon is not in an active volcano. It is considered an extinct volcano. However, Mount Hood, which is also in Oregon, is an active volcano that is considered dormant at this time. Kīlauea, on the Big Island of Hawaii is an active volcano that is currently erupting and spewing lava and hot ash as we speak.
Is the Deepest Lake in the World in a Volcanic Crater?
No. The deepest lake in the world is Lake Baikal in Russia and it is not a volcanic crater. Lake Baikal is around 5,300 feet deep and was formed millions of years ago…millions? Yes, it is estimated that Lake Baikal is the oldest lake on Earth being formed 25-30 million years ago. It was formed when the Earth's crust split open, similar to an earthquake, causing a long gaping hole. The lake now covers 12,248 square miles of surface area and has some of the most unique habitats including nearly 80% of the species that are only found on Lake Baikal.
Do Lake Baikal and Lake Clark Freeze Over in the Winter?
Yes, both lakes freeze over in the winter. Lake Baikal can have ice that is 6 ½ feet thick. The air temperatures can get to be as cold as 40° below zero! Lake Clark reports the same chilly temps at 40° below. Lake Clark in Alaska has a latitude a bit more north than Lake Baikal.
Are there Seals on Lake Baikal and Lake Clark?
Yes, but different kinds. Lake Baikal has the only entirely freshwater seal in the world. The Baikal seal, or nerpa, are a freshwater earless seal that are the smallest true seal. It is still a bit of a mystery how this species made it so far from the ocean to adapt to a freshwater environment.
At the Lake Clark National Park and Preserve you will find harbor seals in the bays of the Cook Inlet. Harbor Seals can sometimes be seen on the shores of the Inlet with their heads and tails up almost like a banana. These seals can get up to 285 pounds and reach 6 feet in length. There are several stocks of harbor seals that live in Alaska based on location.
Could a Harbor Seal Dive to the Bottom of the Deepest Lake in Alaska?
Harbor seals are excellent swimmers and can stay underwater for more than 20 minutes. Most of their dives are shallow and shorter closer to 4-5 minutes but they are adapted to hold their breath for deeper dives. The deepest lake in Alaska is 1,056 feet deep and harbor seals have been recorded to make dives of 1,640 feet! So technically, yes, a harbor seal could dive to the bottom of the deepest lake in Alaska. They are more likely to make deep dives in the ocean where there are more abundant food supplies. So, while they could dive to the bottom of Lake Clark…it is highly unlikely!
Up Next
More from A-Z Animals
---
The Featured Image
---
Sources

National Park Service, Available here: https://www.nps.gov/lacl/planyourvisit/things2do.htm
The Great State of Alaska, Available here: https://www.adfg.alaska.gov/index.cfm?adfg=FishingSportFishAK.TrophyFishProgram
Alaska.org, Available here: https://www.alaska.org/detail/tustumena-lake
Forbes, Available here: https://www.forbes.com/sites/startswithabang/2020/06/24/the-incredible-science-of-lake-baikal-the-worlds-largest-oldest-lake/?sh=d20014641be3
National Park Service, Available here: https://www.nps.gov/articles/lakeclark.htm