Key Points:
The largemouth bass is the official state freshwater fish of Alabama.
The largest largemouth bass was caught at Mountain View Lake, a private 19-acre body of water in Shelby County, Alabama, known for its bass, bluefish, catfish, and perch fishing.
Alabama is revered as one of the most popular spots to fish for bass in the country.
Alabama is a southern state with 1,500 miles of rivers and lakes, including the Mobile River and the Tennessee River. These waterways have determined the course of much of Alabam's history and development, as they have become valuable sources of income for shipping, fishing, aquaculture, and tourism industries. The largemouth bass is also the official state freshwater fish of Alabama. 
In 1987, on November 3rd, Thomas Burgin caught Alabama's largest largemouth bass at Mountain View Lake in Shelby County. 
How Big Was the Largest Largemouth Bass Ever Caught in Alabama?
Thomas Burgin's record-breaking bass catch was 16 lbs and 8 oz, a weight only surpassed in America by largemouth bass catches in Georgia (22 lbs, 4 oz), California (21 lbs, 12 oz), Texas (18 lbs, 2.8 oz) Mississippi (18 lbs, 2.4 oz), and Florida (17 lbs, 4 oz).
Burgin caught this largemouth bass at Mountain View Lake, a private 19-acre body of water in Shelby County, Alabama, known for its bass, bluefish, catfish, and perch fishing. Alabama is unique in that there is more freshwater biodiversity in Alabama's 77,000 miles of river than in any other state in America. As far as freshwater species are concerned, Alabama's rivers contain 60% of America's mussels, 51% of its turtles, 43% of its gill-breathing snails, and 38% of its fish.
Where Are Largemouth Bass Found?
Largemouth bass, and their diminutive counterparts, the smallmouth bass, are some of the most popular species pursued by fishermen globally. 
Initially, their natural habitat was exclusively in the waterways of the eastern United States, lower Canada, and northern Mexico. These days, they are found not just all over the United States (except Alaska) but also in countries such as Japan, China, France, and Russia. 
Largemouth bass are most often found in freshwater rivers and lakes, under docks, logs, reeds, and sheltered areas such as man-made river structures and rocky shorelines. The slower/stiller the water, the more likely you are to find largemouth bass hiding in its depths. They also tend to love clear water, but can occasionally be found in brackish water (a mix of fresh and saltwater).
Largemouth bass are easiest to find in the early hours of the morning and after/during the waning hours of dusk. During the warm hours of the day, they tend to hide from the sun and conserve energy. The younger the bass, the more likely you are to find them gathered together in schools for protection. The matured largemouth bass travel alone, and even when in close proximity to other bass they do not tend to socialize.
How Do You Catch Largemouth Bass?
Once you have scouted out the best location to fish for largemouth bass, you will need to determine your strategy for catching them. Often the best time for finding largemouth bass is in late spring or early summer, typically between the months of May and July.
For live bait, it is best to use their natural food sources — fish such as crayfish, minnows, shads, or shiners, and even worms like the night crawler. Artificial bait-like jigs, spinner bait, and crankbait can also be employed for catching largemouth bass, but nothing quite lures them in like a real fish.
If you are not an early bird up with your early worms, wait until the day has cooled off and the sunlight is beginning to wane before fishing for largemouth bass. Try shaded, calm spots in the lake or river, especially if you are looking to catch fully matured fish. The bigger the bait, the more likely you are to reel in an adult largemouth bass, as they tend to look for bigger food sources hiding near water plants and docks.
If you are fishing outside of the spawning season, largemouth bass will tend to be found in deeper waters. They are aggressive, carnivorous fish, so even when bass are not hungry they will still be attracted by live bait on a lure.
How Many Kinds of Bass Are In Alabama?
The largemouth bass is the official state freshwater fish, but Alabama is home to many different kinds of bass, including smallmouth, redeye, shoal, and spotted bass.
Smallmouth bass are found in abundance in the Tennessee River basin, a 650-mile-long river that starts in Knoxville, Tennessee, although 17% of it runs through northern Alabama. Unlike largemouth bass, smallmouth bass are usually found in colder rivers and lakes in the spring and fall seasons. They are also much more comfortable in open water, so you should look for them away from the docks and ferns where largemouth bass like to spend their time.
Redeye bass can only be found in Georgia, Tennessee, South Carolina, and Alabama. They are popular along the Mobile Basin, a 45-mile-long stretch of rivers in southern Alabama that forms where the Alabama River and the Tombigbee River meet. They are most commonly found along the Tallapoosa, Black Warrior, Cahaba, and Coosa rivers. In fact, redeye bass are also known as Micropterus coosae because they were discovered in the Coosa River!
Shoal bass can only be found where the Apalachicola River flows, in parts of Florida, Georgia, and Alabama. They tend to populate rivers with a fast flow and are not generally found in reservoirs or still water. Even though they were first discovered in 1999, shoal bass is classified as an endangered species in Alabama and cannot be kept if caught within state lines.
Spotted bass are usually discovered in the Tennessee River (with the exception of the Apalachicola River Basin) and along the occasional rivers that flow out to the Gulf of Mexico. Like largemouth bass, the spotted bass likes to hide under logs and water plants, but they mostly spawn in the spring months.
What are the Best Lakes and Rivers for Largemouth Bass Fishing in Alabama?
Alabama is revered as one of the most popular spots to fish for bass in the country. It is the founding place of B.A.S.S., an organization started in 1968 that is dedicated to cultivating the culture of the sport, and the source of multiple fisheries across the state.
So what are some of the best lakes and rivers for largemouth bass fishing in Alabama?
Lake Guntersville is one of the top locations and is commonly chosen to host fishing tournaments, including the Bassmaster Classic. In addition, some of the sports' most famous anglers prefer it as their main lake. Lake Guntersville is also the largest lake in the state of Alabama. 
Pickwick Lake, part of the Tennessee River, is a popular spot for both largemouth and smallmouth bass. It was voted the best lake for bass fishing in 2017, ranked even higher than Lake Guntersville. Spotted bass, blue catfish, big crappie, bream, giant striped bass, and sauger are other common fish found along the 50 miles of Pickwick Lake.
The Coosa River includes six lakes — Mitchell Lake, Jordan Lake, Neely Henry Lake, Lay Lake, Logan Martin Lake, and Weiss Lake — all of which make the list of the top fishing spots in Alabama. The most commonly found fish in these lakes is the spotted bass, but some are known for their stock of largemouth bass and Alabama bass and host tournaments regionally and nationally.
Largemouth Bass vs. Alligator Gar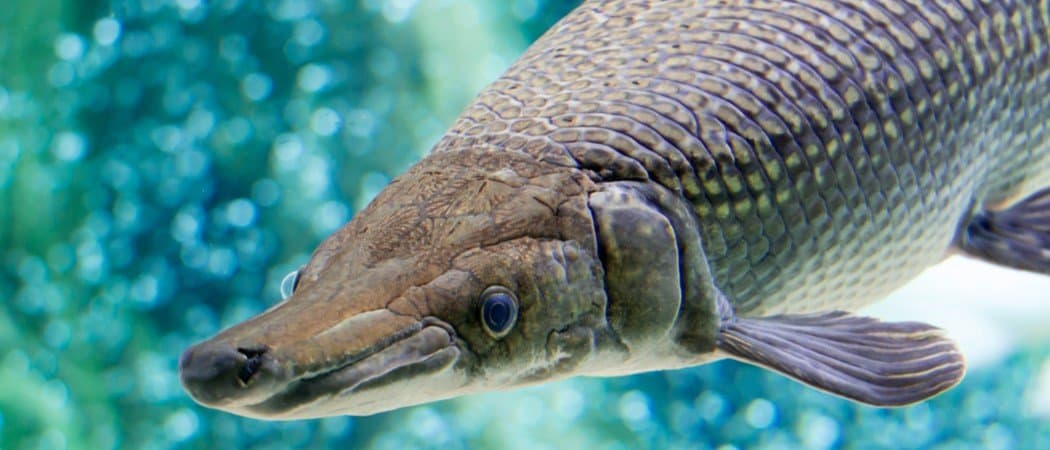 There are other record-breaking fish to be found in Alabama besides the prized largemouth bass. In fact, a new state record was just broken as of Thanksgiving of 2022. Keith Dees and his son, Huntley caught a massive alligator gar in the Mobile-Tensaw Delta, which empties into the Gulf of Mexico. This fish, which took two and a half hours to reel in, was 7 feet long and beat the previous record by 10 pounds, weighing a whopping 162 lbs!
---
The Featured Image
---
Sources

Karl's Fishing and Outdoors, Available here: https://shopkarls.com/blog/state-largemouth-bass-record-america/
Hook and Bullet, Available here: https://www.hookandbullet.com/fishing-mountain-view-lake-leeds-al/
Wikipedia, Available here: https://en.wikipedia.org/wiki/List_of_rivers_of_Alabama
Bass Online, Available here: https://bassonline.com/bait-for-largemouth-bass/
AON, Available here: https://aonmag.com/fishing/alabama-redeye-bass/
Bass Master, Available here: https://www.bassmaster.com/about-bass/
Colbert County Tourism, Available here: https://colbertcountytourism.org/index.php/pickwick-lake