Have you ever dreamed of walking through the park with a picture-perfect pup, her long, luscious locks flowing in the wind? The showstoppers on this list are ideal for those wanting an elegant-looking canine buddy. Discover the 12 most popular long-haired dog breeds and learn about their grooming requirements.
1. Lhasa Apso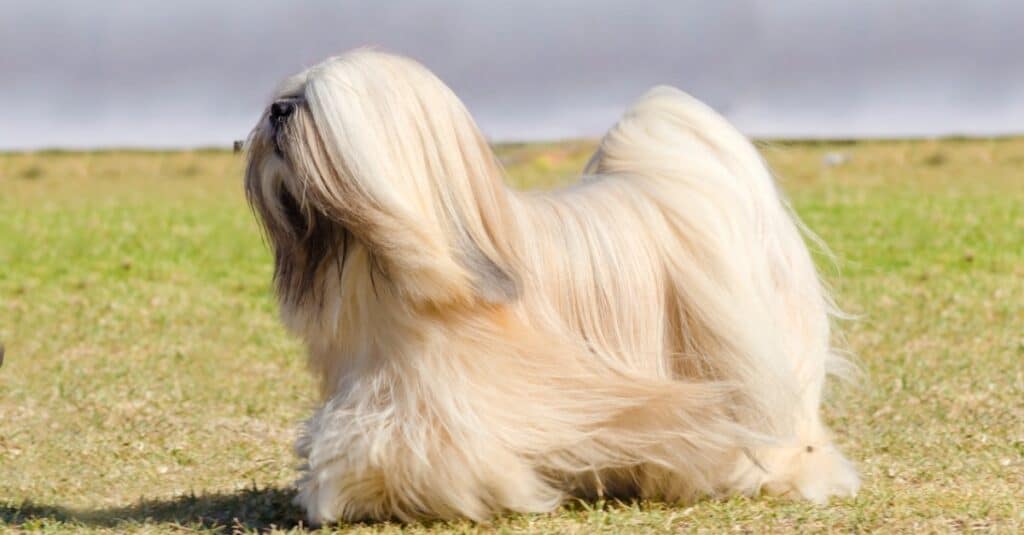 The Lhasa Apso is intelligent, funny, and confident. They are small, hardy dogs belonging to the non-sporting group. They are popular for their floor-length coat that drapes on either side of their bodies. Despite their long, silky coat, Lhasa Apsos are light shedders. However, they require moderate grooming. Additionally, these dogs have a double coat with slightly rough outer coats.
2. Afghan Hound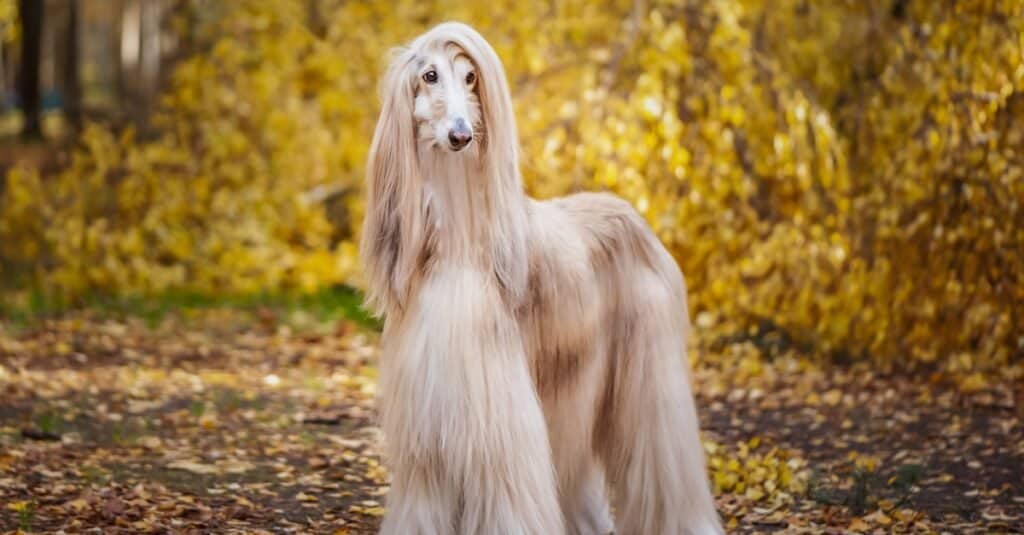 Though Afghan hounds are aloof and self-willed, they are also incredibly sweet. Despite their long, elegant, silky coats that grow to the floor, these dogs are quite athletic. While they don't shed much, they require heavy grooming, up to once a day. This breed has a single coat featuring hair similar to humans.
3. Bernese Mountain Dog
The Bernese Mountain dog is strong, patient, and loving. They are large dogs belonging to the working group, and they feature moderately long, thick hair. They also have double coats and are extremely heavy shedders. These dogs need moderate grooming about once a week. 
4. Bergamasco Sheepdog
The Bergamasco sheepdog is smart, loyal, and well-balanced. Though you won't know it by their appearance, this breed is large and muscular beneath all their hair, and they belong to the herding group. Because their hair is long and corded, Bergamasco sheepdogs have easy grooming requirements. They don't shed and are basically grooming-free, except for a one-time process of ripping their hair into mats. Additionally, they only need to be bathed a few times a year. 
5. Border Collie
The border collie is intelligent, energetic, and lovey-dovey. They are athletic, medium-sized herding dogs that need lots of playtime and mental stimulation. They have medium to long wavy hair that is double coated. And they are moderate shedders that require weekly grooming. But they may require more grooming during the shedding season.
6. Shih Tzu
The Shih Tzu is affectionate, adaptable, and eager to please. These small and charming dogs belong to the toy group and have been delighting owners for centuries. They have long, puffy double coats. Thankfully, they are very light shedders, but they do require heavy grooming, including daily brushing and monthly baths.
7. Shetland Sheepdog
The Shetland sheepdog is playful, protective, and obedient. These smart herding canines are excellent family dogs, but require lots of exercise and mental stimulation, similar to collies. This breed has a long double coat that sheds moderately. They also require moderate grooming at least once a week, brushing the coat, especially behind the ears and the elbows.
8. Bolognese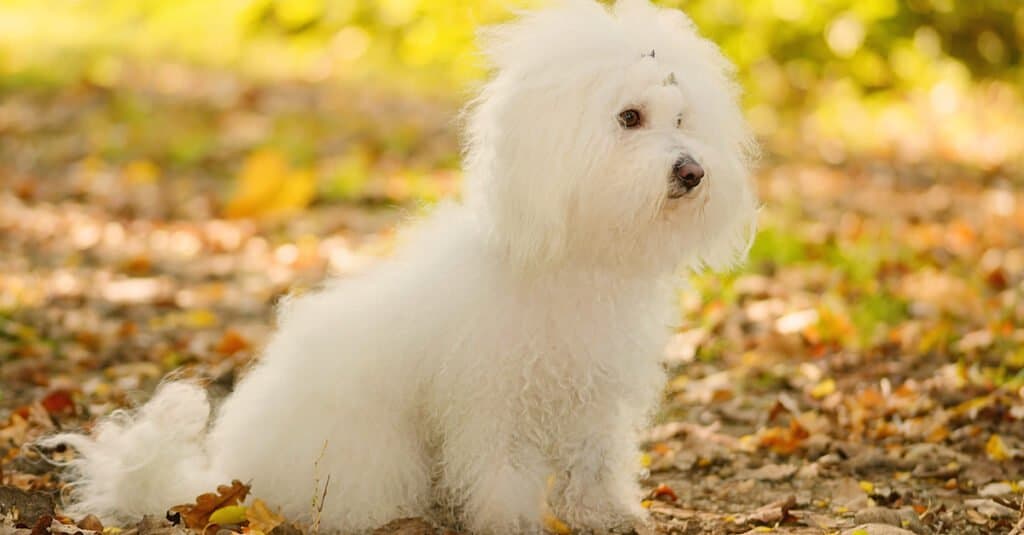 The Bolognese is friendly, easy-going, and devoted. These small, fluffy dogs are excellent companions and great for less-active families. Due to their long, wavy coats, these pups feel like cotton! Because they are light shedders, they are great for people with allergies. They require moderate grooming of their full coat, but you can keep their hair short for easier maintenance.   
9. English Setter
The English setter is relaxed, happy, and sociable. These well-mannered dogs are elegant and solid, belonging to the sporting group. They have medium to long double-coated hair with a silky texture. And they are moderate shedders that require moderate grooming, such as weekly brushing and frequent trimming.
10. German Longhaired Pointer
Though German longhaired pointers are calm and family-oriented, they are also quite active. These passionate pointers were bred for hunting for over a century, but they also make excellent companions. This breed features medium to long double-coated hair and they are moderate shedders, but they require very little grooming unless they are active hunters. However, if they are very active and moving through various terrain, they may need more regular upkeep.
11. Yorkshire Terrier
Due to the Yorkie's loving and vigilant personality, these dogs are everyone's best friend. These tiny toy dogs were once used as ratters in mines and also sat on the laps of royals. But today, they are lovable and feisty family pets. Their hair is long and silky and great for allergy sufferers as they shed very little, but they need heavy grooming to keep their human-like hair tangle-free.
12. Great Pyrenees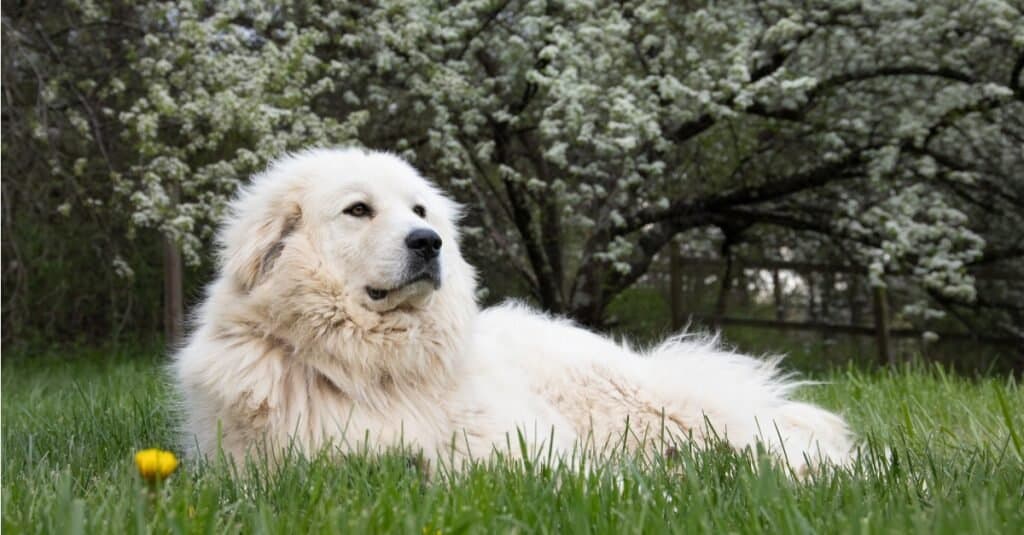 The Great Pyrenees is independent, intelligent, and protective. These large working dogs have medium to moderately long, thick coats that shed quite a bit. Despite loads of fur, they only need light to moderate grooming, consisting of weekly brushing. 
Summary of the 12 Most Popular Long-Haired Dog Breeds
| Rank | Long-Haired Dog Breeds | Grooming Level |
| --- | --- | --- |
| 1 | Lhasa Apso | Moderate |
| 2 | Afghan Hound | Heavy |
| 3 | Bernese Mountain Dog | Moderate |
| 4 | Bergamasco Sheepdog | Light |
| 5 | Border Collie | Moderate |
| 6 | Shih Tzu | Heavy |
| 7 | Shetland sheepdog | Moderate |
| 8 | Bolognese | Moderate |
| 9 | English Setter | Moderate |
| 10 | German longhaired pointer | Light |
| 11 | Yorkshire Terrier | Heavy |
| 12 | Great Pyrenees | Moderate |
Ready to discover the top 10 cutest dog breeds in the entire world?
How about the fastest dogs, the largest dogs and those that are -- quite frankly -- just the kindest dogs on the planet? Each day, AZ Animals sends out lists just like this to our thousands of email subscribers. And the best part? It's FREE. Join today by entering your email below.
---
The Featured Image
---