The Buckeye State of Ohio has long been known for its immense biodiversity, with an estimated 350 bird species, 150 fish species, and numerous mammal species living within its borders. In addition, Ohio is composed of many different types of habitats, from forests and prairies to the Great Lakes, farmland, and wetlands. With a rich cultural and natural history, Ohio's many features are represented by the state's official symbols. Let's take a closer look at the 10 official state animals of Ohio and see how each one represents the state and its rich diversity so well.  
Ohio's State Mammal: White-Tailed Deer (Odocoileus virginianus)
The white-tailed deer (Odocoileus virginianus) became the official state mammal of Ohio in 1988. There have been deer living in the state since the end of the last Ice Age. These animals have continually played an important role in Ohio's natural and cultural history. Many Native American tribes hunted deer for several purposes. They used their meat for food, their hides to make clothing, and their antlers and bones to make tools. Deer were also honored and celebrated in spiritual ceremonies dating back to 1000 BC! Artwork from the prehistoric Hopewell culture of Ohio also commonly depicted deer, as well as shaman figures who wore deer antlers. 
When European settlers began arriving in Ohio, they also found great value in the state's white-tailed deer population, and commonly used buckskins and deerskins for trading. However, as the people continued to cut down the forests of Ohio and develop the land, the deer populations diminished. By 1904 there were no longer any white-tailed deer in Ohio. For the next several decades, restocking efforts, migrating deer from other states, and hunting restrictions helped to reinstate Ohio's population. Today, there are around 600,000 white-tailed deer in Ohio, according to the Ohio Department of Natural Resources. 
Ohio's State Bird: Cardinal (Cardinalis cardinalis)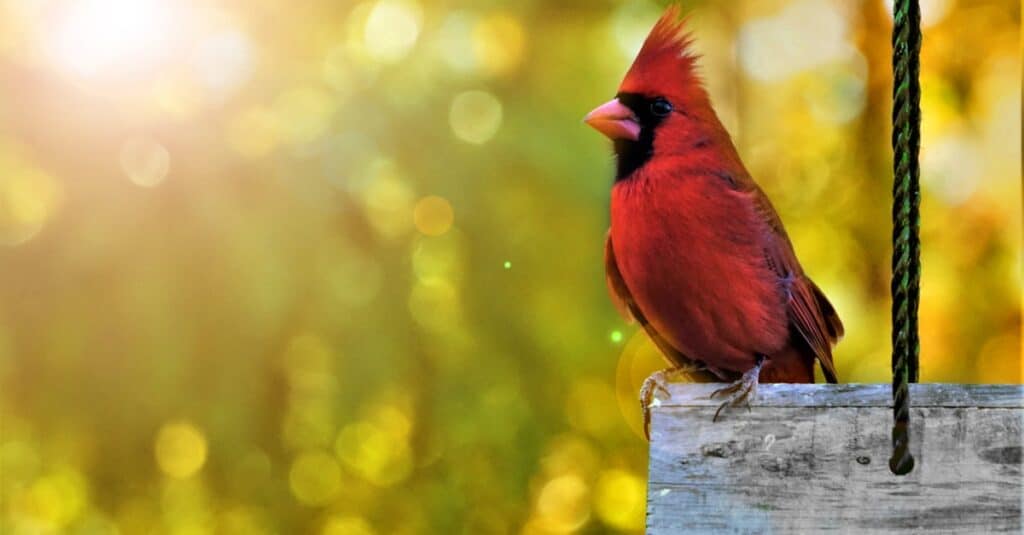 Cardinals (Cardinalis cardinalis) were not very common in Ohio when Europeans arrived in the late 1600s. Back then, nearly 95% of the state was covered in forests, which are too dense for these birds to inhabit. However, as the new European settlers began to clear away the trees and establish more open habitats, cardinals became a much more common sight. In 1933, the cardinal became the official state bird of Ohio. Today these beautiful red birds can be seen all throughout the state. 
Cardinals have a melodious and recognizable call, which can often be heard emanating from the tallest trees in their habitats. The male cardinal is an iconic and striking bird, with vibrant red plumage, black facial markings, and a bold crest. While the female cardinal has the same crest, her colors are generally more muted. A female's plumage features shades of brown-red or gray, and only her wings, tail, and crest display red coloring.
Ohio's State Reptile: Black Racer Snake (Coluber constrictor constrictor)
The Ohio state legislature declared the black racer snake (Coluber constrictor constrictor) the official state reptile in 1995. The black racer is slender with dark black coloring across its back, sides, and belly. In some instances, there may be faint white markings on the chin and throat as well. These snakes are named for their speed. They can move across the ground at around eight to 10 miles per hour. They can look frightening, but don't worry — black racers are nonvenomous. However, they can bite, so it's best to leave these snakes alone if you happen to encounter one.
Black racers live mostly in the eastern and southern regions of Ohio, on rocky ledges and in fields, pastures, and woodlands. They eat small animals like mice, frogs, insects, lizards, and even other snakes. Black racers are very beneficial to farmers in Ohio because they eat rodents and other pests that would otherwise damage crops. 
Black racer snakes in Ohio are sometimes confused with blue racer snakes (Coluber constrictor foxi). However, like their name, blue racers have blueish, grayish, or greenish hues. They are more commonly found in the northern and western regions of Ohio.
Ohio's State Amphibian: Spotted Salamander (Ambystoma maculatum)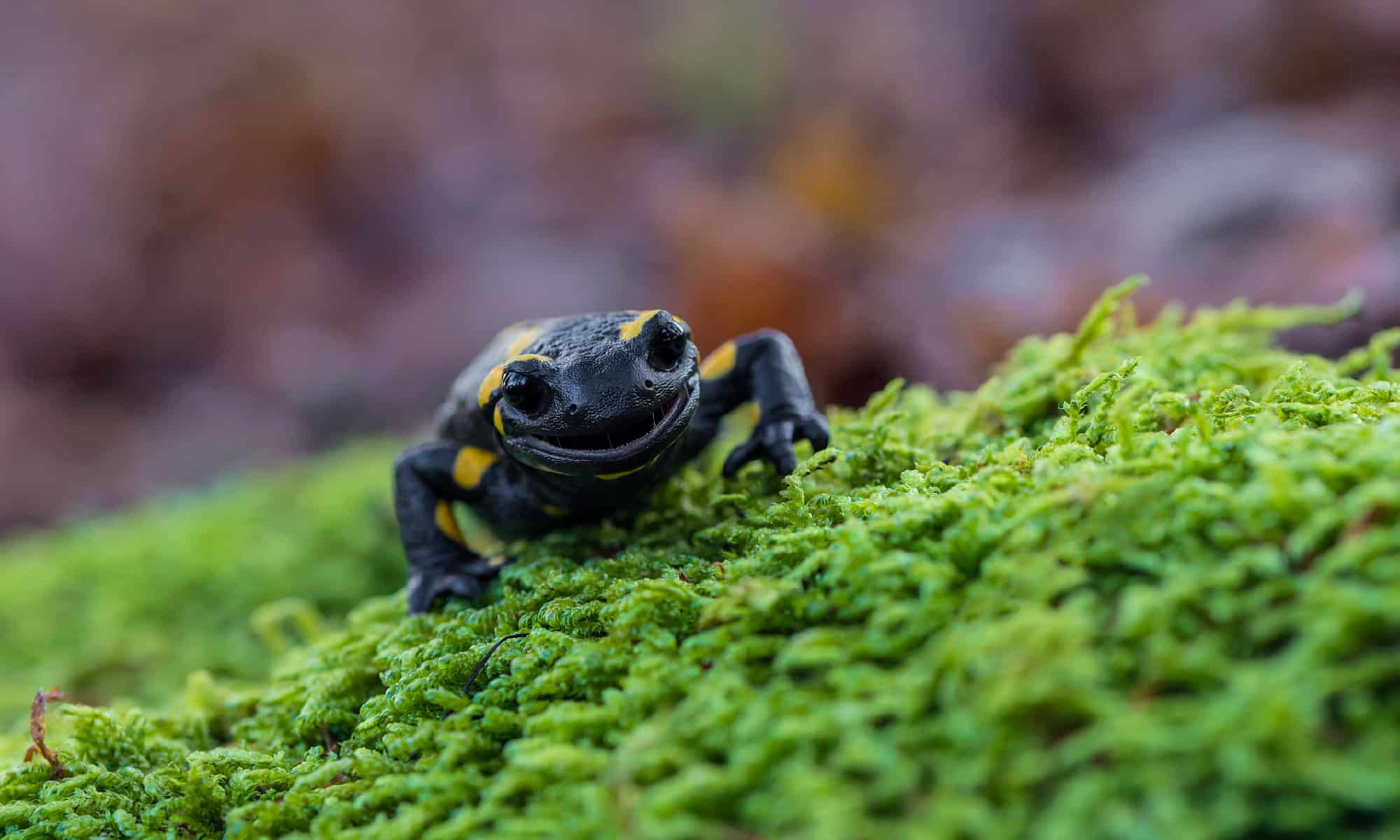 In 2010, Ohio designated the spotted salamander (Ambystoma maculatum) as the official state amphibian. Spotted salamanders are not easy to spot in Ohio. They are nocturnal and spend most of their time in underground tunnels or under logs and rocks. However, spotted salamanders do live all over Ohio, usually in moist woodland regions that are adjacent to creeks, ponds, or swamps. They are most commonly seen in early spring when they migrate to ponds and seasonal pools for breeding.
The spotted salamander is around 7 inches long with a thick, bluish-black body and two distinctive rows of bright yellow or golden spots down its sides. Spotted salamanders are poisonous, and their brightly colored spots act as a warning sign for any potential predators that might be looking for a salamander-sized snack. 
Ohio's State Frog: Bullfrog (Lithobates catesbeianus)
Ohio promoted another amphibian to official status in 2010: the bullfrog, Ohio's official state frog. Bullfrogs are the biggest frogs in all of North America and grow around 3.5 to 6 inches long. They can jump distances 10 times their own body length!
Male bullfrogs love to show off their voices with amazing acoustical displays, and a group of male bullfrogs is called a chorus. They have deep, resonating calls that can be heard up to a mile away! Bullfrogs live in marshes, ponds, and large streams with slow-moving water. You are most likely to see bullfrogs in Ohio from late April through late summer. 
Ohio's State Insect: Ladybug (Coccinellidae)
The ladybug, also known as the ladybird beetle, has been Ohio's official state insect since 1975. Many say that the ladybug is symbolic of the people of Ohio: they are friendly, proud, hardworking, hardy, and can live under adverse conditions, while remaining beautiful and charming. Farmers and gardeners especially love the ladybugs in Ohio, since they work as amazing natural pest controllers. A single ladybug can eat up to 5,000 insects in a lifetime!
Choosing the ladybug as Ohio's state insect originated in an elementary school classroom, where second- and third-grade students came up with the idea. They liked the ladybug because its color matches two of Ohio's official state symbols — the cardinal and the red carnation. They also appreciated that ladybugs eat pests like aphids, making them very helpful for gardens.
Ohio's State Pet: The Shelter Pet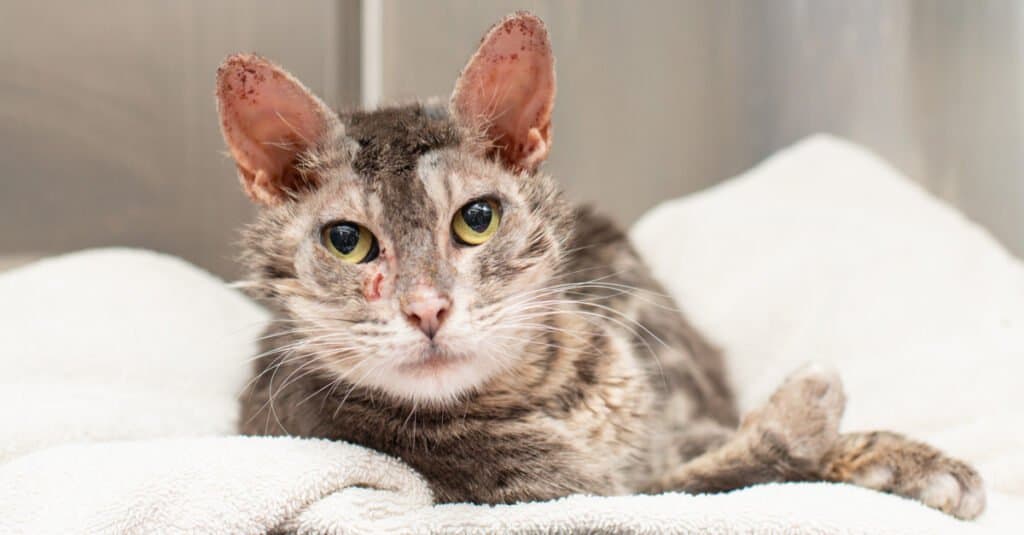 Ohio made a unique and inspiring choice when it designated the state's official pet. In 2019, the shelter pet became the official state pet of Ohio! This is an important milestone, and the hope of the Ohio General Assembly is that it will help to raise public awareness of the millions of neglected animals in the state and give them a chance to find a loving home. By giving shelter pets such a highly visible platform, Ohio is also making a statement about the value the state places on animal welfare.
Ohio's State Fossil: Isotelus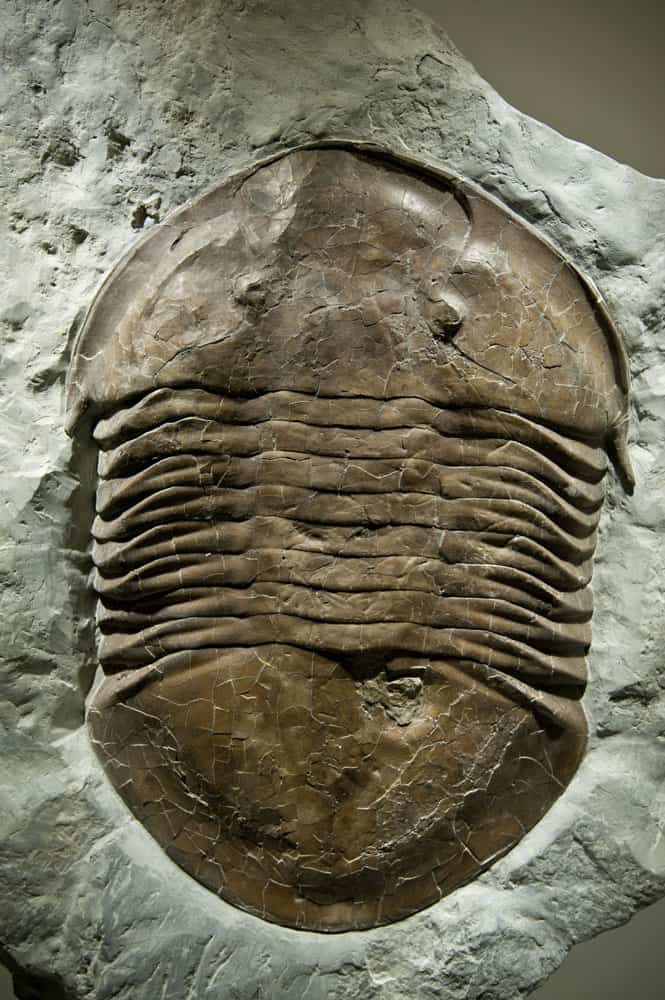 Isotelus was a trilobite that lived in Ohio 430 to 480 million years ago when the area was mostly covered by an ocean. It was one of the largest types of trilobites ever discovered. Some grew to be more than 2 feet long! 
After visiting the Dayton Museum of Natural History, elementary school students petitioned state representatives to make Isotelus the state fossil of Ohio, which officially happened in 1985.
Ohio's State Fossil Fish: Dunkleosteus terrelli 
In addition to its official state fossil, in 2019 Ohio also designated Dunkleosteus terrelli as the state's official state fossil fish. Also known as the "Dunk", this prehistoric predator ruled the seas around 360 million years ago. Dunkleosteus was a placoderm or a plate-skin fish. The front part of its body was completely covered with bony plates like built-in armor. Estimates suggest that these giant armor-plated fish grew up to 29 feet long and could weigh up to 8,800 pounds. That is bigger than any great white shark today! These killer fish did not have any teeth. Instead, they had exposed bone that was sharp and could bite through their prey. 
Honorable Mention: Buckeye Chuck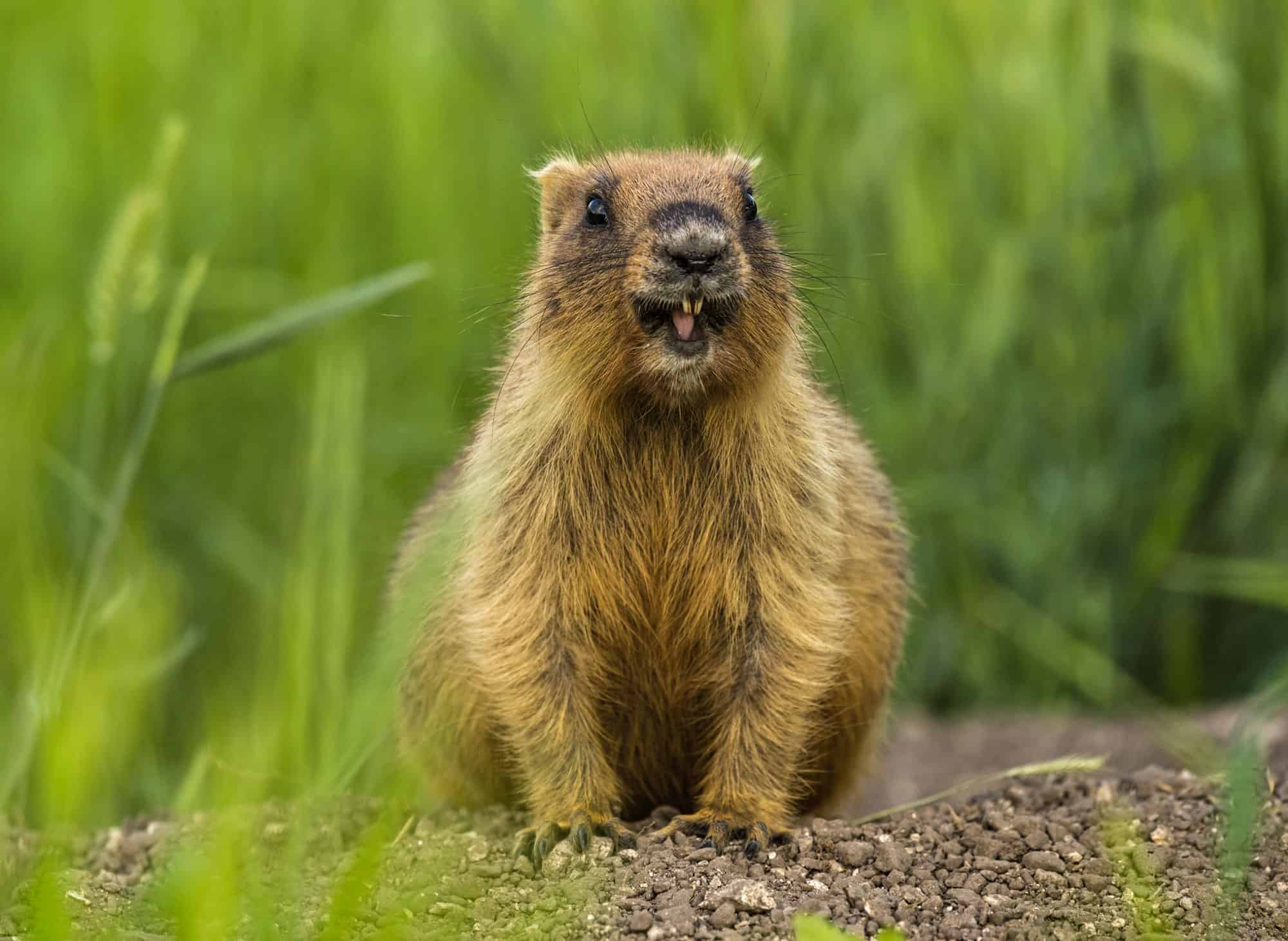 Hailing from the city of Marion, Buckeye Chuck is Ohio's official state groundhog. Since 1970, Buckeye Chuck has had the unique honor of predicting the arrival of spring each year on Groundhog Day (February 2nd). In 1979, the Ohio General Assembly designated Buckeye Chuck as Ohio's official state groundhog. He has a 70% accuracy rating when it comes to his meteorological skills. 
Buckeye Chuck got his name from Charles Evers, a radio host in Marion. Evers was often visited by a groundhog from the woods near the radio station, so he asked his listeners to vote on a name for it. Thus, the groundhog became officially known as "Buckeye Chuck."
Official State Animals of Ohio
| Title | Common Name | Scientific Name |
| --- | --- | --- |
| State Mammal | White-tailed deer | Odocoileus virginianus |
| State Bird | Cardinal | Cardinalis cardinalis |
| State Reptile | Black racer snake | Coluber constrictor constrictor |
| State Amphibian | Spotted salamander | Ambystoma maculatum |
| State Frog | Bullfrog | Lithobates catesbeianus |
| State Insect | Ladybug | Coccinellidae |
| State Pet | The shelter pet | N/A |
| State Fossil | Isotelus trilobite | Isotelus |
| State Fossil Fish | Dunkleosteus or "The Dunk" | Dunkleosteus terrelli |
| State Groundhog | "Buckeye Chuck" | Marmota monax |
---
The Featured Image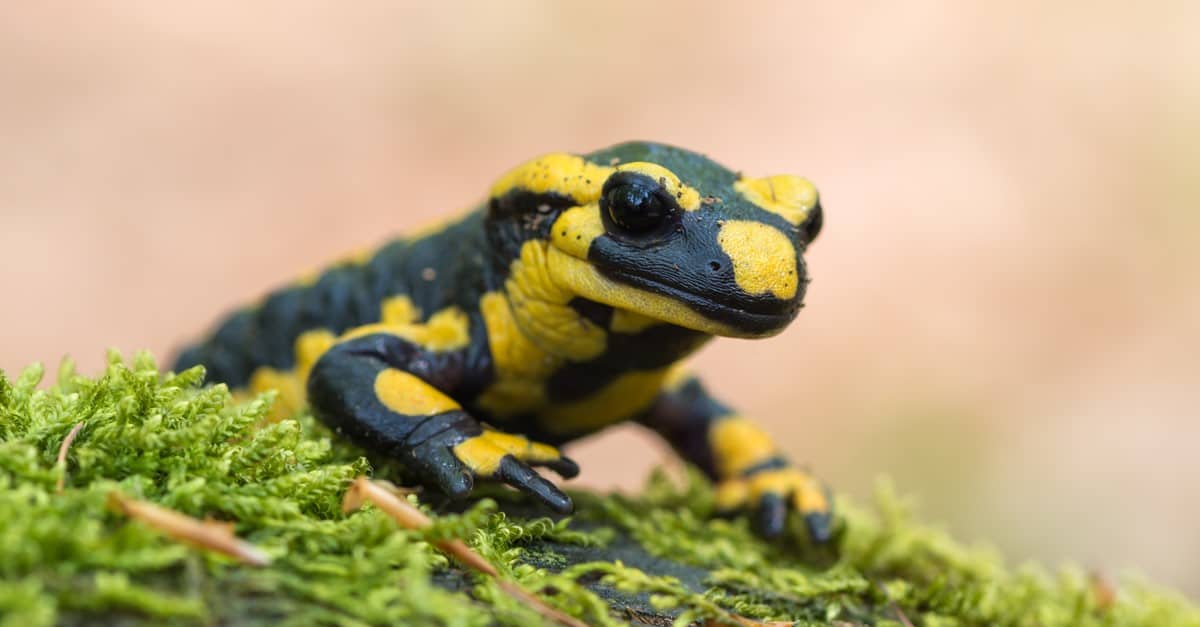 ---
FAQs (Frequently Asked Questions) 
What is a buckeye?
The Ohio buckeye (Aesculus glabra) was designated as the official state tree of Ohio in 1953. It gets its name from the nuts the tree produces, which have the color and shape of a deer's eye (or a "buck's" eye). Since the middle of the 1800s, residents in Ohio have been referred to as "Buckeyes". It became especially popular during the presidential campaign of William Henry Harrison, during which his supporters often carved souvenirs from buckeye wood.
What is the official state animal of Ohio?
The official state animal of Ohio is the white-tailed deer (Odocoileus virginianus).
How does an animal become an official state symbol of Ohio?
The state animals of Ohio were recognized as official symbols of the state by the Ohio General Assembly through the ratification of an act, with the Governor's signature executing it. The official state animals can be found in the Ohio Revised Code, under General Provisions Chapter 5.