Have you ever wondered how much horses weigh? A horse's weight is determined by age, environment, genetics, and body condition. Obviously, diet can also have an impact on weight as well as the horse's level of activity. In addition, certain medical conditions, such as Cushing's Disease, can lead to weight loss or gain. Different breeds have various weight classes; some horses are classified as "heavy" and some as "light." For example, horses such as the Clydesdale, Belgian, Shire, and Percheron are classified as draft horses and termed "heavy," as they can weigh over 2,000 pounds. On the other hand, "light" horses are smaller and weigh under 1,500 pounds.
How Much Do Horses Weigh? Weight By Breed and Gender
Below you will find the weights of some of the most popular horse breeds:
| Horse Breed | Average Weight |
| --- | --- |
| Cleveland Bay | 1,212–1,543 lb |
| Arabian | 793–992 lb |
| American Warmblood | 1,212–1,322 lb |
| Ardennes | 1,543–2,205 lb |
| Dales Pony | 882–1,102 lb |
| Connemara Pony | 639–860 lb |
| Clydesdale | 1,543–1,764 lb |
| Dutch Warmblood | 1,212–1,322 lb |
| Eriskay Pony | 661–882 lb |
| Dartmoor Pony | 441–705 lb |
| Fell Pony | 772–992 lb |
| Haflinger | 772–1,322 lb |
| Highland Pony | 1,102–1,322 lb |
| Exmoor Pony | 661–882 lb |
| Holsteiner | 992–1,764 lb |
| Hackney Pony | 551–772 lb |
| Hackney | 882–1,212 lb |
| Irish Draught | 1,322–1,764 lb |
| New Forest Pony | 507–728 lb |
| Hanoverian | 1,212–1,433 lb |
| Percheron | 1,874–2,094 lb |
| Shire | 1,543–2,646 lb |
| Spotted Pony | 441–882 lb |
| Shetland Pony | 397–441 lb |
| Thoroughbred | 992–1,102 lb |
| Westphalian | 992–1,322 lb |
| Swedish Warmblood | 882–1,212 lb |
| Welara | 661–882 lb |
| Suffolk Punch | 1,653–1,984 lb |
Some horses are heavier than others, yet they all have a purpose, and many people worldwide use horses for various reasons. Some of the breeds include:
Arabian
The stunningly beautiful Arabian breed goes back thousands of years. It is known for its even temperament, making it a popular horse to breed. Arabians can weigh between 800 and 1,000 pounds and stand around 64 inches tall. Furthermore, their lifespan ranges between 25 -30 years. These horses are relatively small in stature, and their recognized colors include chestnut, black, roan, gray, and bay. They can have white facial markings and white socks or stockings on their legs. The Crabbet bloodline is known for having white faces and high white socks. Lastly, their skin is black, except for under-white markings. Dark pigmentation is known to protect horses against the harsh sun. Lastly, only experienced riders should ride Arabian horses.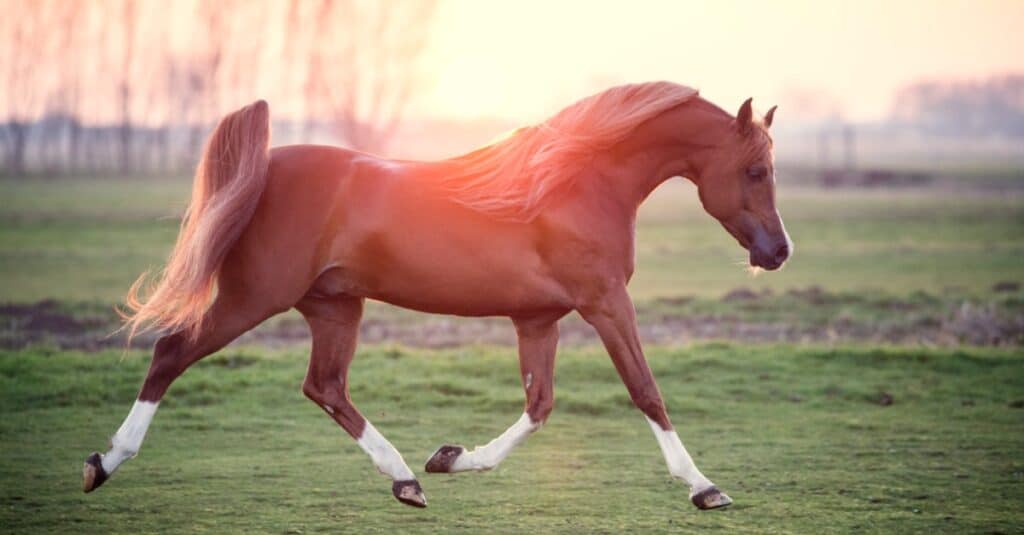 Shetland Pony
These hardy little ponies are small in stature yet strong enough to be ridden by children. They are mostly gentle and very cute. A Shetland pony can weigh between 400 and 450 pounds. Their bodies are compact with short legs, broad heads, thick necks, and lush tails and manes. These ponies are great for children and inexperienced riders. In addition, they have a life expectancy of 30 years or more. Lastly, Shetland ponies come in various colors like chestnut, gray, bay, black, roan, brown, dun, palomino, champagne, and cream, with various leg and face markings. The only time that a Shetland cannot be registered is when they are leopard spotted like the Appaloosa.
Thoroughbred
Most people will know of the thoroughbred horse because of its racing ability, but many of these horses find a second career as a driving or riding horse. These horses are classified as "hot-blooded" because they are athletic, bold, intelligent, and spirited. Thoroughbreds can weigh between 1,000 and 1,200 pounds and stand 68 inches tall. Additionally, they have deep chests, long necks, powerful hindquarters, and an athletic build. Thoroughbreds can be extremely stubborn and best suited to experienced riders. Furthermore, they have a life expectancy of 25 to 35 years. Finally, they come in every solid equine color, including chestnut, gray, bay, brown, and black.
Westphalian
These horses are athletic and do well in dressage and jumping competitions. They are sought after because of their desirable temperament and are becoming very popular in the United States. Westphalians are a warmblood breed and are docile enough that even someone who lacks some horse-riding experience can ride one. Additionally, they can weigh between 1,000 and 1,300 pounds. Furthermore, they have a life expectancy of 25 to 30 years. This breed is like the Hanoverian, except they have a broader build. Lastly, they come in various colors, including black, bay, gray, and chestnut. All registered Westphalians are branded with the letter "W" on their left hip.  
Hackney
These extremely rare horses are very talented and easily trainable. However, they are also endangered, with less than 200 living in the United States. Hackneys can weigh between 1,000 and 2,000 pounds and have sleek bodies with graceful necks and heads. Additionally, stallions tend to be bigger and more muscular than mares. Furthermore, Hackneys may have white faces or leg markings. However, they have primarily dark solid colors such as bay, black, and chestnut.
Clydesdale
The mighty Clydesdale is easy to spot. They are enormous with feathering around their legs. Yet, despite their size, they are known to be very gentle horses that are easy to work with. Clydesdales can weigh between 1,600 and 2,400 pounds. They have round feet, long-arched necks, and broad foreheads. Additionally, anybody can ride them, no matter their level of experience, and have a life span of 20 to 25 years. They are also among the tallest horse breeds, standing between 64 and 72 inches.
Stallions are mostly taller and weigh much more than mares. Most Clydesdales are bay but can also be chestnut, black, or gray, with some having roan spots or markings. Lastly, these horses are famous for their enormous hooves, which are the size of frying pans and about four times larger than the average thoroughbred horse.
Swedish Warmblood
The magnificent Swedish Warmblood is one of the oldest horse breeds in the world. They have a gentle temperament and a steady-flowing gait. Furthermore, they usually weigh around 1,025 pounds. Also, they can occur in just about any solid color except roan. They can have white patterns on their coats and Sabino markings on their faces and legs. These horses are friendly and gentle, a good combination for any level of rider.   
Hanoverian
A German breed of horse, the Hanoverian is robust. These beautiful horses are elegant and lightweight and do very well in equestrian competitions such as mounted athletics and English dressage. Hanoverians have powerful, muscular bodies with strong backs and sturdy limbs. In addition, they come in bay, chestnut, gray, and black. An adult Hanoverian can weigh up to 1,400 pounds, and their life expectancy is 25 to 35 years.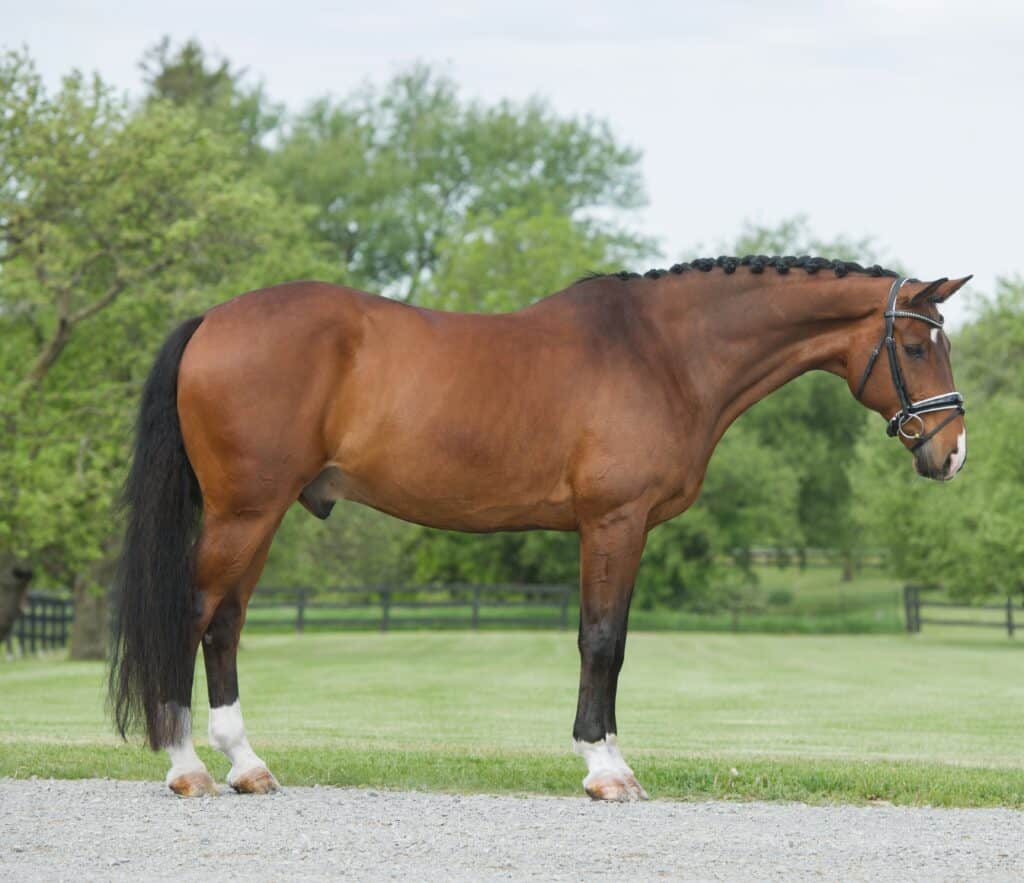 Shire
The rare and magnificent shire horse is known as the tallest horse in the world. They are similar to the Clydesdale in that they are enormous and have feathering on their legs. However, they are gentle giants and can be ridden by any level rider. They can weigh between 1,800 and 2,400 pounds and stand up to 72 inches tall. Shire horses come in brown, black, gray, or black with white leg and face markings. Furthermore, they have a life expectancy of 25 to 30 years. Lastly, they are known for their easy-going nature and, similar to the Clydesdale, their massive hooves.
Suffolk Punch
The Suffolk Punch is the oldest horse breed in Britain. Farmers used them as working horses to plow fields. They have broad heads and muscular bodies. In addition, they are mostly chestnut, but seven other shades are recognized. These stunning horses weigh an average of 2,090 pounds. Sadly, the population is very low, and the Suffolk Punch is categorized as "critical" by the American Livestock Breeds Conservancy and the UK's Rare Breeds Survival Trust.
---
The Featured Image
---