Prepare to be amazed by the incredible Lake Huron, the world's third-largest freshwater lake. Spanning an impressive 23,000 square miles, this breathtaking natural treasure offers limitless opportunities for adventure enthusiasts. From angling to camping, there is an abundance of activities to experience amid the pristine waters and picturesque beaches encompassing the shoreline. Lake Huron, however, is more than just a haven for recreation. It boasts a rich heritage rooted in Indigenous exploration and European fur trading. This unique combination makes this lake a true North American marvel.
Location
Lake Huron is situated between Lake Michigan to the southwest and Lake Superior to the northwest, while Lake Erie lies to the south. This impressive body of water is bordered by the United States and Canada, specifically the state of Michigan and the province of Ontario. Interestingly, Lake Michigan and Lake Huron could be viewed as a single vast lake. In fact, they are linked by the 5-mile-wide, 20-fathom-deep Straits of Mackinac. These straits are positioned at an equal altitude, enabling unimpeded water movement between the two bodies of water.
History
The history of Lake Huron can be traced back around 9,000 years. At that time, the water levels were considerably lower, unveiling the Alpena-Amberley Ridge that served as a migration path for caribou. Paleo-Indians built at least 60 stone structures along this now-submerged ridge, possibly functioning as hunting blinds. In 2013, researchers found evidence of obsidian from Oregon being traded and utilized for crafting tools.
Eastern Woodlands Indigenous societies had already settled near Lake Huron before Europeans arrived. Archaeological discoveries indicate the existence of a town or settlement by the lake. It featured over 100 large structures and a population of 4,000 to 6,000 individuals. The French, who were the first Europeans to visit the region, initially referred to Lake Huron as La Mer Douce, translating to "the fresh-water sea."
In 1656, French mapmaker Nicolas Sanson called Lake Huron Karegnondi. This Wyandot term has several possible interpretations, including "Lake of the Hurons," "Freshwater Sea," or simply "lake."
As European settlements expanded along Lake Huron's shores, many were incorporated by the 1860s, with Sarnia being one of the largest cities. Today, Lake Huron continues to be an essential source of fresh water, natural splendor, and historical richness.
Size and Depth
Lake Huron boasts the longest shoreline among the Great Lakes, with an impressive 30,000 islands contributing to this unique feature. Although it ranks as the second-largest Great Lake in terms of surface area, encompassing 23,000 square miles, it holds the third position when considering volume, following Lake Michigan and Lake Superior.
With a volume of 850 cubic miles at low water datum, Lake Huron has a shoreline that stretches 3,827 miles. The lake has a maximum width of 183 miles and extends approximately 206 miles from northwest to southeast. The elevation of Lake Huron's surface is 577 feet above sea level.
This lake reaches a maximum depth of 750 feet and has an average depth of approximately 195 feet. Lake Huron's deepest point is a fascinating aspect of its geography. The bottom of the lake lies over 200 feet beneath sea level. This expansive lake is famous for its distinct underwater landscape and varied marine life. It features countless shipwrecks and age-old geological formations hidden within its depths.
Water Level
Fluctuations in water levels are common in Lake Huron and tend to vary significantly throughout the year. The peak levels are typically observed in November and October. The standard high-water mark is 2.00 feet above the datum, which is at an elevation of 577.5 ft. Lakes Michigan and Huron experienced an unprecedented high-water level of 5.92 feet above datum during the summer of 1986. In 2020, the lake witnessed the breaking of numerous monthly high-water records.
On the flip side, the winter season usually witnesses the lake levels reaching their lowest point. The typical low-water mark is 1.00 feet below the datum. The records for the monthly low-water levels were established each month from February 1964 to January 1965. During this duration of 12 months, the water levels exhibited fluctuations, ranging from 1.38 to 0.71 feet below Chart Datum. The lowest ever recorded water level for Lakes Michigan and Huron was marked at 1.38 feet below datum in 1964. And in January 2013, the lowest water level record was surpassed.
Fluctuating water levels in Lake Huron have notable consequences for the ecosystem and economy of nearby regions. Elevated water levels can lead to flooding and erosion, causing damage to infrastructure and property. Conversely, low water levels can hinder navigation, impact water quality, and adversely affect commercial fishing.
Unlike some other large bodies of water, the outflows from Lake Huron are not subject to regulation by humans. Instead, they are determined solely by the natural hydraulic characteristics of their outlet rivers.
Geology
Lake Huron came into existence during the last ice age. The receding continental glaciers allowed vast quantities of water to fill the depression, eventually giving rise to Lake Huron. This phenomenon also played a pivotal role in shaping the other Great Lakes, collectively establishing one of the planet's most extensive freshwater systems.
Before this event, Lake Huron was a shallow depression that housed the Laurentian and Huronian Rivers, which now lie beneath the lake's surface. The lake bed of Lake Huron once contained an intricate system of tributaries connected to these ancient rivers, and many of these channels remain visible in maps depicting the lake's bottom.
The Alpena-Amberley Ridge is an ancient ridge submerged beneath Lake Huron, extending from Alpena, Michigan, in the United States, to Point Clark, Ontario, in Canada. This prehistoric formation stands as evidence of the region's geological past and serves as a crucial feature in the lake's underwater landscape. The Alpena-Amberley Ridge has significantly influenced the geology and ecology of the surrounding area.
Ecology
The lake retention time of Lake Huron is around 22 years. In the past century, Lake Huron's ecosystem has undergone significant changes. Lake trout, the native top predator, once dominated the deepwater fish community that fed on other native fish and several species of ciscos. However, several invasive species, such as alewife, rainbow smelt, and sea lamprey, became abundant in the lake in the 1930s, causing a decline in the population of lake trout. Overfishing also contributed to the reduction of lake trout in the lake.
By the 1960s, most species of ciscos were extinct in Lake Huron, with the exception of the bloater. The recent attempt at restocking the lake with non-native Pacific salmon and lake trout has not been successful. Moreover, a recent influx of invasive species, including spiny water fleas, round gobies, and zebra and quagga mussels, hit the lake, leading to a collapse of the demersal fish community by 2006. Lake whitefish have become scarce, the number of chinook salmon has decreased, and those that remain are in poor condition.
Fishing
Lake Huron features cold, transparent, and deep waters, providing an ideal habitat for salmon fishing. This thriving fishery is home to various salmon species, including coho, pink, and chinook salmon.
The lake features numerous underwater reefs, submerged islands, and drop-offs, thus navigating these waters can be perilous. That is particularly true around areas like Manitoulin Island and the Bruce Peninsula, where numerous shipwrecks have been found, some almost a century old.
Ice fishing gains popularity in Lake Huron during winter, as the lake freezes over and anglers have the opportunity to catch perch, northern pike, walleye, and trout.
The salmon fishing season commences in summer, as warmer waters stimulate active feeding among fish. Chinook and coho salmon are the most prevalent species during this period, with anglers potentially landing sizable catches.
Early autumn signals the onset of the salmon spawning season in Lake Huron, as salmon migrate to rivers and ports throughout the lake. Locations such as the Spanish River, the St. Marys River, and North Channel host an abundant population of salmon. Additionally, anglers can catch pike in shallow bays at this time.
Spring offers fantastic fishing opportunities on Lake Huron, with anglers catching jack salmon off the lake's piers. It is also an excellent season for trout fishing, with a high concentration of fish near river mouths. Prime fishing spots in the region during spring include the Saginaw and Saugeen Rivers. Lake Huron's trout fishing is exceptional, with steelhead or rainbow trout being the most common catch, although lake trout and brown trout are also plentiful.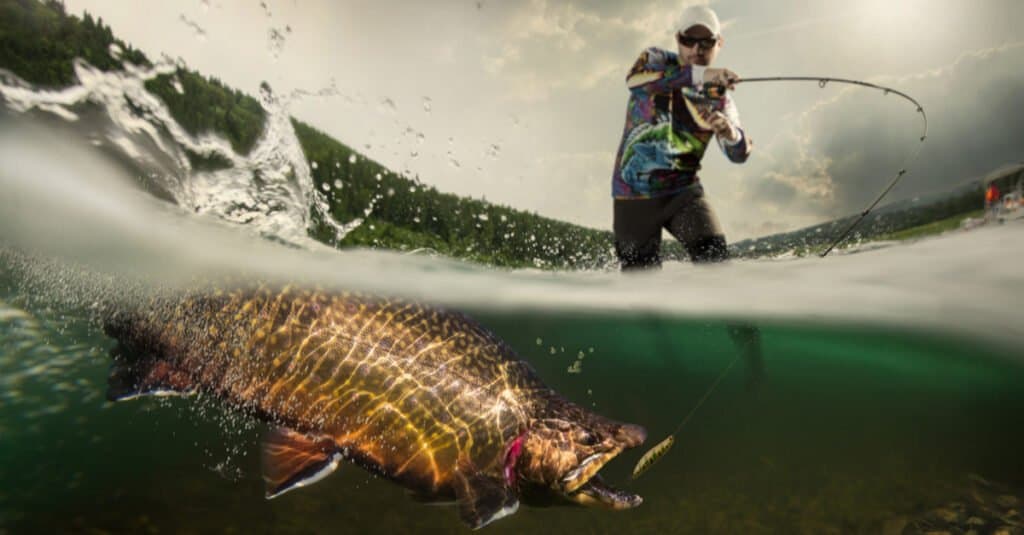 Boating
Easily accessible from Detroit and Windsor, Lake Huron is a favored destination for fishing and boating enthusiasts. The picturesque limestone peninsula and fishing islands make visitors eager to appreciate the scenery of the great outdoors. Lake Huron's abundant whitefish population and exceptional bass fishing make it a prime location for anglers.
Recognized as one of the finest global cruising grounds, this freshwater jewel provides miles of breathtaking scenery. Lake Huron's North Channel is the premier sailing and boating area on the Great Lakes, solidifying its status as a world-class destination for boaters.
Endless exploration opportunities are available at Lake Huron, whether by canoe, boat, or kayak. Additional options are provided by nearby inland lakes, perfect for those looking to experience the region's beauty. Resort guests can utilize complimentary canoes, kayaks, and boats to investigate the islands' shoreline or bring their own vessels for a more tailored experience.
The islands' coastline features reedy bays, sandy inlets, and rocky bluffs, creating an ideal habitat for ducks, Canadian geese, and various water and land birds. Witnessing these creatures in their natural surroundings is a truly memorable experience.
Camping
Embarking on a camping adventure at Lake Huron presents a distinctive and thrilling way to immerse oneself in Michigan's great outdoors. Numerous campgrounds dot the lake's shoreline, offering convenient access to the water and an array of outdoor pursuits.
A favored campground in the area is Port Crescent State Park, situated near Michigan's "thumb" tip. The campground provides modern conveniences like restrooms, showers, and electrical hookups, making it perfect for families or those seeking a more comfortable camping experience.
Another popular choice is Harrisville State Park campground, located near the town of Harrisville. With easy lake access, this campground also features hiking trails and picnic areas.
For a more remote experience, Thompson's Harbor State Park is a great option. Set on a secluded stretch of Lake Huron's shoreline, the park offers a rustic campground without electrical hookups, catering to those who prefer a more primitive camping experience in a peaceful, natural setting.
Lake Huron visitors can also explore the many nearby inland lakes via canoe, boat, or kayak. Numerous campgrounds provide rentals or allow guests to bring their own vessels for shoreline exploration around the islands.
Hiking
Hiking at Lake Huron presents a distinctive and exhilarating way to appreciate the lake's natural beauty. There are many trails along the shoreline, granting easy access to the water and various outdoor activities.
A favored hiking trail in the area is the Huron Sunrise Trail. Skirting the lake's shore, providing breathtaking views of Lake Huron and the surrounding landscapes. The trail spans roughly 8 miles and passes through multiple parks and campgrounds en route.
Another popular choice is the trail within Negwegon State Park. This path allows visitors to experience diverse landscapes, including sand dunes, forests, and wetlands. It is an easy trail approximately 12 miles long.
Albert E. Sleeper State Park Trail is another fantastic option for hikers. With varied terrain, including forests, meadows, and marshes, this trail provides ample opportunities to spot a range of wildlife.
Lake Huron visitors can also discover numerous inland trails nearby, such as those in Huron-Manistee National Forests, which feature over 112 miles of trails through diverse landscapes.
Hiking at Lake Huron offers additional outdoor activities like bird watching, fishing, and picnicking. Ultimately, trekking at Lake Huron is an unforgettable adventure that allows visitors to fully appreciate the lake's natural beauty and outdoor recreational opportunities.
Where is Lake Huron Located on a Map?
Mackinac Island, situated between Lake Michigan and Lake Huron, is made up mostly of a state park and a national forest. There are less than 600 permanent residents on the island, but in the summer, hundreds of thousands of tourists visit, attracted by the lovely weather, activities, and quaintness of the town and its elegant Grand Hotel.
The photo featured at the top of this post is © iStock.com/Paul Massie Photography
---