When most people think about mountains in Europe they think about the Alps. The Alps are easily the most recognizable of the mountains in Europe with their massive snow-capped peaks, green hills, and forests. But there are many other impressive mountain ranges throughout Europe, such as the Pyrenees Mountains and the Caucuses in Eastern Europe. The Ural Mountains are another of the big mountain chains in Europe.
And those are just the major mountain chains in Europe. There are also more than 100 smaller sub-ranges. One thing all the mountains in Europe have in common though is that they are all breathtaking in their own ways.
Discover 10 Best Mountains in Europe to Climb
Hiking the mountains in Europe is great training for people who want to learn to be mountaineers who climb the tallest mountains in the world. But there's also great mountains for beginners and intermediate hikers and climbers to tackle in Europe. Skiers also can choose from some fantastic mountain skiing in Europe. According to a wide range of hikers and outdoor enthusiasts the best mountains in Europe to climb are:
1. Mount Elbrus
Located in: Russia
Height: 18,510 feet
Nearby City: Kislovodsk
Known For: Mount Elbrus is the tallest mountain in Europe and the tallest mountain in Russia. It's part of the Caucasus Mountain chain that runs through Eastern Europe and into Asia. Mount Elbrus is also the 10th tallest mountain in the world. The mountain summit is only accessible for climbers from May until September. Strong storms and deep snow make it impassable throughout much of the year.
Mountain climbers can and do try to climb Mount Elbrus and many succeed. There is a ski resort about halfway up this giant mountain that has a system of cable cars and lifts. Many of the climbers who want to try and reach the summit of Mount Elbrus will take the cable cars and lifts as far as they go and then strike out on foot for the summit from there.
There is also an established base camp with permanent huts where climbers can stay overnight. You must bring a guide with you to do this trek and it's strongly recommended that you join a group of climbers.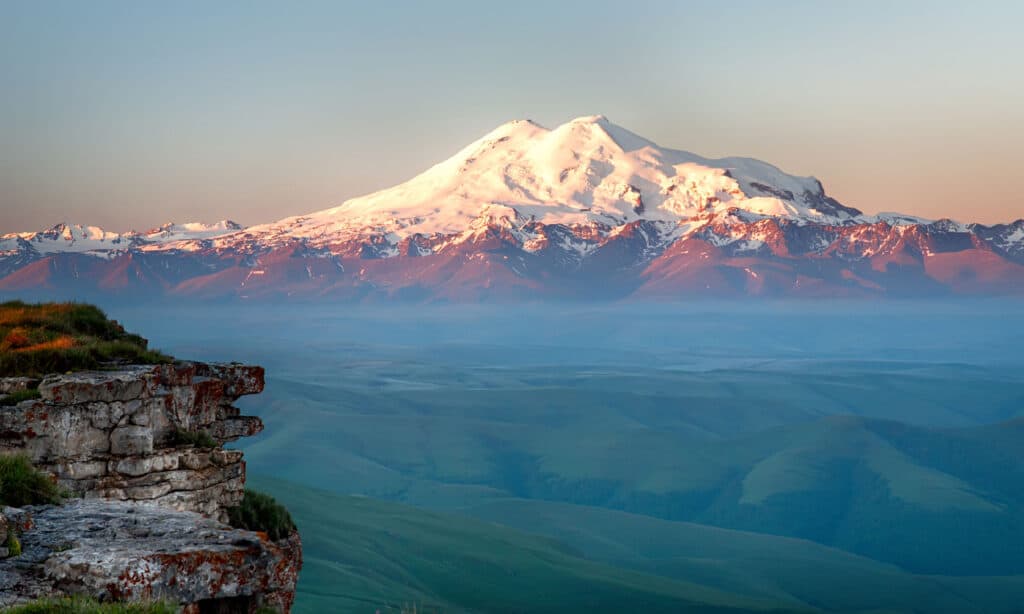 2. Wildspitze
Located in: Austria
Height: 12,362 feet
Nearby City: Vent
Known For: Wildspitze is a stunning mountain in Austria. It's part of the Alps Mountain chain. It's a tough climb even for experienced climbers but the view from the summit is breathtaking. Once you get to the summit you have a 360 degree aerial view that makes it seem like you're up in the clouds.
But first you have to get there. Three sides of this mountain are glacial ice, so if you're going to attempt to climb it you need to have proven skills climbing and hiking in snow and on ice. You must have snow and ice climbing gear and be in great physical shape.
There are four primary routes to the summit but most climbers choose the north wall route. It is strongly recommended that you go with a certified guide or tour company for safety. If you want to get some of the views from Wildspritze without climbing you can take a ski cablecar tour of Wildspritze and the surrounding peaks. There is a rail system of cable cars that will take you high up the mountain safely.
3. Sněžka
Located in: Czech Republic
Height: 5,259 feet
Nearby City: Špindlerův Mlýn
Known For: Sněžka is the highest mountain in the Czech Republic. It sits on the border between the Czech Republic and Poland. People have been visiting and climbing this mountain since at least the 1400s. One of the reasons why this mountain is so popular with tourists is that it's a relatively easy hike to the summit.
Unlike many of the mountains in Europe that tower at huge elevations, Sněžka is only 5,259 feet in elevation. And the mountain rises easily and not too steeply so it's accessible for a lot of different people, including people who don't have a lot of experience hiking or mountain climbing.
One side of this mountain lies in each country so you can choose which side you want to climb. On the Polish side at the summit there is a restaurant and other amenities. And on the Czech side there is a cable car that will drive you from the bottom of the mountain to the top. So if you can't make the trek up the mountain for any reason choose to visit on the Czech side and try the cable car ride so you can see the magnificent view from the top of Sněžka.
4. Mont Blanc
Located in: France and Italy
Height: 15,750 feet
Nearby City: Chamonix
Known For: Mount Blanc is the tallest mountain in France. It's also one of the most famous mountains in the world. You probably recognize the jagged snow-capped peaks and the sea of clouds at the summit. Mount Blanc means "white mountain" and this is indeed a white mountain. It's got almost 40 miles of glacial ice covering it along with snow, ice rivers, and frigid temperatures that only rarely go above freezing. Temperatures on the summit can drop to -40 C.
Mont Blanc is a popular tourist destination. People who want to try and climb to the summit come in droves during the summer. Skiiers and snow lovers come in the winter. And people who just want to see this stunning mountain and experience the view from one of the most amazing mountains in the world come all year long. There are cable cars, railcars, and other conveniences to help you get to various points on the mountain so that you don't have to climb.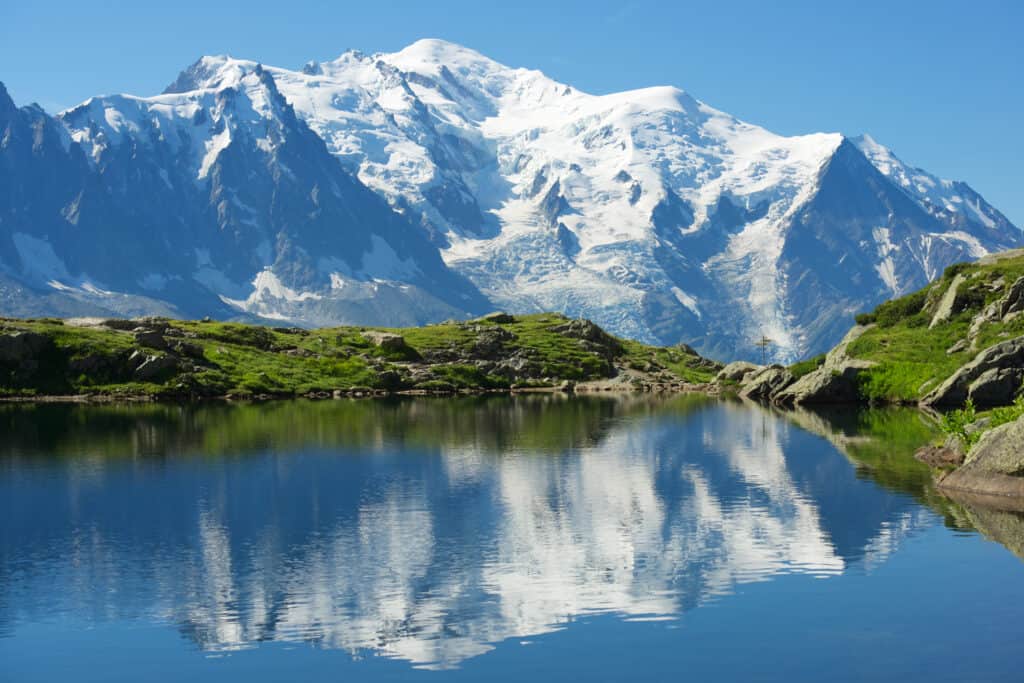 5. Monte Rosa
Located in: Italy, Switzerland
Height: 14,941 feet
Nearby City: Zermatt
Known For: Monte Rosa is part of the Alps and it sits on the border between Switzerland and Italy. If you immediately think of the stunning mountain vistas seen in The Sound of Music when you hear about mountains in the Alps you're not alone. And you're not far off from what Monte Rosa looks like. This tall Alpine peak has the lush green grass and picturesque snow peaks that most people think of when they think of the Alps.
Hiking Monte Rosa is relatively easy despite the high elevation, although you should be comfortable being at such a high elevation before you try to hike it. If you want to really experience the true beauty of the Alps take a multi-day hiking trip on the Trail de Monte Rosa.
This unique trail is more of a walking trail than a hiking trail because it's very easy. There are stone roads and level paths that lead you up and over Monte Rosa and through mountain villages, along ancient Roman roads, and through the most scenic parts of the mountains and valleys on the border between the two countries. It's a once in a lifetime experience.
6. Matterhorn
Located in: Italy, Switzerland
Height: 14,800 feet
Nearby City: Zermatt
Known For: Another mountain that sits right on the border of Switzerland and Italy is the Matterhorn. This is one of the most famous mountains in Europe, and most famous mountains in the world. The Matterhorn has two distinct summits that sit parallel to each other on top of the four massive faces of the mountain. The peaks of each face rise well into the clouds so the top of the mountain is always cold, covered in snow and glacial ice, and foggy with clouds.
To climb the Matterhorn is a point of pride for many mountain climbers. In order to successfully climb this mountain you have to be in excellent physical shape. You will spend hours climbing rocks and scrambling on rocks in the snow and ice. You will also be climbing in snow and ice gear with crampons. It's strongly suggested that you hike with a guide.
Typically anyone starting to climb the Matterhorn starts out at the bottom of the mountain around 4 a.m. and climbs to the Hornli Hut, which is more than halfway to the summit. After a short break you'll strike out for the summit but you'll have to move fast to get to the summit and back down again before dark.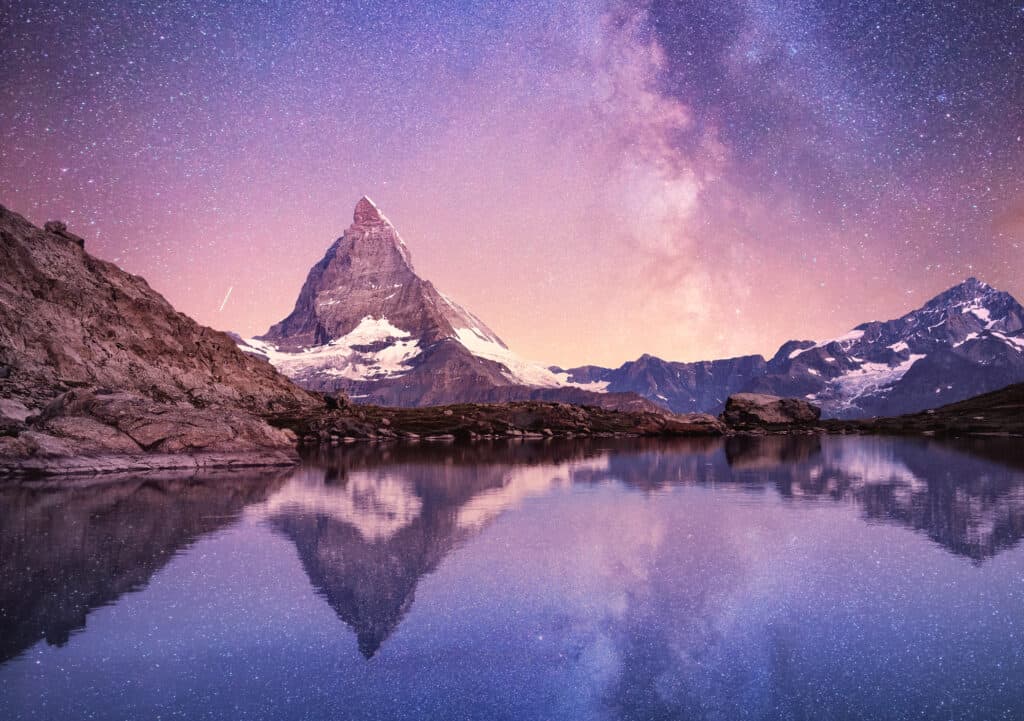 7. Gran Paradiso
Located in: The Gran Paradiso Nature Preserve
Height: 13,323 feet
Nearby City: Piedmont
Known For: Gran Paradiso is an Alpine mountain located in Italy. It's known for being a great training mountain for hikers and climbers who want to learn mountain climbing skills before they tackle bigger mountains. You will need a guide to help you get up one of the two routes to the summit. However, you don't need any mountain climbing experience to climb Gran Paradiso. You just need to be very physically fit and have some general hiking experience.
When you are planning a trip to Gran Paradiso plan on spending a few days in the stunning Gran Paradiso Nature Preserve also. The Gran Paradiso Nature Preserve was originally a royal reserve owned by King Victor Emmanuel II. But after his death his grandson donated the land to the Italian government. They turned into a national park. The park has allowed many endangered animals to thrive including ibexes, golden eagles, weasels, and lynxes.
8. Ben Nevis
Located in: Scotland
Height: 4,400 feet
Nearby City: Inverness
Known For: Ben Nevis is the tallest mountain in Scotland and the tallest mountain in the U.K. There's no better way to get a feel for the moody beauty of Scotland than to stand at the summit of Ben Nevis and take a 360 degree turn to see the stunning wild beauty of the Scottish landscape. You can expect some company though, because more than 100,000 people travel to Ben Nevis to climb it every year.
Ben Nevis is also famous for hill running in Scotland. Every year, the Ben Nevis Race is run in September and there are usually 500 or more runners who take on the challenge of running Ben Nevis. It's a tough route to the summit. There are lots of rocky crags, uneven ground, and places where it's necessary to rock scramble to get to the top. Some areas will still have snow well into the summer because the elevation at the top keeps the temperature cold.
9. Allalinhorn
Located in: Switzerland
Height: 13,212 feet
Nearby City: Breithorn
Known For: Allalinhorn is famous for being the first Alpine mountain that many people climb. It's a spectacular rounded mountain covered in snow most of the year. But it's graded as being an easy climb because the route to the summit doesn't require a lot of climbing or scrambling. You can walk to the top without too much difficulty. It's also an excellent mountain for new mountain climbers to practice their snow and ice climbing on.
Every year thousands of people who want to experience a real Alpine climb and those who want to enhance their skills flock to Allalinhorn. But, just because this climb is considered easy doesn't mean it's a piece of cake. You still need to know how to handle cold weather and snow when you're hiking. You should be familiar with elevation sickness and know how to recognize it. And if you're not a very experience climber you should go with a group or a guide.
10. Mount Kazbek
Located in: Georgia
Height: 16,512 feet
Nearby City: Tbilisi
Known For: Mount Kazbek sits on the border of Russia and Georgia. It's a beautiful mountain but the location is a bit remote. Even so, there are thousands of eager mountain climbers who visit Mount Kazbek each year. If you are going to try and climb the mountain you will need a local guide and a fixer to help you reach the base camp.
Even though this mountain isn't considered sacred by any particular religion there are lot of local legends and stories about it. High up on the mountain there are the ruins of an ancient monastery. Legend also has it that the mountain Greek mythology figure Prometheus was chained to when he created fire was Mount Kazbek.
The 10 Tallest Mountains in Europe
The 10 mountains in Europe with the highest elevations are:
Mount Elbrus — Russia
Dykh-Tau — Russia
Shkhara — Georgia
Kosthan-Tau — Russia
Mount Kazbek — Georgia
Tetnuldi — Georgia
Mont Blanc — Italy and France
Ushba — Georgia
Monte Rosa — Switzerland
Dom — Switzerland.
Highest Point in Europe
Mount Elbrus in Russia boasts the highest point located in Europe at 18,510 feet.
Summary of 10 Best Mountains in Europe to Climb
Here's a recap of the 10 top European mountains that attract climbers from around the world.
| Rank | Mountain | Location | Height | Nearby City |
| --- | --- | --- | --- | --- |
| 1 | Mount Elbrus | Russia | 18,510 feet | Kislovodsk |
| 2 | Wildspitze | Austria | 12,362 feet | Vent |
| 3 | Sněžka | Czech Republic | 5,259 feet | Špindlerův Mlýn |
| 4 | Mont Blanc | France and Italy | 15,750 feet | Chamonix |
| 5 | Monte Rosa | Italy and Switzerland | 14,941 feet | Zermatt |
| 6 | Matterhorn | Italy and Switzerland | 14,800 feet | Zermatt |
| 7 | Gran Paradiso | The Gran Paradiso Nature Preserve | 13,323 feet | Piedmont |
| 8 | Ben Nevis | Scotland | 4,400 feet | Inverness |
| 9 | Allalinhorn | Switzerland | 13,212 feet | Breithorn |
| 10 | Mount Kazbek | Georgia | 16,512 feet | Tbilisi |
---
The Featured Image
---