Imagine a hidden world where sapphire waters and emerald landscapes intertwine, creating a tapestry of tranquility and adventure. In the heart of Pennsylvania lies a treasure trove of 12 remote lakes, each more enchanting than the last, offering idyllic fishing and swimming experiences.
In this post, we'll embark on an exciting expedition to uncover these aquatic jewels, weaving together captivating tales of their unique allure. Picture yourself traversing dense forests and rolling hills like an intrepid explorer, unearthing the secrets of these secluded oases that beckon with the promise of unforgettable memories.
Join us on this mesmerizing journey through the vivid landscapes of Pennsylvania's hidden lakes as we delve into the depths of their pristine beauty and enigmatic charm. With every step, prepare to be captivated by the symphony of nature's whispers and the dance of sunlight upon the water's surface. Let the adventure take hold, and let your imagination soar.
1. Lake Erie
Nestled in Pennsylvania's northwest corner, Lake Erie's shoreline captivates visitors with its ocean-like appearance, making it a top vacation destination. The city of Erie offers easy access to this freshwater wonder, inviting you to explore its breathtaking beauty.
The adventure unfolds at Presque Isle State Park, where 11 miles of sandy beaches beckon you to unwind and indulge in the warmest waters among the five Great Lakes. A popular retreat for locals, it's no surprise that out-of-towners flock here for unforgettable experiences.
Lake Erie entices with its exceptional swimming opportunities, luring visitors to its shimmering waters. Beyond swimming, an array of aquatic activities awaits, including kayaking, fishing, boating, and canoeing. With convenient water sports rental locations and guided excursions, your next thrill is within reach.
Consider a sightseeing cruise to witness the mesmerizing Lake Erie sunset as daylight fades or embark on a fishing charter to pursue walleye, perch, and steelhead in one of the state's premier angling spots. Whichever path you choose, the enchanting allure of Lake Erie promises memories that will last a lifetime.
2. Raystown Lake
Immerse yourself in the captivating allure of Raystown Lake, Pennsylvania's largest inland lake, stretching across more than 8,300 acres of shimmering water. Tucked away in Hesston, south-central Pennsylvania, this mesmerizing haven offers a unique opportunity to reside in a houseboat during your stay.
Raystown Lake entices visitors with 12 public access points, welcoming boaters, swimmers, and picnickers to indulge in its breathtaking scenery. This artificial wonder boasts pristine public beaches and the popular Susquehannock Campground, ensuring a perfect balance of relaxation and adventure.
Consider renting a houseboat or vacation home in nearby communities like Martinsburg and Huntingdon and fully embrace the enchanting Raystown Lake region. Renowned for its outdoor activities, you'll find days brimming with exhilarating pursuits like hiking, biking, and fishing.
Cast your line into Raystown Lake's depths and connect with its abundant aquatic life, including bass, trout, and catfish. This remote Pennsylvanian paradise promises an unforgettable experience for anglers and swimmers as they explore the exhilarating wonders hidden beneath the lake's surface.
3. Lake Wallenpaupack
Venture to the Pocono Mountains in northeast Pennsylvania, where Lake Wallenpaupack, the state's second-largest inland man-made lake, awaits your discovery. Near the charming town of Hawley, this expansive 5,700-acre lake boasts 52 miles of shoreline, offering ample space for aquatic adventures and shore-based activities.
Famed as one of the best lake communities, Lake Wallenpaupack comes alive with festive events, from lively festivals to dazzling fireworks. With four boat launches and rental options, navigating the lake's vast expanse is a breeze.
Dive into the refreshing waters at Palmyra Township public beach in Hawley, perfect for families seeking summertime fun. Open from Memorial Day through Labor Day; the beach provides restrooms, snacks, picnic tables, and lifeguards on duty during peak season.
Embrace exhilarating water sports and fishing at the lake, with several rental companies in the area to cater to your needs. Visit the Lake Wallenpaupack Visitors Center to borrow fishing equipment through their tackle loaner program, but don't forget to acquire a valid Pennsylvania fishing license first.
Cast your line into the lake's depths, where species such as bass, walleye, and catfish await eager anglers. For those seeking land-based adventures, explore the numerous trails surrounding the lake, or visit the quaint town of Hawley, home to museums, boutique shops, and delightful restaurants.
4. Lake Harmony
Located in the Pocono Mountains, the stunning Lake Harmony beckons as one of Pennsylvania's cleanest natural glacial lakes. Its crystal-clear waters, fed by mountain streams, create an irresistible allure.
Surrounded by the resort community of Lake Harmony, quaint cottages and waterfront homes dot the landscape. The lake entices thrilling boating and jet skiing adventures, while its pristine waters promise exceptional fishing opportunities. Anglers delight in the chance to reel in bass, trout, and perch from its depths.
Though privately owned, Lake Harmony extends 2.5 miles, welcoming visitors through vacation rentals or a stay at Split Rock Resort. A sandy beach invites swimmers, while a marina and boat launch area cater to aquatic enthusiasts.
Beyond the lake's shores, explore nearby attractions such as Hickory Run State Park, popular hiking trails, golf courses, the Pocono Raceway, and an indoor water park. Lake Harmony, a remote haven in Pennsylvania, promises unforgettable experiences for fishers and swimmers alike.
5. Fairview Lake
Fairview Lake's shallow waters make it a premier fishing destination. Its unique natural features provide an ideal habitat for various fish species. This 169-acre natural lake boasts a maximum depth of 48 feet and a distinctive geological ridge, where the depth narrows to just three feet. Fairview Lake's fishing fame attracts bass anglers seeking a touch of luck.
Local tales recount Bassmaster Classic Champion Mike Iaconelli's first bass catch in these waters as a child. Beyond its angling allure, Fairview Lake offers a family-oriented atmosphere with vacation homes and boating opportunities.
Reel in a variety of fish species, including bass, walleye, and more, in the serene waters of Fairview Lake. Experience the charm of this remote Pennsylvania haven, where captivating stories and tranquil waters create unforgettable memories.
6. Lake Nockamixon
Tucked away in the scenic hills of Buck County, near Quakertown, Lake Nockamixon sparkles as a 1,450-acre haven and the crown jewel of Nockamixon State Park. This remote lake offers an idyllic escape for those seeking Pennsylvania's natural beauty.
Summer days at the lake brim with activity as pontoon boats, windsurfers, canoeists, and anglers share the water. Leisurely picnickers savor the tranquility under shady spots along the shoreline. Though swimming in the lake is prohibited, a public pool within the park ensures refreshing reprieves.
Lake Nockamixon's five public boat ramps provide easy access for daytime excursions or overnight stays in designated anchor areas. For thrill-seekers, the dam's spring and fall water releases transform the lake into a whitewater wonderland, perfect for adrenaline-fueled adventures.
Surrounding the lake, miles of trails await exploration, ideal for hiking and biking enthusiasts. As a migratory path for waterfowl, the park attracts bird watchers eager to observe these graceful visitors. Cast your line and reel in popular species like bass, walleye, and catfish, adding excitement to your lakeside experience.
After a day at the lake, visit the nearby Knecht's Covered Bridge, a historic landmark since 1873, and bask in the warm glow of a captivating sunset. Lake Nockamixon promises unforgettable memories amidst the serenity of Pennsylvania's wilderness.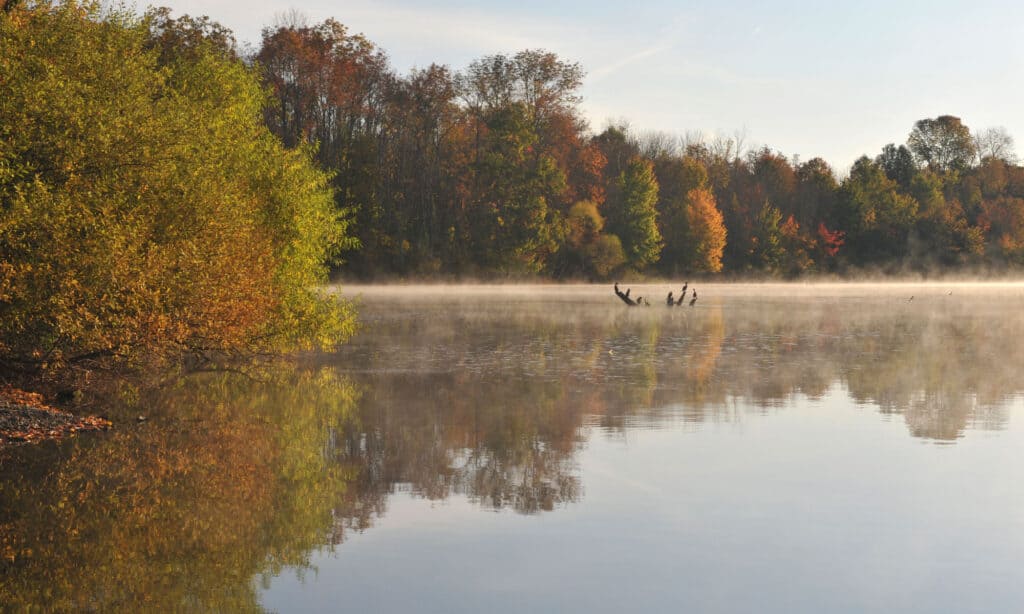 7. Conneaut Lake
Venture to northwest Pennsylvania, where the charming town of Conneaut Lake houses the state's largest natural lake. Renowned for its cottage region and vacation homes, this destination offers a serene escape.
Spanning 929 acres, Conneaut Lake entices vacationers with boating, water skiing, swimming, and fishing opportunities. The lakefront presents an idyllic haven beside the tranquil waters for those seeking relaxation.
Fish the lake's depths, where fish such as perch dwell, bass, walleye, and northern pike, ready for eager anglers. The allure of Conneaut Lake extends to its vintage amusement park, reminiscent of simpler times and family fun.
Stroll through the midway, admiring its collection of preserved old-school rides, including a working carousel from 1910. Though the park operates on limited schedules, it adds a nostalgic touch to your lakeside vacation.
The amusement park's waterfront location enhances the charm of Conneaut Lake. Enjoy the newly expanded public beach access and wander along the picturesque boardwalk for stunning water views. Conneaut Lake promises a memorable remote experience for swimmers and anglers in the heart of Pennsylvania.
8. Pymatuning Lake
Discover the expansive Pymatuning Lake, located in Jamestown within Pymatuning State Park. Spanning nearly 17,000 acres, this remote lake shares its waterway with Ohio and attracts swimmers, boaters, and anglers.
For a memorable outdoor weekend, stay at the park's inviting campground. Soak up the sun in summer on one of the three public beaches. With three marinas and multiple concession areas, boating on the lake is effortless.
Paddle along the scenic Shenango River Water Trail, a nine-mile journey for kayakers and canoeists, beginning just below the dam and ending in Greenville. Cast your line into the lake's waters, where many fish, including walleye, bass, and crappie, await eager anglers.
Beyond the water, the state park offers over 21,000 acres of land to explore. Traverse seven miles of hiking trails, immersing yourself in nature's splendor. Pymatuning Lake promises an enchanting experience for swimmers and anglers in the heart of Pennsylvania's wilderness.
9. Blue Marsh Lake
Immerse yourself in the serene beauty of Blue Marsh Lake, nestled in Leesport, Pennsylvania. This remote lake is ideal for a well-rounded recreational experience, brimming with activities and nearby amenities.
At Blue Marsh Lake, enjoy:
A small beach for sunbathing and swimming
A boat launch for easy water access
Over 5,000 acres of surrounding land for biking, horseback riding, and hiking
36 miles of trails weaving through the picturesque landscape
Picnic shelters, tables, and grills for delightful cookouts
Begin your adventure at the visitor center, an informative first stop for newcomers seeking local attractions. With concession stands and restrooms available, spend a fulfilling day exploring the lake's tranquil waters and lush surroundings.
Cast your hook into Blue Marsh Lake, where an array of fish species, such as walleye and catfish, eagerly await you.
10. Gouldsboro Lake
Gouldsboro Lake, a hidden gem in Pennsylvania's northeastern corner, offers the perfect escape for those seeking tranquility and adventure. This serene, man-made oasis spans 250 acres, inviting visitors to dive into its refreshing waters or set sail on a leisurely boat ride.
As you cast your line into Gouldsboro Lake, anticipate the thrill of reeling in various fish species that call these waters home. Winter months transform the lake into an ice-fishing haven, attracting anglers from far and wide.
Surrounded by the lush embrace of Gouldsboro State Park, the lake serves as a gateway to a world of exploration. Wander through hiking trails, conquer challenging mountain biking paths, or unwind at a picturesque picnic spot.
The sun-kissed sands of Gouldsboro's public beach beckon during summer, complete with convenient restroom facilities. Time seems to slow down here as you bask in the warmth of sun rays and the soothing sounds of lapping waves.
Venture beyond the water's edge, and you'll discover the unique flora and fauna of the Pocono Plateau. The park office holds the key to unlocking the mysteries of this diverse ecosystem, offering valuable insights into the region's captivating natural wonders.
11. Antietam Lake Reservoir
Antietam Lake Reservoir, nestled in Reading, Pennsylvania, paints a picture of natural beauty and tranquility. Spanning 650 acres of pristine greenery, this captivating oasis provides the perfect setting for swimming, picnics, fishing, and outdoor adventures.
Follow the interwoven trails that stretch across 12 miles, unveiling breathtaking vistas as you explore. The park stands as a testament to Pennsylvania's commitment to preserving its natural resources, offering year-round environmental programs at the heart of the park: Angora Fruit Farm.
As you meander through the park, stumble upon the enchanting stone house and wooden bridge, relics from the mid-1800s that evoke a sense of history and charm. These timeless structures whisper tales of a bygone era, inviting visitors to immerse themselves in their storied past.
Venture further and discover the original caretaker's home, proudly standing since 1880. This well-preserved piece of history serves as a reminder of the park's rich heritage and dedication to conservation.
For those seeking aquatic adventures, Antietam Lake Reservoir presents an idyllic spot for fishing and swimming. Cast your line and test your skills against the variety of fish species that inhabit these tranquil waters.
12. Beltzville Lake
Beltzville Lake, a picturesque 949-acre oasis, lies near Beltzville State Park in Lehighton, Pennsylvania. Nestled in the Pocono Mountains' foothills, this scenic retreat beckons locals and visitors alike.
From May to mid-September, the lake's 525-foot beach invites guests to bask in the sun and dive into refreshing waters. A bathhouse and concessions add convenience to this idyllic setting, ensuring a perfect day by the water.
Adventure awaits on the 15 miles of trails surrounding the lake, where history and nature intertwine. The Sawmill Loop Trail, in particular, offers glimpses into the region's past, guiding hikers past an old grist mill raceway, a 1700s quarry, and tranquil wetlands.
Anglers will be delighted by the variety of fish lurking beneath Beltzville Lake's surface, making it an ideal destination for casting lines and reeling in impressive catches.
Bird enthusiasts can marvel at the diverse avian life that frequents the area, as the lake sits on a migration path for waterfowl and warblers. Springtime transforms the area into a symphony of birdsong, providing a unique opportunity for birdwatching aficionados.
Embracing Tranquility at Pennsylvania's Secluded Lakes
As we conclude our journey through the twelve remote lakes of Pennsylvania, it's clear that these hidden havens offer a sanctuary for those yearning to fish and swim in peaceful seclusion. The enchanting allure of these tranquil waters beckons you to embrace nature's serenity, providing the perfect backdrop for both leisurely and adventurous pursuits.
Whether casting your line in pursuit of the day's catch or plunging into the refreshing depths, these remote lakes promise an unforgettable experience surrounded by Pennsylvania's breathtaking beauty. So, pack your fishing gear, grab your swimsuit, and embark on a journey to discover the tranquil wonders in the Keystone State.
Summary of 12 Remote Lakes in Pennsylvania to Fish and Swim
| Rank | Remote Lake | Location |
| --- | --- | --- |
| 1 | Lake Erie | Northwest PA – Erie County |
| 2 | Raystown Lake | Hesston |
| 3 | Lake Wallenpaupack | Pocono Mountains |
| 4 | Lake Harmony | Pocono Mountains |
| 5 | Western Crawford County | Blooming Grove Township in Pike County |
| 6 | Lake Nockamixon | Buck County |
| 7 | Conneaut Lake | western Crawford County |
| 8 | Pymatuning Lake | Jamestown within Pymatuning State Park |
| 9 | Blue Marsh Lake | Leesport |
| 10 | Gouldsboro Lake | Northeastern PA – Monroe and Wayne counties |
| 11 | Antietam Lake Reservoir | Reading |
| 12 | Beltzville Lake | near Beltzville State Park in Lehighton |
Summary Table of 12 Remote Lakes in Pennsylvania to Fish and Swim
The photo featured at the top of this post is © IanSkylake17/Shutterstock.com
---