Beetles make up 40% of all the insects in the world, and there are over a hundred beetles native to Washington alone. There are around 115 known species of beetle running around the state, which is a little low in comparison to other states.
You'll also find that many of the beetles in the state of Washington are found in other states. That's because the term 'native' shouldn't be confused with the word 'indigenous.' All it means to be a native species is that the beetle is either from there or made its way there without human intervention.
That's an important distinction. Otherwise, only the fossil record might have enough information to tell us what species are truly indigenous, especially since most states share a border with multiple states. With that being said, here's our list of beetles 'native' to Washington.
1. Mountain Pine Beetle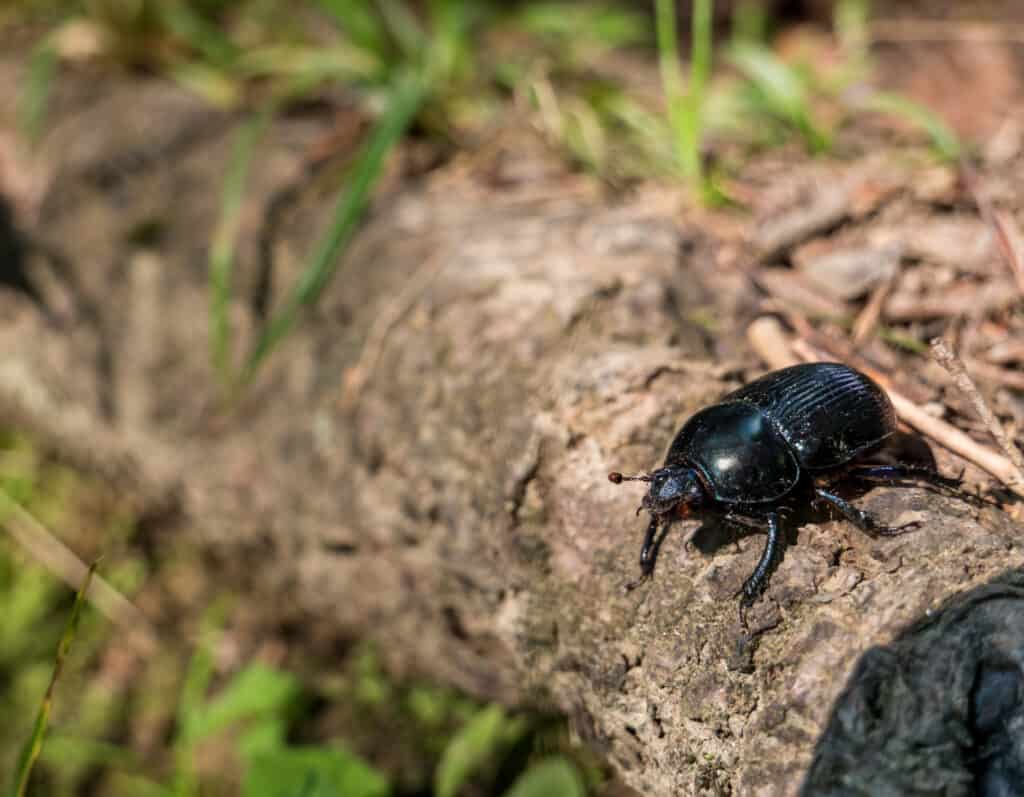 We may as well kick things off with a particularly aggravating beetle—aggravating to western pines, that is. The mountain pine beetle plays havoc on Washington and Oregon western pines, creating gaping wounds that ooze huge volumes of sap. Washingtonians call these wounds, "pitch tubes."
It's a fairly inconspicuous beetle for all the trouble it causes. The mountain pine beetle features a black head that's less than half the size of a dark brown, oval-shaped body. Like many traditional style beetles in the US, its wings feature several vertical stripes that stick out in the glossy appearance.
They invade felled trees or seriously damaged trees to breed, then vacate them as grown adults, seeking out pine trees to bore into. While they are always a danger to various species of pine in Washington, they are generally harmless to everything and everyone else.
2. Little Bear Beetle
Now, this sounds like the kind of beetle you would find in Washington or maybe even Canada. The little bear beetles are fuzzy, though they are otherwise similar in appearance to a pine beetle. They are covered in fine little bristles, from the forward portion of the head to the very back.
Surprisingly, very little is known about them, except their looks and their natural predators, which include a range of ground wasps. Since they typically emerge in sagebrush around springtime, they likely get most of their nutrition there.
That's just a theory, however, and almost nothing is known about what the little bear beetle's larvae eat. They can fly not in a gliding manner but more like a slow-moving bumblebee or a very large wasp species.
3. Western Sculptured Pine-Borer Beetle
The western sculptured pine-borer beetle may be a mouthful, but it's also a fascinating and unique-looking beetle, with huge eyes and interesting patterns. It's also a fairly large beetle, which is certainly intimidating to some people. Thanks to their unique appearance, they're one of the more intimidating beetles native to Washington.
Fortunately, despite their size, these pine-borer beetles are harmless to people, and they don't sting or bite. Their name implies a different story when it comes to pine trees, however. The good news is they don't cause much damage but merely consume the pine needles and lay eggs under the bark.
Their silver and black colorations are visually striking, and when they take off in full flight, they reveal a vivid, purple and blue, abdomen. All-in-all, the western sculptured is an impressive beetle due to its size and incredible colorations.
4. Convergent Lady Beetle
The convergent ladybug belongs to a fairly extensive ladybug family, sporting the traditional red/orange wings, blackheads, and black dots sprinkled amongst the red. Convergent ladybugs also feature a white outline that traces around the head, along with thirteen spots (for those who believe ladybugs are good luck).
The convergent variety of ladybugs is a little longer than traditional-looking ladybugs. Their bodies feature a more oval and elongated shape. Ladybugs of all stripes (or, should we say spots?) love to feed on aphids, making them an invaluable tool in a personal garden.
They're so adept at killing and feeding on aphids that many retail gardening chains will sell boxes full of convergent ladybugs (or any type of ladybug) for gardeners to place in their gardens. They're also good for pollination, with an occasional appetite for pollen and nectar. It's not their favorite thing in the world, but they will consume pollen and nectar from time to time.
5. Milkweed Beetle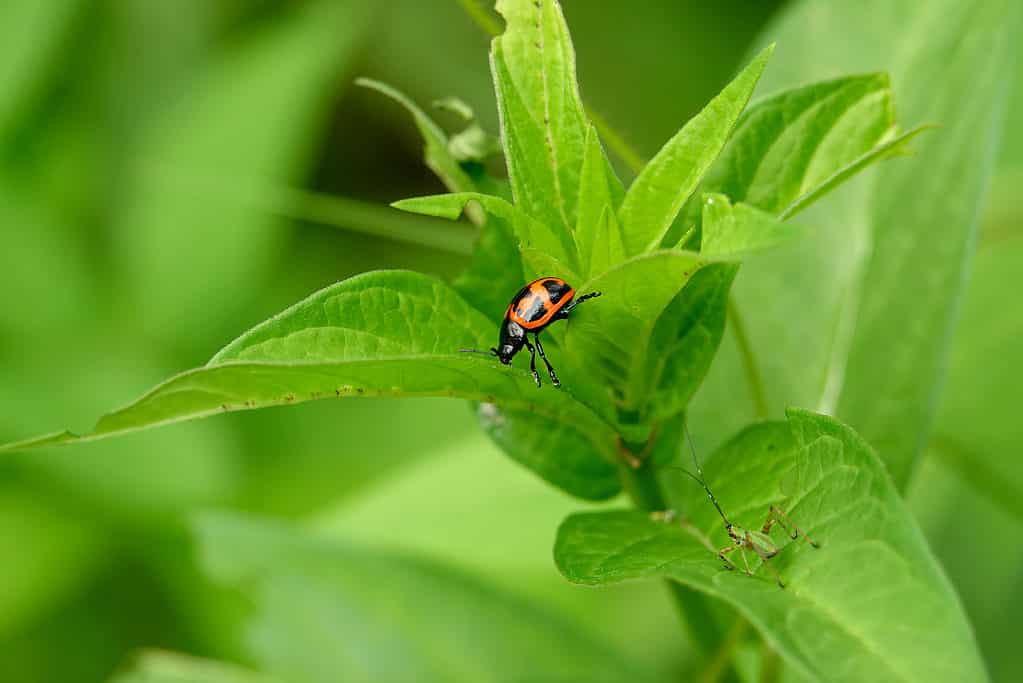 As its name implies, the milkweed beetle loves milkweed. The milkweed beetle belongs to the Longhorn family, and many of them will live out their entire lifecycle without ever abandoning their milkweed plant.
There's a reason for that, more than just because they enjoy the flavor of milkweed. The milkweed beetles derive a specific chemical from the milkweed plant. This chemical combines with an existing chemical within the milkweed beetle. That mixture creates a terrible-tasting toxin that wards off potential predators.
Since predators can't brush their teeth and gargle Listerine afterward, they would just as soon not bother with eating a milkweed beetle. Milkweed beetles are elongated, mostly bright and vivid red, and they have a scattering of black dots across their backs. Their antennae are also very long and, like most longhorn beetles, are located right next to their eyes.
6. Western-Eyed Click Beetle
The western-eyed click beetle gets the latter half of its name for the distinct and very loud clicking noise it makes with its legs. While the noise may have something to do with mating calls, it's mostly a defensive mechanism that spooks and wards off potential predators.
One of the most amazing and downright creepy aspects of the western-eyed click beetle is the large, black spots on top of its head. They are oval, very large, outlined in gold or creamy white, and look like eyes.
For those who have trypophobia, it's a disconcerting sight. They're also fairly large. When you combine the eyes, the size, the click, and the loud buzzing sound of its flapping wings, most human beings will instinctively duck and run for cover. Fortunately, the western-eyed click beetle is harmless. It's all bang with no bite.
7. Anobiid Powderpost Beetle
The Anobiid Powderpost Beetle is mostly standard-looking, and slightly elongated, with two segmentations separating the head and thorax from an abdomen and wings that are three times as large as everything else. They are generally a greyish brown, sometimes just dark brown.
What truly separates them from other beetles with a similar aesthetic is the scattering of white dust markings across their bodies. It's not dust, but it looks as if someone dropped a bottle of baby powder on top of a brown beetle.
Of all the beetles native to Washington, the Anobiid Powderpost beetle resembles the white-spotted pine sawyer beetle the most. Both feature a white dusting appearance, and both are elongated in shape. The anobiid has much shorter legs and a body that looks more filled out.
8. White-Spotted Pine Sawyer Beetle
Since we compared the white-spotted pine sawyer beetle to the anobiid, it only makes sense to put the white-spotted version on the list next. Unlike the anobiid, the white-spotted pine sawyer has a narrower body with much longer legs. It's a similar color (dark browns and grayish browns) with a scattering of white speckles that looks more like stars in the sky than spilled baby powder.
They also have extremely long antennae, with clear segmentations evenly dispersed. White-spotted pine sawyers prefer to eat, sleep, breathe, and breed in dead and rotting trees, mostly conifers and various species of pine. They don't attack living pine trees but they will invade pulpwood and saw logs.
For the most part, they feed on the needles of the pine tree and the dead and rotting portions of the tree. They will occasionally jump on living pine trees but only to eat the needles or consume parts of the tree that are dead or dying.
9. Ten-Lined June Beetle
Of all the beetles native to Washington, the ten-lined June beetle is one of the most visually striking of them all. They're quite sizeable as well, often reaching 1.5″ in length. Their bodies are primarily an orangish red, with yellow highlights throughout.
Their most distinctive highlights are the bright white bands that flow vertically down their bodies. There are seven on their backs, with an additional three on the much smaller head. Depending on the light and angle they can either take on a glossy, shiny appearance or appear to be fuzzy, with fine, tiny little hairs.
As far as food, they mostly feed on roots, whether it's crop roots or just a variety of random plants. They're only problematic when they get into crop fields and begin working on the roots.
10. Margined Blister Beetles
Margined blister beetles share a common defensive mechanism with all other blister beetles. They secrete a chemical that's an irritant to human skin and dangerous to most predators. Depending on skin sensitivity, it may create nothing more than a red spot on some people and outright blisters on others.
Margined blister beetles are a midnight black color with white outlining everything. Nothing is more effectively contrasting than white and black colorations, and it makes the margined blister beetle stand out in its environment.
Unfortunately, like many beetles native to Washington, the margined blister beetle is perfectly happy to feed on crops and local gardens. While they aren't marked as a dangerous and destructive species, they are capable of meeting that definition.
Final Thoughts
Beetles native to Washington are much the same as beetles native to Alabama or Colorado. They may have different names, but you'll find blister beetles, ladybugs, carpet beetles, or carrion beetles all over the country.
Washington is a beautiful state, so our list of beetles in Washington should be every bit as beautiful and fascinating as the land they call home. Unfortunately, some are considered pests, and others are highly destructive. But, that just goes with the territory.
Up Next:
More from A-Z Animals
---
The Featured Image
---