Key Points:
La Escalera Ranch covers 5 counties, and the entrance is home to the Sierra Madera Crater where a meteorite struck.
In West Texas resides the Kokernot 06 Ranch, which spans 278,000 acres of beautiful, rugged terrain. Many movies and commercials have been filmed there.
Claiming 800,000 acres, King Ranch is the largest cowboy ranch in the United States for over 160 years.
What's more Texas than cowboys, beef, and billionaires? How about all of them put together? In a state where everything is done big, it's no surprise that Texas has more farms, ranches, and cattle than any other state in America.
Agriculture is one of the world's most essential industries, making it an excellent investment. But ranching is more than just a paycheck for Texans; it's a way of life. Over 93% of Texas land is privately owned, and the generations of Texans raising their families on these ranches understand the importance of stewardship.
Check out the 12 largest ranches in Texas and learn about this fascinating way of life in the Lone Star State.
12. Corn Ranch – 165,000 Acres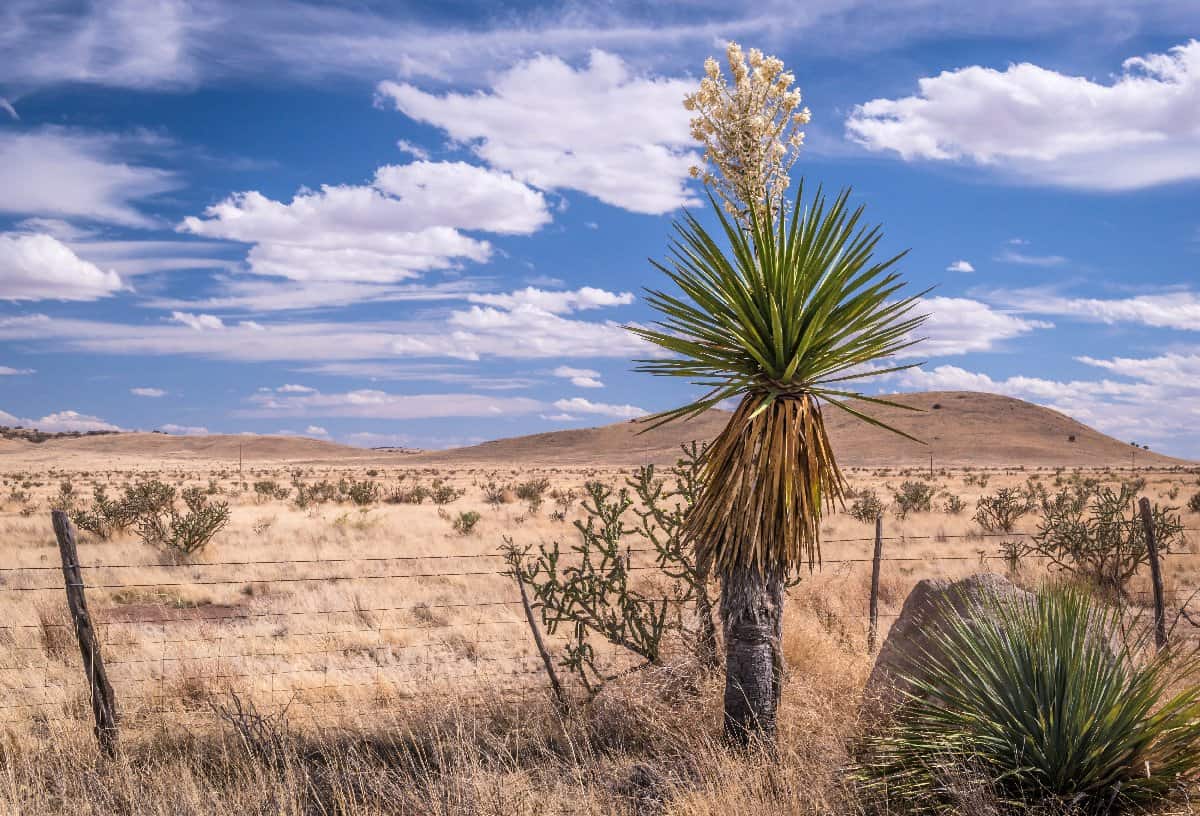 Corn Ranch, also known as Launch Site One, is a spaceport owned by billionaire and Amazon CEO Jeff Bezos. It's located in West Texas near the small town of Van Horn, and the ranch is a mainly desolate land, except for launch pads and rocket engine test stands. Bezos bought the property with the goal of colonizing space. While Corn Ranch may not be traditional, it's focused on creating a new industry to better humanity.
11. La Escalera – 223,000 Acres
La Escalera Ranch covers portions of five counties. The Gerald Lyda family owns more than 223,000 acres near Fort Stockton, Texas. It was initially owned by a California-based land and cattle company for almost 100 years before Lyda purchased it. Lyda's sons now operate the ranch, which is considered one of the largest cattle ranches in the Southwest. The land has a herd of Black Angus cattle and plenty of wildlife. The Sierra Madera Crater (meteorite crater) is at the entrance to the ranch. 
10. Jones Family Ranch – 255,000 Acres
The Jones Family Ranch was once over 300,000 acres nestled next to two rivers near Corpus Christi. W.W. Jones settled the land in the 1890s and established Alta Vista Ranch as its 34,000-mile headquarters. This land had a post office, general store, and structures from the Spanish/Mexican colonial era. The ranches produce oil, and the descendants of W.W. Jones still live on the land, offering nightly stays at their main ranch house. The family is committed to protecting agriculture and wildlife in the area.
9. The Four Sixes Ranch (6666) – 260,000 Acres
Captain Samuel Burnett founded the famous Burnett Ranches in 1870, encompassing over 260,000 miles. The ranch is in the western part of the state and includes 119 pastures, 16,000 acres of grasslands, 18 solar wells, and 29 windmills. But it's known for producing some of the country's best race and ranch horses. There are up to 100 employees, at least 20 of which are real-life cowboys. Burnett started his ranch with only 100 cattle and grew it into one of the biggest in the state.
8. Kokernot 06 Ranch – 278,000 Acres
Located in West Texas in the Davis Mountains is the Kokernot 06 Ranch. The family that currently owns the land acquired it in 1912, and it has been a staple in West Texas ranching for over a century. Movies and commercials often shoot on this rugged landscape, and the owners also offer many activities for the public. Serious hunters can participate in trophy hunting for big game, or you can hike, ride horses, and take tours via ATV.
7. Nunley Brothers – 301,500 Acres
Red Nunley began in the 1930s as a small cattle operator and grew into a cattle empire that now spans South Texas and parts of Hill Country. His grandsons took over the business in the early 1980s, and today customers can order premium beef online through their website. Generations of Nunley family members help in all aspects of ranching, empowering their sons and daughters to continue the family tradition.
6. Longfellow Ranch – 350,000 Acres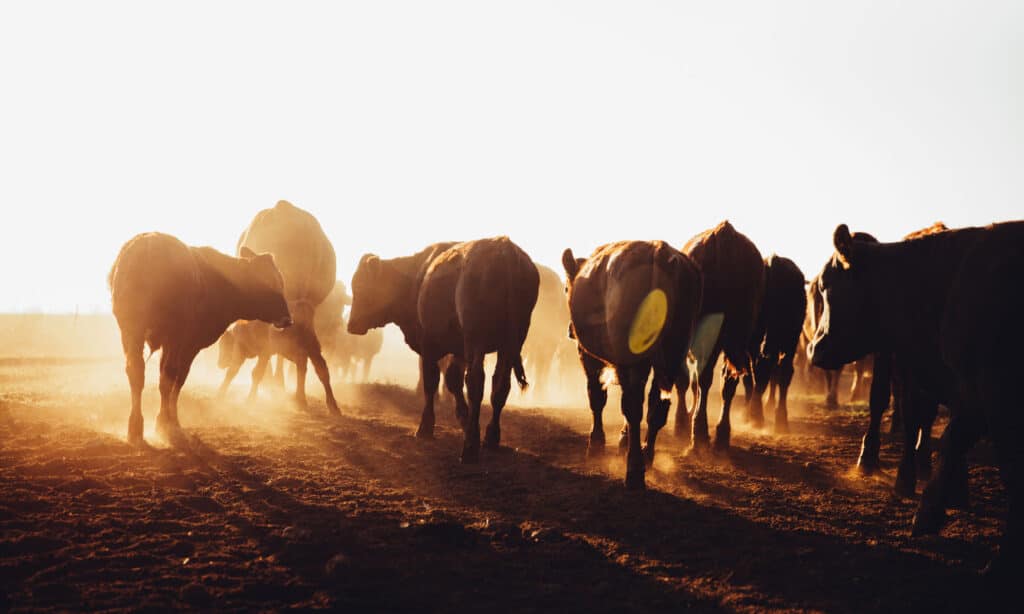 Longfellows is a 350,000-acre ranch in West Texas in the center of Big Bend country. It's a working cattle ranch with an oil field and a 4,700 five-star lodge. The luxurious lodge is open for corporate events and guests and includes high-end dining. Visitors can enjoy wildlife tours and five-stand shooting. Take in the sights of remote and rugged Texas while relishing in comfortable suites and crystal clear swimming pools. 
5. Hughes Ranch – 390,000 Acres
Dan Hughes was an oil and gas tycoon, and his son was the state commission and later became chairman of the Texas Parks and Wildlife Commission. Their 390,000-acre property is mainly used for personal purposes, but the family also sells cattle and hunting licenses.
4. O'Connor Family Ranch – 587,000 Acres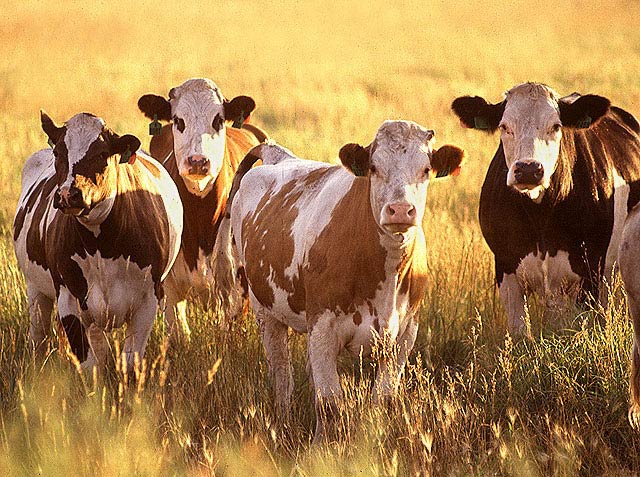 Thomas O'Connor was a poor Irish rancher that immigrated to Texas in 1834. The Mexican Government granted him over 4,000 acres, which he used to make saddletrees. Part of his dowry payment was ranch cattle and horses, which eventually grew to over 100,000. By the time of his death, he was a millionaire and one of the state's most significant land and cattle owners. His family heirs still run this 587,000-acre ranch and are involved in their local community.
3. Waggoner Ranch – 535,000 Acres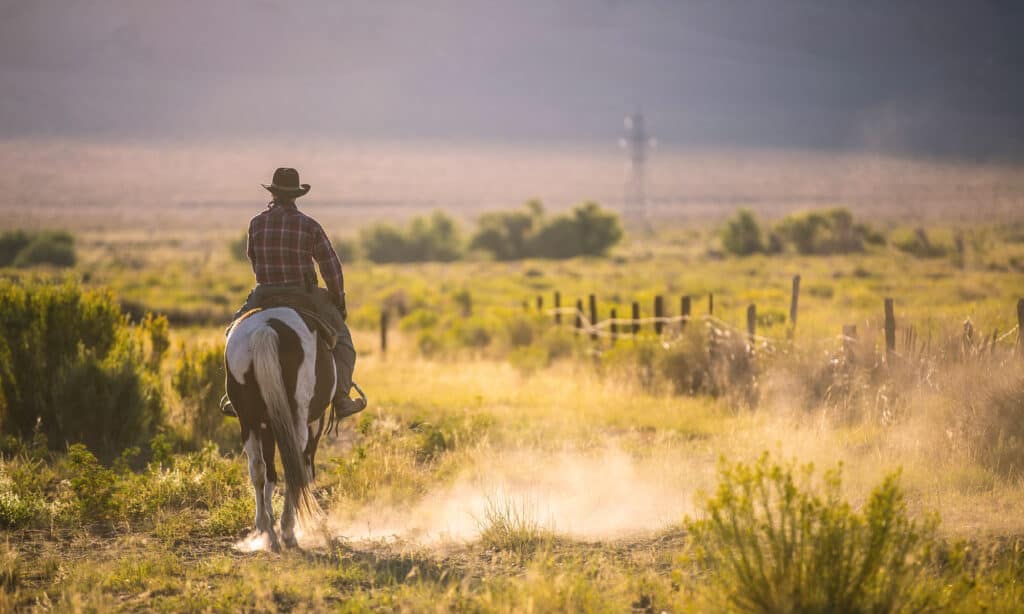 Dan Waggoner established Waggoner Ranch in 1849 near Vernon, Texas. His son took over operations in the early 1900s and grew the business to what it is today. They won many awards for their cattle and horses over the years, and the company's main interests include oil, ranching, and cultivation. In 2016, Waggoner descendants sold the ranch to LA Rams Owner Stan Kroenke.
2. Briscoe Ranches – 640,000 Acres
The Briscoes are a prominent Texas ranching family who began buying land for their cattle business in the early 20th century. Generations have continued to run the family business, which includes 15,000 cattle and over 640,000 acres of land. The Briscoes are one of the wealthiest families in the country, and they have donated millions to art and history institutions in Texas.
1. King Ranch – 825,000 Acres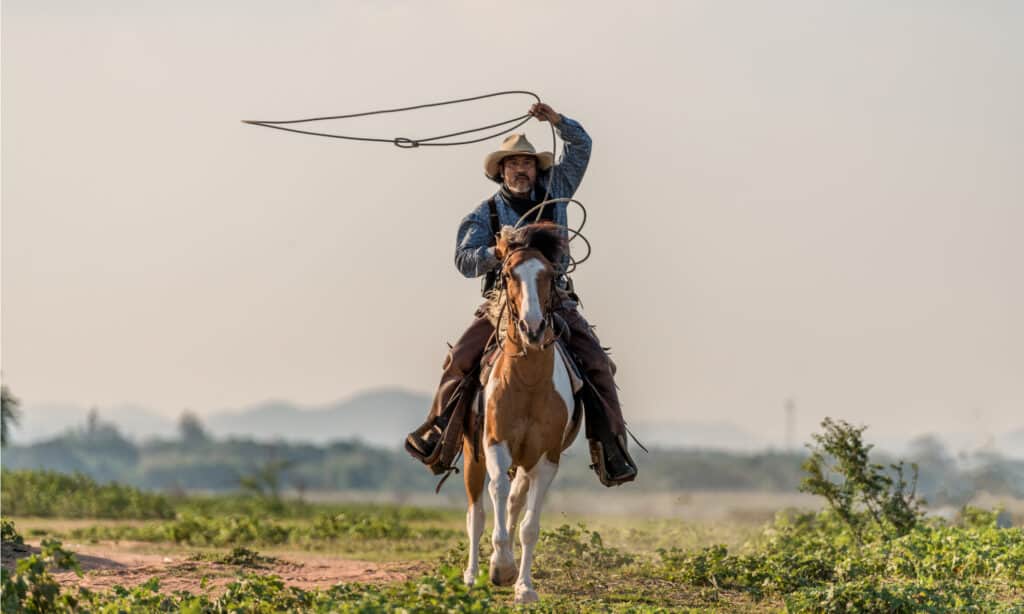 When they said everything's bigger in Texas, they weren't kidding. King Ranch is the largest ranch in the United States. At over 800,000 acres, the ranch is the size of the state of Rhode Island. It's been in business for 160 years, and in that time, it led cattle drives (some of the first), developed cattle breeds, and produced championship thoroughbred horses. Today the King Ranch has its main interests in cattle ranching, farming, luxury retail goods, and recreational hunting.
Summary of the Largest Ranches in Texas
| Rank | Ranch | Acreage |
| --- | --- | --- |
| 1 | King Ranch | 800,000 |
| 2 | Briscoe Ranches | 640,000 |
| 3 | Waggoner Ranch | 535,000 |
| 4 | O'Connor Family Ranch | 587,000 |
| 5 | Hughes Ranch | 390,000 |
| 6 | Longfellow Ranch | 350,000 |
| 7 | Nunley Brothers | 301,500 |
| 8 | Kokernot 06 Ranch | 278,000 |
| 9 | The Four Sixes Ranch (6666) | 260,000 |
| 10 | Jones Family Ranch | 255,000 |
| 11 | La Escalera | 223,000 |
| 12 | Corn Ranch | 165,000 |
Up Next…
Want to learn more about the Lonestar State?