The cold winter months don't have to feel like a permanent at-home stay where you don't leave the house. In fact, there are lots of fun activities to do during the winter months — one of them being ice fishing! Each winter, there are thousands of anglers that pile up their gear and bring themselves out onto the ice to attempt to catch some fish.
In Iowa especially, where the temperature can drop pretty low, there are tons of spots where anglers park themselves and wait for the fish to swim on by. If you've been interested in finding a new winter activity to get into, then look no further. Whether you happen to live in the state, or just want to visit, we've got the rundown on the best lakes for ice fishing in Iowa.
It's important to note that ice fishing conditions vary throughout the state. As can be expected, northern Iowa has a much longer ice fishing period due to the colder temperatures. Still, no matter where in the state you're located, you'll be able to take part in the great pastime of ice fishing.
Big Creek Lake
Located inside Big Creek State Park, this lake is centrally located in the state of Iowa. Big Creek Lake provides fishing options all year round, and ice fishing is quite popular in this area because of its central location within a state park. It is important to note that due to the size and location of the lake, it does take much longer to freeze over than other options. The lake has a surface area of around 814 acres along with a depth of 167 feet. However, thanks to how big the lake actually is, you can rest assured that there is both plenty of space (and fish) for many anglers to enjoy. The type of fish that you'll most likely encounter here includes crappie, largemouth bass, walleye, bluegill, muskie, and channel catfish.
Big Spirit Lake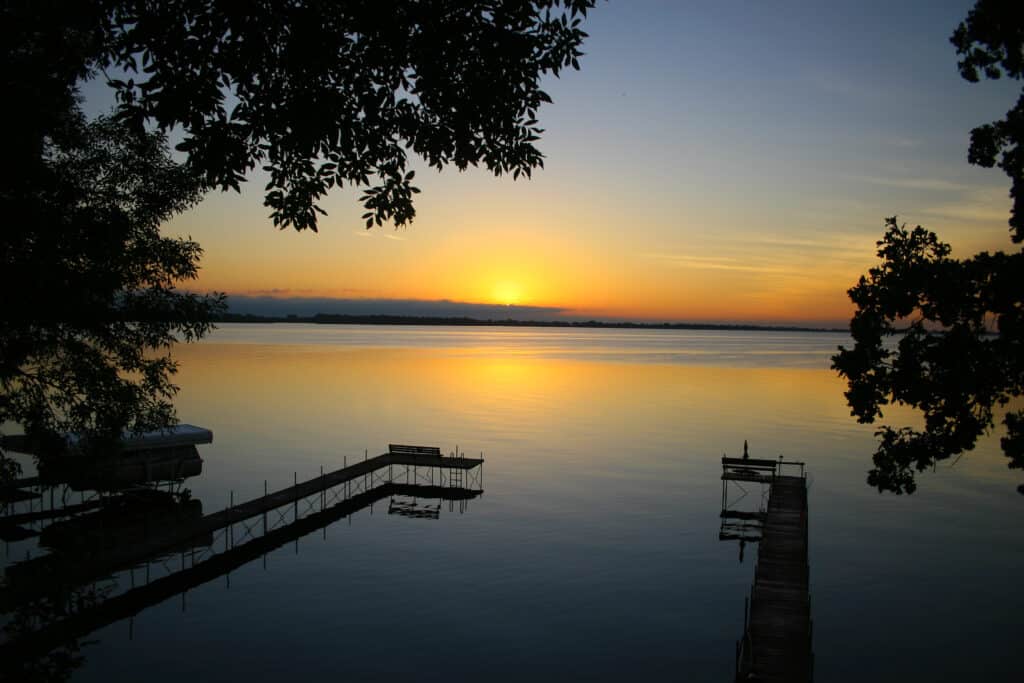 Big Spirit Lake is another option for the best lakes for ice fishing in Iowa. Anglers will want to check this lake out. This lake is located in northwest Iowa, in Dickinson County. It is actually a remnant of the most recent ice age that took place 13,000 years ago. This is a very large lake. In fact, it is the largest natural lake found in the state. It is so large that it is actually a part of the chain of lakes known as the Iowa Great Lakes.
Its surface area is 5,684 acres and the maximum depth of the lake is 24 feet. There are even parts of the lake that straddle the border of Minnesota. As such a large body of water, it's no wonder that so many anglers come here to fish. There are around 40 different species of fish found in the lake and of those 40 there are 13 that are typically caught on the regular by anglers. Walleye and muskie are some of the more commonly caught fish in the lake. However, yellow perch is another popular fish that ice fishers can catch as well.
Black Hawk Lake
Anglers on the search for a great northwest lake in Iowa will fall in love with Black Hawk Lake. This lake is not anything to scoff at with 957 acres of surface area and a maximum depth of 20 feet. This lake was actually ranked sixth in the list of the best Iowa lakes. This ranking was designated by Iowa Outdoor Magazine for good reasons.
It is the southernmost glacial lake in the United States and every year it has around 250,000 visitors. It has tons of shoreline, and although a lot of the lake is surrounded by private homes with boat docks, 50% of the shoreline is easily accessible to the public. When anglers come here to fish, they are typically known to catch crappie, walleye, bass, catfish, perch, and muskie throughout the year — including the winter season. This is definitely a worthwhile lake to add to the ice fishing itinerary.
Clear Lake
Another fantastic option for anglers in Iowa is Clear Lake. A natural spring feeds this lake and makes it what it is today. It is located in Cerro Gordo County, which is a part of northern Iowa. This is one of the most popular fishing destinations in the state and for good reason! The lake covers a surface area of 3,684 acres along with a maximum depth of 30 feet. Outside of its popularity during ice fishing season, this lake is one of the most popular summer tourist and local destinations. The Des Moines Register, a daily newspaper in the state, named Clear Lake "the best Iowa lake town."
However, this wasn't the only designation they received. Midwest Living magazine even called the area a top vacation spot. The most common types of fish you'll encounter at this lake include walleye, sunfish, crappie, bass, catfish, perch, northern pike, and muskie. The lake actually underwent a dredging project around ten years ago. This project helped increase many of the fish populations with muskie and walleye populations being the most positively impacted.
East Okoboji Lake
This is one of the more popular lakes for weekend getaways and fishing trips. East Okoboji Lake is classified as a glacial pothole. This means that it is a remnant of the most recent ice age that took place approximately 13,000 years ago. This lake is absolutely stunning. It features 1,835 acres of surface area to offer visitors and a maximum depth of nearly 22 feet. There is a very healthy population of fish in the lake as well. Some of the fish that you can expect to catch here include bass, crappie, bluegill, yellow bass, white bass, walleye, perch, and even northern pike, making it one of the best lakes for ice fishing in Iowa. Overall, this is a great lake to frequent during the winter months. Especially if you're close to northwest Iowa or simply want to visit the area.
Storm Lake
Storm Lake is one of the best lakes to go fishing for walleye. This lake is considered the fourth-largest glacier lake in Iowa. The surface area alone spans roughly 3,200 acres. It is located in the northwestern part of Iowa and there are over eight miles of shoreline to explore. This means that you won't have to fight for a fishing spot with any other anglers.
As we mentioned, this area is particularly known for being a fantastic spot to catch walleye. In fact, the walleye here can grow as big as 22 inches long. However, it is important to note that walleye that range between 17-22 inches must be released upon catching. If walleye doesn't interest you, the area also has perch and crappie to offer anglers as well. You can even come across catfish and white bass if you're lucky. Overall, this is a fantastic lake that is worth checking out if you're interested in catching some pretty huge fish!
The photo featured at the top of this post is © iStock.com/stammphoto
---