There are endless opportunities when it comes to ice fishing in New England. It's a cold northern region in the United States that includes six states. The six states are Rhode Island, New Hampshire, Maine, Connecticut, Massachusetts, and Vermont.
Ice fishing is a popular activity for residents and visitors. If you are looking for things to do while visiting New England states, why not visit one of these eight best lakes for ice fishing in New England?
East Grand Lake
East Grand Lake is located in Maine and the Canadian province of New Brunswick. It is a beautiful location that gives visitors lots of things to do. At East Grand Lake, visitors can extend their stay in a cabin or cottage. Not only is the location stunning and peaceful, but it's a favorite spot for anglers. You can fish during any season, no matter how cold it is.
East Grand Lake is a crystal clear, and pristine lake surrounded by tall mountains and beautiful forests. It's a great spot for salmon and bass fishing. While ice fishing, you can also catch lake trout, brook trout, minnows, longnose suckers, and American eels. Ice fishing in East Grand Lake is most successful during dawn and dusk.
Moosehead Lake
Moosehead Lake is in central Maine. It is over 75,000 acres large and is a prime destination for ice-fishing anglers. The best time to use Moosehead Lake for ice fishing is after January 1st. It's also a deep lake with a maximum depth of 246 feet. It's about 40 miles long and 10 miles wide. Moosehead Lake reaches record lows. For example, In January, the average record low is 2.6 degrees Fahrenheit.
While fishing at Moosehead Lake, you can find brook trout, landlocked salmon, and lake trout. The official season for ice fishing at Moosehead Lake is January 1st through April 30th. Some people use fishing poles, while others stab fish with spears.
Lake Champlain
Lake Champlain has a long ice fishing season than some other lakes on this list. For example, the official ice fishing season begins as early as the start of December. Lake Champlain is a perfect fishing spot, regardless of the season. Snow and ice don't stop anglers from traveling to Lake Champlain in Vermont. It also touches New York and the Canadian province of Quebec.
There are a variety of species of fish you can find in the lake. For example, anglers fishing at Lake Champlain can catch largemouth bass, smallmouth bass, channel catfish, yellow perch, common carp, and northern pike.
Seymour Lake
Next on our list, we have Seymour Lake in Vermont. It's not the most popular ice-fishing lake in the state, but it's still visited by anglers every year. Seymour Lake is 1,750 acres big and has 10 miles of shoreline. It's a calm lake with plenty of opportunities to catch fish species like sunfish, pike, crappie, and perch. Although most of the shoreline is private property, you can still find public shore to fish on the bank.
Silver Spring Lake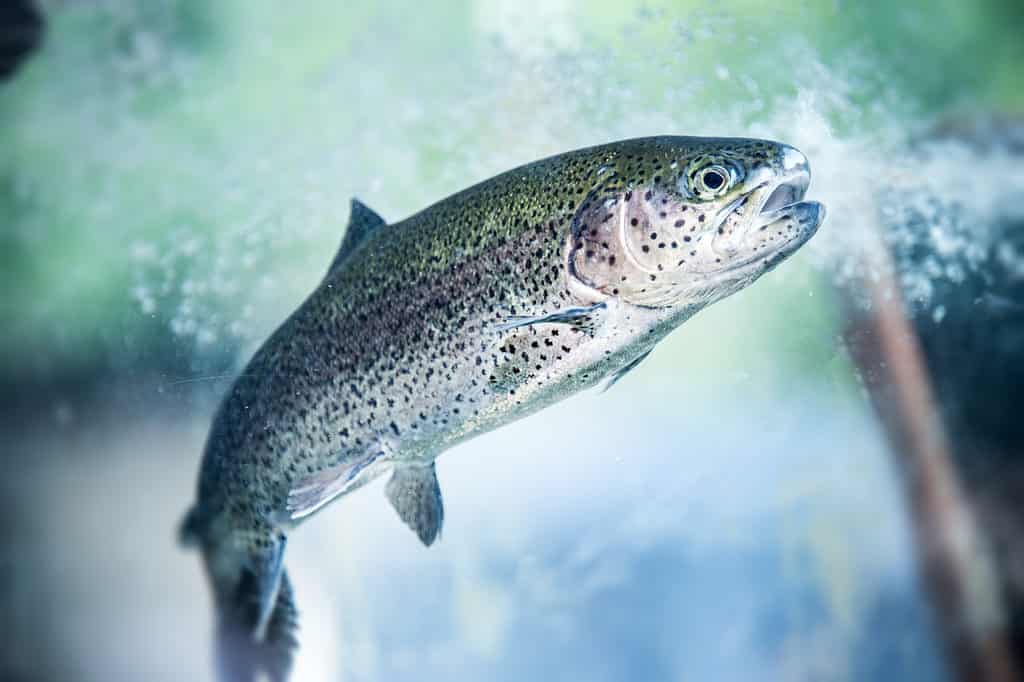 One of the best lakes for ice fishing in New England is Silver Spring Lake in Rhode Island. It is heavily stocked with trout for ice fishing. At Silver Spring Lake, anglers can catch rainbow trout and brook trout. The lake is beautiful, surrounded by serene nature. Apart from being beautiful, the local government encourages ice fishing. However, although the lake is best known for ice fishing, always look at ice conditions before planning a trip.
Bare Hill Pond
Bare Hill Pond in Massachusetts isn't only a popular destination in the summer, but also in the cold winter months. Ice fishing is very popular, but you should proceed with caution when fishing. The pond is also used by ice skaters and snowmobiles. When you don't want to ice fish, you can also take a lovely walk around the pond and pick blueberries and other wild berries. Bird watching is also a common activity at Bare Hill Pond.
Lake Mattawa
Lake Mattawa is in Orange, Massachusetts. It's a 118-acre clear pond with multiple underground springs. It's a great pond for ice fishing in the winter months. Lake Mattawa is a favorite for many anglers who want to catch brown trout, smallmouth bass, and rainbow trout, These fishes grow large because the water is spring-fed and has a healthy smelt population.
Candlewood Lake
Candlewood Lake is a man-made lake located in Fairfield and Litchfield Counties in Connecticut. It's the largest lake in the state and within 60 miles of New York City. Candlewood Lake is a popular hot spot for summer and winter fishing. When the weather is warm and appropriate, visitors can take a dip, relax, and enjoy the outdoor facilities. Candlewood Lake has a lot of bass and trout. Walleye also live in Candlewood Lake but are not as easy to catch in the winter.
Up Next…
---