Living in a winter climate means finding exciting ways to keep yourself occupied during the cold months. This is especially true if you live in North Dakota, where the state averages roughly three to four severe winter storms yearly. North Dakota, also known as the Peace Garden State, is, in fact, one of the coldest states in the United States.
In fact, the state holds a Guinness World Record that may not surprise you! The state is known for having the record for the most snow angels made simultaneously in one place. As such a frigid state, it is also an excellent place to engage in ice fishing. If you're interested in fishing during the wintertime, then check out our list of the best lakes for ice fishing in North Dakota. 
Whether you're a North Dakota native or simply interested in visiting the state for some good ol' ice fishing, you'll love looking through this list and learning more!
Devils Lake
Our list starts with Devils Lake, the second largest body of water in the state. This is a 122,000-acre lake with a maximum depth of more than 59 feet. This lake is huge and definitely worth doing a multi-day fishing trip here as a result. A ton of shoreline and creek channels make it great for ice fishing.
At this lake, you'll find a great variety of fish that you can catch. These fish include walleye, white bass, muskie, pike, crappie, and perch. In fact, this lake is well-known for having a very healthy and large population of yellow perch fish. Locals have even said it is the world's "perch capital."
This is such a popular ice fishing destination that it is estimated that open water and ice fishing generate more than $20 million annually here.
Lake Sakakawea
Lake Sakakawea is located right in the center of North Dakota. It is considered the largest man-made lake located in the state. It is also the second-largest lake in the United States by surface area alone. The lake's surface area is an astonishing 307,000 acres, and the maximum depth it reaches is 180 feet.
The reservoir was originally created due to the construction of the Garrison Dam. The lake is a very popular fishing destination — especially for ice fishing. You can catch a lot of fish here, including rainbow trout, smallmouth bass, cutthroat trout, walleye, perch, and northern pike.
Lake Audubon
Lake Audubon is actually considered a complementary "sister lake" to Lake Sakakawea. This lake is located in the west-central part of the state, at Coleharbor.
An embankment only separates both Audubon and Sakakawea. This embankment actually carries U.S. Highway 83. This is a pretty decently sized lake with 16,612 acres of surface area. It is 59 feet deep at its deepest point.
The lake is a popular fishing destination because it is filled with a variety of fish. You can expect to catch smallmouth bass, perch, walleye, and pike. These fish can be caught during all seasons, especially during the ice fishing season. Since it is near Highway 83, this lake has easy access.
Lake Metigoshe
If you're interested in an ice fishing excursion that includes some fantastic views, you won't want to miss out on Lake Metigoshe.
This lake happens to be located in the absolutely gorgeous Turtle Mountains. For those familiar with the area, the Turtle Mountains happen to border the U.S. and Canada. The lake has a surface area of 1,544 acres and a maximum depth of 24 feet.
Although most of the lake is located in the United States, a portion still extends into Manitoba. The main types of fish that you can expect to catch here include bass, crappie, sunfish, perch, pike, and walleye.
However, when it comes to ice fishing, the most popular species that are caught during that type are crappie, perch, and bluegill. Overall, this is a fantastic ice fishing location if you're interested in great catches and want to witness a spectacular view.
Lake Renwick
Renwick Dam is a dam located in the northeastern corner of North Dakota. The dam was officially completed back in 1962. The reservoir the dam then created is known as Lake Renwick. This lake has a water surface of 204 acres.
Since it is adjacent to Icelandic State Park, this lake offers lots to see around it. When it comes to ice fishing, many anglers come here specifically for its abundant numbers of northern pike. However, you can also catch bluegill here as well.
It is important to note, however, that lodging here can be quite limited. This is important to know if you plan to extend the ice fishing trip over a couple of days.
Lake Darling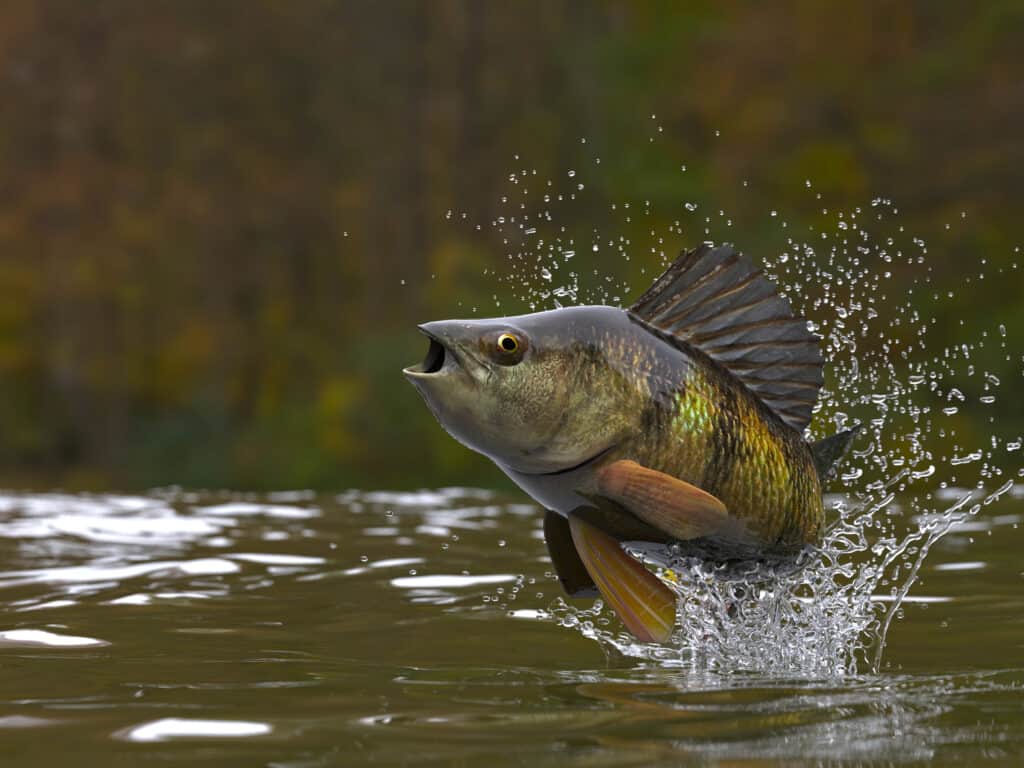 Just northwest of Minot, along the Upper Souris National Wildlife Refuge, you'll find Lake Darling nestled in. This is a fantastic lake option for anglers that prefer to keep to themselves and want their ice-fishing trip to feel private. The lake is named after Jay N. "Ding" Darling. He was the first director of the Bureau of Biological Survey. It features a surface area of nearly 9,500 acres.
There are nearly fifty miles of shoreline along this lake, so anglers can easily spread out and enjoy lots of personal space. The most commonly caught fish here are walleye and perch. In fact, many anglers come out here in the wintertime specifically for these two fish. However, you can also catch northern pike and smallmouth bass here as well.
Lake Oahe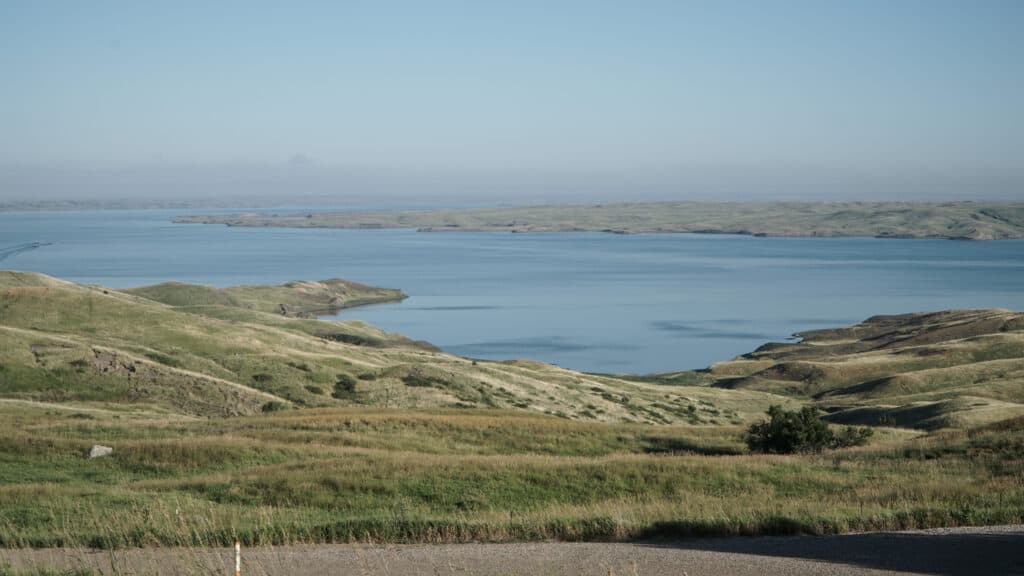 Lake Oahe is not a secret destination if you happen to know the area well enough. In fact, roughly 1.5 million people visit the lake every year. However, because of how great the area is, we just had to include it on our list! This lake is so large that it extends throughout both South and North Dakota. It has an area of 370,000 acres and a maximum depth of 205 ft.
When measured by sheer volume, this lake is considered the fourth-largest reservoir in the United States. The area has a lot of different species of fish, including walleye, trout, catfish, salmon, and pike. The smallmouth bass here, however, is what brings in so many anglers.
They can grow quite large at Lake Oahe. Even the salmon, walleye, and trout grow quite large at this lake. Crappies are another popular fish to catch during the ice fishing season.
Summary of the Seven Best Lakes for Ice Fishing in North Dakota
Here is a list of the Seven Best Lakes for Ice Fishing in North Dakota:
| Rank | Best Lakes |
| --- | --- |
| 1 | Devils Lake |
| 2 | Lake Sakakawea |
| 3 | Lake Audubon |
| 4 | Lake Metigoshe |
| 5 | Lake Renwick |
| 6 | Lake Darling |
| 7 | Lake Oahe |
The photo featured at the top of this post is © Sky.Niebs/Shutterstock.com
---