Michigan is a state with abundant freshwater resources, including more than 11,000 inland lakes and over 36,000 miles of rivers and streams. The state shares borders with four of the five Great Lakes, making it a critical source of freshwater for the region.
Some of the other notable lakes in the state include Lake Huron, which covers over 23,000 square miles and shares a border with Canada.  Grand Traverse Bay, located in the northwest part of Michigan, is a large, deep bay that is known for its clear waters and abundant fishing.
But what is the clearest lake in Michigan? Keep reading to find out!
What Is The Clearest Lake In Michigan?
The clearest lake in Michigan is Torch Lake. It is known for its crystal-clear turquoise waters and is often compared to Caribbean seas.
Torch Lake is a large inland lake located in the northern part of Michigan's Lower Peninsula, about halfway between the cities of Traverse City and Petoskey. The lake is known for its crystal-clear blue waters that make it a popular destination for boaters, swimmers, and other water enthusiasts.
How Big Is Torch Lake?
One of the main attractions of Torch Lake is its impressive size – the lake covers over 19 square miles and has a maximum depth of around 300 feet. It is one of the deepest inland lakes in the United States and is said to be the second-largest inland lake in Michigan.
What Color Is Torch Lake?
Another notable feature of Torch Lake is its unique color. The lake's vibrant turquoise hue is due to the presence of glacial minerals and sediments that reflect sunlight differently than other bodies of water. This makes Torch Lake a favorite spot for photographers and nature enthusiasts who love to capture its stunning beauty.
What Can You Do At Torch Lake?
Boating and Water Sports: Torch Lake is Michigan's second-largest inland lake with crystal clear water and a pristine shoreline that are perfect for paddling, swimming, fishing, and boating. Visitors can rent a variety of boats, including kayaks, pontoon boats, and stand-up paddleboards.
Beach Activities: Torch Lake is surrounded by lovely sandy beaches, making it an ideal spot for sunbathing, swimming, throwing frisbees, and playing volleyball.
Hiking: Torch Lake's surrounding area is known for its picturesque hiking trails. The Grass River Natural Area attracts visitors with its scenic hiking trails and boardwalks over wetlands.
Winter Sports: Torch Lake is a winter paradise for sports enthusiasts, with many activities to choose from, including skiing, snowboarding, and ice fishing.
Sightseeing: Visitors can drive around the lake and visit its scenic towns and attractions, including the Torch Lake Township Day Park, Alden, and Bellaire.
Fishing: Torch Lake is also popular for fishing, with abundant populations of bass, trout, and other game fish. There are several public access points around the lake for boating and fishing, as well as picnic areas and campgrounds for visitors.
Overall, Torch Lake is a beloved natural destination in Michigan that offers endless opportunities for outdoor recreation and relaxation.
Popular Fishing Spots Or Types Of Fish In Torch Lake
Popular fishing spots in Torch Lake:
Clam River
Grass River Natural Area
Torch River
Rapid River
Types of fish in Torch Lake:
Northern Pike
Walleye
Muskellunge (Musky)
Brown Trout
Rainbow Trout
Fishing Regulations Or Licenses Required For Fishing In Torch Lake
A valid Michigan fishing license is required to fish at Torch Lake. A rigorous daily catch limit of three fish that must be a minimum of 15 inches long applies to Torch Lake. Unless otherwise noted, catch and release fishing is allowed all year long for smallmouth and largemouth bass. When motor trolling, a maximum of three lures, hooks, or lures are allowed per boat and one hook, bait, or lure per angler. Understanding Michigan Rules & Regulations and showing consideration for other anglers and the environment are essential while fishing at Torch Lake.
Best Spots For Swimming Or Sunbathing At Torch Lake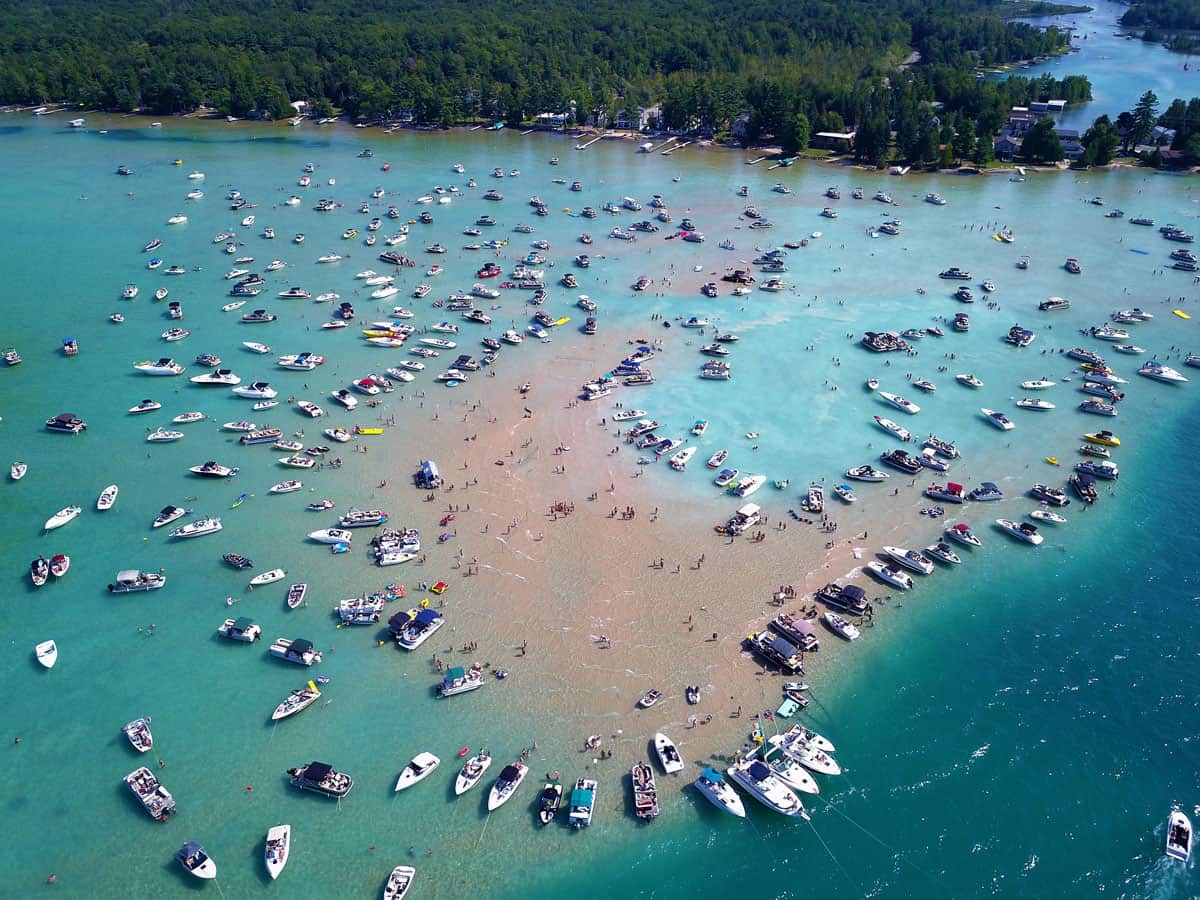 The best spots for swimming or sunbathing at Torch Lake based on popular tourist destinations and online reviews includes:
Torch Lake Sandbar: A popular destination for boaters, this shallow area is known for its crystal-clear waters and sandy bottom, making it perfect for swimming or sunbathing. It can get crowded, but it's a great spot to socialize and enjoy the beautiful surroundings.
Barnes Park: This park offers a beach on the east side of Torch Lake with picnic tables, grills, and a playground, making it a great spot for families with children. The sandy beach offers plenty of space for sunbathing, and the clear waters are perfect for swimming.
Torch Lake Township Park: This park is located on the north end of Torch Lake and features a beach area with a pavilion, picnic tables, and a playground. The sandy shorelines are perfect for sunbathing, while the clear waters are perfect for swimming, paddleboarding, or kayaking.
Torch Lake Nature Preserve: This tranquil spot is a hidden gem, perfect for those seeking a more secluded beach experience. With only a small parking area and limited facilities, it's a great spot for a quiet picnic or a peaceful swim in the lake.
Dockside Beach: Located in the charming town of Elk Rapids, Dockside Beach is a small beach area with crystal-clear waters and a sandy bottom, making it perfect for swimming or sunbathing. It's also close to restaurants and shops, making it easy to grab a quick snack or drink.
Options For Hiking Or Biking Trails Near Torch Lake
There are many hiking and biking trails near Torch Lake worth exploring, some of which include:
Jordan River Pathway: This 18.5-mile hiking and biking trail runs through the Jordan River Valley, offering scenic views of forests, streams, and rolling hills.
Grass River Natural Area: With 1,433 acres of protected land, this preserve has over 14 miles of hiking trails that wind through wetlands, meadows, and forests.
Vasa Pathway: This 25-mile network of biking and hiking trails is known for its challenging terrain and stunning views of the surrounding landscape.
Sleeping Bear Heritage Trail: This paved trail runs for 22 miles along the shores of Lake Michigan, offering panoramic views of the lake and surrounding forests.
Intermediate River Trail: Located in the heart of Traverse City, this paved trail follows the Intermediate River for 3.5 miles, providing easy access to scenic views and a peaceful atmosphere.
Bellaire to Lake Bellaire Trail: This trail runs for 2.5 miles and connects the village of Bellaire to Lake Bellaire, offering scenic views of the lake and a variety of outdoor activities.
Betsie Valley Trail: This 26-mile non-motorized pathway runs through the scenic countryside of northern Michigan and offers a variety of hiking, biking, and cross-country skiing opportunities.
What Are Some Of The Best Places To Stay Overnight Near Torch Lake?
Wanting to plan a real trip to Torch Lake? With so many activities to indulge in, it is no wonder why! And the best part is, there are many places you can stay to make a real vacation out of your visit. Some of the most well-known and frequented overnight spots include:
Torch Lake Campground: Located right on the shore of Torch Lake, this campground offers RV and tent sites, beach access, and excellent amenities such as showers, laundry facilities, and a convenience store.
Torch Lake Bed & Breakfast: This charming B&B sits right on the edge of Torch Lake and offers cozy rooms, delicious breakfast, and stunning lake views.
The Inn at Torch Lake: This beautiful inn features spacious rooms, peaceful surroundings, and a lovely patio area with lake views.
Torch Lake Cabins: These cozy cabins offer rustic charm and modern amenities and are just a short walk from the lake.
Torch Bay Inn: This lovely inn is situated just a short drive from Torch Lake and offers comfortable rooms, a continental breakfast, and a peaceful outdoor pool area.
A-Ga-Ming Golf Resort: Just a few miles from Torch Lake, this beautiful resort features luxurious rooms, multiple golf courses, and stunning lake views.
Traverse City RV Resort: Located about 45 minutes from Torch Lake, this resort offers spacious RV sites, excellent amenities, and easy access to all the attractions of Traverse City.
Where is Torch Lake In Michigan Located on a Map?
Located in the Northern Lower Peninsula of Michigan, Torch Lake is an expansive lake renowned for its impressive dimensions. Stretching across an impressive length of 19 miles, it proudly holds the title of Michigan's longest inland lake. With an approximate area of 29.3 square miles, Torch Lake stands as Michigan's second-largest inland lake, surpassed only by the grandeur of Houghton Lake.
Here is Torch Lake In Michigan on a map:
---
The Featured Image
---